Latest posts by Melika Jeddi
(see all)
Whether it's payday and you're treating yourself, or you're buying a gift for the Stardew Valley fan in your life, there is a ton of merch available to buy online. And I really do mean a ton. It can be pretty daunting to try and scroll through the thousands of offerings available, so I've done the hard work for you.
I've compiled an extensive list with the best merch across a whole bunch of categories. I've recommended the official merch first, as I always prefer to support the creator where possible. However, I recognize that sometimes you're after a specific item that isn't offered by the official store, and so I've also included a vast range of fan-made goodies.
I know that there are some super-fans out there who would love nothing more than to incorporate Stardew Valley into every area of their life, so I've included several different merch types. There are plushies, clothes, stickers, books, prints, and more! Read on to discover the perfect piece of merch to add to your collection…
Official Merch
Some game franchises have a very small official shop, but that is not the case with Stardew Valley. With 3 official collections, you're spoiled for choice across a range of merch categories. To save you from being overwhelmed by all the options, I've gone through and selected the best offerings for each merch type. Have a look and see if any of it calls to you!
Playable Merch
If you love Stardew Valley, then why not check out these playable merch items from their official website? You can show off your fan status with a stunning collector's edition of the game or relax with a peaceful CD of the game soundtrack.
They even have a one-of-a-kind vinyl box set, which looks not only gorgeous but also sounds delightful on a record player. Best of all, there's an official board game so you can jump into the wonderful world of Stardew Valley without having to stare at a screen. You can be social with your friends whilst fulfilling your farming dreams!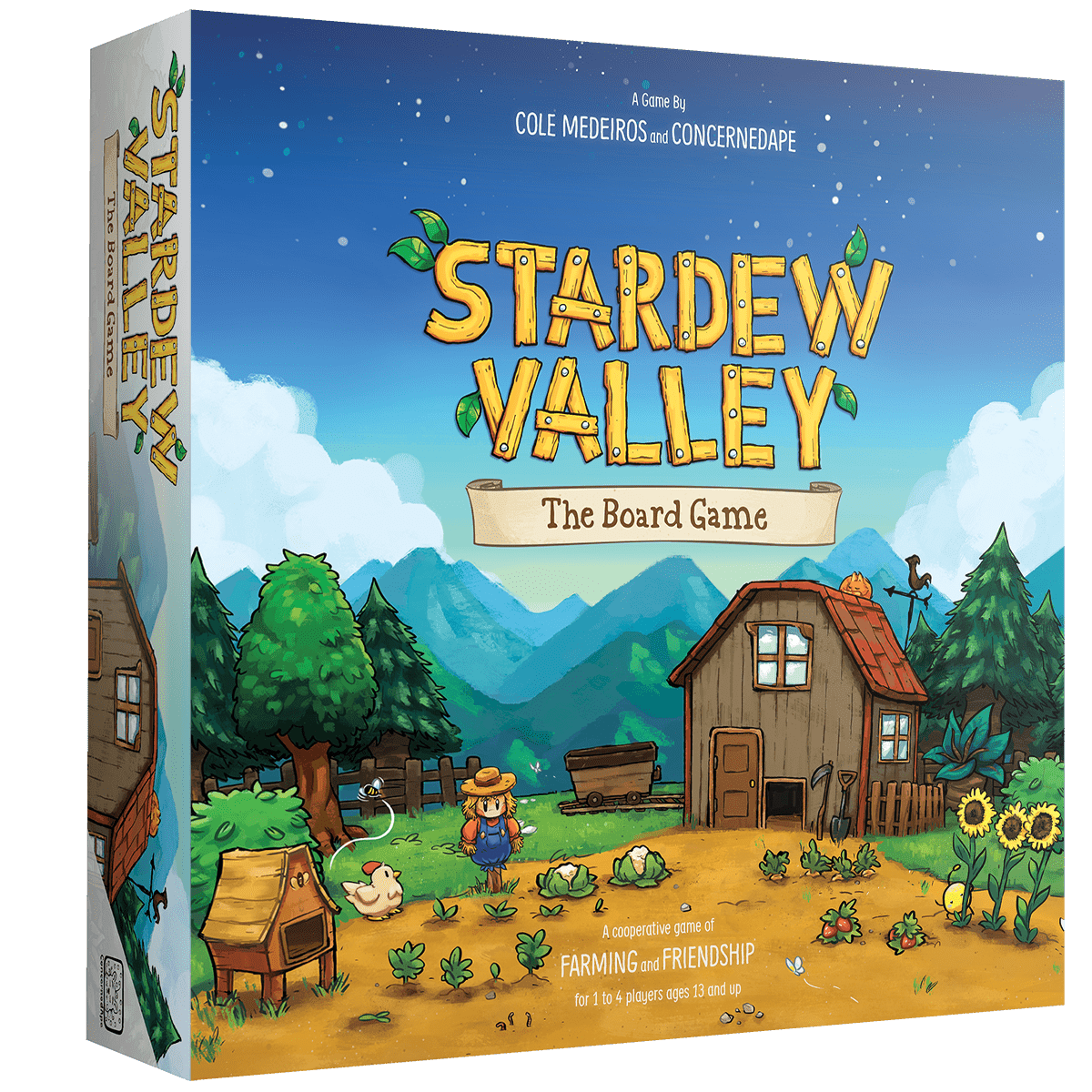 Plushies
I don't know about you, but I love a good plushie. There's something about squeezing a soft and squishy toy that just fills me with serotonin. Unsurprisingly, they're a very popular merch item, and as such, there are several available in the official Stardew Valley collections.
Character Plushies
Unfortunately, not all of the characters are available as plushies, and so it might be that your favorite is not here (such as my sweetheart Sam). But they do have some of the most popular bachelors and bachelorettes, so if you love Sebastian, Shane, or Abigail, then you're in for a treat! Plus, who doesn't like our adorable sewer boy Krobus?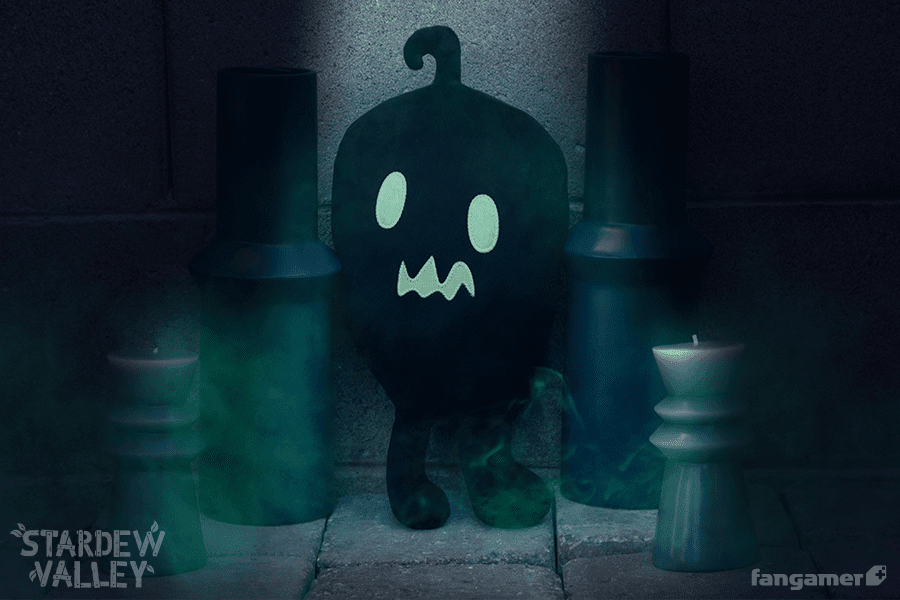 Other Plushies
Don't fancy any of the character options, but still want a Stardew Valley plush toy? Then take a gander at these alternative options. Personally, my heart has been captured by the Four Seasons Junimo set, as those forest spirits have to be some of the cutest creatures from any game. But I also love the idea of having a mystery blind box, and the Stardrop pillow looks incredibly soft!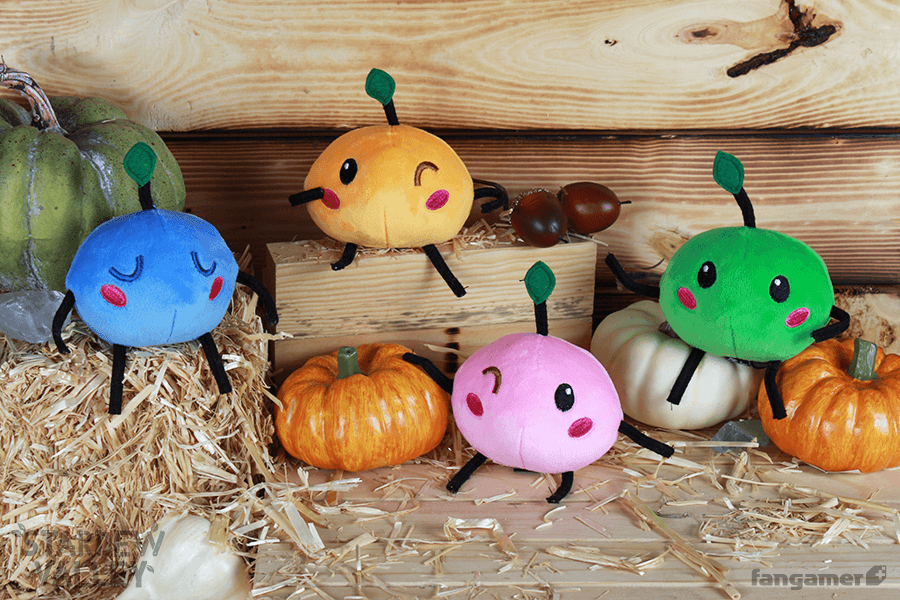 Clothes
What better way to show off your love for the game than parading around in an awesome piece of apparel? Clothes have to be one of the best fan merch items available, as they're so useful. After all, you're always going to need new clothes, so why not have them represent your fandom? If you like the idea of wearing something Stardew Valley-related, take a look at these great items!
Hats
There are only two offerings available when it comes to hats, but as the saying goes: Quality over quantity. Both of these have fun and unique designs and would look lovely on anyone's head.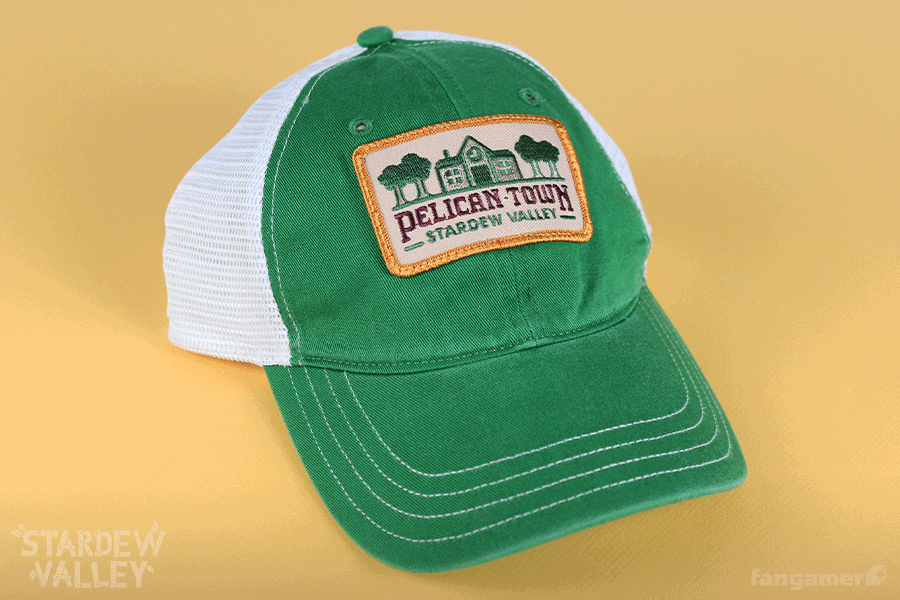 T-shirts
There were plenty of shirts available across the 3 official merch websites, so I had a tough job narrowing it down. However, I think I've included a good range of designs to account for personal preference. Some feature the characters, and some include other elements of the game. Some are in-your-face "I LOVE STARDEW VALLEY," and others are more subtle. You're bound to find at least one that suits your taste. I really love the design of the Bachelorette Bouquet.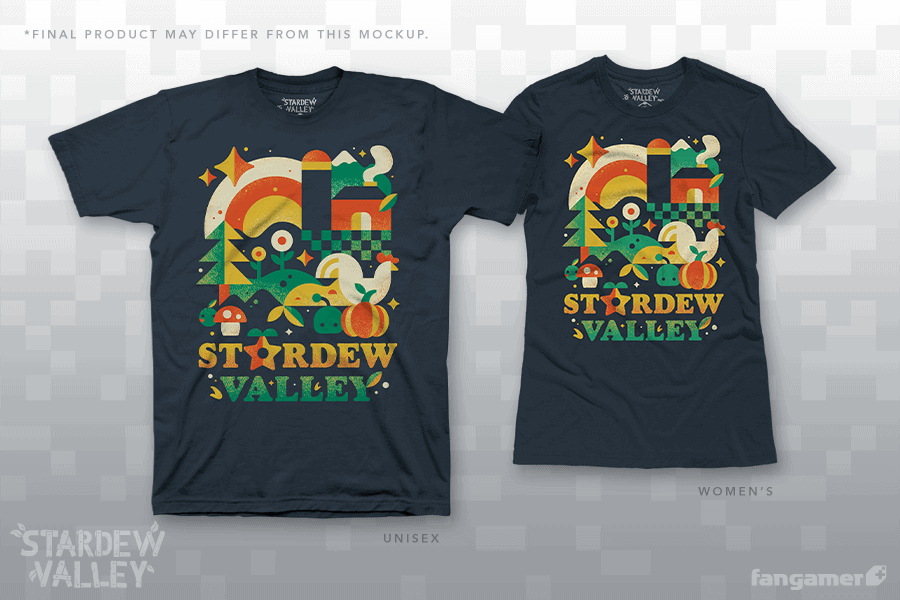 Other Clothes and Accessories
Not keen on getting a t-shirt or a hat? No problem! They also do socks, hoodies, jackets, bags, and a stunning but very affordable necklace. There's a great range of designs.
Some are cute, some are cool, some are elegant, and the Skulldew Valley Zip-Up is a bit scary! But if you've got a darker side to you as well as just the light and fluffy farming side, then it could be exactly what you're looking for.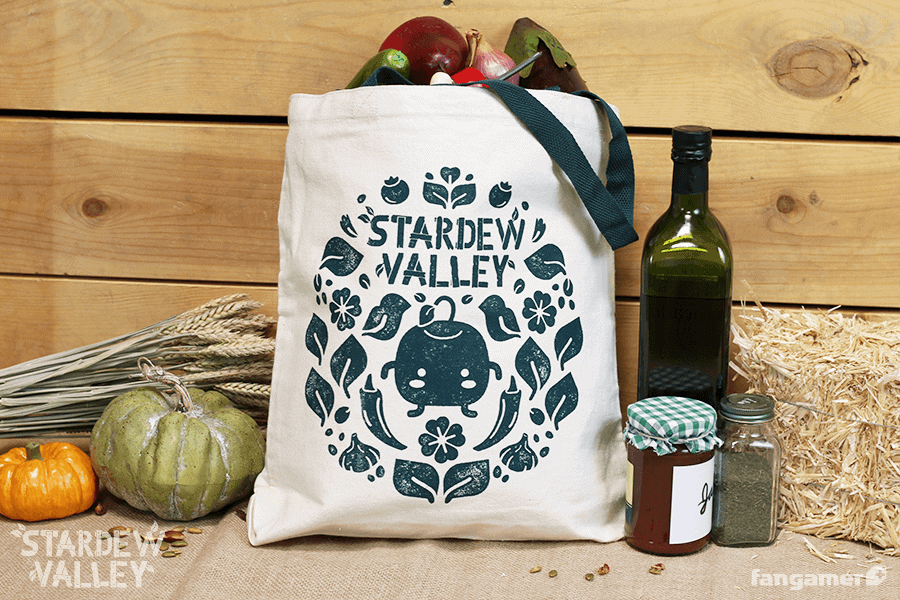 Enamel Pins
I only started collecting enamel pins a few years ago, but since then I've been obsessed. It's so addicting to find a great new pin to add to your collection, and they can be a cheap way to display your love of particular fandom. ConcernedApe clearly recognizes the appeal of them, as there is a veritable smorgasbord of options.
Character Pins
The characters of Pelican Town are what give Stardew Valley so much charm, and so why not proudly display a pin of them on your bag or in your room? Unlike with the plushies, you can get every bachelor and bachelorette as a pin, as well as some non-marriage candidates. The quality on these looks great, and there are several fun art styles. I think my favorite would have to be the Krobus and Friends Enamel Pin, as it looks so beautifully made.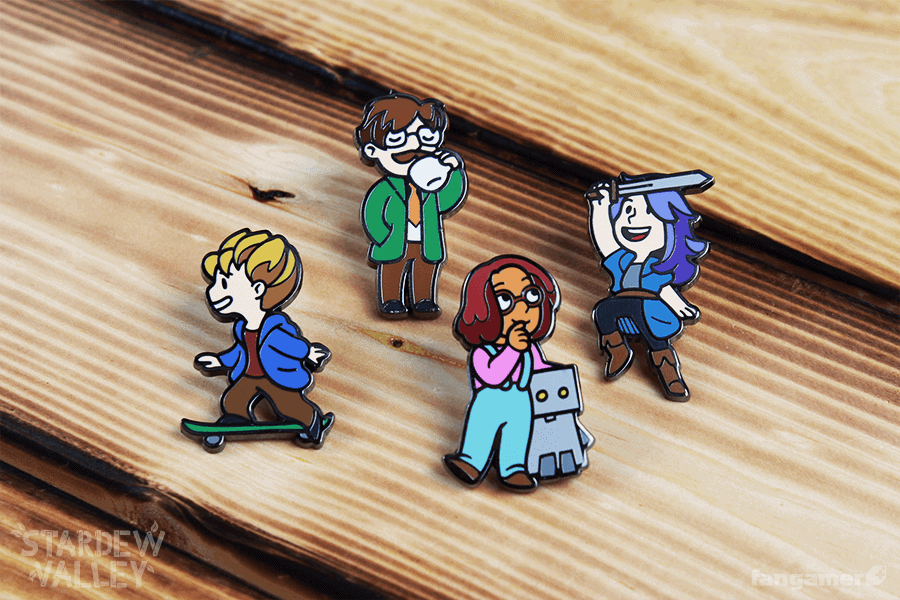 Junimo and Animal Pins
I don't know about you, but I LOVE the Junimos. They're so cute and pretty, and they fit the aesthetic of the game so well. I like that they come in different colors, as it means they look even better when they're together. The animals are great too, with their distinctive pixellated style. Thankfully, the website has an excellent number of pins available, mostly enamel, but also a fun PVC pin set of the Junimos.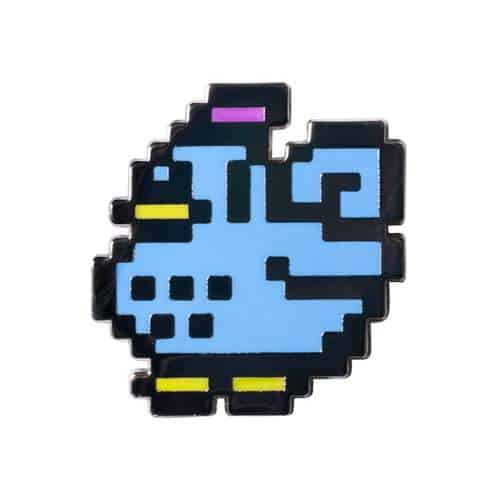 Other Pins
Maybe your favorite parts of the game come not from the characters or animals but the rich world that has been built around them. If that's the case, then these pins may be exactly what you're looking for. Fun fact, the Pelican Town Community Center Pin was my first ever piece of Stardew Valley merch! I'd recommend that one.
It looks elegant and is beautifully crafted, but honestly, I'd happily buy any and all of the pins listed here. I've also included a corkboard shaped like a Stardrop, as it would be a great place to display all your lovely new pins!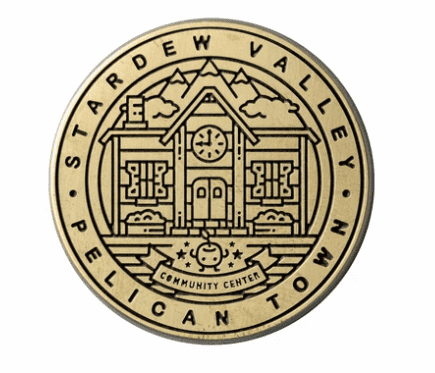 Decorative Items
Want to have some decorative merch to display proudly in your room or gift to a friend? Then have I got some links for you! Whilst there are some excellent prints and posters, there are also some more unique decorative pieces. Whatever your style, one of these is bound to jump out at you.
Prints and Posters
In my mind, there's no easier or more convenient piece of merch than a simple print. They're thin and flat, so they take up almost no space, and they look great on a wall. They also come in a wide spectrum of art styles and sizes, so you can pick the one that you love most. I think my favorite would have to be the Flower Dance Poster, as the colors are so light and pretty.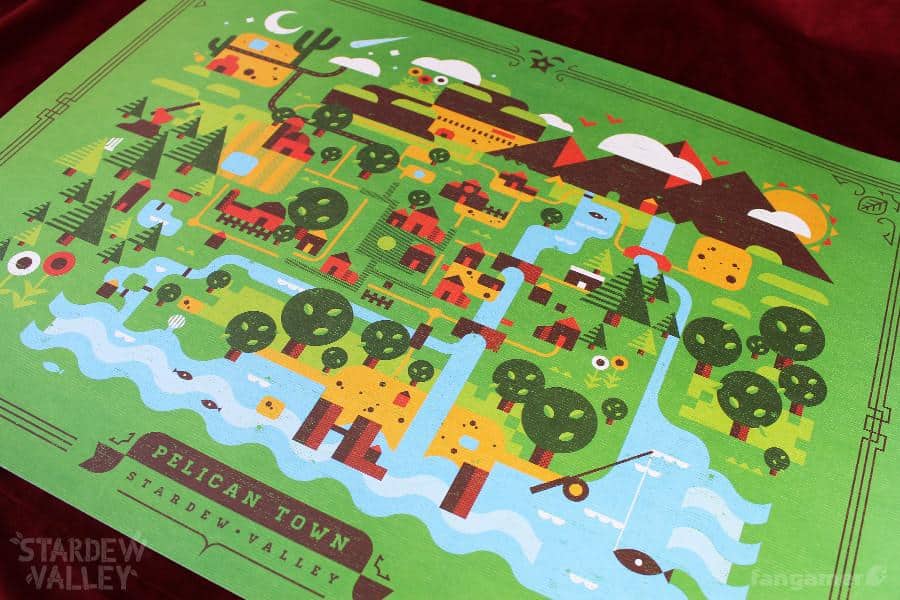 Other Decorative Items
Don't fancy a print? Not to worry, I've got you covered! The official collections have some unique pieces, such as a vinyl slipmat which would go great with the vinyl boxset that I linked earlier in the article. There's also a wintery display piece and a collector's cassette, which you could display proudly on a shelf.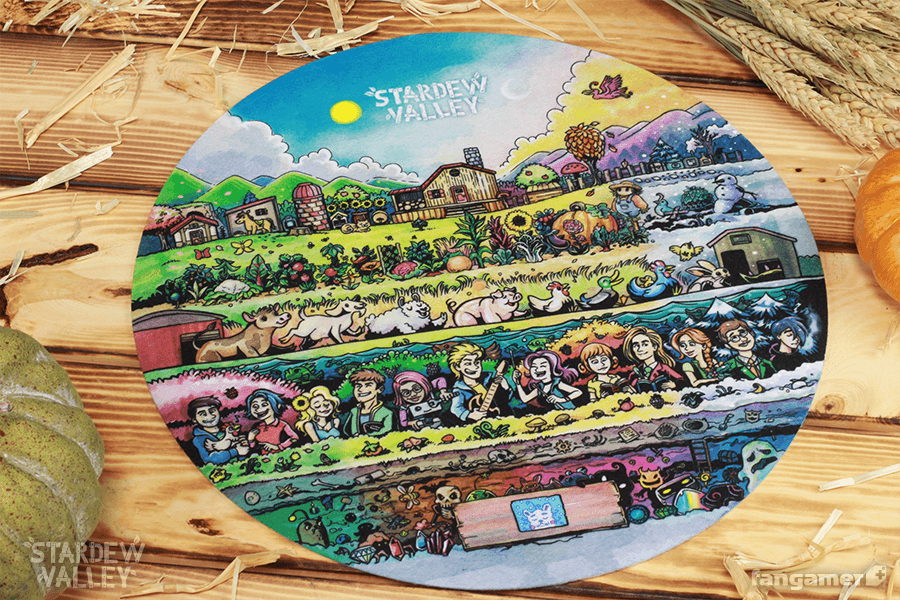 Usable Items
Sometimes you want to represent your favorite franchise without buying something purely decorative. So I made a category dedicated to items that serve a practical function as well as look great. That way, you can treat yourself to something you'll use. These also make for great gifts, as you may know of an item that someone needs, and you can make it Stardew Valley related!
Stationery, Books, and Crafts
I've got a weakness for stickers, and so I was delighted to see the cute Townsfolk Sticker Pack, as I love to journal, and they'd look great on a dedicated Stardew Valley page. There's also gorgeous stationery set with designs inspired by the game.
If you want to know all the ins and outs of the game, the guidebook could take your playing experience to the next level, and I love that they've made a graphic novel set in the relaxing world that we know and love. Plus, if you're an arty person, you can try out the Cross Stitch Kit or Coloring Book!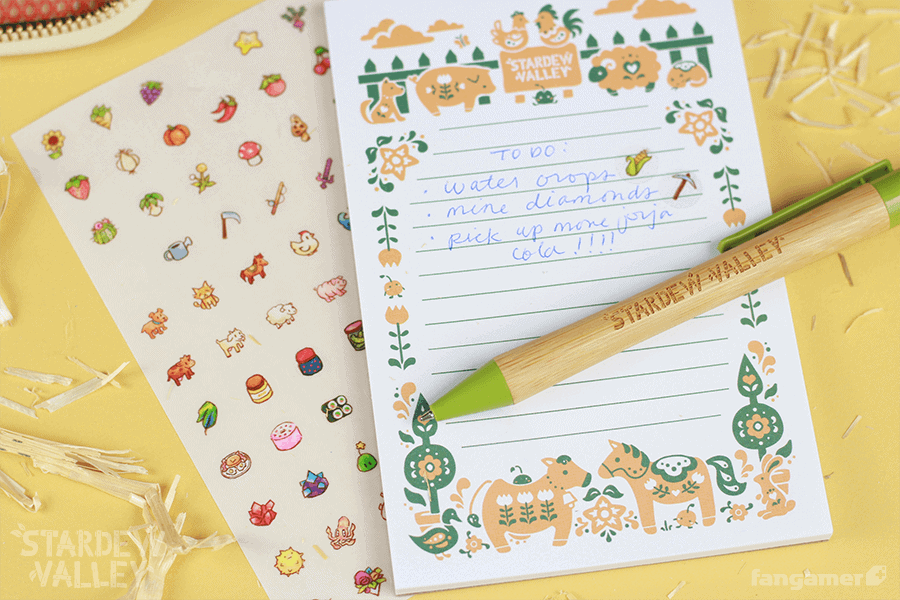 Mugs and Glasses
Do you get thirsty sometimes? Of course, you do. You're human! So, why not quench your thirst with one of these great mugs or glasses?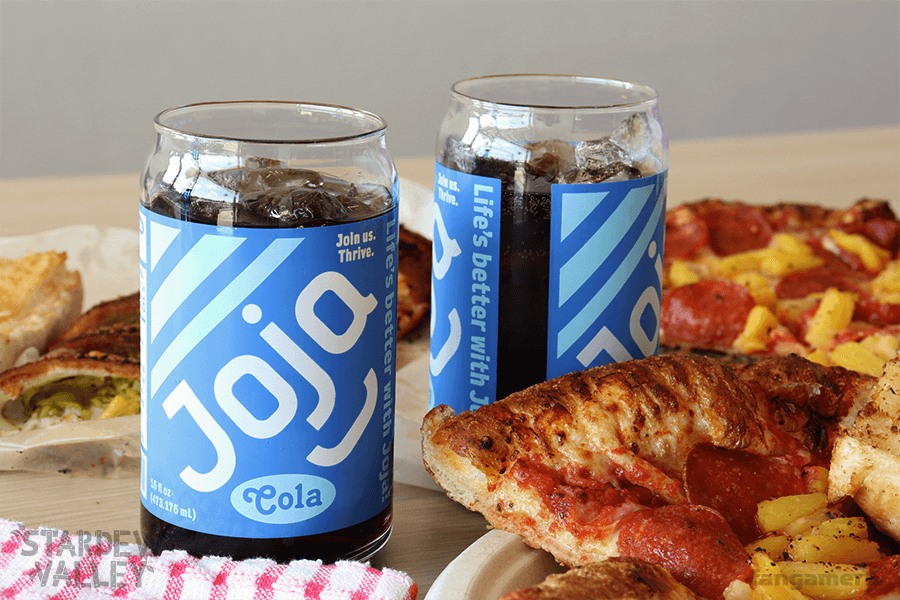 Fan-made Merch
Couldn't find quite what you were looking for from the official collection? That's not a problem, because now we venture into the bustling realm of fan-made merch, and believe me, there's no shortage of it. I've scoured through thousands of items to find what I believe to be the best of the best. I hope you agree!
Plushies and Figures
Whilst there are some great plushies available on the official site, you may not have been able to find your favorite character, and that's where fan-made merch comes to the rescue. There also aren't any official decorative figures, so I've selected some of my favorite handmade ones to show you here.
Plushies
Now, be aware, some of these are handmade, so they might not have the professional finish that you'd expect from official plushies. However, instead, they offer a unique charm, which can make them feel even more special. I was also able to find some different designs for Junimo plushies and even some wonderful plush chickens!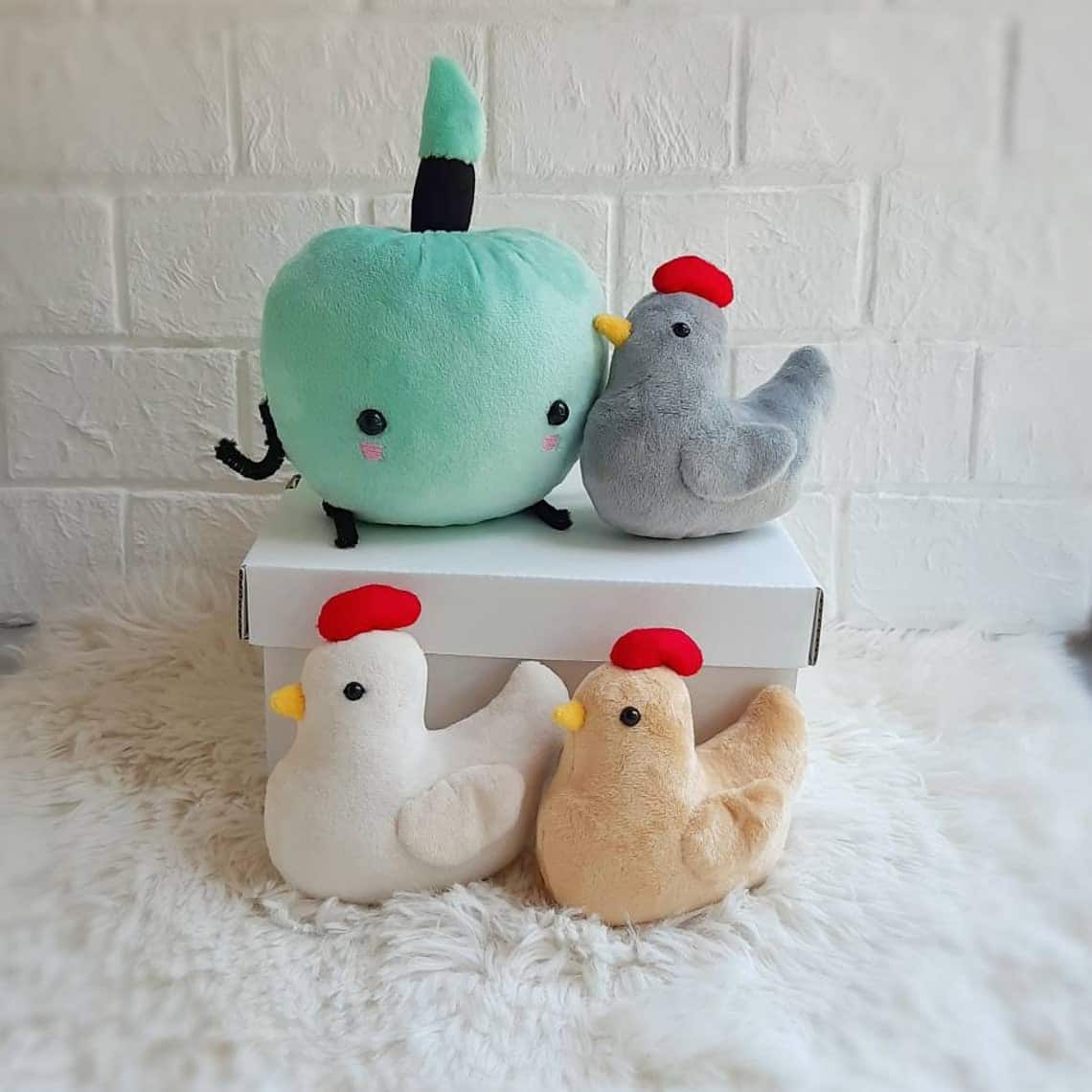 Figures
Do you want some figures to display in your rooms, without necessarily needing them to be plush? Etsy offers some delightful handmade characters and animals in a range of crafts. You can find figures made from fuse beads, some that have been crocheted, and even some neatly felted ones. The time and dedication that these fans have put into making this merch are truly impressive.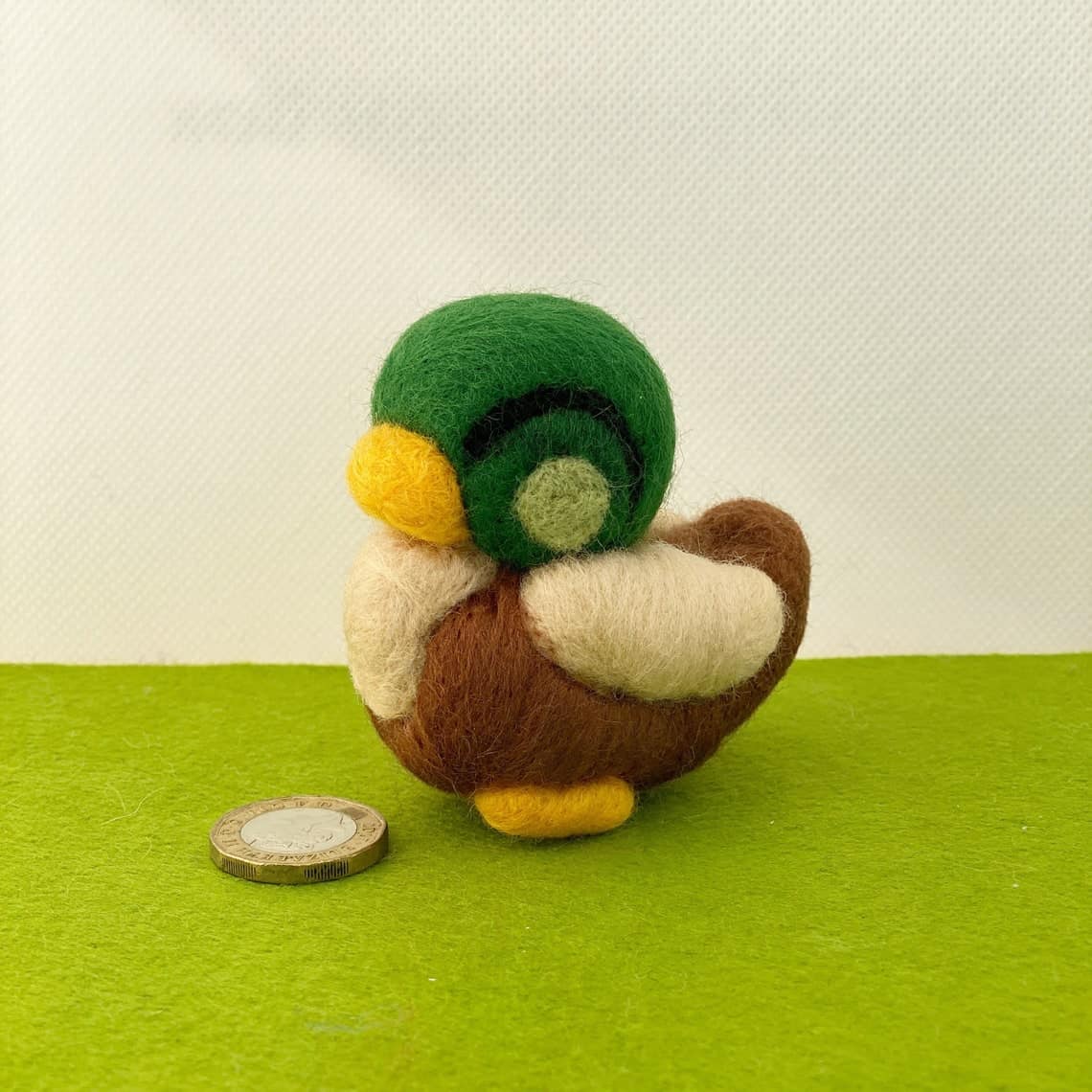 Clothes
As I mentioned earlier, clothes are a great way to show off your favorite game. I loved a lot of the official designs, but maybe you couldn't find one that was quite right for you. In that case, maybe some of these will be more what you're looking for?
T-shirts
If I thought the official collections had a lot of options, it was nothing compared to the non-official options. It seems many fans have created their own Stardew Valley-inspired t-shirts, and so I took it upon myself to source the best of the best. Check out these awesome designs that I managed to find! If you love Sebastian, then the last t-shirt should be especially appealing to you…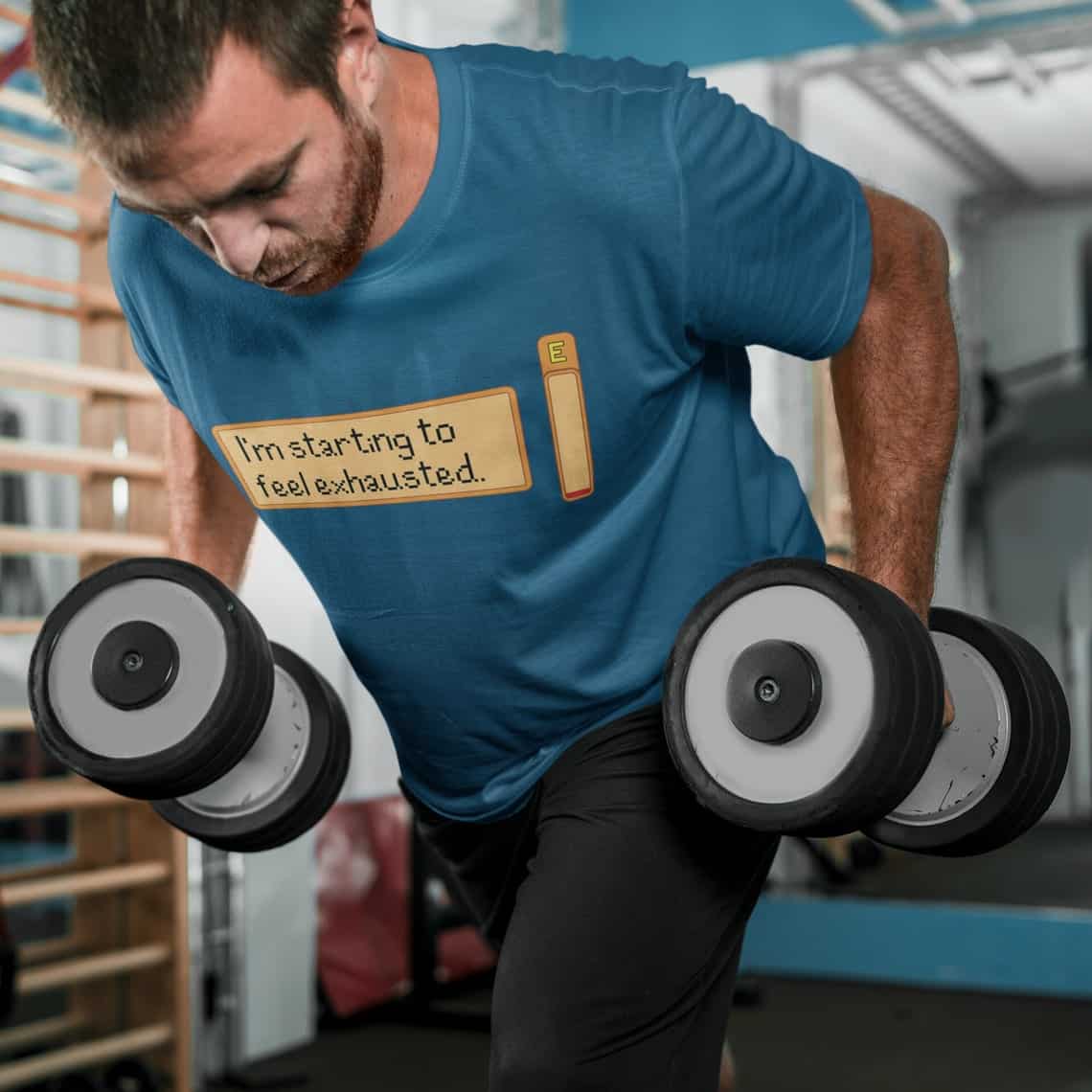 Hoodies and Sweatshirts
Much like with the t-shirts, there were plenty of hoodies and sweatshirts to scroll through, and I'm really happy with the ones I've chosen. I love hoodies because they're so warm and comfy and great for lounging around in.
You could huddle up in one of these whilst playing Stardew Valley, and feel like a proper cozy farmer. I also like that one of the hoodies says 'Boycott JojaMart', because we all know going the Joja route is evil!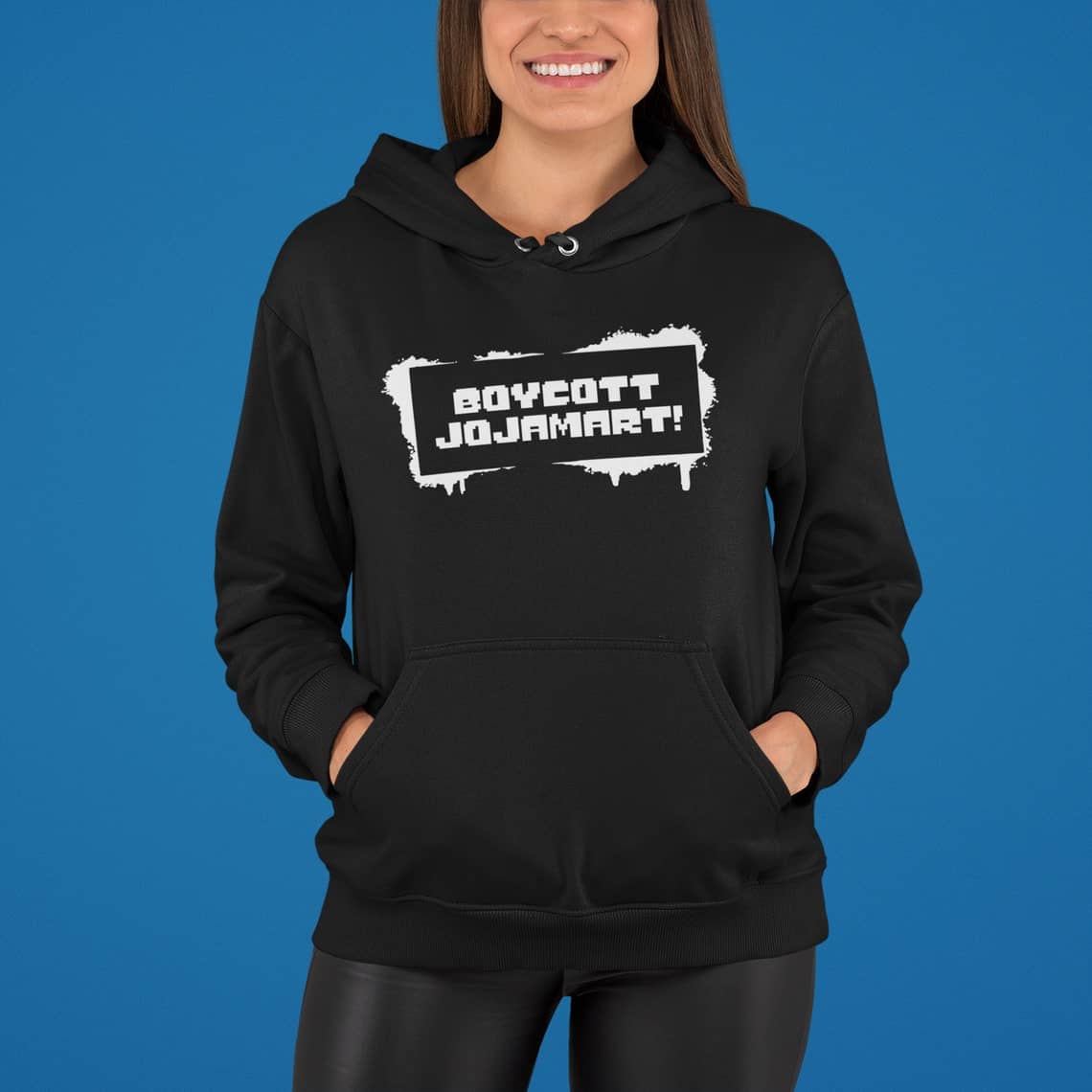 Jewelry
Want to adorn yourself with something beautiful and unique? I found some great jewelry pieces that would make wonderful gifts, either for a friend or as a treat to yourself. It amazes me what people can make into jewelry, I even found some earrings that someone had embroidered by hand. These quirky merch items are a must-buy for any Stardew Valley fan who loves to look pretty.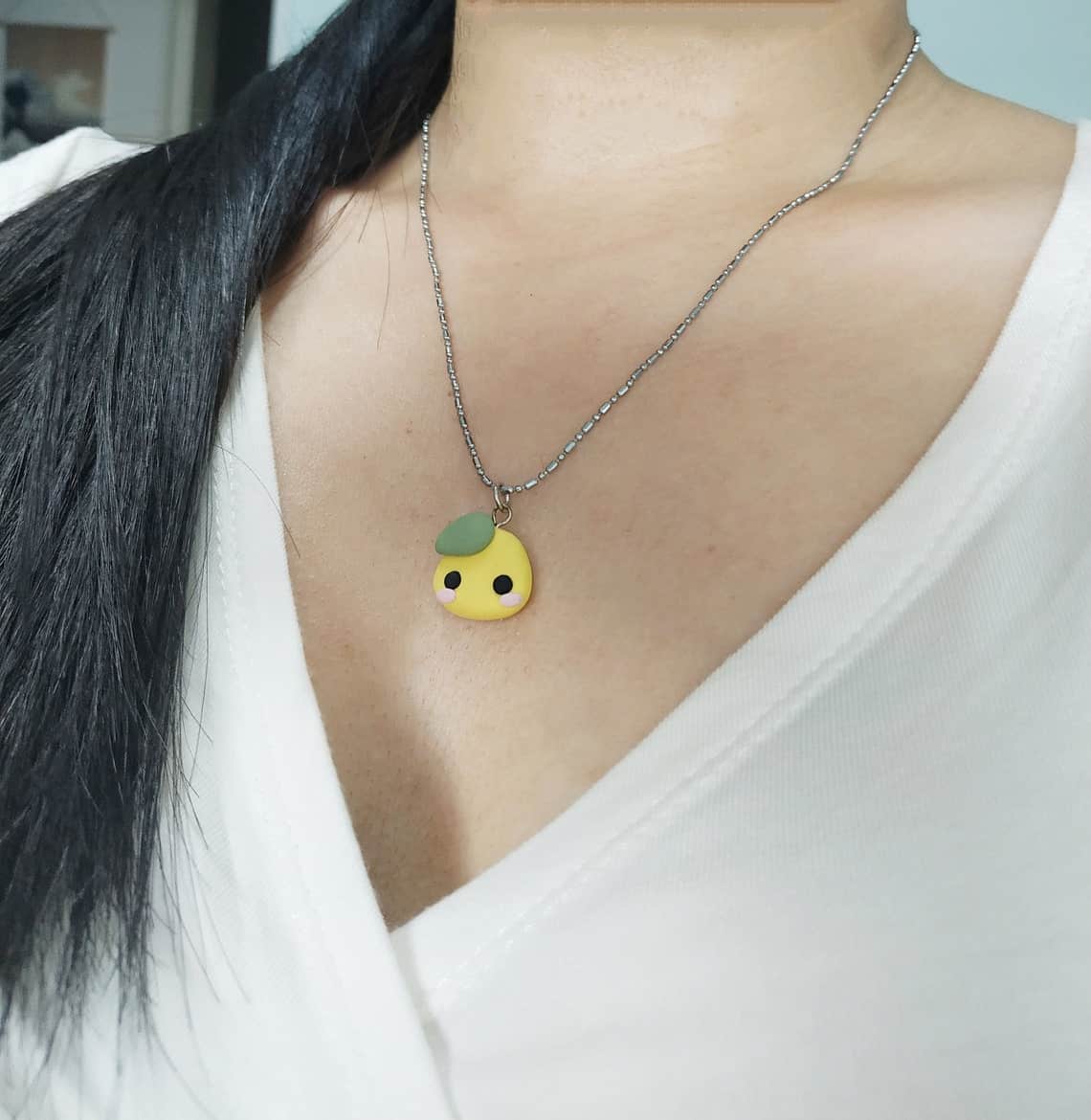 Pins and Keyrings
Did you want to add to your pin collection? I don't blame you. There are so many stunning designs out there. Not only did I find some great badges and enamel pins, but there are also some cute keyrings so you can carry Stardew Valley around with you in your pocket.
Character Pins and Badges
Did you want a pin of a particular character? If you didn't want to fork out for an enamel pin, there are some cheaper options available for you in the form of pin badges. The Chibi Bachelors Pin Badges are especially adorable and budget-friendly. And if Elliot is your favorite, then there's an excellent hard enamel pin badge with him on.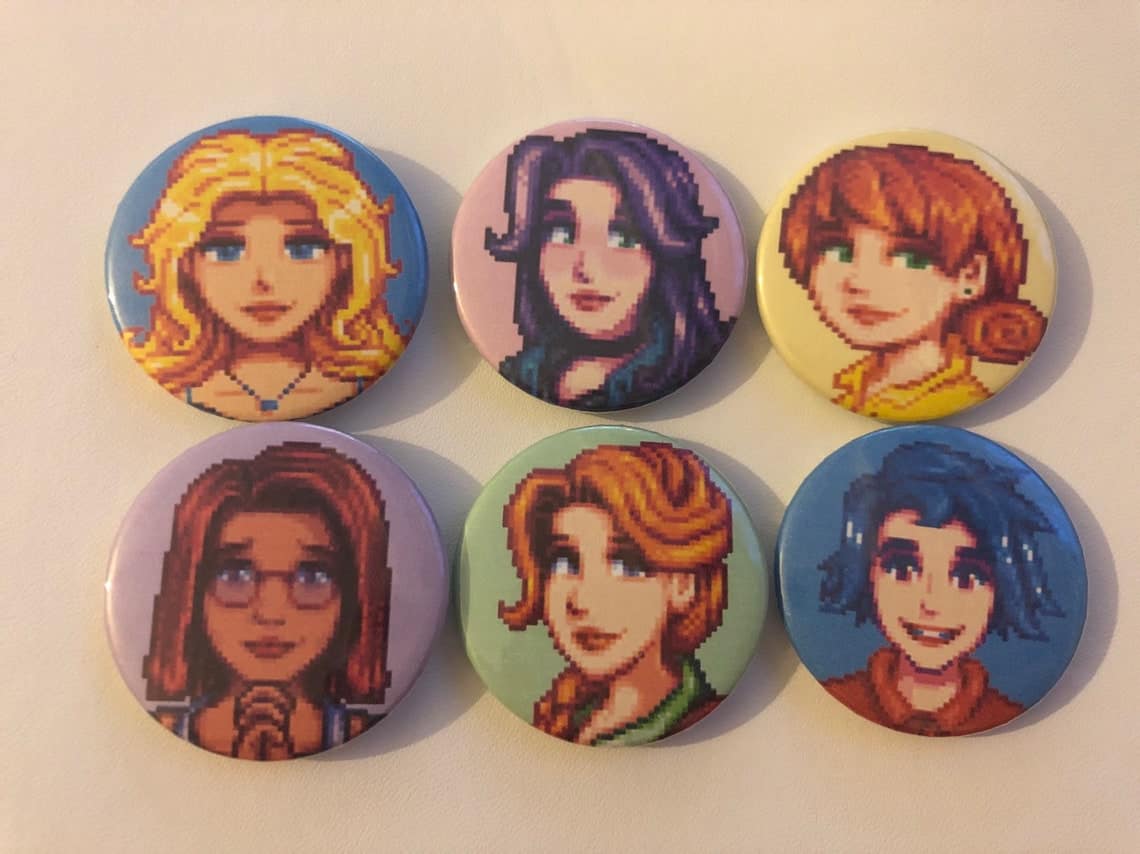 Other Pins and Badges
Character pins not quite doing it for you? There are plenty of other options for you in that case. I love the elegant look of these pins and badges, and would highly recommend the Junimo Switch Pin, as it's such a cute and clever design. But you know your preferences best, so why not look through all of them?
Keyrings
Whilst there are no keyrings available on the official site, there are loads on Etsy. Of course, not all of them are the best quality, so I've gone through and chosen some that I think go the extra mile. I love the Crocheted Junimo Keyring, as I crochet myself and appreciate the time and energy that will have gone into it. And I couldn't include the Acrylic Sam Keyring, as it's so rare that I see Sam get the love that he deserves.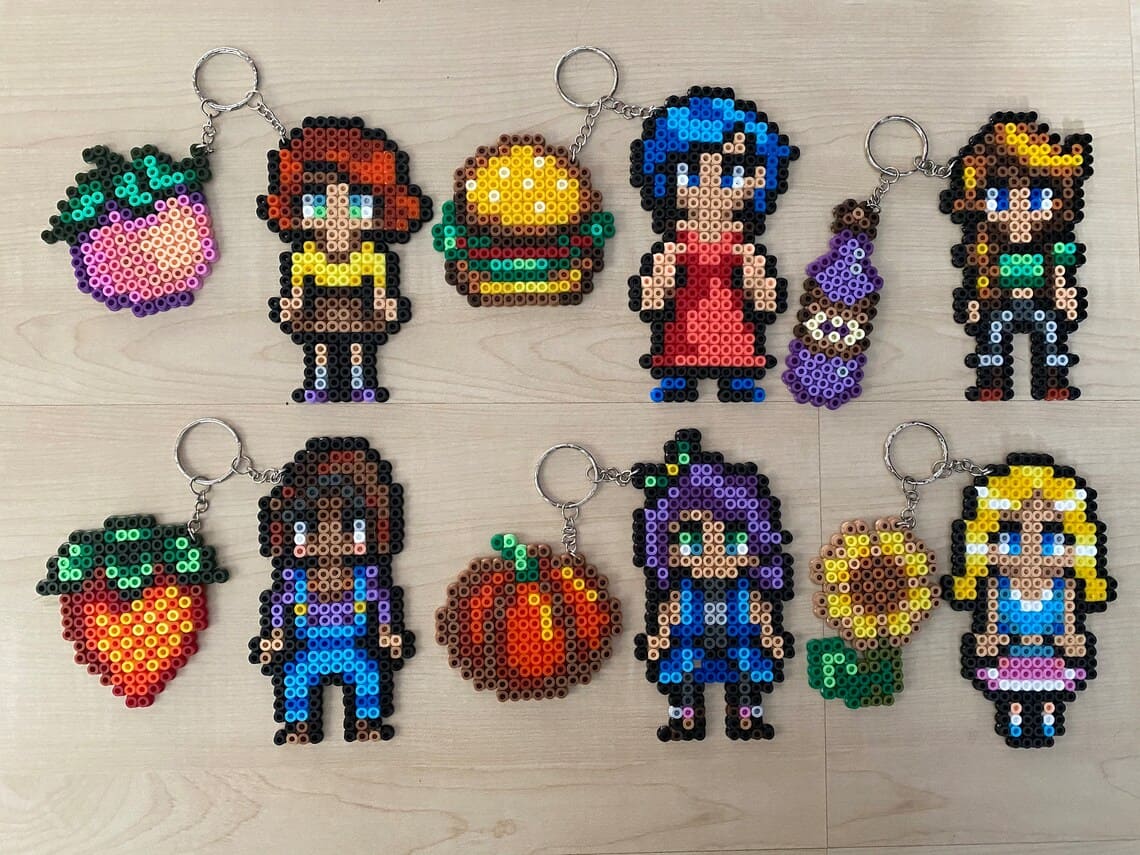 Decorative Items
Do you want to make sure you can keep Stardew Valley a permanent fixture in your room? While there are a fair number of great options on the official site, fan-made merch opens the door to so many unique new options. It's amazing seeing the creative ideas that fans have come up with, and I'm sure you'll love some of these amazing pieces.
Character Prints
It's really hard to choose a favorite from these exceptional offerings. It amazes me to see the talent that these artists have put into creating the prints, and they bring such a unique take to the characters we know and love.
If Abigail is your favorite bachelorette, then you'll adore the elegant print of her playing her flute. And I know many fans have a soft spot for Linus, so I've included a lovely Linus Tent Print.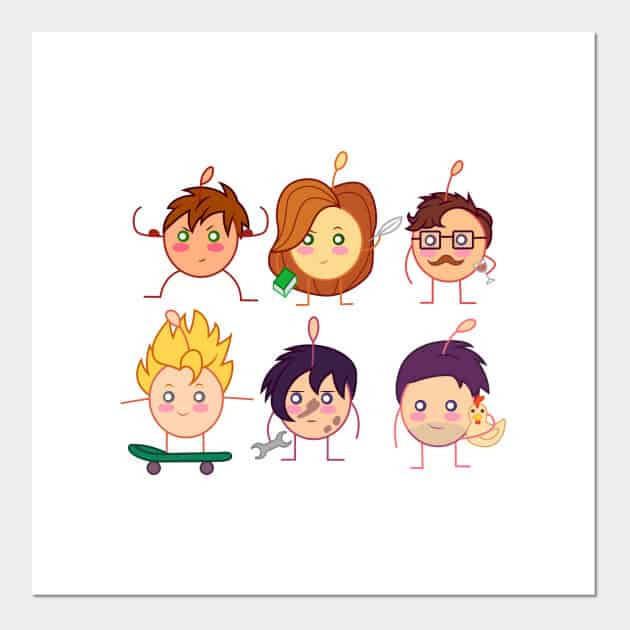 Other Prints
If you're here for the general aesthetic of Stardew Valley, rather than the characters themselves, these prints might appeal to you. They feature gorgeous aspects of the game such as the settings, the animals, and the adorable junimos!
There's a wide range of art styles available, and I'm particularly fond of the location prints, as they're designed to look like travel posters, which I think is just genius.
Other Decorative Items
Not a print person? That's fine. There are more merch items to see. I wanted to showcase some different items, and so there's quite the mix here. There's a delicate Embroidery Hoop, some fridge magnets, canvas boards, and a unique Perler Bead Special Date Decoration, which lets you use Stardew Valley to commemorate a special date in your life. But my favorite has to be the wonderful Krobus terrarium. Maybe it'll be your favorite too!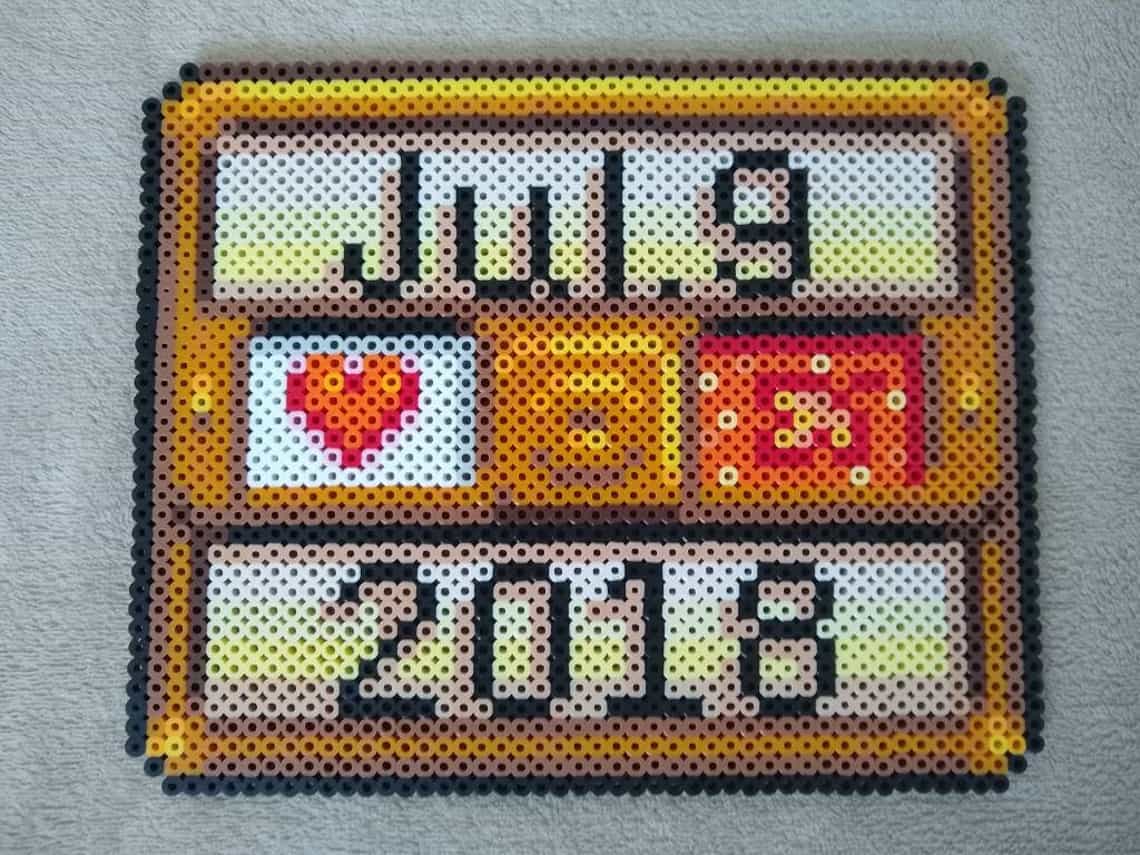 Usable Items
There's something to be said for merch that is both aesthetically appealing and practical, and that's where this category really shines! I've chosen some great options across a handful of categories, so see whether anything piques your interest.
Glasses and Mugs
Whilst the official site does have some glasses and mugs, there aren't many options for designs, and so if none of those appealed to you, you may have better luck with fan-made merch. It really is astounding to see the brilliant ideas that people have come up with, and maybe you can enjoy your next drink in one of these fun pieces. Personally I love the styles of the Hot Drink Mug and the Adventurer's Guild Mug.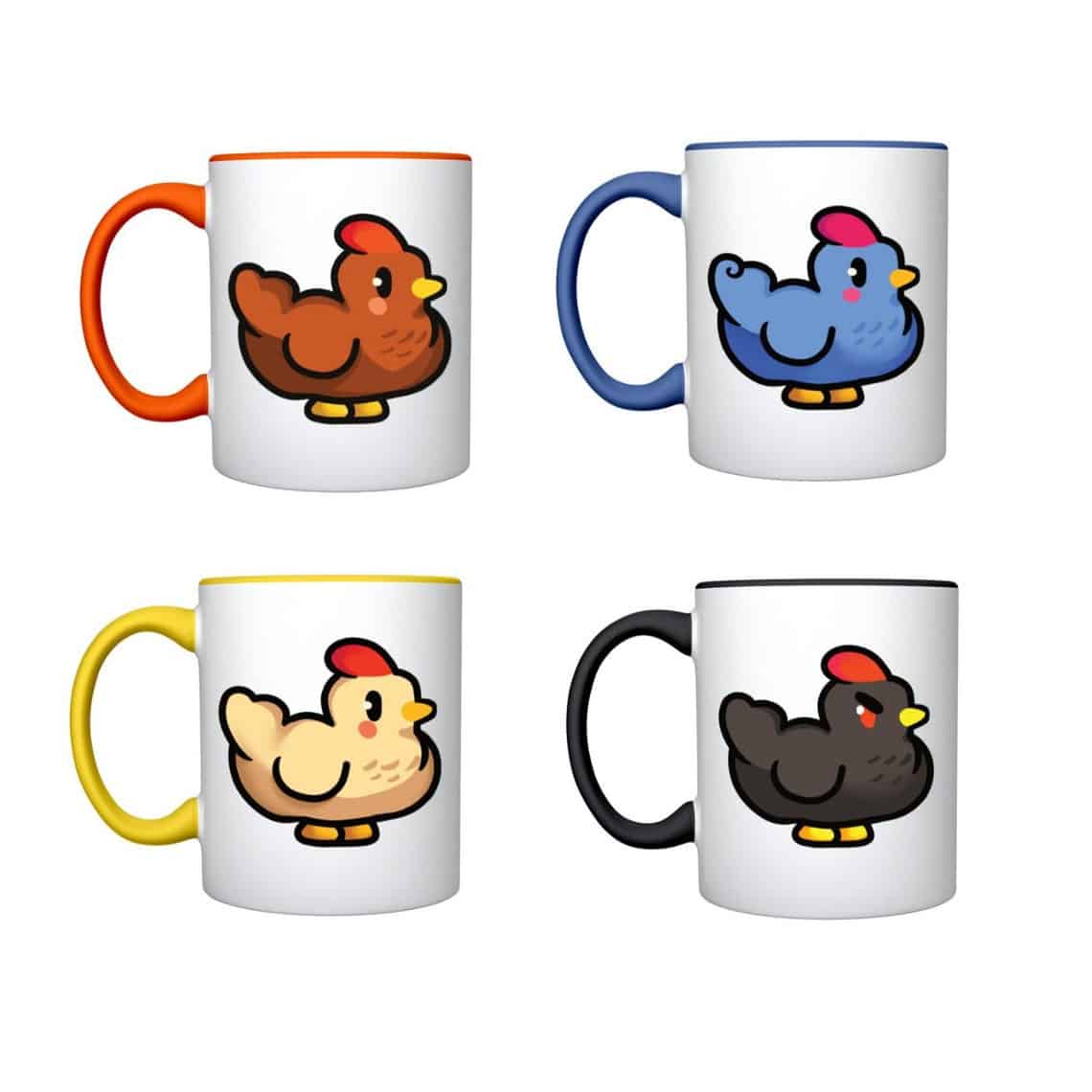 Stickers
You can never go wrong with stickers! They brighten any surface they touch, and why wouldn't you want to put Stardew Valley everywhere? You can find stickers for pretty much any aspect of the game, so I've picked my favorites here. The Happy Cat Sticker is particularly useful as it's a relatively large vinyl sticker, so you can stick it on surfaces such as a water bottle or a laptop. The sticker sheets would also be useful if you use a journal.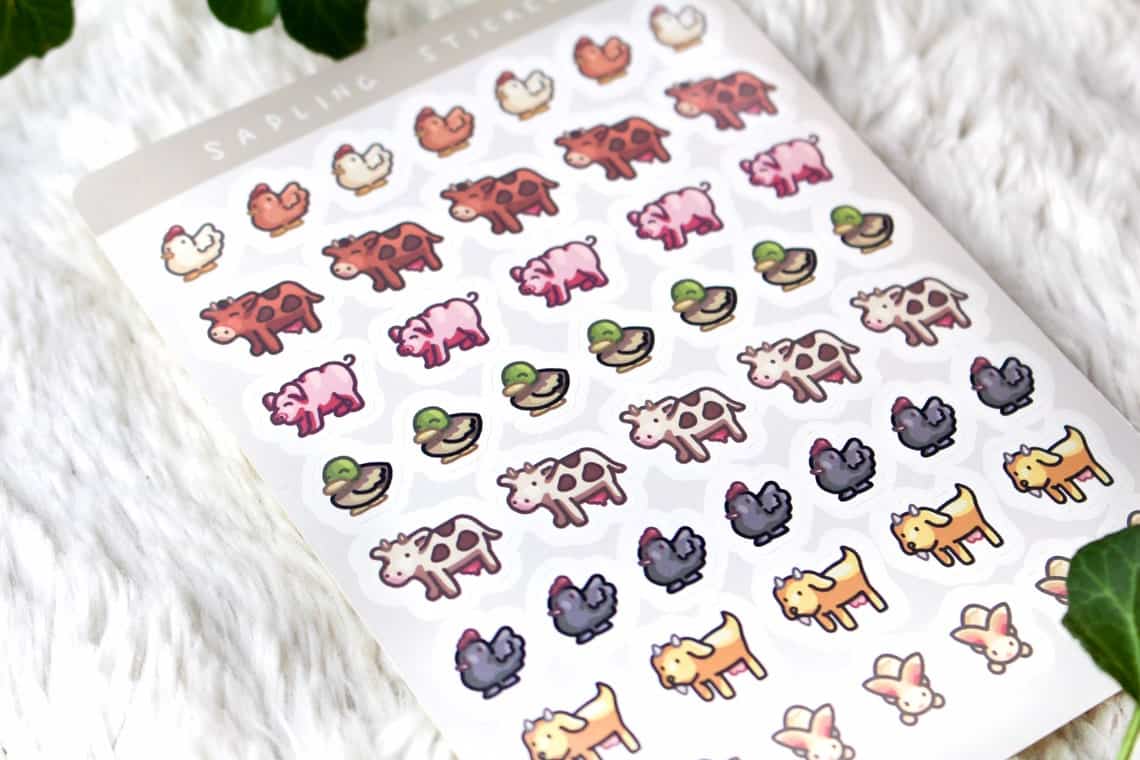 Other Stationery
Looking for stationery to use alongside some stickers, or maybe even instead of? This section has some cool notebook designs, as well as patterned washi tapes. I think the Stardew Valley Map Hardcover Journal is particularly elegant looking, and it's a great way of making the game art into a practical item.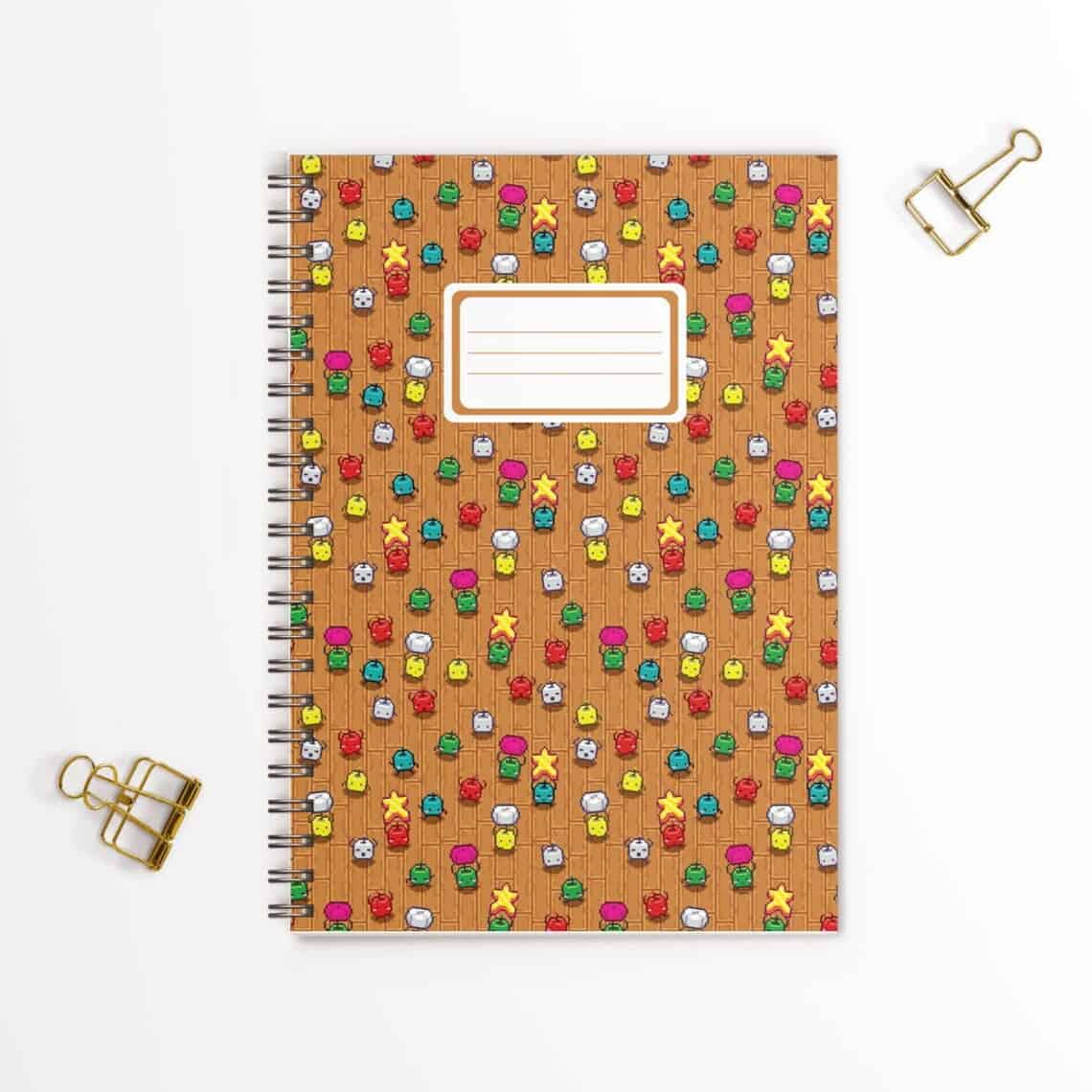 Other Usable Items
Finally, we have some miscellaneous items that I think would be great for any Stardew Valley fan. Some beautiful wrapping paper designs could be useful if you're buying a Stardew Valley-themed gift for someone and want to complete the experience.
There's also a particularly soft-looking throw blanket featuring a map of the game. There are a few mousepads and even a Junimo Face Mask to keep those pesky germs away.
FAQs
Question: Was Stardew Valley really made by just one person?
Answer: Yes! Believe it or not, everything you see in the game came from the mind of just one talented game developer. Eric Barone, aka ConcernedApe, made the entire game by himself, inspired by peaceful games like Harvest Moon. He spent 4 painstaking years creating the models, code, characters, texture assets, dialogue, and everything else. I'm sure you'll agree, he did an incredible job! He's now working on a new project called Haunted Chocolatier, although it doesn't yet have a release date.
Question: Which platforms can you play Stardew Valley on?
Answer: Although originally only available on PC, due to its success, Stardew Valley has been ported to many other platforms. It's now also available for Xbox One, PS4, Nintendo Switch, PS Vita, and MacOS. You can even play it on mobile, both Android and iOS.
Question: Why do you recommend official merch over fan-made merch?
Answer: I feel that when a game developer has created such a magnificent game that we feel compelled to buy merch of it, we owe it to that creator to try and let them make a profit from our purchase. They've put the time and effort into making a game that we love, and so we should always prioritize purchasing items where they'll get a share of the money.
A lot of the time, fan-made merch won't be officially licensed, and the creator won't have sought permission from the game developer. Of course, it's not always possible to buy from the official website, especially if we're after a particular item, hence why I included both sources.
Conclusion
As you can see, there's no shortage when it comes to Stardew Valley merch, and I really believe I've found some of the best items on the market. This game is so special to so many of us, and it makes sense that you'd want to find a way to make it a permanent fixture in your life.
Whatever you decide to buy (or not buy), I hope this article has been able to give you some inspiration. Until next time, happy farming!