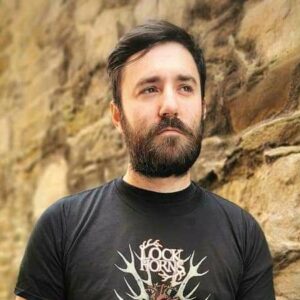 Latest posts by Callum Marshall
(see all)
No matter what you make of Stardew Valley as a video game, you can't deny that this game is incredibly cute. The pixellated style, the lovingly made chiptune music, the distinct character models, and the surprisingly rich world design all culminate to offer one of the most aesthetically pleasing gaming experiences around, and all without the insane budget of a AAA game studio.
Eric Barone is solely responsible for bringing this incredible game to life and stylizing this title in such a way that it mirrors the quaint and relaxing simulation games out there like Animal Crossing, Slime Rancher, Forager, and more, all the while being completely unique.
How else would this game have sold twenty million copies? Well, what do you do when you successfully create one of the cutest games on the market? Well, you inadvertently inspire the masses of fans to create a Stardew Valley plush army, of course.
Due to the irresistibly adorable design of Stardew Valley, this game has naturally become the subject of lots of plush products, allowing fans to cuddle and collect their favorite characters, animals, and Stardew Valley entities.
There is a wild mix of official products and Etsy fan creations on the market, and while each has its merit, it can be hard to tell which products are made with quality materials and are worth your money. Well, that's where I come in!
I'm a huge Stardew Valley fan that has played this game since its release in 2015. I have watched this game grow from the 1.0 Vanilla game, to the glorious 1.5 version we have today. I have owned some staggeringly beautiful farms in my time, I have been betrothed to every bachelor and bachelorette in the quaint little town of Pelican Town, I have conquered Ginger Island and when everything was done, I would start a new save and do it all again.
So believe me when I say that I am an expert in this game, and as a collector of very particular plushies, I know what makes an excellent Stardew plushie!
I have compiled a list of the best Stardew Valley plush toys on the market, and I have categorized them as best I can so that you can get a great plushie for just about any character throughout the game. I care about you getting those premium snugs and with that in mind, let's not doddle. Here is our comprehensive Best Stardew Valley Plush Guide!
Bottom Line Up Front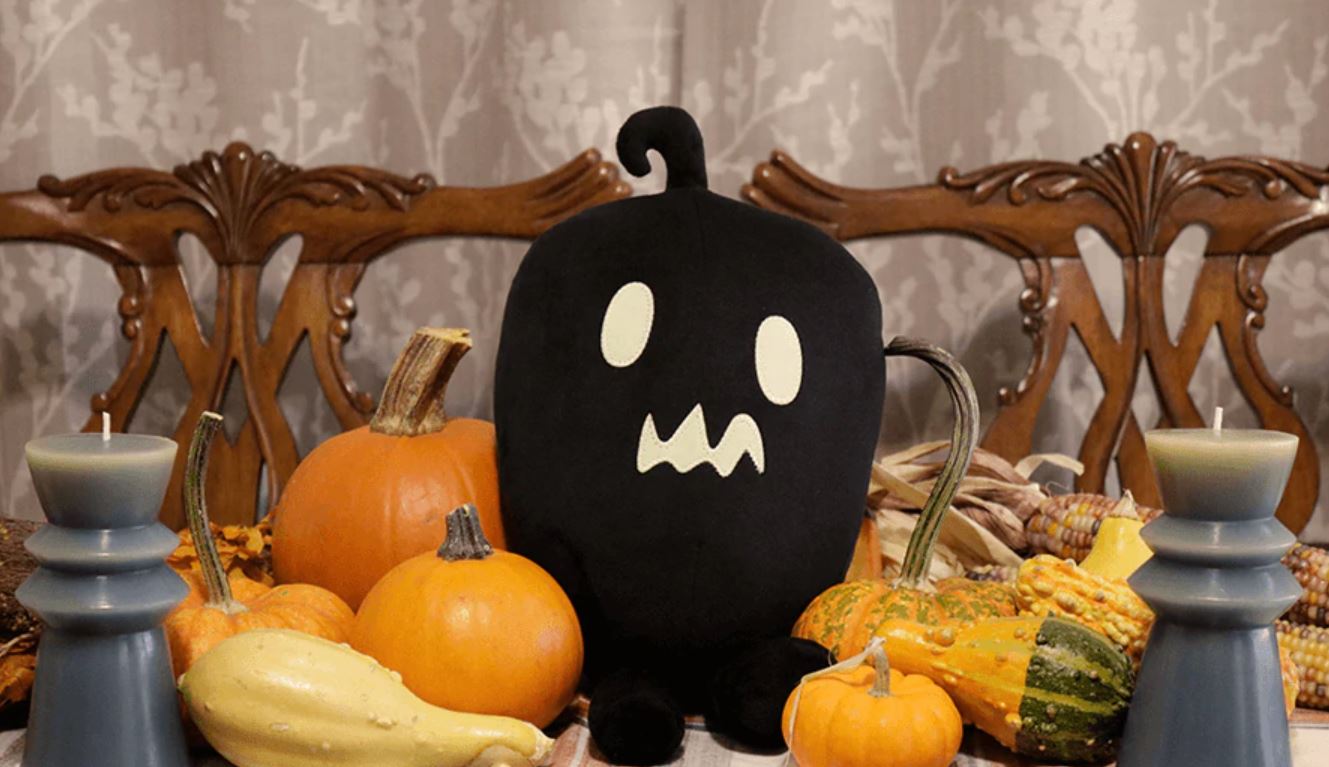 Overall, I have to say that there is no real substitute for the official plush toys on the market. The Fan-made content is interesting and will perhaps offer a way to get your hands on a cuddly version of a character you wouldn't otherwise. However, the official plushies are made with better material, have more extras, and just look more authentic.
Of all the options available, my personal pick of the bunch is the Krobus Stardew Plushie, not only because he is a delightfully cute shadow-man, but also because he glows in the dark and he's super soft. That being said though, the cute little chickens were a close second.
Our Top Picks – Picks at a Glance
Official Stardew Plushies:
Fan-made Selection: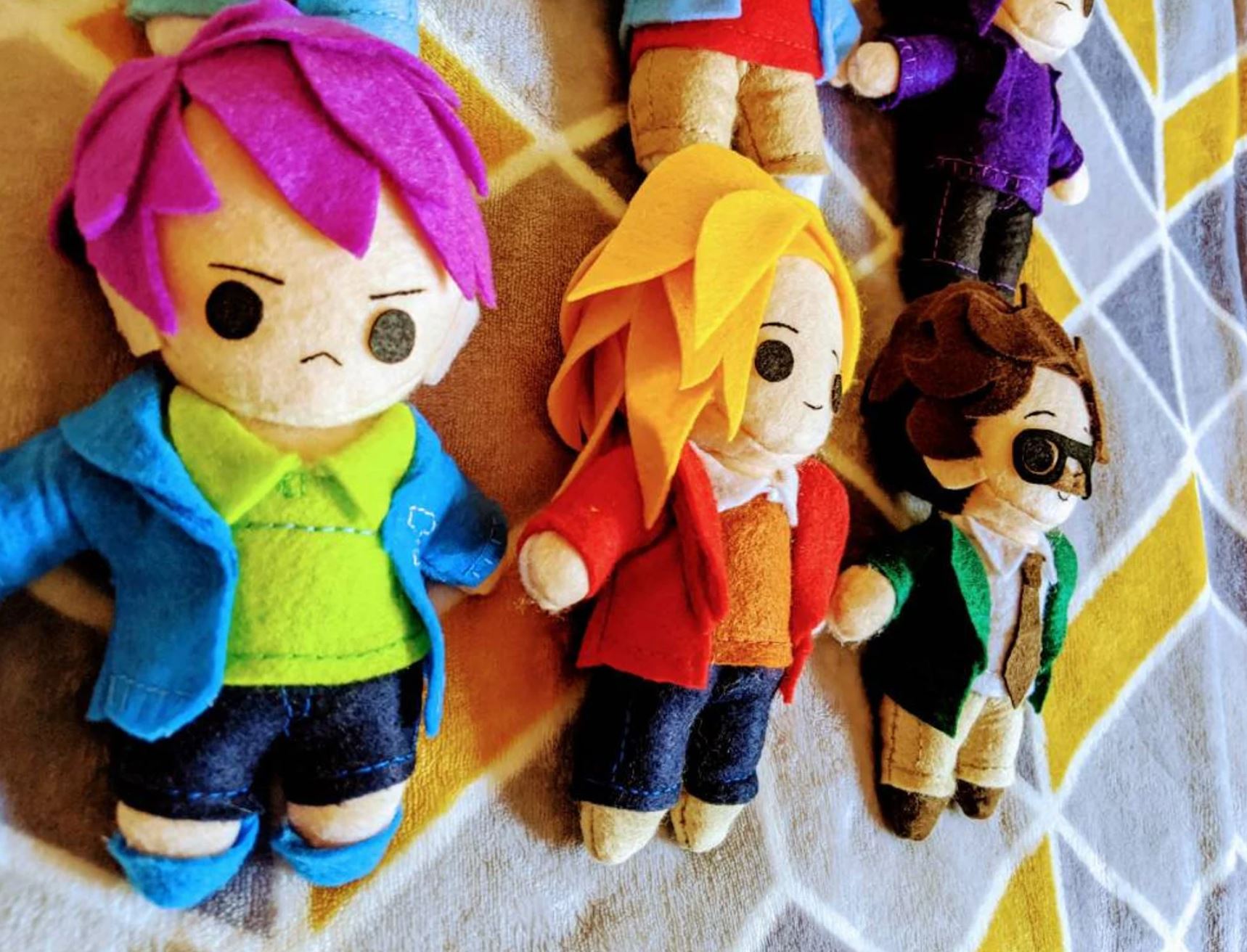 Our Selection Criteria
So before I get into the fluffy, cuddly action, I want to lay down some ground rules so that I don't end up listing any plush items that don't belong here. Sure I could stuff a Harvest Moon Cow onto this list, but that would go against what I am doing here. So here are the criteria I will be working with:
Material

– These items must be made of soft, squishy material that makes them perfect for soft, squishy hugs.

Quality

– These items must be made of quality materials and pay attention to the finer details when trying to replicate the design of the character or creature in question.

Available for Purchase

– These items must be available to buy from an online store or sole trader

Stardew Valley Only

– These items must only relate to Stardew Valley, so no random farm animal plushies are allowed

Price is no option – As we are picking the best in class here, I'm not too concerned about the price tag
The Official Stardew Valley Plush Range
Okay, so let's begin with the Official plush collection. These items are certified official licensed products that have been given the greenlight by ConcernedApe, and as such, I expect a lot more quality here when compared to the fan-made offerings. Here are the best official Stardew Valley plush toys below: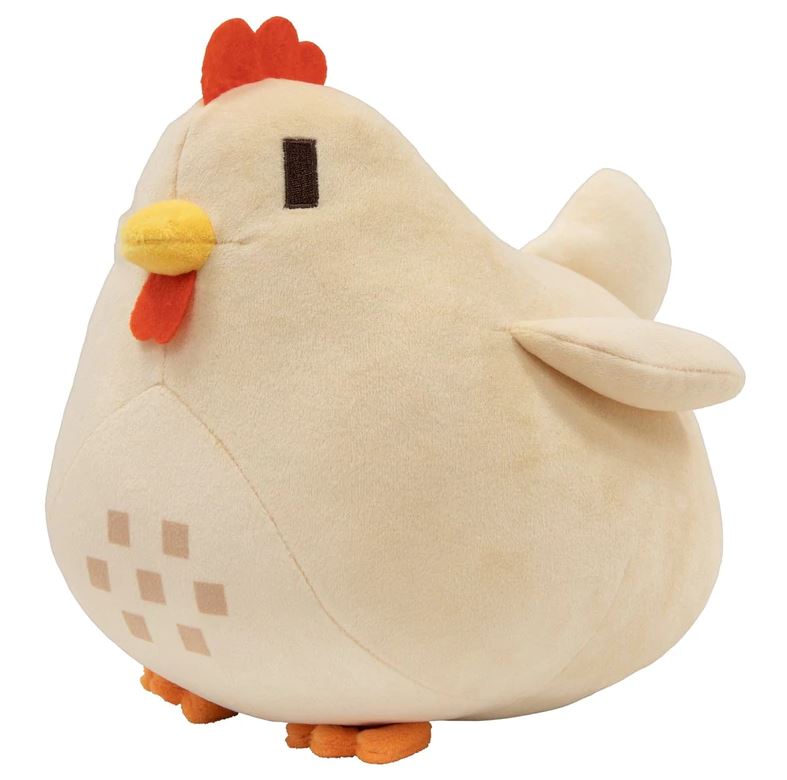 Let's begin with one of the newest offerings on this list, the chickens of Stardew Valley. If you have had your ear to the ground when it comes to Stardew Valley merch, you will know that this roster of Chicken Plush toys is set to expand.
For quite some time, Stardew fans have only been able to buy the admittedly adorable Blue Chickens and the devilishly handsome Void Chickens from Sanszee. However, you can now pre-order the new Brown and White Chickens to complete your collection!
All of these cuddly Chickens are crafted with care, use some of the softest materials around, and are rendered in a pixellated style to make sure that these plush toys are unmistakably Stardew Valley farm animals. You'll soon have your pick of the bunch as these new chicken plushies launch in August 2022, so be sure to get one before they are all gone!
Pros:
Comes in all four varieties present in the game

20cm Plush, making them perfect as a makeshift pillow

White and Brown Chicken can be bought as a package deal
Cons:
Not all plushies are available at the time of writing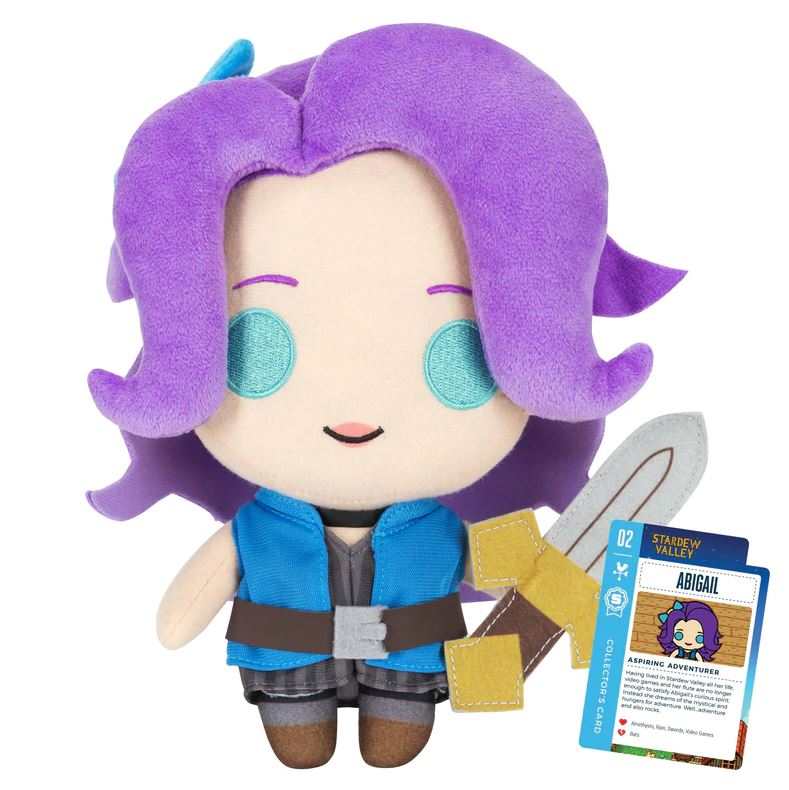 Now let's talk about the first of the three selected character plushies produced by Sanszee. Here we have this incredible plush toy rendering of Abigail, Pelican Town's resident quirky gamer girl with a love for adventure. This plush captures all the key features of this character from the cute outfit, makeup, bright blue eyes, and she even comes with a sword as a nod to her heart events where she goes spelunking.
The attention to detail is superb without straying too far into the realms of realism. Plus, the plush even comes with a collectible character card, and who knows what that will be worth someday! If only it came with a little amethyst, too; I hear they are delicious.
Pros:
A detailed plush replica of the in-game character

Comes with extras to add authenticity to the design

Comes with a collectible character card

It can be bought as a package deal with the licensed Abigail Pin
Cons:
Sword is just felt patchwork
Skirt stitching is a little untidy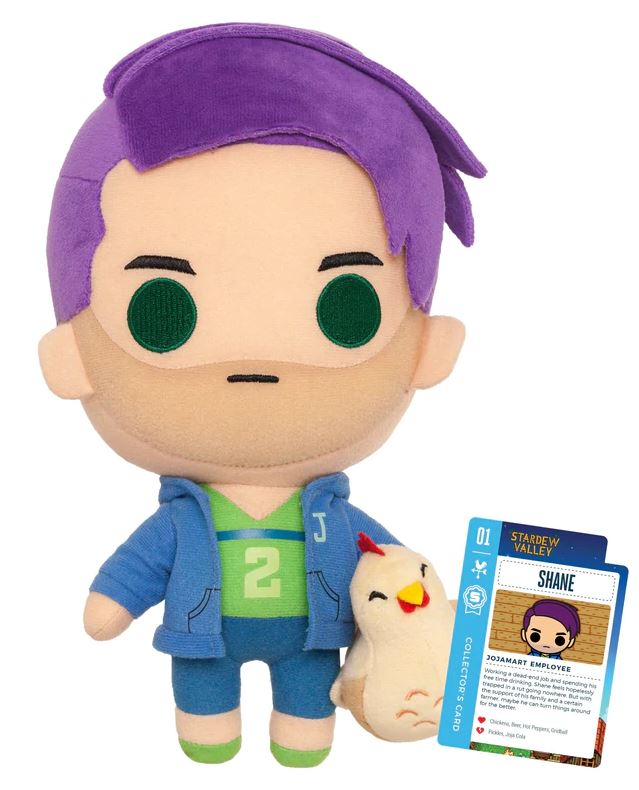 Next in the Sanszee character trio, its Shane, a beloved Stardew character with a turbulent life and an unhealthy drinking problem, but with a little love and care from his new farmer friend, he can turn his life around in a big way.
This rendering of Shane shows him still looking a little bit rough around the edges, showcasing his trademark five O'clock shadow and showing him wearing his Joja Mart uniform. However, choosing this version of Shane only makes me love him even more.
I can change him; I know I can! He also comes with a rather chipper-looking Chicken and a unique collectors card. It is a shame that it wasn't a Blue Chicken, though, considering they are a Shane specialty.
Pros:
Shane's design shows him, flaws and all

Comes with a cute little Chicken

Comes with a unique Character Card

It can be bought as a bundle with the Shane Pin
Cons:
The Chicken should have been blue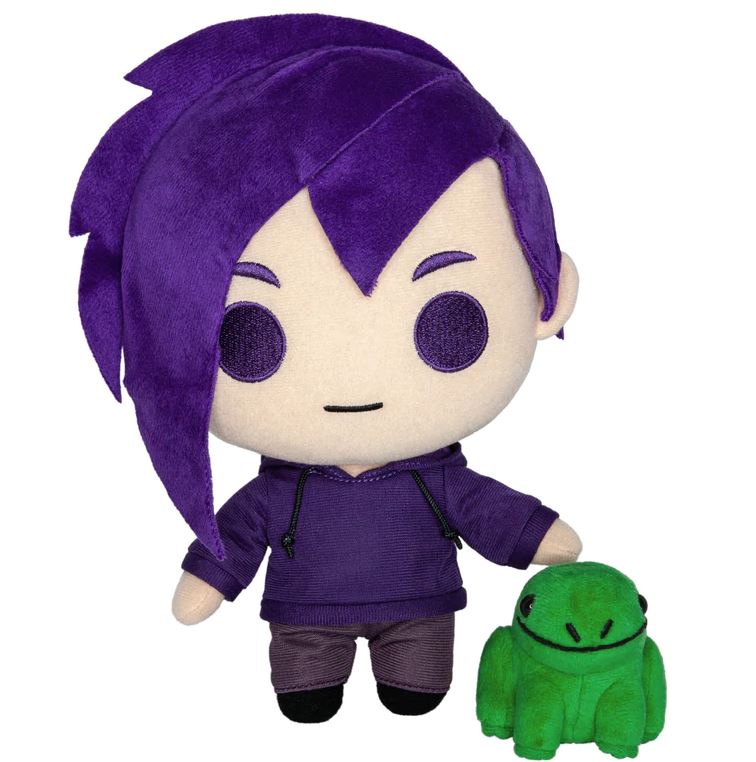 Then to wrap up the Sanszee trio, its Sebastian, the troubled teen with the Scene Kid haircut and a longing for a life beyond Pelican Town. This is probably my least favorite of the three, if I'm honest, but that isn't to say that it isn't a great plush.
The level of quality in terms of materials and stitching is right up there with the others, but I do think that the level of detail on offer isn't on par with Shane and Abigail. The low-hanging Emo-style hair is a cool feature, and the frog addition is a nice touch for those that loved Seb enough to unlock his 14-heart event.
However, I can't help but feel there was more that could have been done to make this plush more quintessentially Sebastian. Maybe I'm being harsh, though; the last thing I want is to be compared to Demetrius! Overall, a classy plush toy that rounds off the trio nicely.
Pros:
Quality embroidery and stitching

A cute magnetic frog extra

A unique character collector's card

It can be bought as a bundle with the Sebastian Pin
Cons:
Doesn't have as many distinguishable features and details as the above entries

Casual Stardew Fans may not understand the frog accessory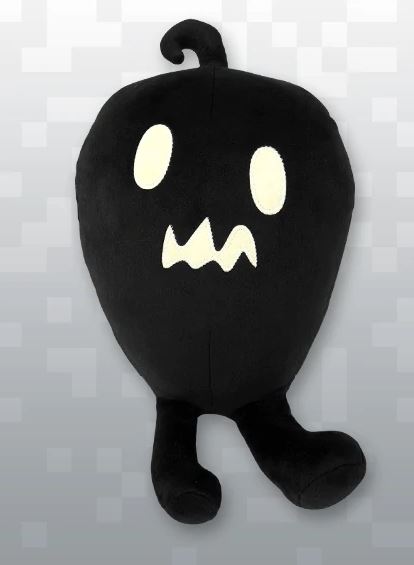 Now let's move on to the only other official piece of soft, cuddly merchandise that depicts a Stardew Valley character, and the character that gets that honor is the wonderfully weird shadow monster, Krobus.
He may be a demon shadow monster that spends most of his time in the sewers, but that won't stop you from falling in love with him, platonically, of course. This Krobus plush may not be as detailed as the others listed above, but seeing as Krobus is a shadow-like, black blob by design, there isn't much else the designers could have done here.
So he may not have a cool outfit or a fun accessory, but he does have a magic trick up his sleeve. He glows in the dark! That's right, that spooky face will cut through the darkness and stare back at you in a confused and befuddled manner, just like the Krobus I know and love. This is my personal favorite by a long way and a great purchase for any Stardew fan.
Pros:
Reasonably Priced

12-Inch Plush

Glow in the dark face
Cons:
The simplistic design may be underwhelming to some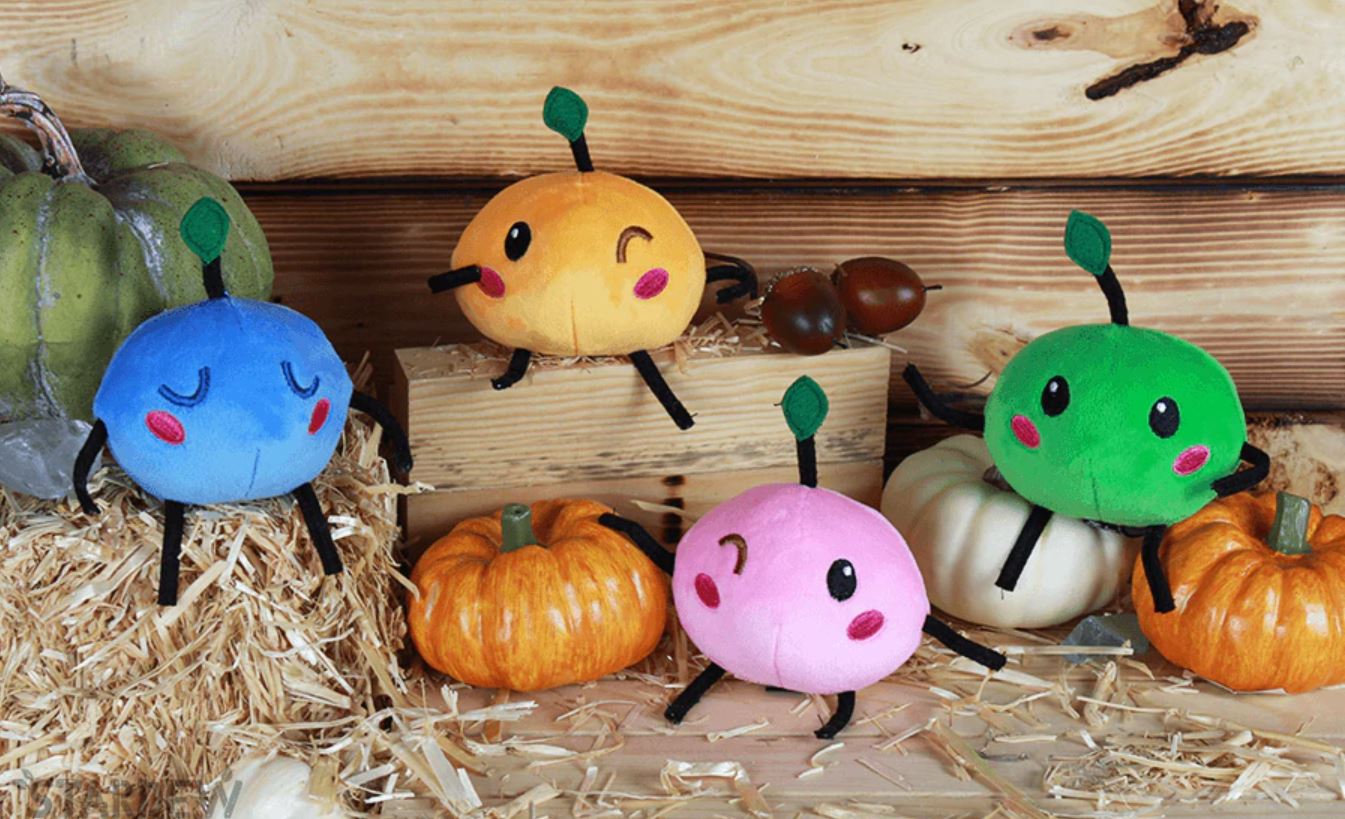 Stardew Valley is a farming simulator at its core, but it wouldn't be quite the same without the magic and mystery that is peppered throughout the world and the lore of this game.
Junimos are one of these magical entities and arguably the most important of them all, as they are the guardians of the forest and ensure that Stardew Valley remains the magical eco-center of this fictional universe. Well, along with being indispensable nature guardians, they are super cute into the bargain, and as a result, they can naturally be purchased in plush form.
Here you have the Junimo 4-pack that allows Stardew fans to own four mini-junimo plushies in various colors representing the changing seasons. Now, I admit that they aren't as impressive in terms of design compared to the larger Junimo plushies seen below, but considering you get more variety and bang for your buck, I see this as a great option as well.
Then into the bargain, it also comes with a code for Stardew Valley on Nintendo Switch; what more could you possibly ask for. Of all the options on this list, this is perhaps the best gift if you want to get someone interested in Stardew and find a new co-op partner.
Pros:
Incredible value for money

Comes with a Nintendo Switch game code for Stardew Valley

A variety of colors and facial expressions

Cute Packaging
Cons:
Design and quality are not as impressive as the larger Junimo plush model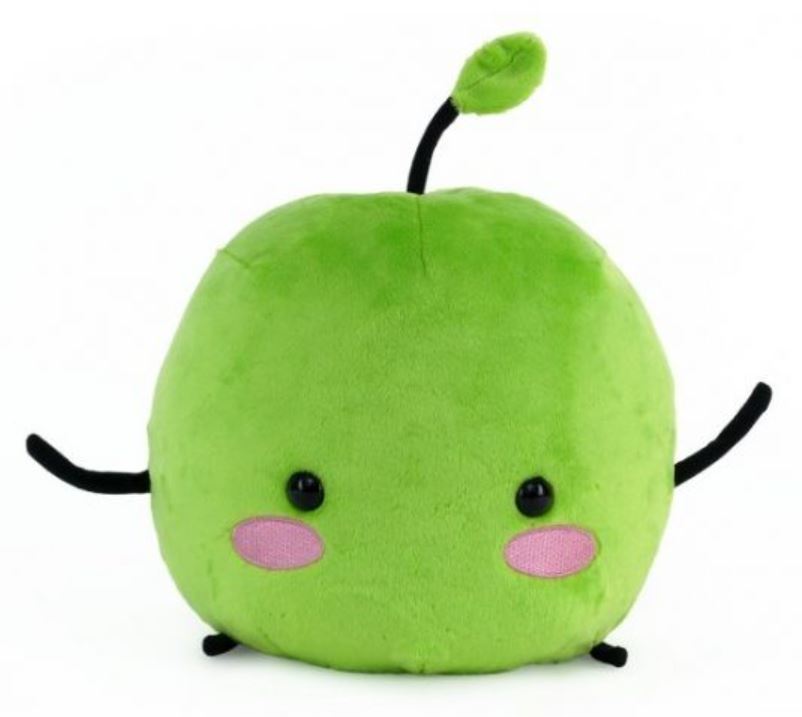 If you liked the cute mini-junimos, then why not invest in a larger, plumper, squishier Junimo? These Junimo Plushies come in three varieties, green, blue, and orange.
In terms of the overall design, the product just looks and feels better than the smaller plush toys above, right down to the little leaf on top, which is a puffy material instead of a patch. However, I will say that it is much more pricy than the Junimo bundle. However, it's a small price to pay for the comfort and protection of a forest guardian.
Pros:
A variety of colors available

A quality, squishy design
Cons:
No Summer color available (pink)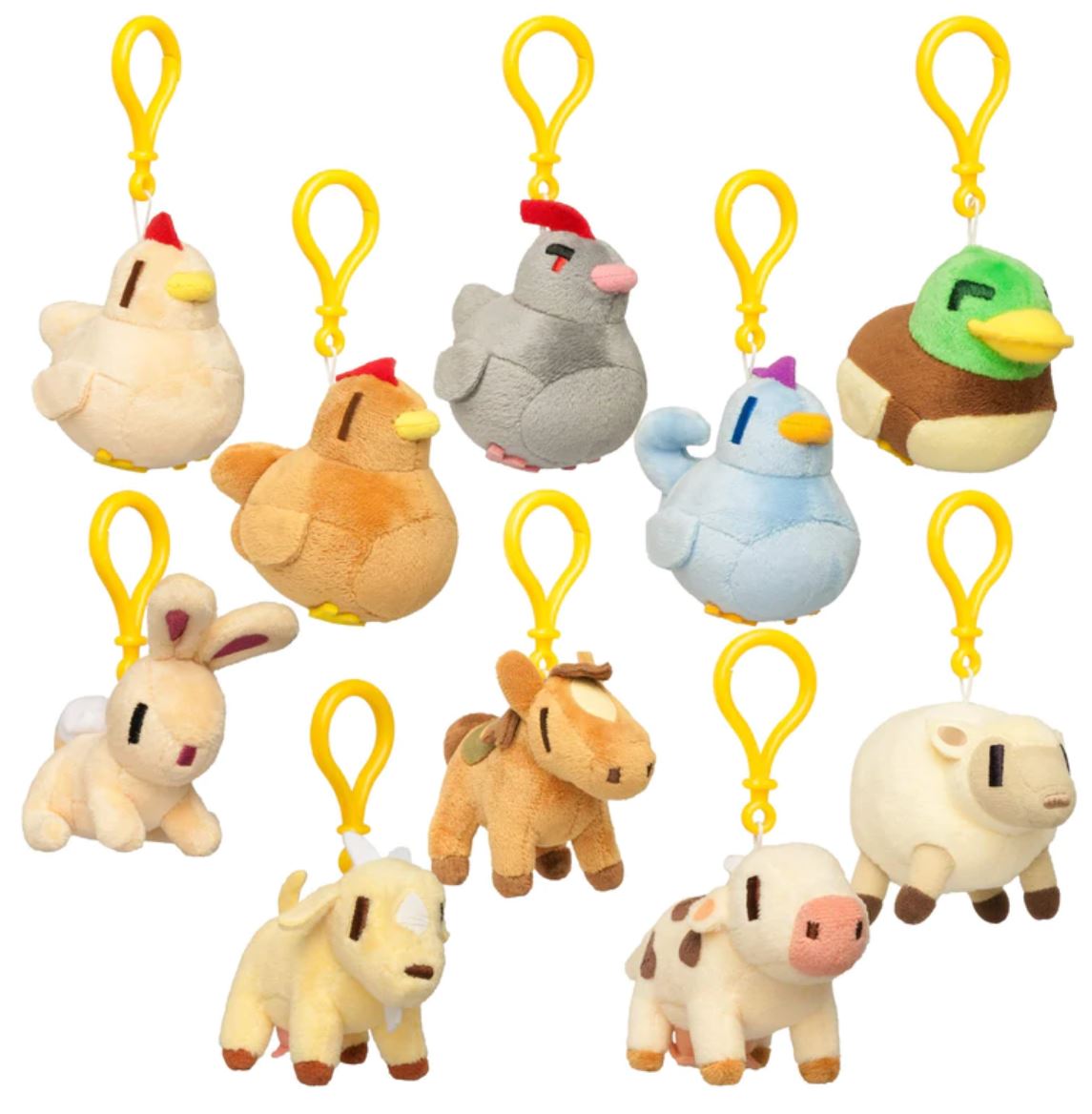 Moving back to Stardew Animals after the excitement of the Chickens at the beginning of this list. Now, the bad news is that there are no dedicated, large plush toys for any other animals aside from the chickens. However, what you can get your hands on, are official hanging mini-plush toys that come in a blind box.
This essentially means that you will get a random animal from the series. You will be in with a chance of getting any of the four chicken varieties, a cow, goat, duck, rabbit, sheep, or horse. The blind box format means that collecting them all can be a pain, but if you want to guarantee the full set, you can order 24 hanging plush toys, and you will be shipped an entire set along with some random extras.
Pros:
A huge variety of Animals on offer

Hangable and portable

Reasonably priced
Cons:
The blind box format makes collecting them all either very expensive or based on blind luck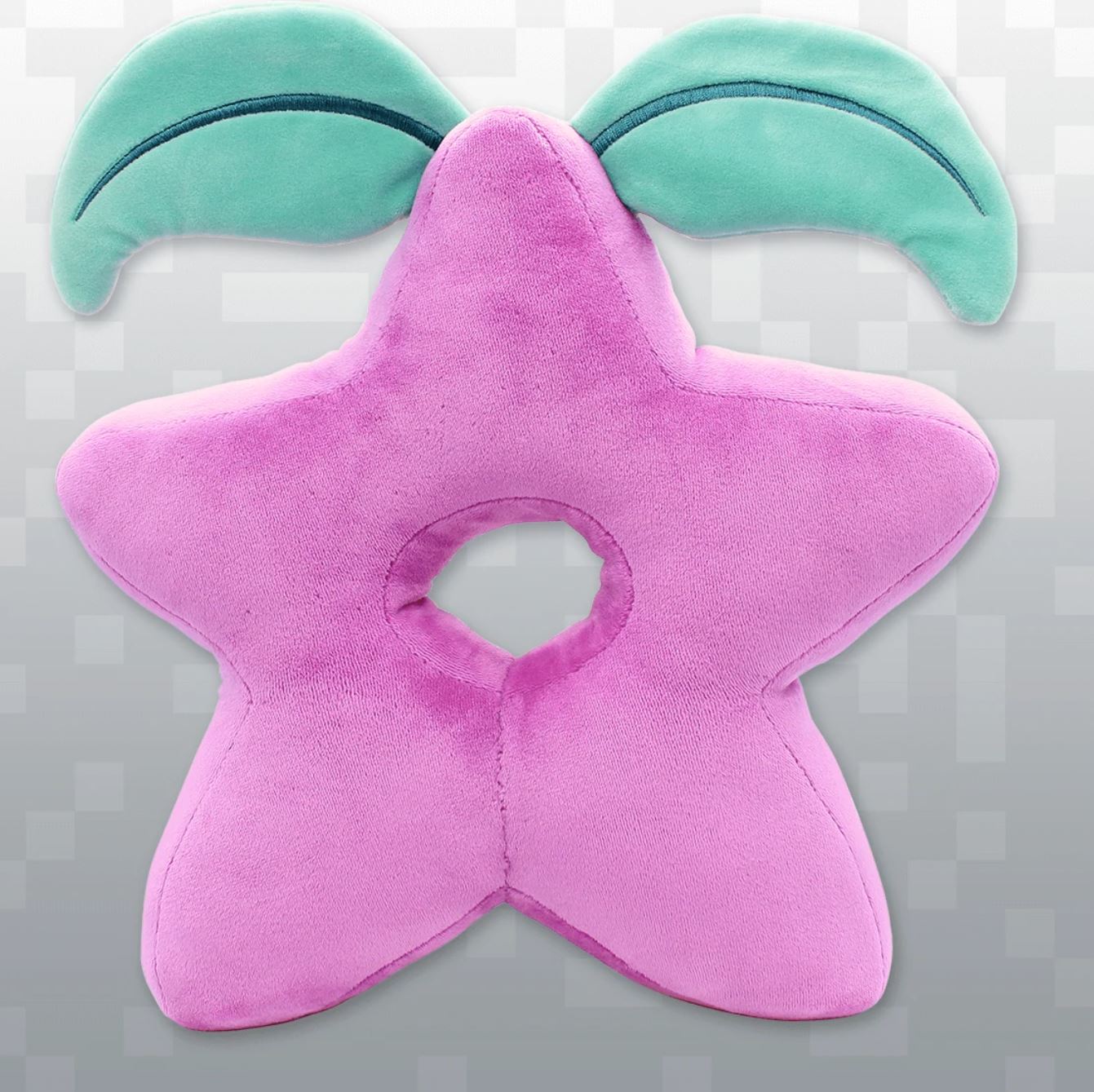 Then lastly, for the official merch on offer, I have included the Stardrop, an essential item if you want to make the most of your days within Stardew Valley. It might not grant you extra energy to go about your day, but if it keeps you comfortable and helps you get a night of good sleep, that's just as good, right?
This plush is bright and vibrant, just like the in-game item, it's super soft, and thanks to the fun shape and the cute leaves on each side, it really stands out, even when placed amongst your other plushies. It's a simple design that works well. If I were being supercritical, I would have liked it to be a little thicker than 2-inches, but I am nit-picking here.
Pros:
Bright and vibrant

Simple, effective design

Soft and a perfect pillow size
Cons:
Could be thicker

A deeper purple would have been more accurate
Our Fan-made Stardew Plush Selection
Now I have the fan-made options on offer on Etsy and beyond. Now, I will be straight with you, there aren't tonnes of fan-made options out there, and those that are available are a mixed bag when it comes to quality.
However, I scoured the internet and found some suitable examples that offer something different from the official plush collection while still retaining a level of quality that make these plushies desirable. So, here is our modest collection of fan-made Stardew Valley plushies: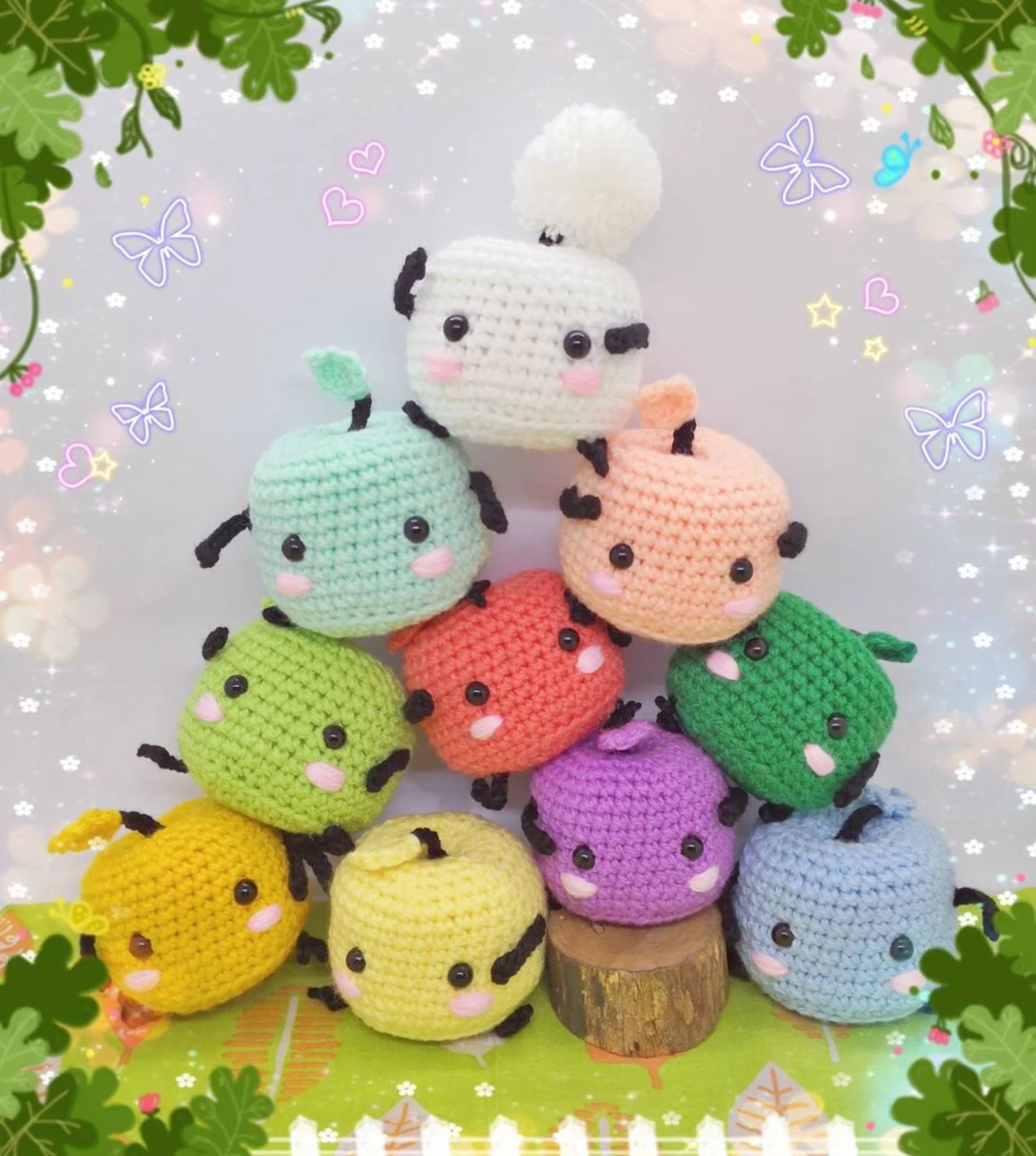 First up, I have these cute and colorful crochet Junimos. Now, if you are blessed with a knitting nana that can make these for you, then you might not need to buy from this seller.
However, if you are not trained in the art of crochet, then this could be a good way to liven up your plush collection with some Junimos of the soft knitted variety. I will concede that these aren't traditional plushies as they don't have that soft, Minky coating.
However, I thought they were just too cute to omit. Plus, they can be made in any color you like, and these little guys won't break the bank either.
Pros:
Crochet design offers a cool, different style and texture

Comes in any color you like

Size is negotiable
Cons:
Doesn't have that traditional mink-like texture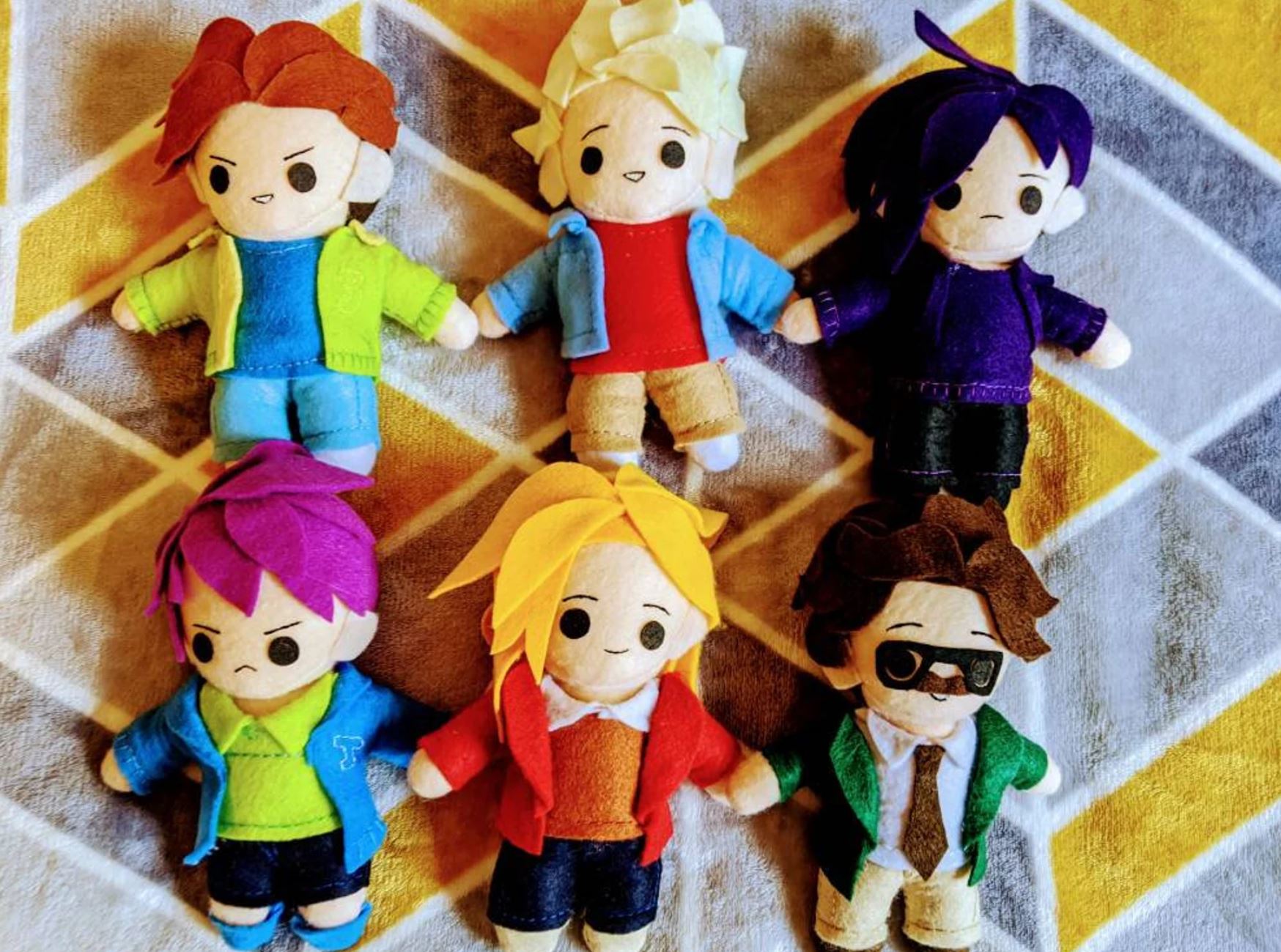 The official products may have played favorites and only offered plush products for a select number of characters, but I wouldn't leave you guys hanging like that. I managed to source a plush seller that has designed a plush toy for all six of the bachelors in Stardew Valley, Shane, Alex, Sam, Harvey, Sebastian, and Elliot.
The key selling point of this bundle is that they come in a complete set, so you can own all the bachelors in one fell swoop. Then secondly, this set offers plush toys for characters that would otherwise be impossible to source. However, the set does have its drawbacks too.
The first is the high price tag, the second is the fact that the products are made with felt instead of softer materials, and three, some of the designs are underwhelming. I mean, look at that Elliot Plush; that could be anyone.
I admit that these plushies may not be anywhere near as well made as the official merch, but they are a good alternative considering there is literally no other option for most of these characters. Believe me; I looked far and wide. So if you want the full set and your willing to sacrifice some quality, this is the bundle for you.
Pros:
Has all the male love interests in one neat package

Acceptable quality considering these are fan-made
Cons:
The materials used don't match the quality of the official merch

Some of the designs are underwhelming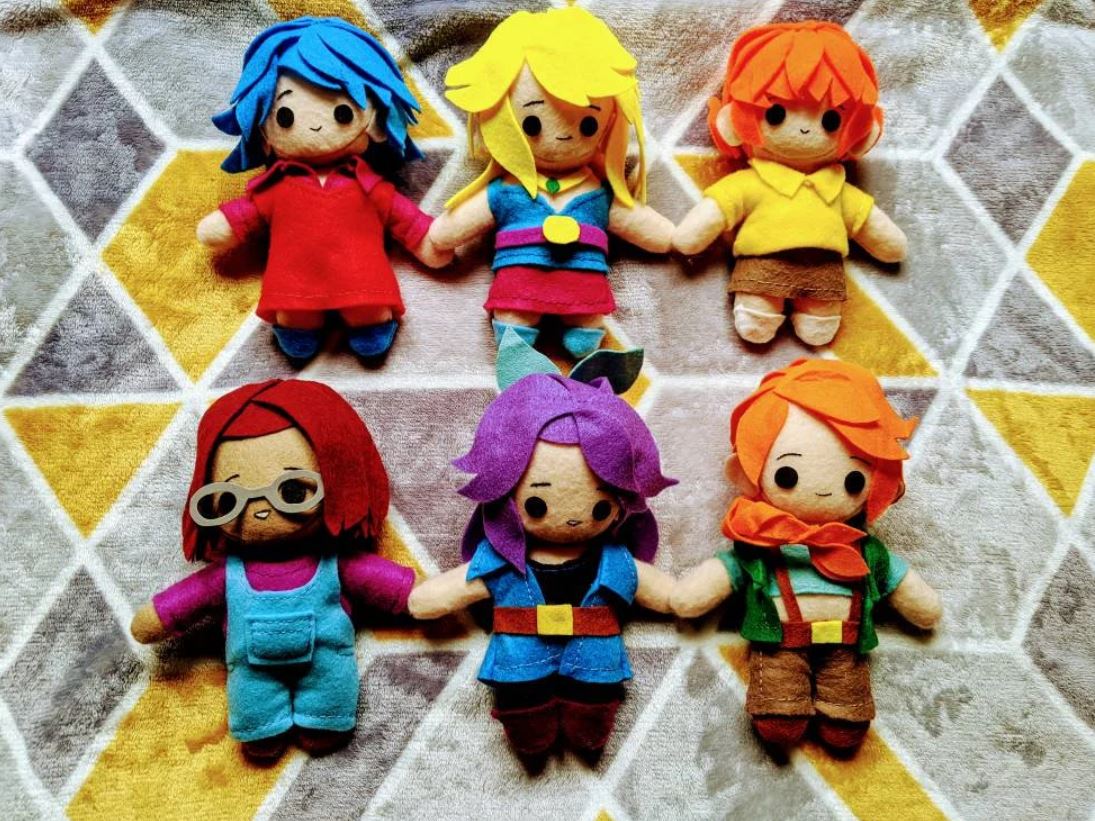 What about the ladies? I hear you holler. Well, I haven't forgotten about the dames of Stardew Valley, don't panic. As you might have gathered, this bundle is from the same seller above and therefore come with the same benefits and drawbacks as the bachelor bundle; that being said, though, the designs are all knockouts as opposed to a few letdowns in the bundle above.
The only issue here is that this bundle is sold, but I am working with the assumption that if you fired off a nice message to the seller, they might do another bundle as a commission. Overall, this is a much stronger bundle than the boy's bundle, and if you can get the seller on board, you'll be one happy farmer.
Pros:
Has all the female love interests in one neat package

Acceptable quality considering these are fan-made
Cons:
The materials used don't match the quality of the official merch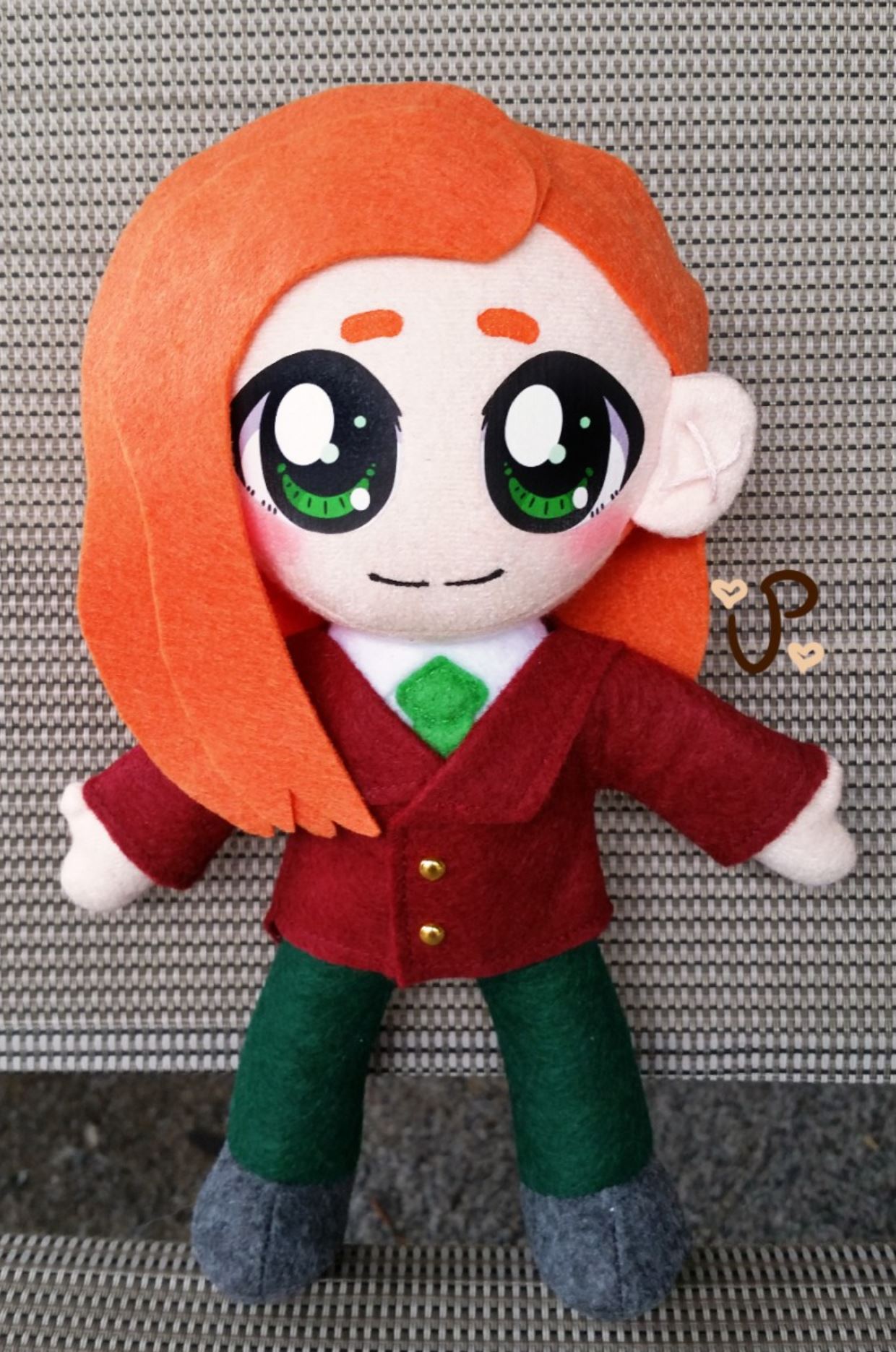 Then lastly, as the Elliot plush in the fan-made boy's bundle was so underwhelming, I managed to source a cute Elliot plush that is much more in line with his actual in-game appearance.
This design is a more anime-style design due to the huge eyes, and this design is made with felt, so again, this design isn't going to have that silky texture of a traditional plush. However, these are small sacrifices for an Elliot plush that is much more accurate; I mean, you can practically hear him muttering poetry and tickling the ivories.
It is worth noting that this is only available via commission, so I am not aware of the price tag, but the good news is that you might be able to commission other characters in this style.
Pros:
Accurate and authentic design

Anime-style (If you are into that sort of thing)
Cons:
Felt material not as soft as traditional plushies

Only available via commission
FAQs
Question: When Do The Stardew Valley Brown/White Chicken Plushies Release?
Answer: We haven't been given a concrete date regarding when these new plushies will release, but we do know that the new White and Brown Chicken plushies will drop in August 2022. However, you can currently get your hands on the Blue and Void chicken varieties if you can't wait. 
Question: How Many Stardew Valley Character Plushies Are Available?
Answer: At this moment, there are only four characters that have officially licensed plush toys. These are Sebastian, Shane, Abigail, and Krobus. As shown in the article, there are some great alternatives, and the plush roster does receive regular updates. However, until we get any new updates, it's just these four.
Question: Are There Any Good Stardew Valley Plush Alternatives?
Answer: Provided you are willing to go with a different game or go for some more generic plushies, then yes, there are some fun alternatives out there. Here are some avenues for you to explore:
• Harvest Moon Plushies
• Animal Crossing Plushies
• Pokemon Plushies 
• Squishmallows
Best Stardew Valley Plush: Cute and Cuddly Farming Friends!
As you can see from the wide selection of soft Stardew plush toys above, there are so many great options available if you want to add to your plush army and diversify your collection with some members of the Stardew Cast. Whether you are looking for a particular character, a cute little animal to hug, or a collection of colorful Junimos, this list has you covered. I hope that this guide serves you well, and as always, thank you for reading SdewHQ!