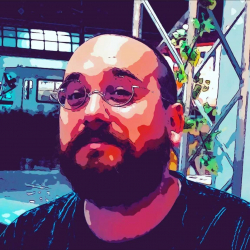 Latest posts by Seth Christmus
(see all)
When I first started playing Stardew Valley back in 2017, I was amazed by how much there is to do in the game. I had barely cracked into the game's content even by the end of the first in-game year.
So that's why I was so surprised at my craving for more Stardew Valley as I continued playing, even to this day. More characters, more locations – I know, I know, I'm greedy. But that's what happens when you enjoy spending time in a world as deep as the one in this indie masterpiece.
Thankfully, modder FlashShifter and others have taken up the job of creating new and exciting content for Stardew Valley. I recently came across the Stardew Valley Expanded mod and all of the great new additions it makes to the vanilla game. This Stardew Valley Expanded mod guide includes vital information I wish I had when I started playing it.
Let's dive into the fresh experience offered by Stardew Valley Expanded.
Bottom Line Up Front
Stardew Valley Expanded is an unofficial fanmade expansion PC mod for the 2016 indie video game Stardew Valley.
The mod adds new NPCs, locations, and items to an already expansive list from the original game.
It also adds changes to existing characters and locations, including a few quality-of-life enhancements.
Stardew Valley Expanded Mod Guide: Installation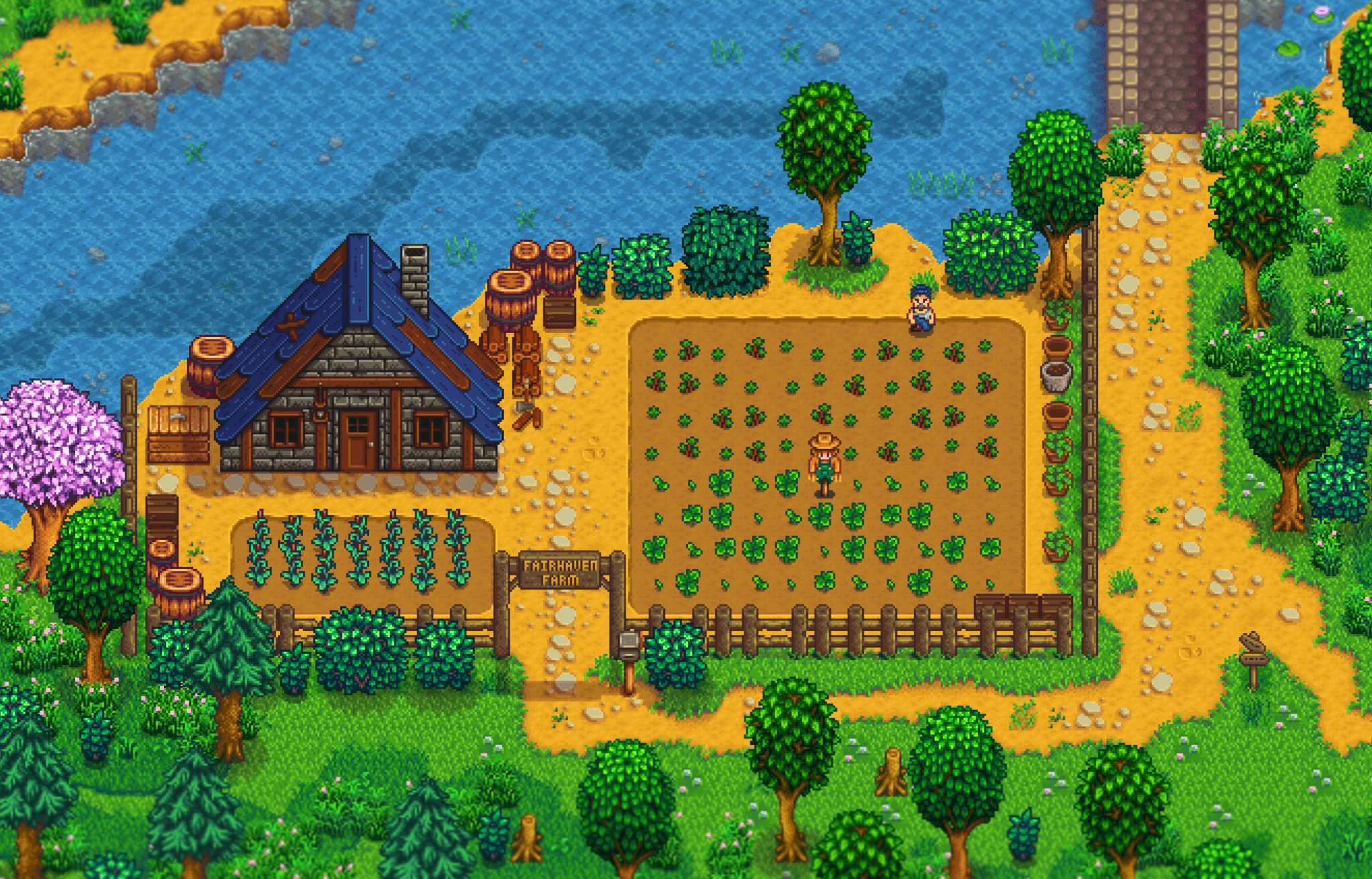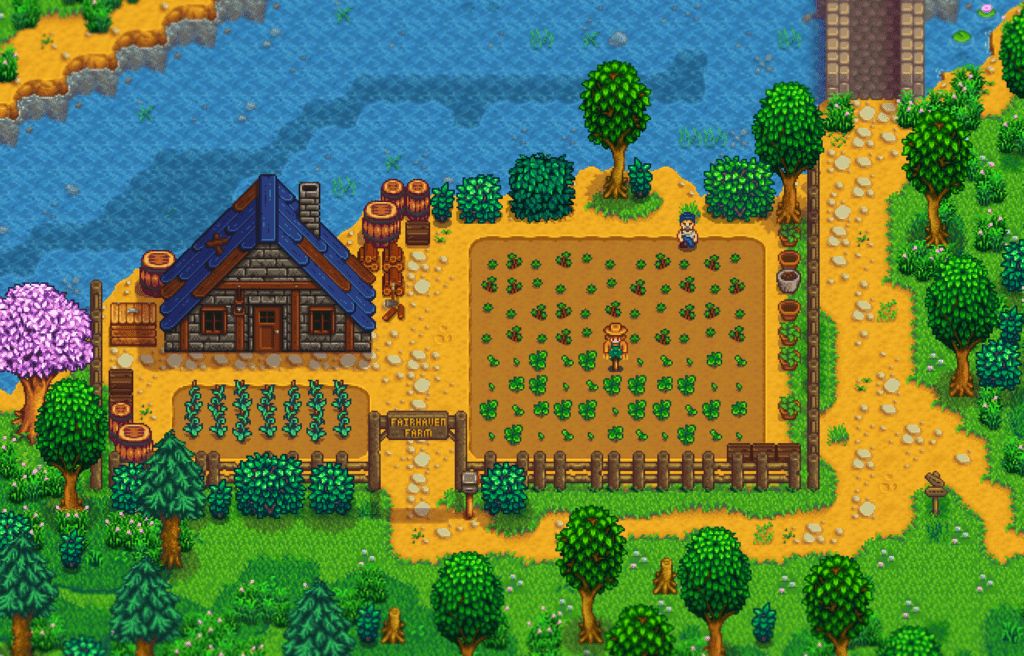 Installing a mod for one of your games can seem intimidating, but the process of getting Stardew Valley Expanded up and running isn't too bad. First, you'll want to make sure to download, unzip, and move the following prerequisite mods into the Mods folder (SteamLibrary\steamapps\common\Stardew Valley\Mods) before downloading SVE:
With all of those downloaded, your Mods folder should look similar to this: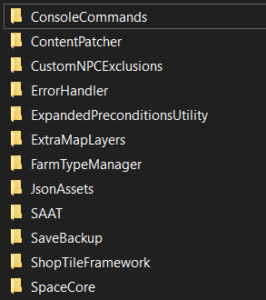 A detailed installation guide for Stardew Valley Expanded can be found on the project's GitHub page.
New Characters
Note: This guide contains spoilers.
Marriage Candidates
Claire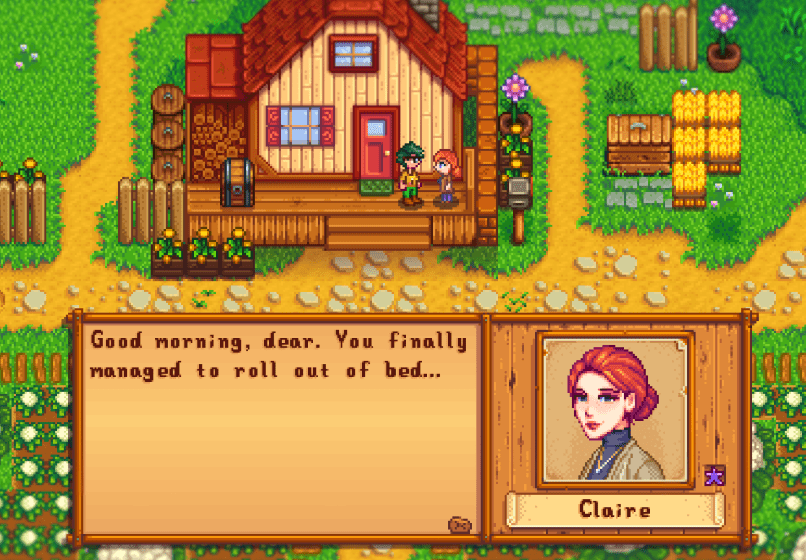 Claire is an NPC that works as a cashier for JojaMart. As you get to know her, you'll learn that she has big dreams outside of working in retail. Her favorite gifts are green tea, energy tonic, sunflower, bruschetta, apricot, ocean stone, and glazed butterfish.
If you plan on becoming friends with Claire, do it before completing the Community Center – she'll stop coming to town if JojaMart is run out of town and you haven't seen her 6 heart event.
Lance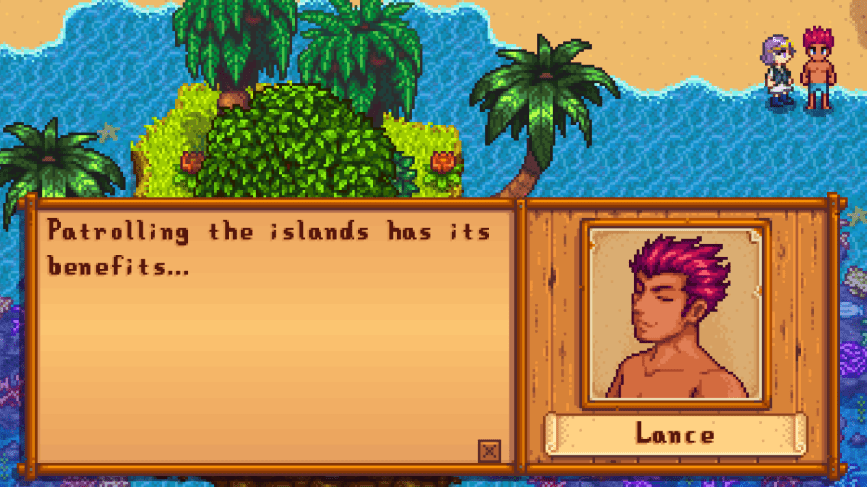 Lance is one of the "newer" new characters in Expanded, and only recently became a marriage candidate in version 1.14. He is an adventurer and a member of a guild that protects the Fern Islands, including Ginger Island. The first time he appears is in the volcano there.
Lance's favorite gifts are aged Blue Moon wine, daggerfish, galaxy soul, gemfish, golden pumpkin, green mushroom, monster mushroom, swirl stone, torpedo trout, tropical curry, and void shard.
Olivia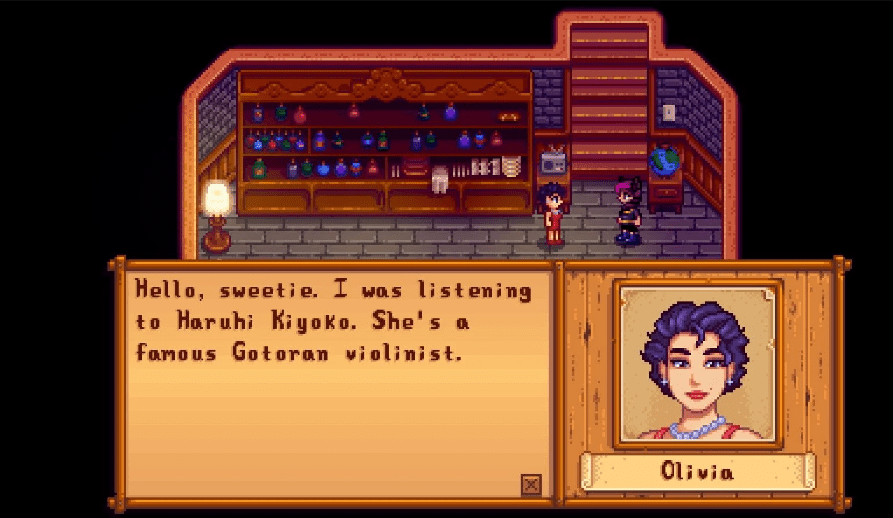 Olivia is the owner of the large new home in the middle of Pelican Town, courtesy of her job at the Joja Corporation and the stock market. She spends most of her time talking to Jodi and Caroline or indulging in pricey wines. Victor is her son. Her favorite gifts are wine, Blue Moon wine, chocolate cake, Golden Mask, Golden Relic, prismatic shard, and pearl.
Sophia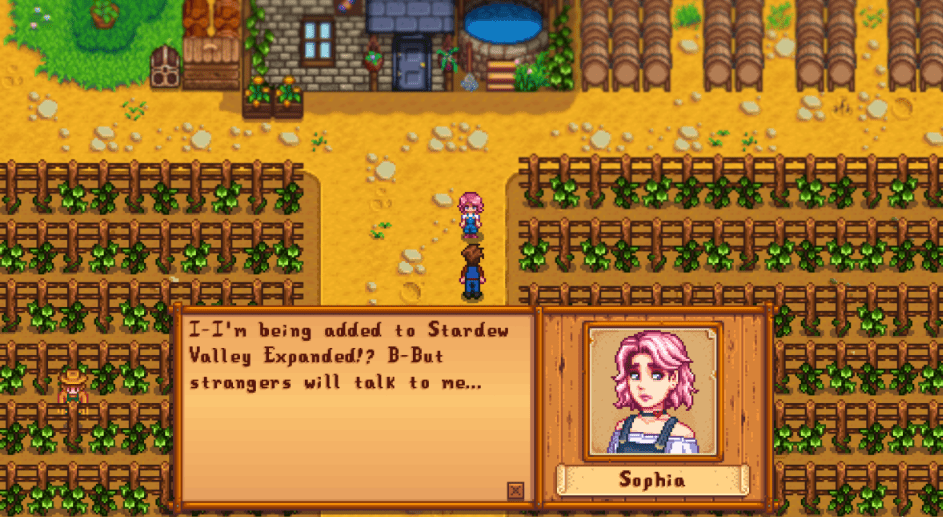 Sophia runs the Blue Moon Vineyard, a new location found south of the player's farm. She spends most of her time there, so she's easy to find and give gifts. Her cherry blossom-pink hair is immediately noticeable. Judging by the number of posts related to Sophia on r/StardewValley, she's become a fan favorite.
Sophia loves to receive fairy stones, Grampleton orange chicken, fairy roses, and puppyfish.
Victor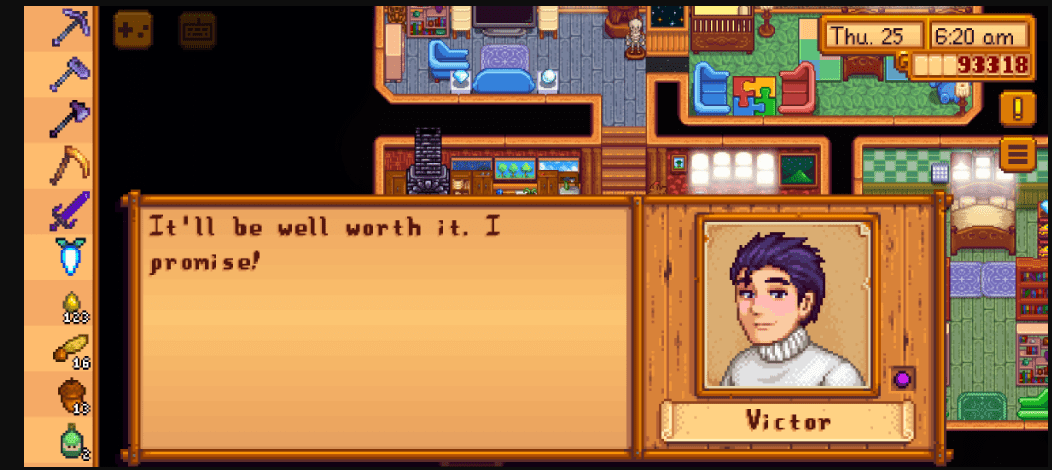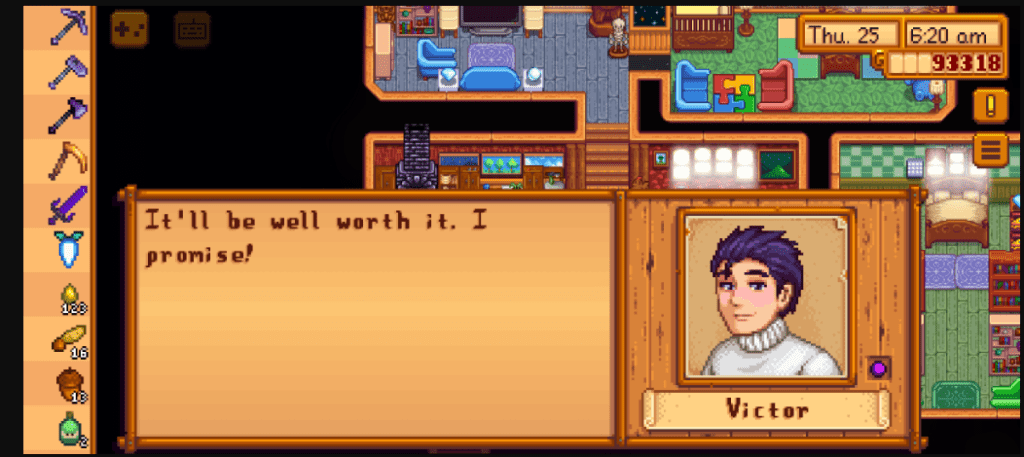 Victor lives with Olivia in the large home near Pierre's general store. He doesn't work, but instead spends time at home reading and using his computer. He's finished college but is a little lost about what to do with his life. Victor is friends with Abigail, Sam, Sebastian, and Sophia.
As for gifts, Victor is pretty low maintenance. He enjoys spaghetti, battery packs, aged Blue Moon wine, duck feathers, and lunarite.
Non-Marriage Candidates
Andy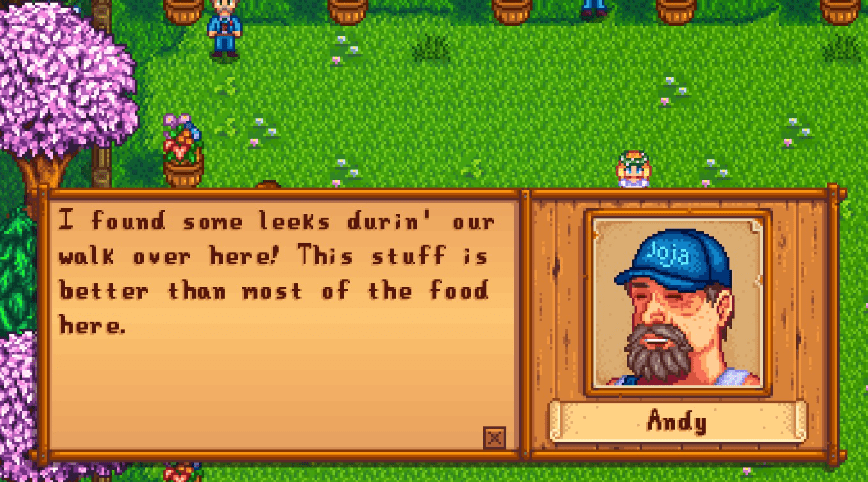 Andy is another farmer who is new in Stardew Valley Expanded. He owns Fairhaven Farm, which is found in Cindersap Forest south of the player's farm. His friends are George and Morris, and he shows his support for the latter by only shopping at JojaMart. He can be a difficult character to like, but sticking it through to his 10 heart event is rewarding.
Andy is easy to gift for since he loves beer. He also loves mead, pale ale, farmer's lunch, glazed butterfish, butterfish, king salmon, and blackberry cobbler.
Apples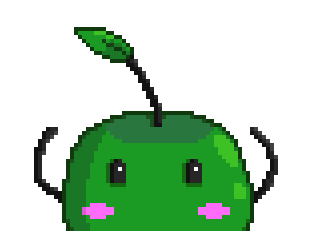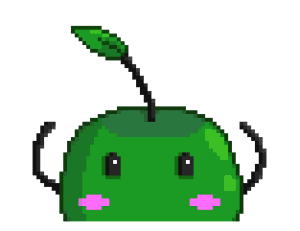 Apples is a unique character in that they aren't a human NPC – they're a Junimo. They appear in Aurora Vineyard after reaching Summer in Year 2 and completing the Community Center. Apples is young and excitable, and also loves spending time with the player and playing games. The best gift to give them is starfruit.
Martin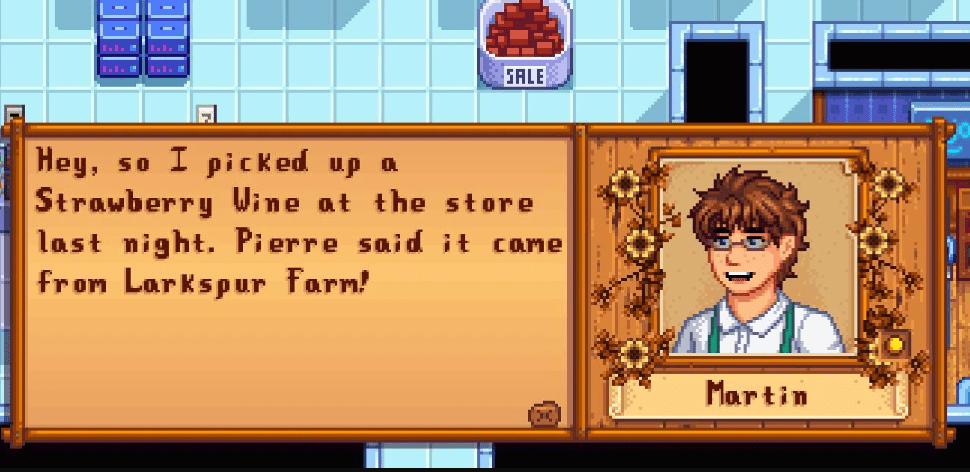 Martin is a young man who works at JojaMart during the week and visits the museum on Sundays. He doesn't live in Pelican Town but instead commutes to work. He has a positive outlook on life and is friends with his coworker, Claire. To quickly become friends with Martin, give him juice, ice cream, or Big Bark burgers.
Morgan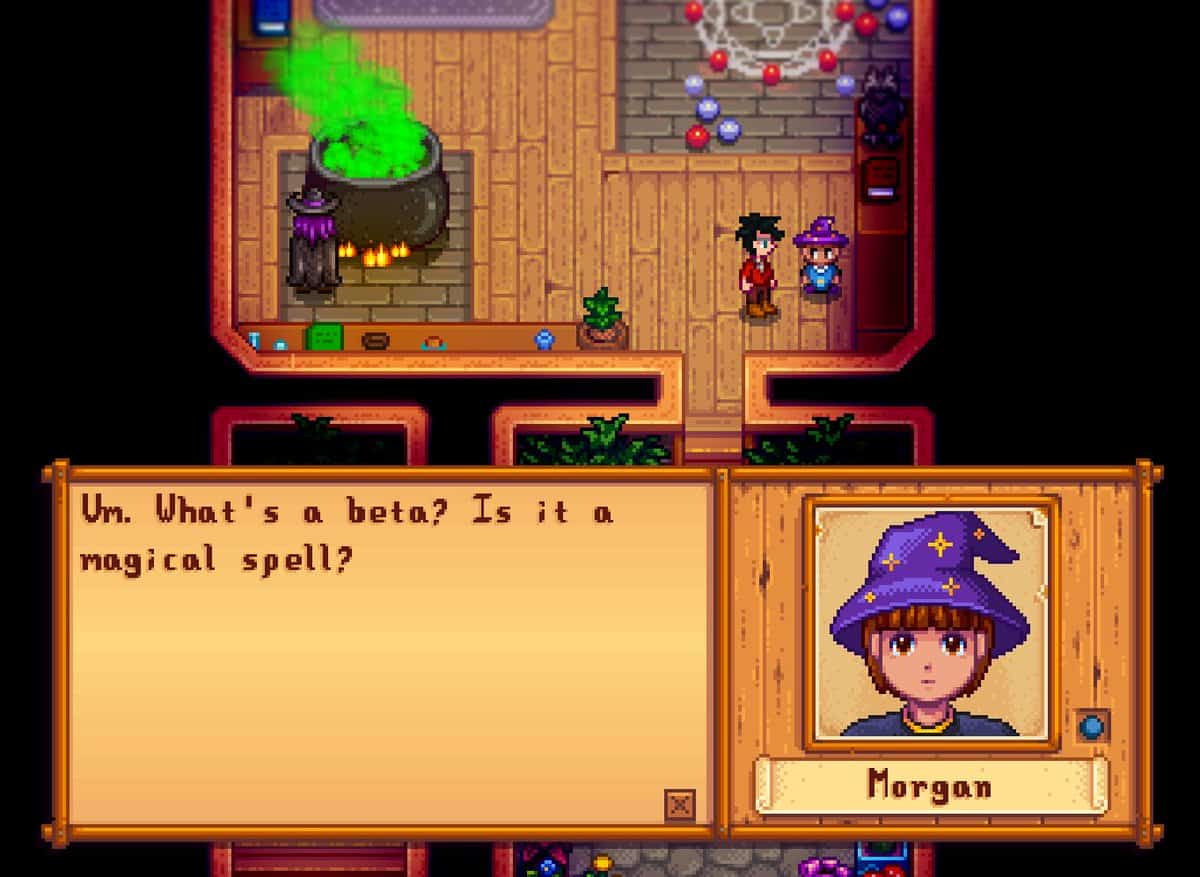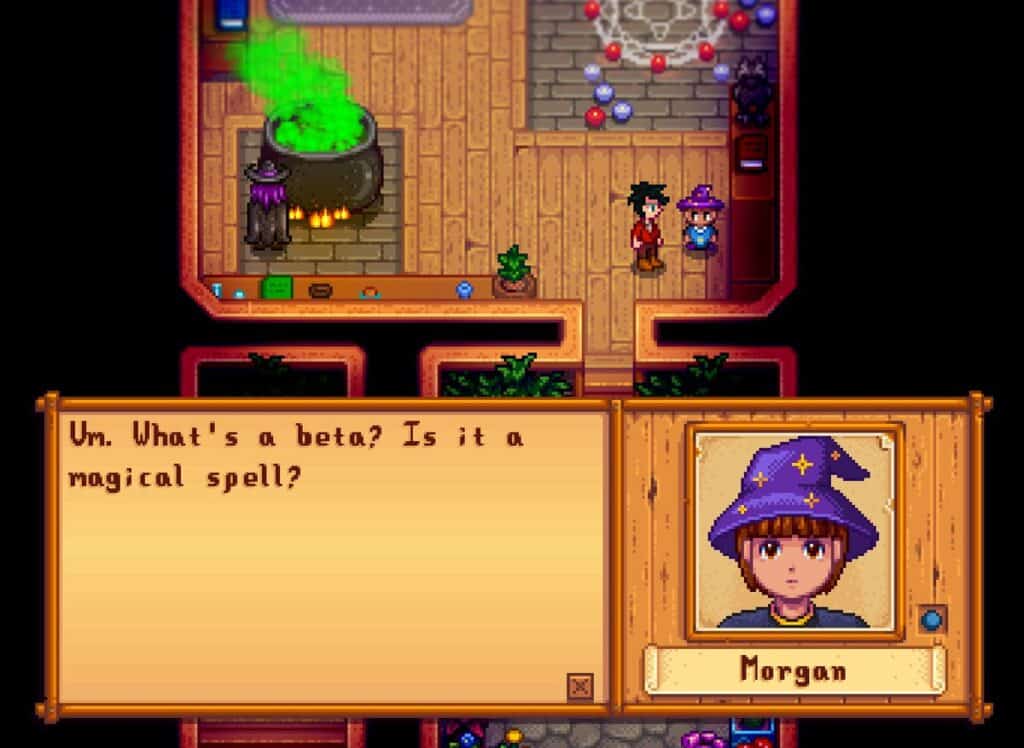 Morgan is Magnus the Wizard's pupil that arrives in Pelican Town in Year 3. For Morgan to appear, players must have at least a 3 heart relationship with Magnus. They are about the same age as Jas and Vincent, the other children in Pelican Town. Despite their magical abilities and need to study, Morgan acts like a normal kid most of the time.
To become friends with Morgan, the best gifts to give them are iridium bars, void eggs, and void mayonnaise.
Scarlett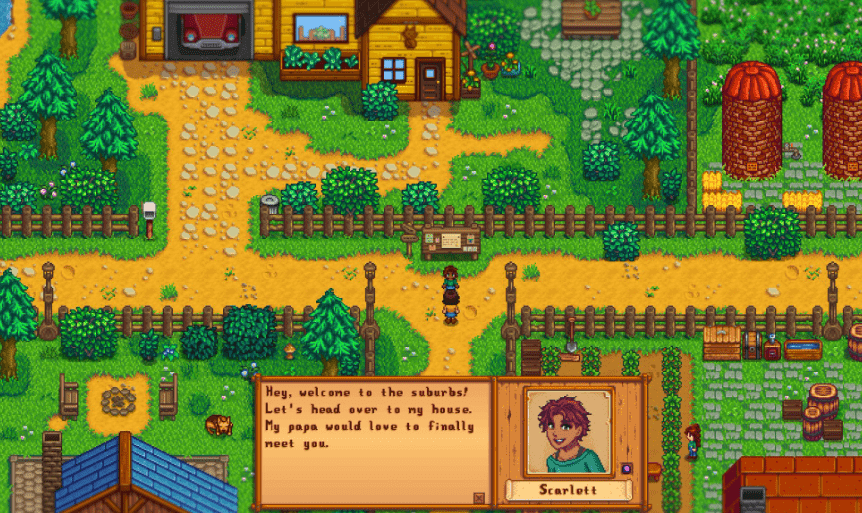 Scarlett is friends with Sophia. They share a cosplaying hobby and Scarlett is nothing but supportive of Sophia at all times.
Though she doesn't visit Pelican Town very often, Scarlett tries to stay in touch with her best friend. She'll visit town more often and become a character you can give gifts to after completing Sophia's 8 heart event. Scarlett loves cherries, goat cheese, maple syrup, honey, jade, and glazed yams.
Susan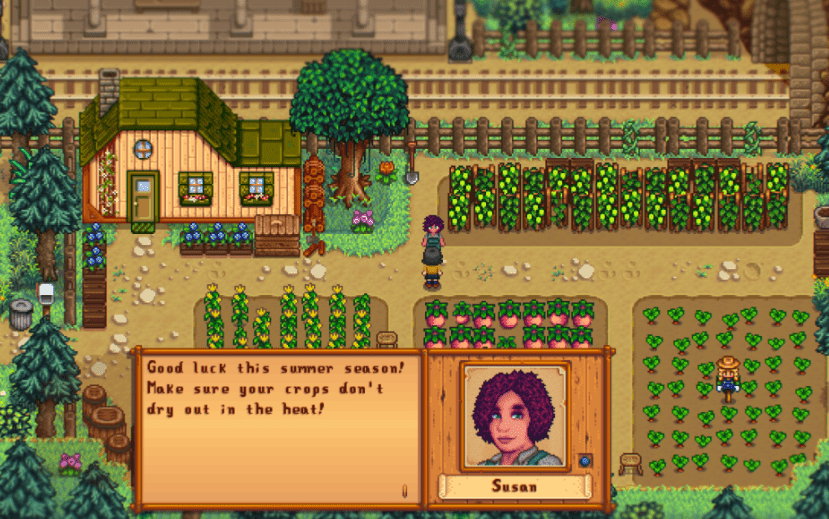 Susan is a fellow farmer in Stardew Valley who is trapped in her home at the beginning of Stardew Valley Expanded. She's unable to leave her farm, Emerald Farm, located by the railroad, all thanks to a landslide caused by Joja. She'll visit you as soon as the rubble is removed on Summer 3 during Year 1.
Susan has a large list of loved items that reveal her sweet tooth; pancakes, chocolate cakes, pink cakes, cookies, pumpkin pies, rhubarb pies, blueberry tarts, ice cream, blackberry cobblers, cranberry candy, maple bars, poppyseed muffins, and red plates will all make her happy.
Other NPCs
There are a few other new NPCs that players are currently unable to give gifts and form friendships with, similar to Gunther in the original game. These characters are:
Alesia, a monster hunter who uses a bow and arrow.
Camilla, a witch who protects the new location Castle Village with a powerful barrier.
Isaac, a gruff adventurer from Castle Village.
Jadu, a young mysterious wizard from Castle Village.
Peaches, a Junimo that appears only in Apples' heart events.
Suki, owner of the travelling cart that occasionally comes to Cindersap Forest.
Treyvon, the biological father of Scarlett.
Hank, Treyvon's husband.
All of these NPCs are new other than Suki, who technically isn't a new character, although you couldn't interact with her outside of the travelling cart. Treyvon and Hank are the newest additions to the character roster, having only been added as NPCs in version 1.14.9.
Major Changes to Original Characters
Gunther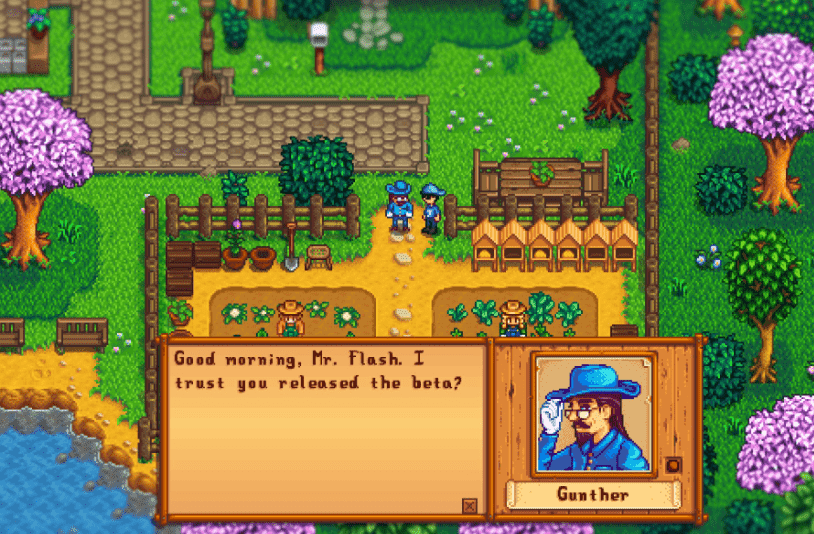 Previously nothing more than an NPC with no backstory, you can now become friends with Gunther after donating 60 items to the museum. He now has a room in the museum that you can visit as well. He has four loved items: bean hotpot, petrified slime, ancient sword, and star shards.
Magnus (The Wizard)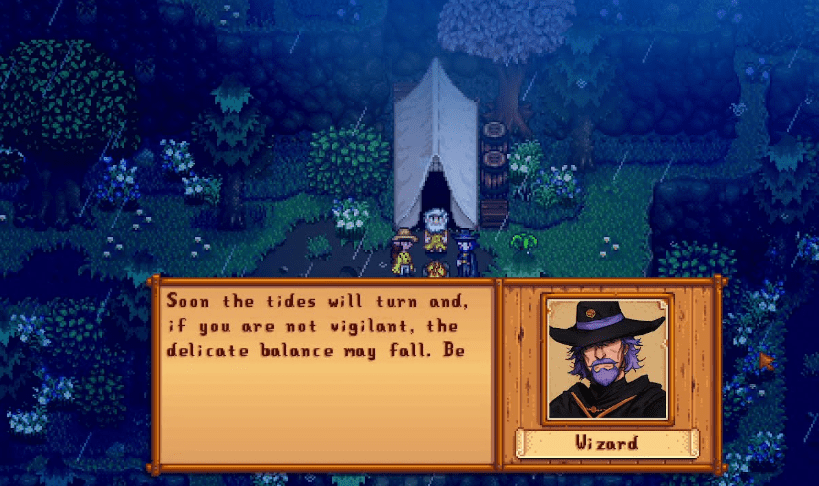 The Wizard now has a first name (his full name is Magnus Rasmodius) and can be married, a major shift from the original Stardew Valley. In addition to his loved items from the original game, giving him frog legs, void delight, void pebbles, void salmon sushi, or void shards will make him like you quickly.
Marlon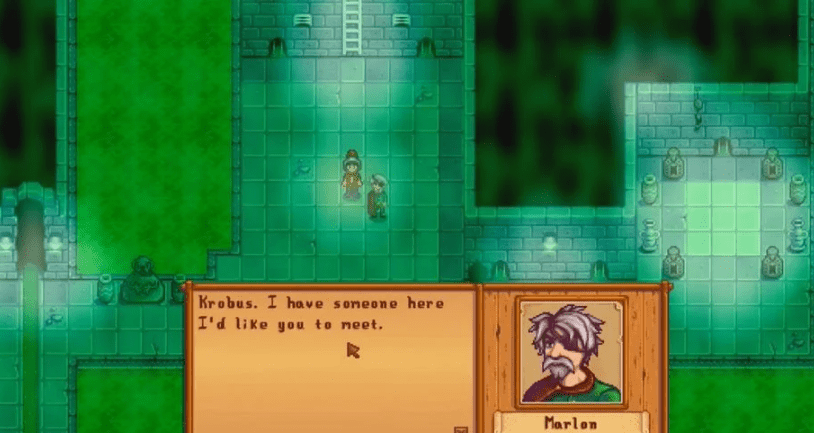 Marlon, like Gunther, used to be an NPC that you could interact with in a limited fashion. Players can become friends with Marlon in Stardew Valley Expanded along with learning more about his backstory and influence as an adventurer. To become fast friends with Marlon, give him roots platters, life elixirs, or red, blue, purple, or green slime eggs.
Morris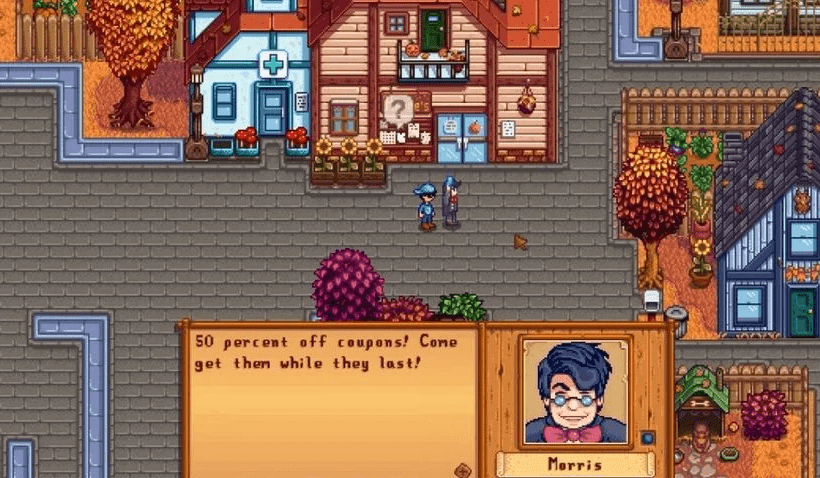 Originally seen as a villain by some in vanilla Stardew Valley, players can become friends with Morris in the Expanded mod.
He's a much more sympathetic character this time around as he puts a lot of work into JojaMart and reveals to the player his habits of working long hours and sleeping under his desk. He doesn't live in Pelican Town but instead commutes to town when he's not sleeping at the store.
Becoming friends with Morris is as simple as giving him lobster bisque, chowder, truffle oil, or star shards.
Sandy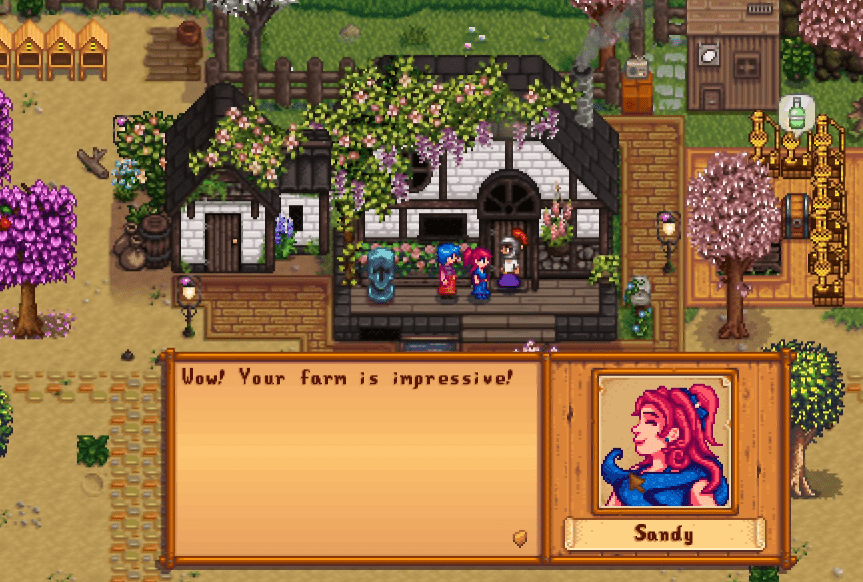 Changes to Sandy, the clerk at the Oasis store in Calico Desert, include a new portrait that matches the other characters in the game and a new liked item list. She still loves crocuses, daffodils, mango sticky rice, and sweet peas, but in addition to her other likes, she now likes aged Blue Moon wine, Big Bark burgers, and glazed butterfish.
New Locations
Stardew Valley Expanded features many changes to old locations and the addition of quite a few new ones. Here are the most important ones.
Blue Moon Vineyard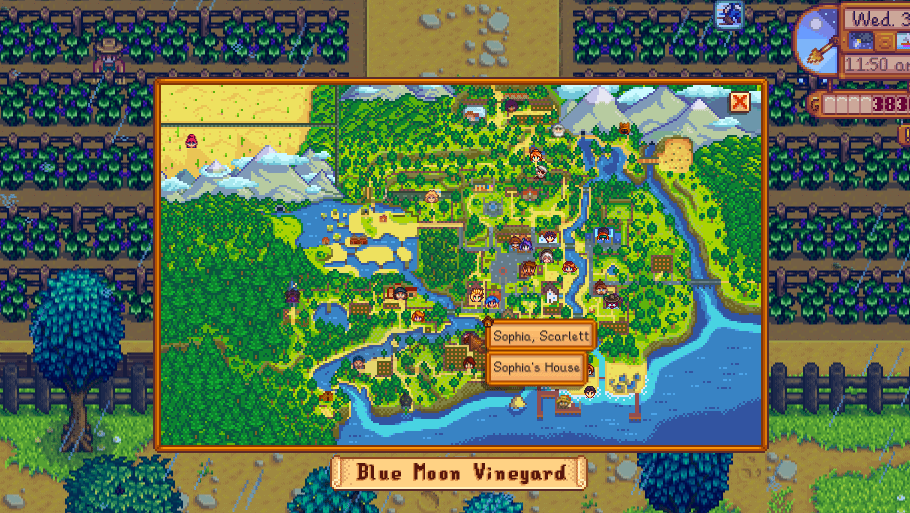 The Blue Moon Vineyard is a new farm located west of the beach and southeast of Marnie's ranch. It is owned and operated by Sophia, who took over ownership of the vineyard after the tragic passing of her parents. You can meet Sophia there and buy Blue Moon wine, aged Blue Moon wine, and quality sprinklers from the ledger in her cosplay room.
Castle Village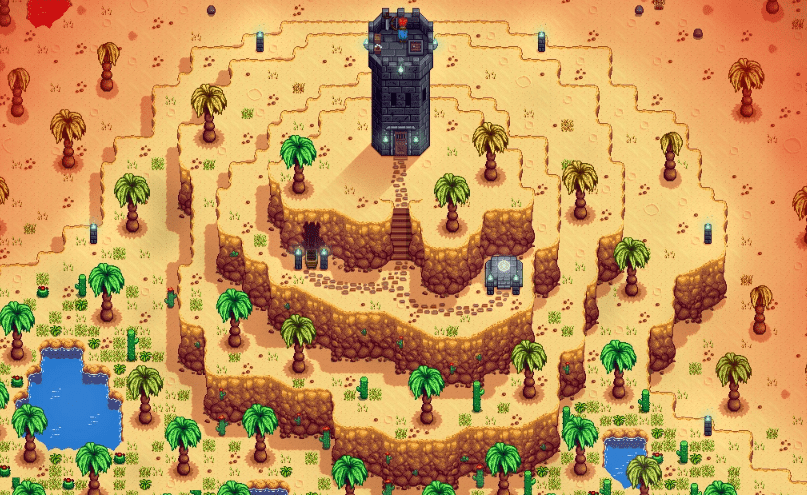 While this location doesn't currently exist in Stardew Valley Expanded, it is under development to be included in a future version. Castle Village is referenced by many of the adventurers you'll meet in Expanded, including Marlon. It is the home of Sandy, Camilla, Alesia, and Isaac.
Castle Village Outpost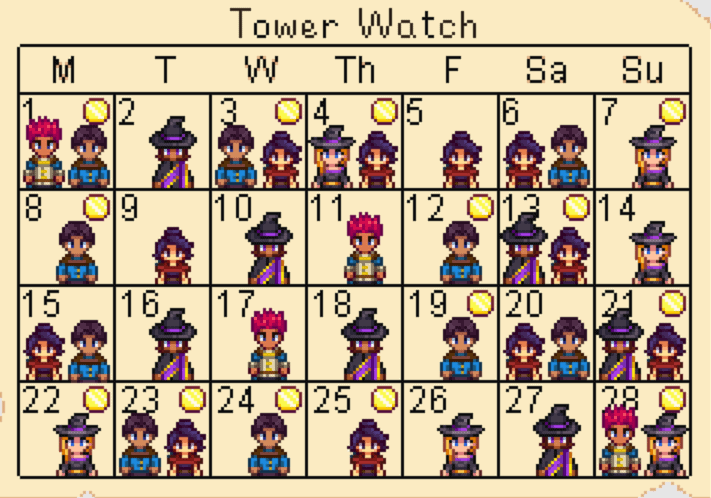 The Castle Village Outpost is a location in the Crimson Badlands. The adventurers of Castle Village take turns guarding this location, so it's a good place to interact and give gifts to them.
Crimson Badlands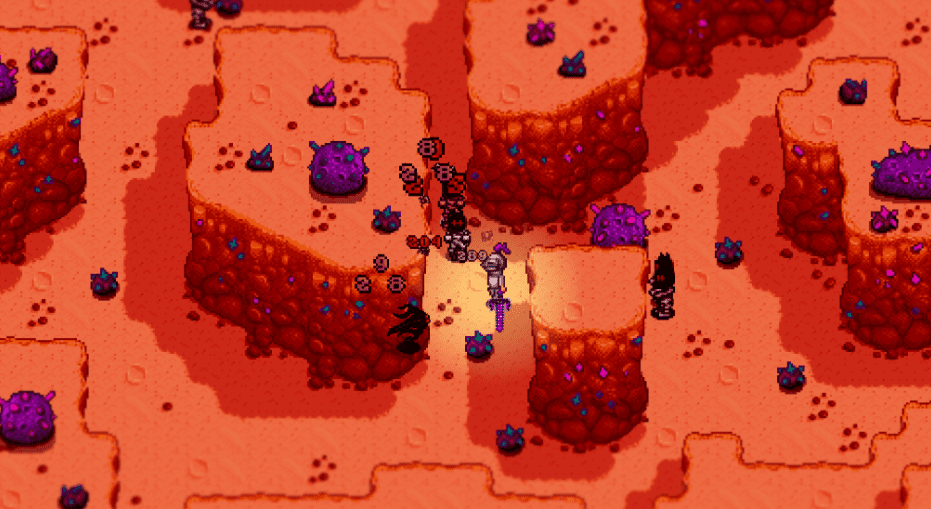 The Crimson Badlands is a dangerous new location that requires completing the 'Enchanted Grove' questline to access. The big attractions here are bone artifacts, two new kinds of fish to catch, and an iridium quarry where you can mine for iridium. You'll encounter a few new powerful monsters here, too, including corrupt mummies, serpents, and spirits, zombie adventurers, and a creature called Apophis.
Emerald Farm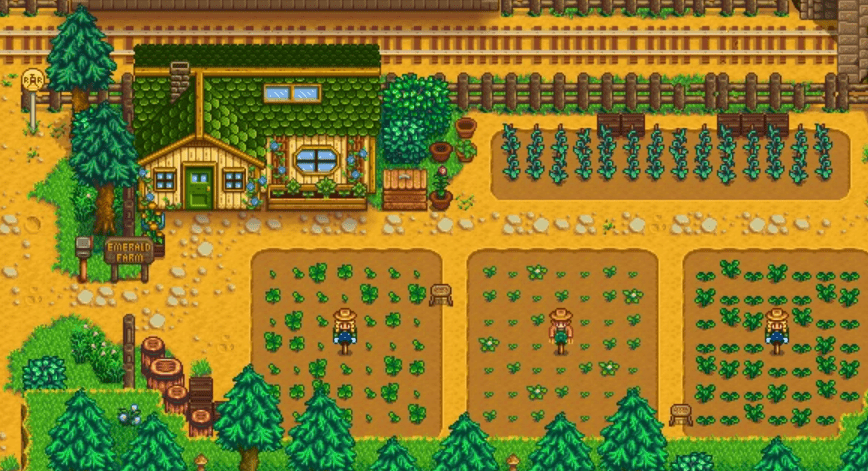 Emerald Farm is the home of the new NPC Susan and is located by the spa and the railroad. You won't be able to access it until Summer in Year 1. Like any good farmer, Susan rotates her crops depending on the season, so you'll be treated to different scenery when visiting the farm at different times of the year.
Fairhaven Farm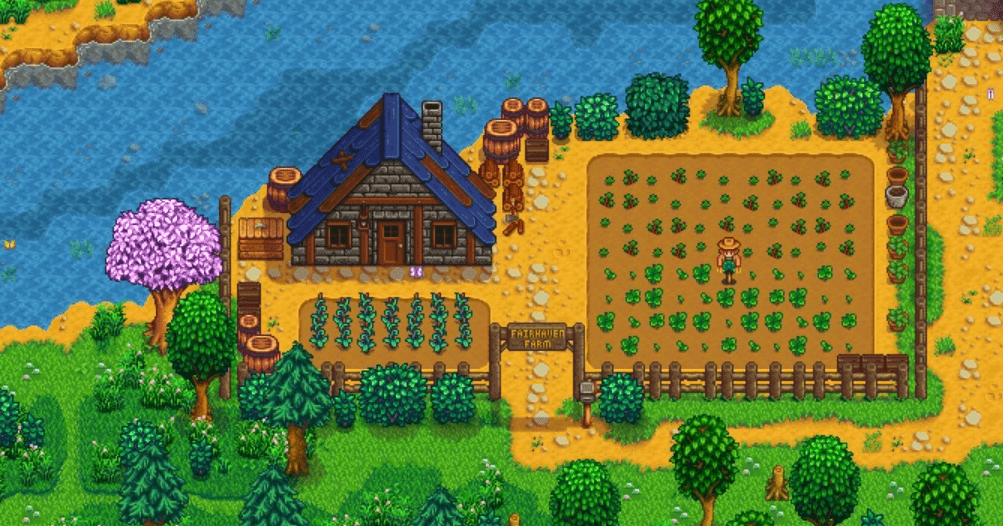 Fairhaven Farm is Andy's farm and is located south of the player's farm in Cindersap Forest. Given that Andy is a staunch supporter of JojaMart, most of his seeds come from there. His farm doesn't look at lush as Blue Moon Vineyard or Emerald Farm, two of the other new locations with crops. Andy's crops look wilted and not in the best shape.
Highlands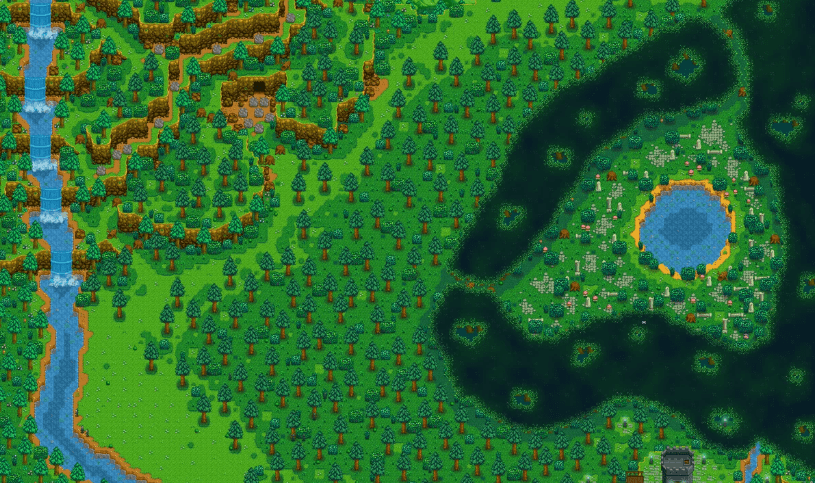 The Highlands are a new area to explore filled with foraging opportunities and enemies, similar to the Crimson Badlands. This is the area where you'll meet the new NPC Lance. You can access the Highlands after completing the quest "Marlon's Boat."
Olivia and Victor's Home
This huge home is located next to Pierre's general store in the middle of Pelican Town. The space is way too big for Olivia and Victor alone. It includes a large library filled with books and a cellar where Olivia keeps her expensive wine.
New Items
Stardew Valley Expanded features a large list of items that are introduced in the mod. The tables below have the items, their prices, and how to get them.
New Consumables
| | | |
| --- | --- | --- |
| Item Name | Price | How to Obtain |
| Baked Berry Oatmeal | 400g | Recipe from Bear in Cindersap Forest West |
| Big Bark Burger | 400g | Recipe from Gus |
| Frog Legs | 400g | Recipe from Marlon |
| Glazed Butterfish | 800g | Recipe from Gus |
| Grampleton Orange Chicken | — | Bought from Gus |
| Void Delight | 800g | Recipe from Krobus |
| Void Salmon Sushi | 800g | Recipe from Krobus |
| Dewdrop Berry | — | Found in Enchanted Grove |
| Green Mushroom | — | Dropped by Green Dust Spirit |
| Aged Blue Moon Wine | 28,000g | Bought from Blue Moon Vineyard |
| Blue Moon Wine | 3,000g | Bought from Blue Moon Vineyard |
| Gravity Elixir | 4,000g | Bought from Camilla |
| Haste Elixir | 6,000g | Recipe and item bought from Alesia |
| Lightning Elixir | 12,000g | Bought from Camilla |
| Aegis Elixir | 28,000g | Bought from Camilla |
| Armor Elixir | 6,000g | Recipe and item bought from Alesia |
| Barbarian Elixir | 22,000g | Bought from Camilla |
| Hero Elixir | 8,000g | Recipe and item bought from Isaac |
New Fish
| | | |
| --- | --- | --- |
| Item Price | Price | How to Obtain |
| Baby Lunaloo | 45g | Ginger Island, evening |
| Bonefish | 200g | Crimson Badlands, all-day |
| Butterfish | 225g | Forest West (Summer), Shearwater Bridge (Spring, Summer, Fall) – sunny weather, daytime |
| Clownfish | 90g | Ginger Island, daytime |
| Daggerfish | 250g | Highland Ruins, all-day |
| Frog | 100g | Mountain (Spring, Summer) – rainy weather, evening |
| Gemfish | 1200g | Highlands Cavern, all-day |
| Goldenfish | 150g | Sprite Spring, Junimo Woods, all-day |
| King Salmon | 450 g | Forest West (Spring, Summer), all-day until 8 pm |
| Kittyfish | 280g | Shearwater Bridge (Fall, Winter), daytime |
| Lunaloo | 110g | Ginger Island, evening |
| Meteor Carp | 300g | Sprite Spring, Junimo Woods, all-day |
| Minnow | 20g | Multiple locations in Pelican Town and Adventurer Summit, all-day until 6 pm |
| Puppyfish | 280g | Forest West (Summer), Shearwater Bridge (Spring, Summer, Fall), all-day |
| Radioactive Bass | 900g | The Sewers, all-day |
| Razor Trout | 400g | Pelican Town, all-day |
| Seahorse | 80g | Ginger Island, daytime |
| Sea Sponge | 90g | Ginger Island, daytime until 2 pm |
| Shiny Lunaloo | 850g | Ginger Island, evening |
| Starfish | 120g | Beach, Ginger Island, all-day until 10 pm |
| Torpedo Trout | 575g | Fable Reef, all-day |
| Undeadfish | 200g | Crimson Badlands, all-day |
| Void Eel | 650g | Mutant Bug Lair, Witch Swamp, all-day |
New Loot
| | | |
| --- | --- | --- |
| Item Name | Price | How to Obtain |
| Rusty Blade | 200g | Fallen Adventurer monster, foraging in Crimson Badlands |
| Swirl Stone | 7500g | Foraging in Crimson Badlands |
| Void Pebble | 800g | Corrupt serpent, corrupt mummy monsters, void eel pond |
| Void Shard | 10,000g | Apophis monster, void eel pond |
| Void Soul | 150g | Foraging in Crimson Badlands |
New Weapons
| | | |
| --- | --- | --- |
| Item Name | Price | How to Obtain |
| Tempered Galaxy Dagger | 350,000g | Bought from Alesia |
| Tempered Galaxy Sword | 600,000g | Bought from Isaac |
| Tempered Galaxy Hammer | 400,000g | Bought from Isaac |
| Diamond Wand | 0g | Obtained from Lance |
New Farm Maps
Note: These farms are a part of Stardew Valley Expanded but are not included in the main files. They must be downloaded separately.
Grandpa's Farm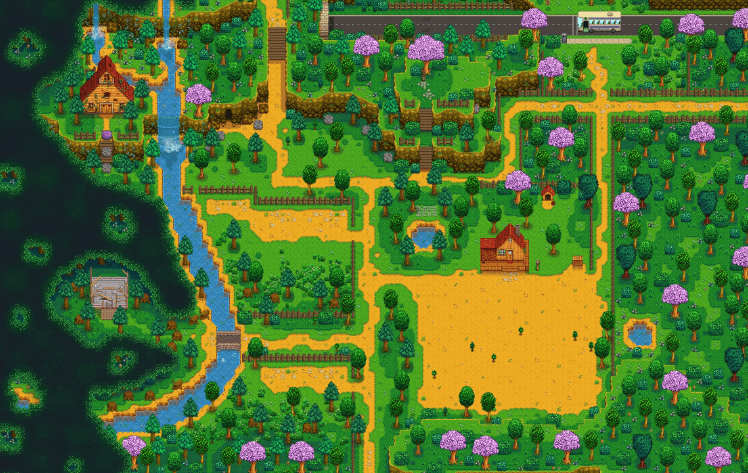 This new farm map is a bit like a "greatest hits" of other farm maps in Stardew Valley. It's a lot larger than a normal farm map and includes features from all vanilla farm maps. The placement of the new building Grandpa's Shed is also slightly different on this map, as well as the next new map.
Immersive Farm 2 Remastered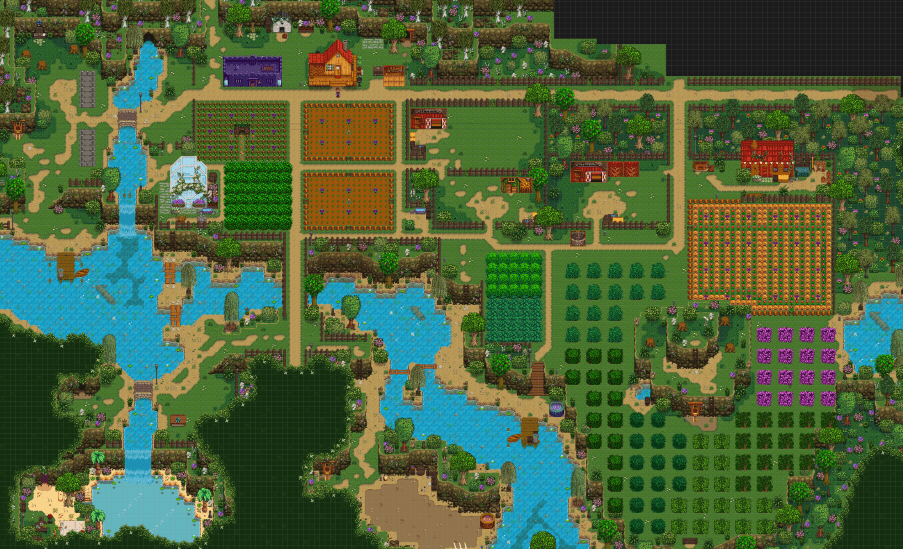 The Immersive Farm 2 Remastered farm map increases the size of the vanilla farm maps, just like the Grandpa's Farm map. To access some areas on this map, you'll need a steel axe and steel pickaxe. For example, the greenhouse won't be accessible until you have both.
Gameplay Options
Stardew Valley Expanded introduces several customizable gameplay options to the vanilla game. Some changes affect the difficulty of the game, while others are visual options.
As far as game difficulty is concerned, players can change four options: profit margins, building construction, crafting, and monster strength. For a hardcore Stardew Valley experience, you can lower your profit margins, make it more expensive to construct buildings, raise the item crafting requirements, and make all monsters stronger.
Visually, players can toggle a variety of new effects. These are all cosmetic and don't affect gameplay. The highlights for me are the ability to add mist during rain and to add shadows to buildings to enhance the immersion.
FAQs
Question: Is Stardew Valley Expanded canon?
Answer: Because it's a fanmade expansion, Stardew Valley Expanded isn't considered canon storywise. That said, it does offer some great storylines involving old and new NPCs that enhance the original Stardew Valley experience.
Question: What does Stardew Valley Expanded add?
Answer: According to Stardew Valley Expanded's page on NexusMods, it adds "27 new NPCs, 50 locations, 260 character events, 23 fish, reimagined vanilla areas, two farm maps, a reimagined world map reflecting all changes, new music, questlines, festivals, and many miscellaneous additions."
Question: Is it required to start a new game to play Stardew Valley Expanded?
Answer: Yes, it's required to start a new game to play Stardew Valley Expanded. Even if it wasn't, it would be a good idea so you can enjoy all that the expansion has to offer.
Stardew Valley Expanded Mod Guide: Conclusion
Despite being a fan-made addition to the Stardew Valley universe, Stardew Valley Expanded is worth being treated as a proper expansion to the original game. Everything that Expanded adds to the vanilla game fits well with the existing game. Nothing feels out of place, nor does anything added break the core experience that gamers can have with Stardew Valley.
If you're looking for a way to spend even more time in Stardew Valley, giving gifts to NPCs, getting married, and farming to your heart's content, I highly recommend taking the time to download and install Stardew Valley Expanded.