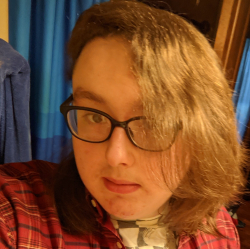 Latest posts by Monica Phillips
(see all)
We've all encountered our fair share of Stardew Valley's lovable cast of characters, but have you ever sat down and thought about which of these is the best?
Maybe you have if you were playing a challenge run with limited time and had to prioritize the best gifters or the ones with the most valuable benefits, but I've decided to concoct a list showing who to go for first.
This list is a great reference point if you're wondering who you should be trying your best to befriend, whether that be for their unique perks, the things they'll send you in the mail, what they'd offer you as a partner, or just because they have a great story. Let's get into the tier list of the best Stardew Valley characters.
Selection Criteria
Before we jump into the rankings, let's discuss why each character will be placed where they are. These categories will primarily be based on what I think is objectively reasonable to have for most, if not all, play styles, as well as a bit of bias mixed in, mainly as a tie-breaker.
Gifts are a double-sided coin, namely the gifts the character can give you through the Winter Star festival or mail with a high friendship value. However, this also weighs how easy it is to get the best gifts for them since some are easier than others.
Special unlockables refer to anything the character can give you outside of the regular events, namely items obtained from cutscenes that trigger after a certain friendship level with them; these are usually significant reasons to go for them, specifically.
Romance means whether or not you can marry them at eight hearts; while some characters are undateable, the ones that are will often provide several things for you in the mornings after you've matched, so it's essential to consider.
Subjective aspects refer to the character's personality and story and general character design. This is purely my opinion, and it's only really going to be used as a tie-breaker, but it won't move a character up or down an entire tier. You might think I'd be biased to one gender over another, but luckily for us, I'm pan, so I don't care.
The List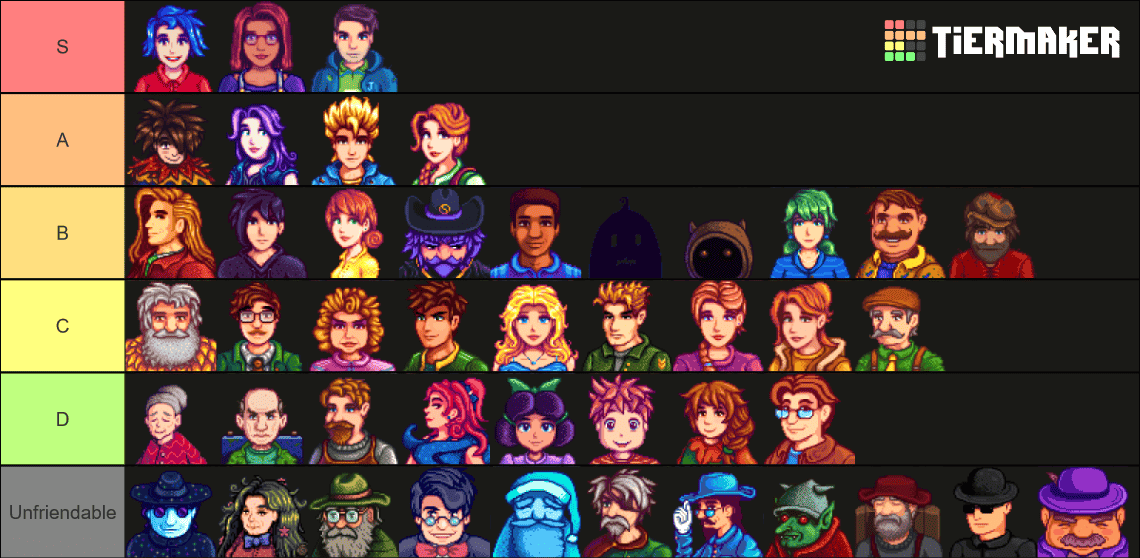 This list is sorted from worst to best, and we'll review each of my choices, scoring them on the four criteria I listed and using that score to determine where they end up. The S Tier will be for the characters that score high in most categories, whereas the D tier will be reserved for characters I think aren't worth prioritizing.
Unfriendable
These guys are all, unfortunately, not proper characters, only existing to be living dialogue boxes and not actual people you can interact with or talk to much. Though these characters add to the game, they aren't in fair contention with the rest of the characters, so I'll give them a single section.
Mr. Qi, Birdie, Professor Snail, Morris, Grandpa, Marlon, Gunther, Henchman, Gil, Bouncer, Governor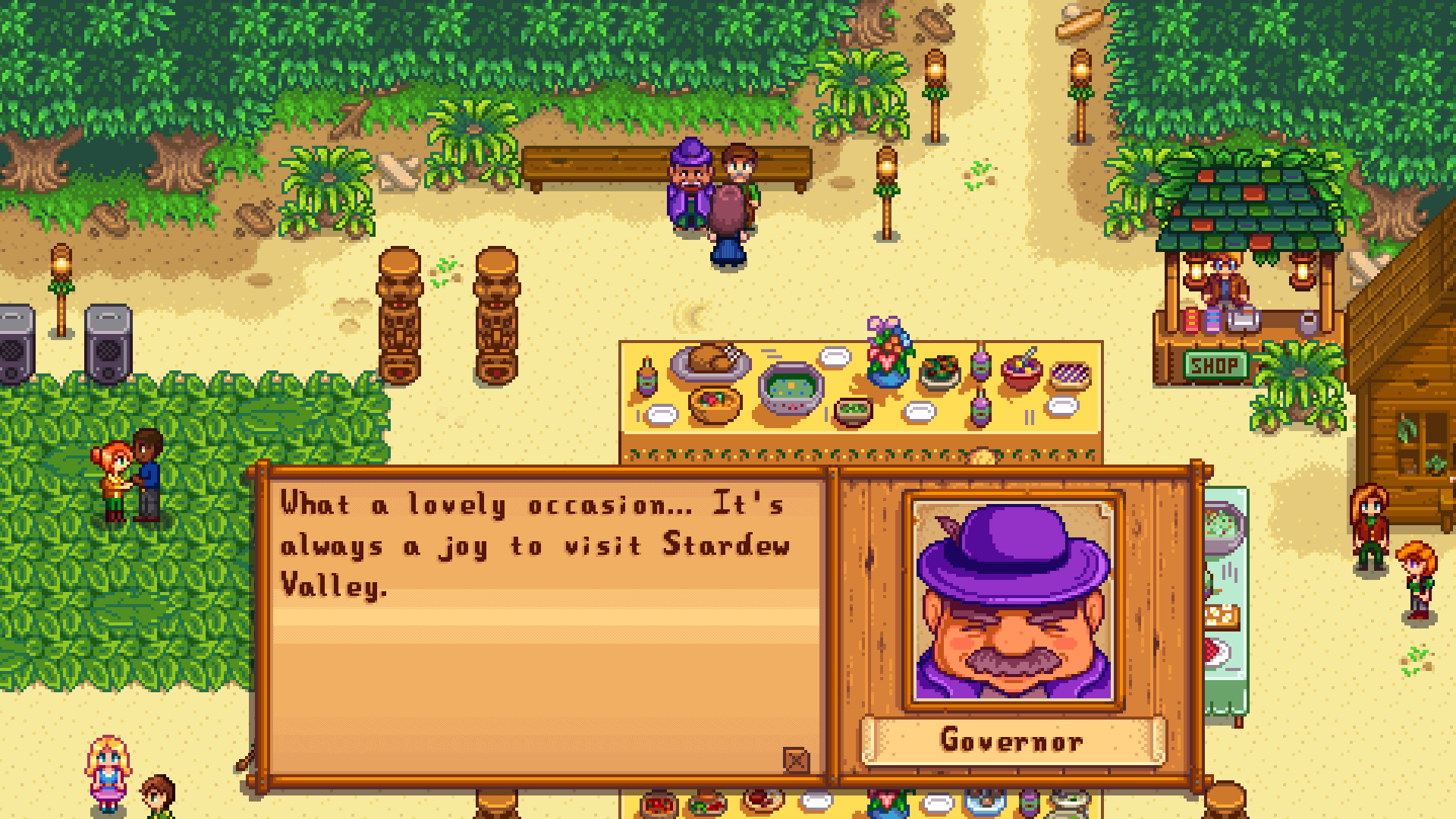 I decided to order these characters in the tier list purely on subjective value, and I'll say my piece on them now since there isn't much to talk about for any of them. Qi is the apparent top of this tier, being the mystery man driving so much of the endgame, and Birdie is right below him for having an excellent story and a fun fetch quest.
Professor Snail is a quirky old man, and I like that character trope. Morris is the antagonizing force, and he's good at making you want to kick his teeth in; Grandpa is just a kind and sweet old man who makes you want to keep going.
Marlon is interesting, but I wish there were more to him. Gunther is mysterious and cool, but again, there isn't much to him. The other four barely say anything and aren't worth talking about.
D Tier
Pierre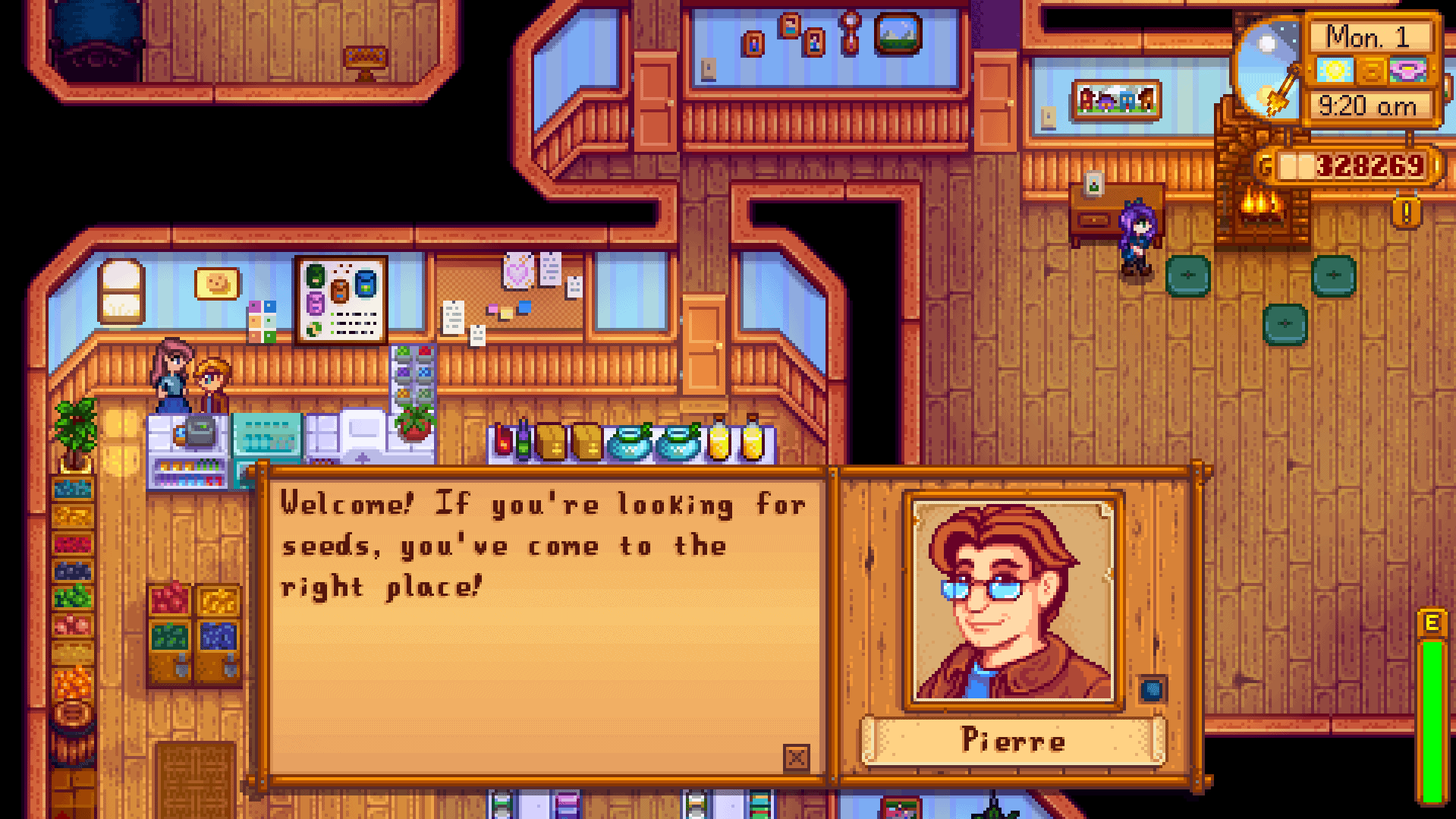 Gifts: 1/10

Unlockables: 0/10

Romance: 0/10

Opinion: 3/10
Who, I think, is the worst befriendable character in Stardew Valley? Why the "humble" shopkeeper Pierre, of course!
His only unique loved gift is Fried Calamari, which sucks to make, he gives you 250g in the mail every so often, and that's the only thing he does. He also just kinda sucks, and I don't like him; the fact he's the one that punched Joja out of town makes me upset; it should've been me!!!
Marnie
Gifts: 2/10
Unlockables: 0/10
Romance: 0/10
Opinion: 4/10
Marnie is the sweet but overbearing mother and rancher, and I don't like her. For one, she gives you the bare minimum of two recipes you'll never craft, she sends you hay in the mail that you could literally find lying around on the ground, and she's super hard to befriend, loving complex cooked dishes and diamonds.
I see no reason to go for this friendship other than getting Perfection; the children are better gifters.
Jas and Vincent
Gifts: 3/10
Unlockables: 0/10
Romance: These are children
Opinion: 7/10
Jas and Vincent are both the early childhood residents of Stardew, and they're pleasant enough to be around; both are a bit of a challenge to gift to, given they're pretty picky about what they want, and neither will give you anything in return.
They're cute kids, though; that's all I have to say. You befriend them either cause you want to be nice or because of Perfection.
Sandy
Gifts: 6/10
Unlockables: 0/10
Romance: 0/10
Opinion: 5/10
Well, what can I say about Sandy? She's easy enough to befriend with foraged flowers, and in return, she'll give you free soup and desert forageables.
No events with her come from friendship levels, so… I guess I like her design? I wish she were more fleshed out; she could be a fantastic character, but she's really on the sidelines.
Clint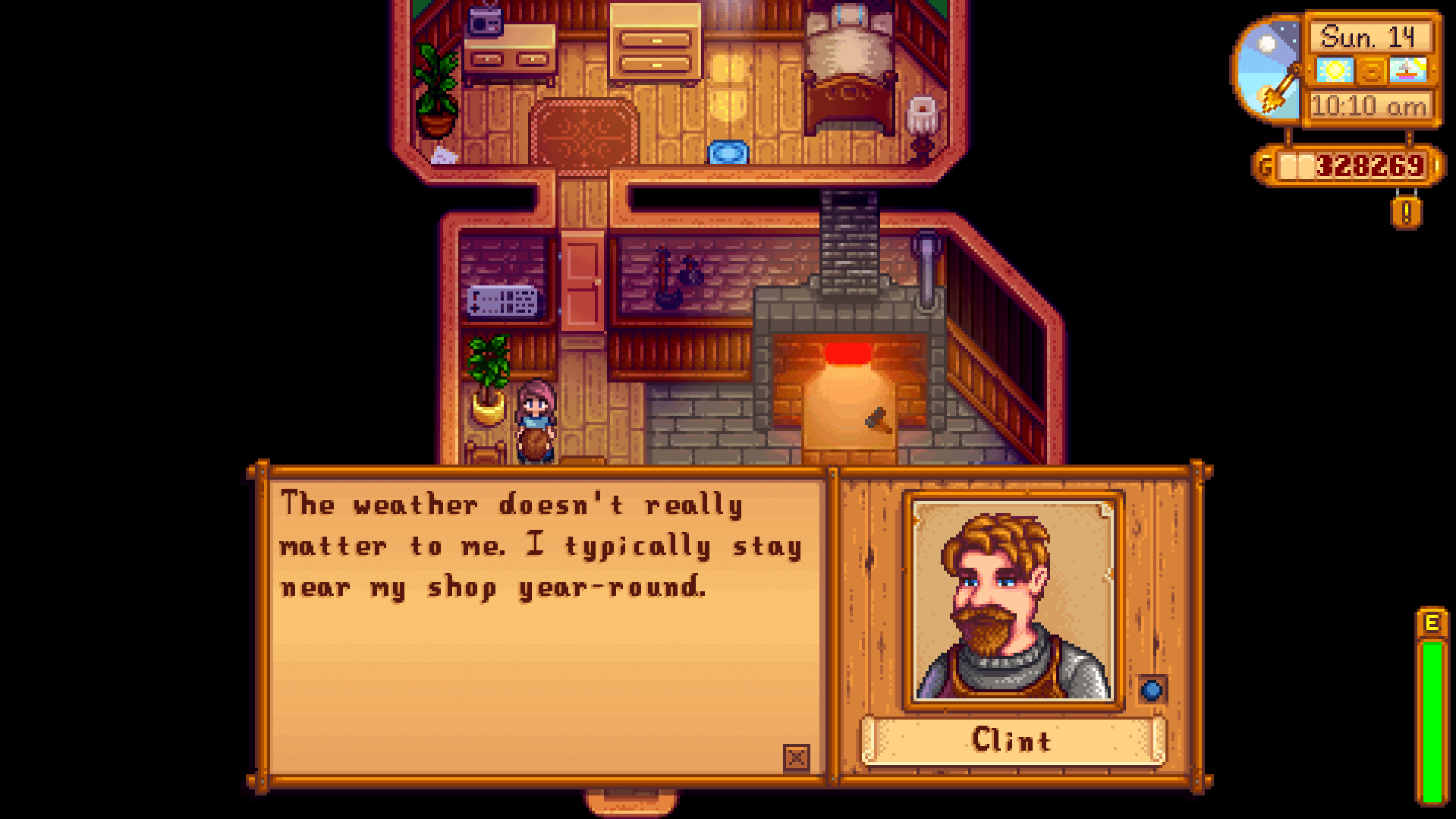 Gifts: 7/10

Unlockables: 0/10

Romance: 0/10

Opinion: 1/10

Clint is a weird case. For some reason, you can't date him despite him being a single adult, not that I'd want to since I don't like him (he feels creepy and weird most times).
That said, he does give you a good recipe in the mail and can even get you an Iridium Bar during the Winter Star festival, and he's easy enough to befriend with gems, so whatever.
Read More: How to Get Iridium in Stardew Valley
George
Gifts: 6/10

Unlockables: 0/10

Romance: 0/10
Opinion: 8/10
George is a fine character; he's grumpy at first but warms up to you and tells you why he's like that is due to his tragic time in the military. He's fine, and he happens to give you the Spicy Eel recipe, which is one of the best food items in the game; on top of that, it's not too hard to befriend him by giving him Leeks. It ain't much, but it's honest work.
Evelyn
Gifts: 7/10

Unlockables: 0/10

Romance: 0/10
Opinion: 10/10
So, this entry on the list makes me upset because I went for objective advantages over subjective opinion. I love Evelyn.
She's a lovely old lady who unfortunately outlived her child and does her best to care for her grandson and her husband, but all she offers is some baked goods in the mail. At least befriending her with beets and tulips is pretty straightforward.
C Tier
Mayor Lewis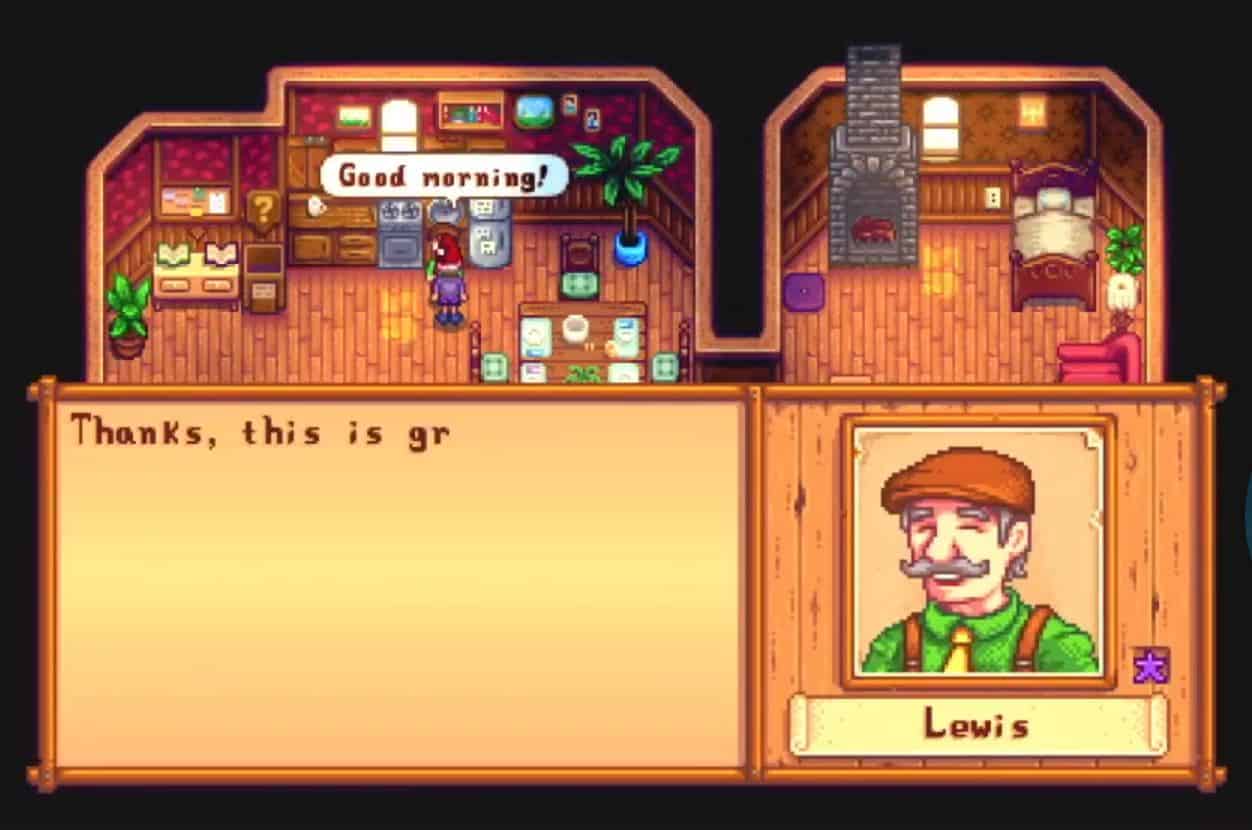 Gifts: 6/10
Unlockables: 2/10
Romance: 0/10
Opinion: 5/10
Hot take: Lewis is just okay. I don't think anyone cares too much about Lewis despite him being the mayor and an icon of the entire game, and befriending him is fine; it requires plentiful Tea or Peppers, and all you'd get out of it is a few recipes and 500g in the mail.
He does have the shorts, though, which have a ton of different interactions throughout the game, and that's fun.
Robin
Gifts: 6/10
Unlockables: 2/10
Romance: 0/10
Opinion: 8/10
Robin is a likable character; she's the friendly but charismatic carpenter doing her best to take care of her two kids and her husband, and she conveys that pretty well through her events, being more than just a generic southern woman. She's straightforward to befriend with Saloon Spaghetti but only really gives you wood in return for that effort.
Jodi
Gifts: 8/10
Unlockables: 0/10
Romance: 0/10
Opinion: 6/10
Jodi's another one of the characters in this game that feels kind of generic. Her husband is out to war and won't be in the game for the first year of your playthrough.
She's taking care of her two sons, and you'd think all that would make her more eccentric or stressed, but nah. She is quickly befriended with dishes from the Saloon and gives you some fertilizer and recipes, but that's all there is to her.
Kent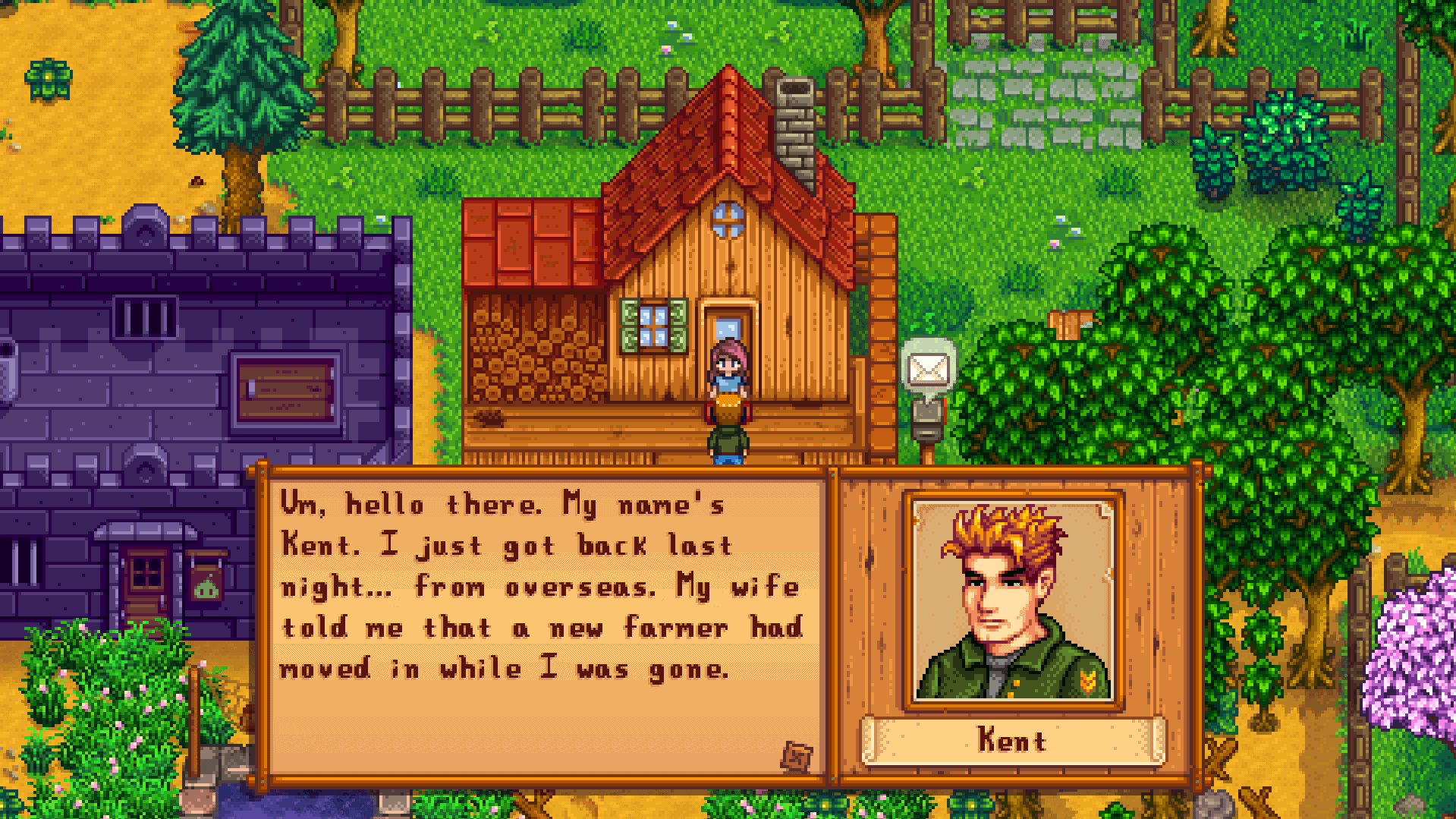 Gifts: 8/10
Unlockables: 0/10
Romance: 0/10
Opinion: 8/10
Speaking of Jodi's husband, who went out to war, here's Kent, the military veteran ridden with PTSD who wants to lie down and relax after what he's been through.
He's a cool guy, and though his loved gifts are annoying (the easiest to craft being Roasted Hazelnuts), he gives you bombs and batteries in the mail, plus a few recipes; that's awesome.
Haley
Gifts: 4/10
Unlockables: 1/10
Romance: 4/10
Opinion: 4/10
Haley is the typical mean girl who never grew out of high school maturity. Still, unlike Alex or Shane, she never changes that personality trait, and I'm not at all into that, so I don't like her. Aside from that, she doesn't have much to offer other than being easy to befriend since you can farm sunflowers easily. (Buy them from Joja, though, that's the only cheaper item there.)
Once you get her friendship up or marry her, she won't offer much. She won't mail you or unlock anything other than a pretty generic garden, and all the items she can give you when you've married her are basic food items that don't help with much of anything. I refuse to believe people think she's the best character in the game.
Alex
Gifts: 4/10
Unlockables: 2/10
Romance: 4/10
Opinion: 10/10
Alright, this is a tough one. Alex lands himself at the second lowest tier in this list, though I adore his heart-wrenching story about the loss of his mother and his dreams to become a professional; the benefits of befriending or even marrying Alex are minimal. The best you'll get is free food after marriage, but it's nothing complicated to make yourself.
The real stinger here is that all of Alex's favorite gifts are cooked dishes in themselves, and while making a Salmon Dinner isn't the hardest thing in the world, it's still really annoying.
You could get by on giving him eggs, but he doesn't love them, and he's just really irritating to befriend quickly. He does give you a TV in the Saloon to watch football at 14 hearts, though, so that's nice.
Pam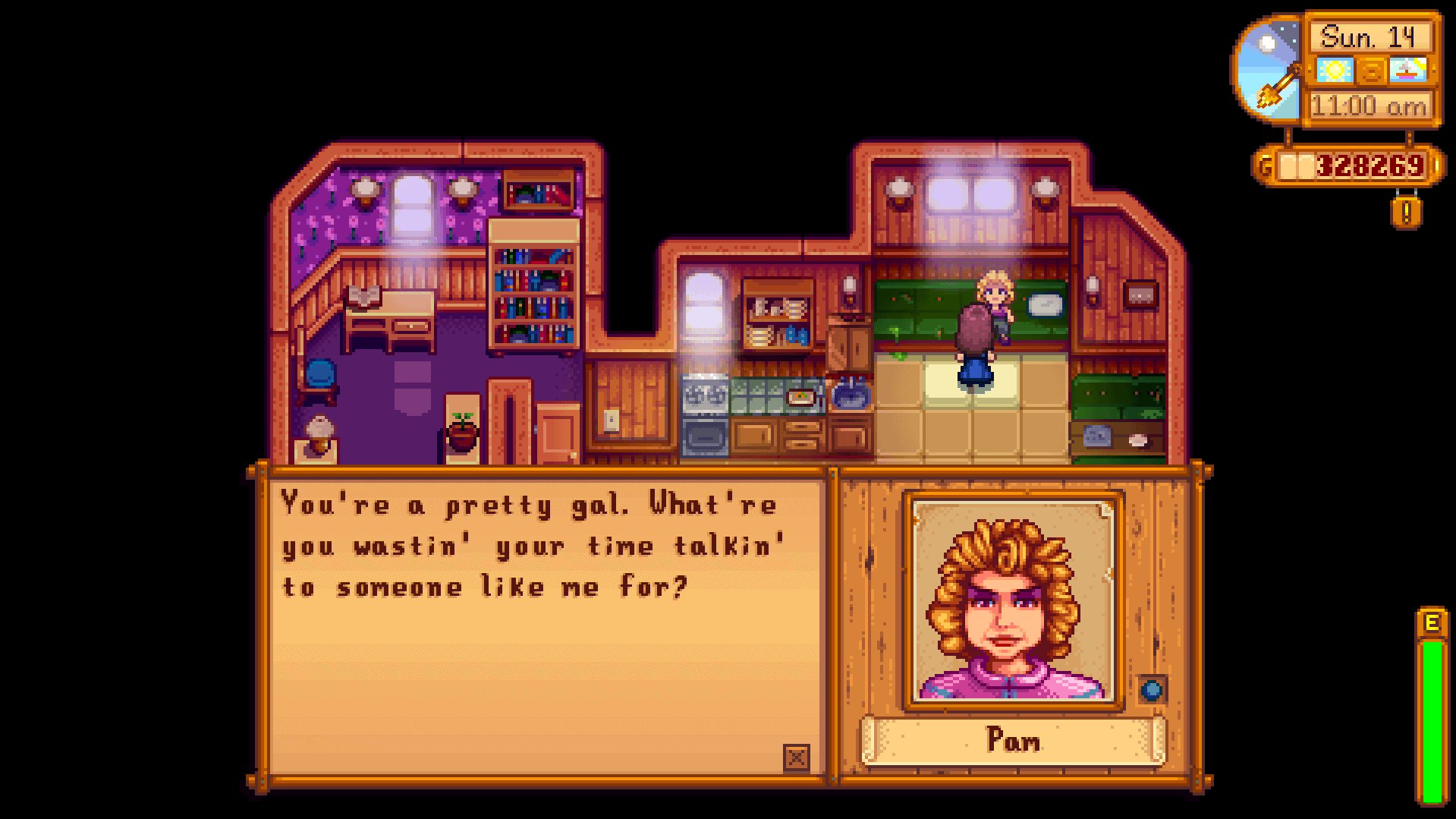 Gifts: 8/10
Unlockables: 4/10
Romance: 0/10
Opinion: 4/10
I don't like Pam, but I'm also supposed to not like Pam, so I'm conflicted. On one hand, I think they portrayed an abusive, alcoholic mother pretty well, but I'd like it a lot more if, by the time we build her a house, she's on the road to recovery instead of still turning to alcohol.
Regardless, feed her addiction by giving her Beer from the Saloon, and she'll befriend you quickly, giving you free battery packs and energy tonics.
Harvey
Gifts: 5/10
Unlockables: 1/10
Romance: 4/10
Opinion: 8/10
Harvey is the local doctor in town, and he won't be offering you much in terms of gifts either in the mail or through marriage; however, he does plant a lovely garden by your house and is super easy to befriend.
He loves pickles, wine, oil, and coffee, which are incredibly easy to mass produce, so getting him to max hearts is simple.
That said, there isn't much reason to do that because though his scenes with you may be adorable (but, in my opinion, lacking a bit of substance and emotion to elevate them), he only really offers some essential cooked dishes on top of everything every other marriage candidate will do. Low effort, low reward, so he's whatever.
Linus
Gifts: 8/10
Unlockables: 2/10
Romance: 0/10
Opinion: 10/10
I love Linus; he's the grungy homeless man living out in the mountains, trying to survive the best he can in a cruel world.
His story of warming up to you slowly over time and opening up about his situation is excellent, and he'll even send you free meals and fish in the mail while being super easy to befriend using Desert forageables. He doesn't have much else, but he's doing his best.
B Tier
Willy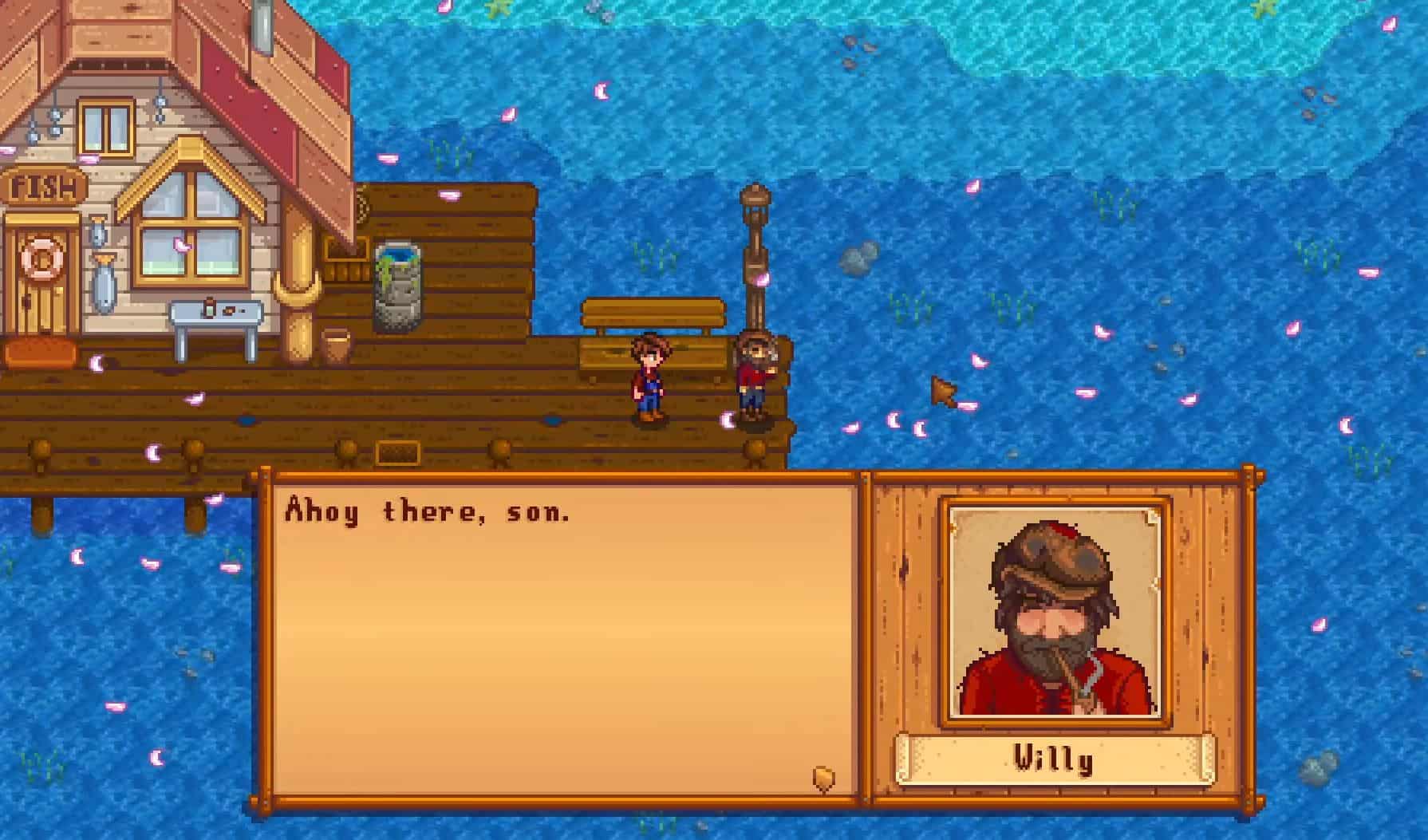 Gifts: 5/10
Unlockables: 6/10
Romance: 0/10
Opinion: 7/10
One of the few characters who you can't romance that also doesn't give you anything in the mail, Willy more than makes up for it by being decently easy to gift to with Pumpkins and unlocking Crab Cakes in the Saloon permanently, plus he gives you your first fishing rod. What else can he do? Just those two things! Either way, those are a good two things.
Gus
Gifts: 8/10
Unlockables: 3/10
Romance: 0/10
Opinion: 7/10
Gus is a silly guy, the owner of the Stardrop Saloon, and the reason a hilarious video exists. Aside from that, though, befriending him (by buying his own Fish Tacos and giving it back to him, lol) is pretty easy, and in return, you'll get a bunch of recipes for food, great food in the mail, and a mini-jukebox, all great stuff.
Caroline
Gifts: 7/10
Unlockables: 5/10
Romance: 0/10
Opinion: 5/10
Caroline's a pretty basic character; she only serves to give you tea leaves and give Abigail some character development, but she isn't much of a character in herself, just kind, being Pierre's wife and not much else.
Those Tea Leaves and the recipes and vegetables she'll send you are a great bonus, though, and the reason to befriend her by buying her Fish Tacos.
Dwarf
Gifts: 4/10

Unlockables: 9/10

Romance: 0/10

Opinion: 6/10
The Dwarf is a character you must struggle to get to, needing all the dwarf scrolls and a decent pickaxe to access his area in the mines.
However, he's quickly befriended with gems, and his shop is incredible, selling endless amounts of bombs. I wish there were more to him besides one cutscene between him and Krobus, but it is what it is.
Krobus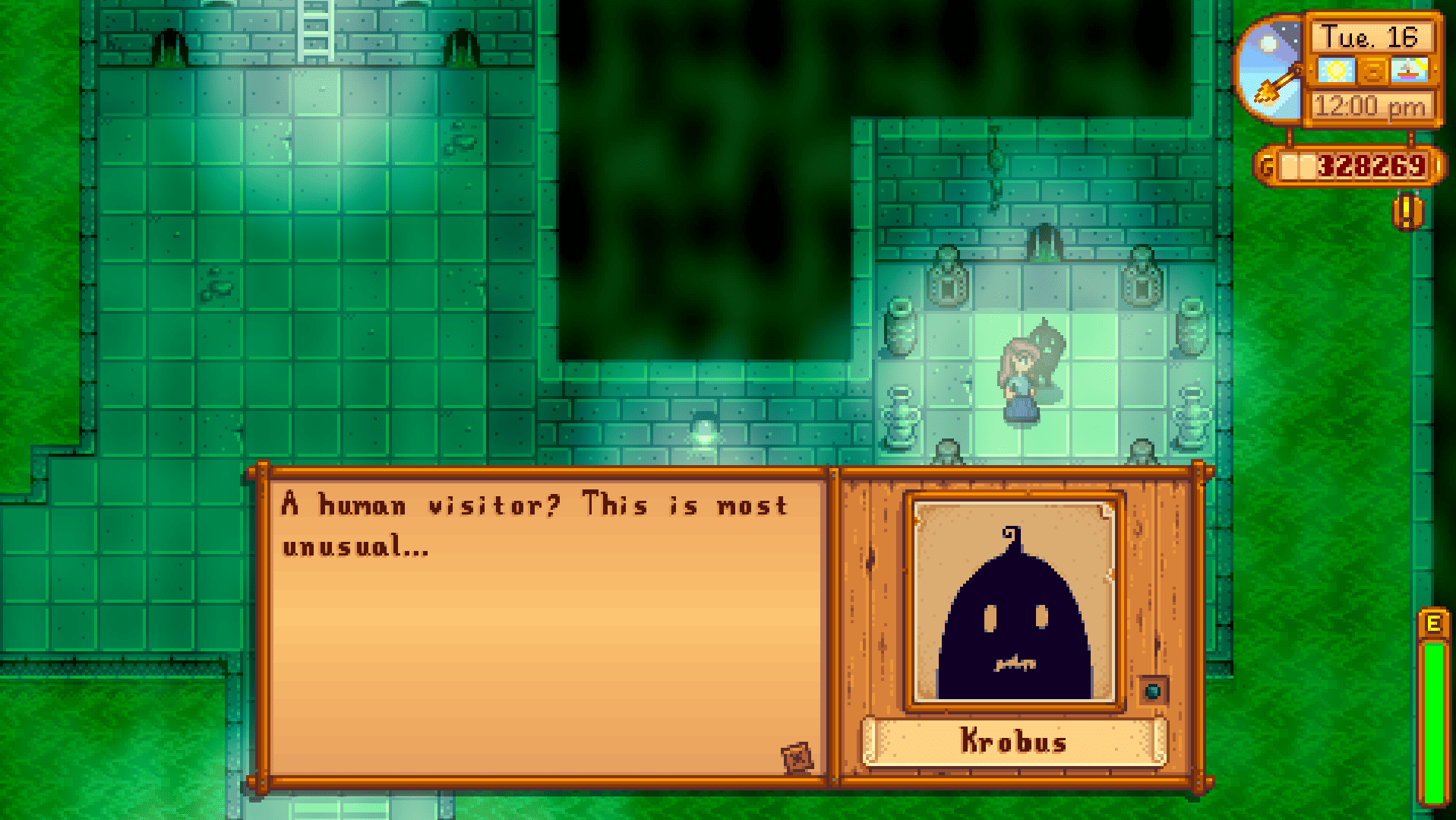 Gifts: 4/10

Unlockables: 6/10

Romance: 4/10

Opinion: 8/10
I like him; he's just a little guy. Krobus is the weird sewer creature you'll find after getting the key from Gunther, and he'll offer you a massive selection of goods that are all incredibly important to have access to. He loves Pumpkin and Horseradish, and if you get friendly enough with him, you can sorta-kinda platonically marry him, with him giving you some funky items.
Demetrius
Gifts: 8/10
Unlockables: 5/10
Romance: 0/10
Opinion: 6/10
Demetrius is a cool dude, and he gives you the choice between a mushroom or fruit cave, which has sent a raging debate through the Stardew fanbase for years (Mushrooms are the correct choice, btw).
He only has two friendship events and never mentions Sebastion for some reason, but he gives great gifts and is a chill guy that you can befriend with Ice Cream or Strawberries, so what's not to like?
Wizard
Gifts: 7/10

Unlockables: 6/10

Romance: 0/10

Opinion: 9/10
The Wizard is the guy who sends you on a heinous trip on forest juice after going to the community center, but he's also a great option to gun for whenever you can.
He can be befriended with Solar or Void essence, which you get a lot of in the mines, and he'll give you gems and a mushroom back; at four hearts, you'll get access to his basement, where you can now change your appearance, and that's genuinely incredible.
Penny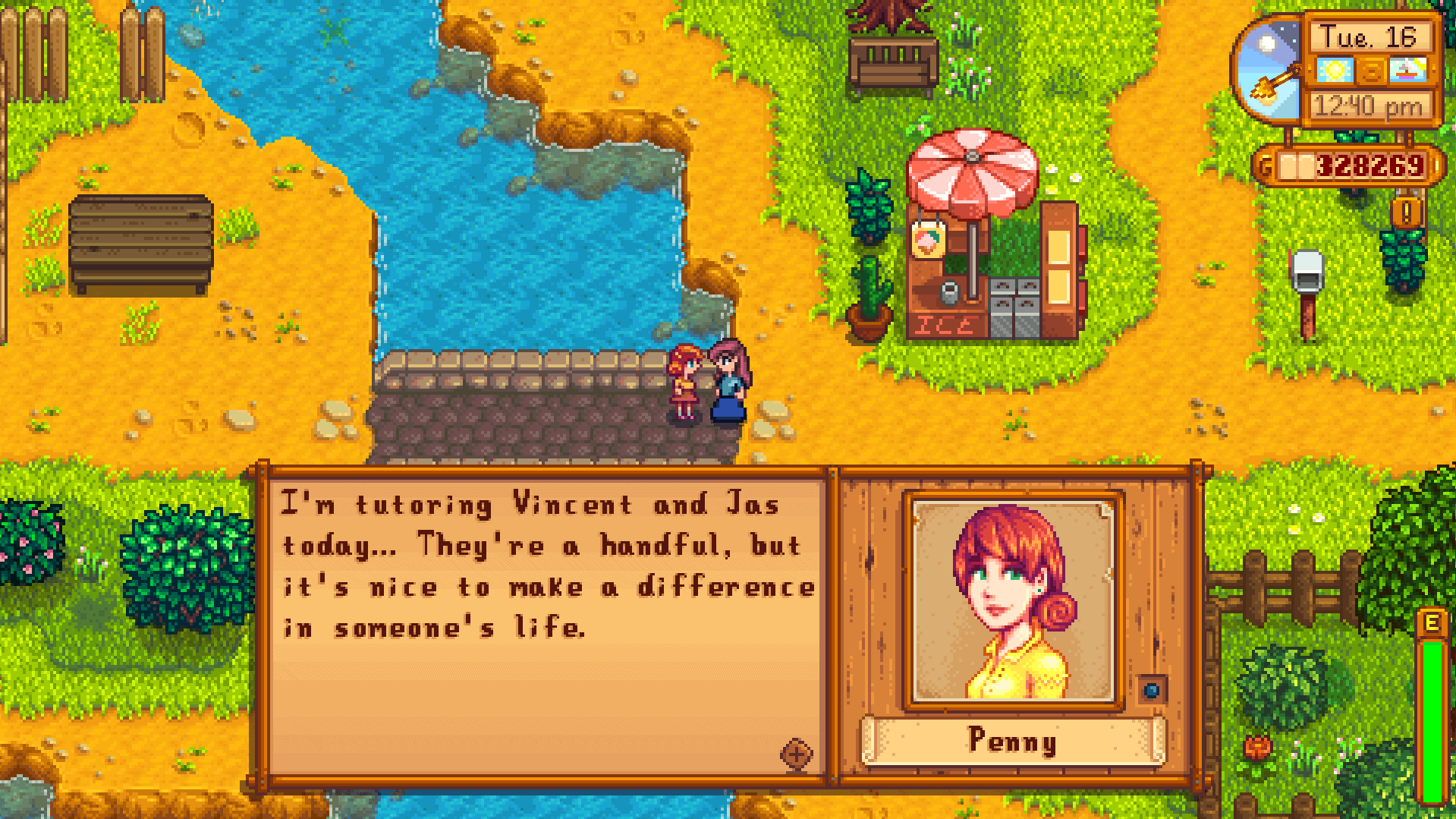 Gifts: 5/10

Unlockables: 1/10

Romance: 6/10

Opinion: 9/10

Penny is a straightforward character to love, just an incredibly kind and patient woman despite putting up with her mother, Pam, who's constantly making her life much harder. She's also pretty easy to befriend, using Melons, Poppies, or Emeralds in a Crystalarium. However, the reward for befriending her is minimal, aside from letting her live anywhere else.
Outside of Mixed Seeds and a Geode, which are lovely to receive, she won't give you anything special after marriage; it's pretty much just a few cooked dishes occasionally. She sets up a generic garden near your house and doesn't ever send you anything in the mail, but if you're falling for her exclusively for her character and personality, that's 100% fair.
Sebastian
Gifts: 4/10
Unlockables: 2/10
Romance: 7/10
Opinion: 5/10

Of all the characters in Stardew Valley, Sebastian is one I rarely befriend, and that's mostly because his story is boring, aside from a single game of Solarian Chronicles. Aside from that, though, he's only decent in what he'll offer you, never sending anything in the mail, but he does bring his motorcycle into the marriage, so that's cool.
Sebby's at least decently easy to gift to, with Frozen Tears being plentiful in the mines and Void Eggs being farmed once you've built up a supply of Void Chickens. Aside from those, though, there isn't much else to him other than him giving coffee when you marry him, which is the sole reason he's here and not in C tier.
Elliot
Gifts: 4/10
Unlockables: 1/10
Romance: 7/10
Opinion: 7/10
Elliot is a pretty decent character to go for. Though he doesn't unlock anything special, and the only gifts he'll give you are his wonderful poetry and marriage items, he is easy to befriend with Duck Feathers, Pomegranates, or Lobster. If you choose to marry him, you'll always get a cavalcade of lovely items.
The best benefit of making this bachelor your husband is getting coffee for free instead of other food items; coffee is essential. On top of that, he'll give you a few evening meals, making your life quite a bit easier. I think he's an alright character, what you'd expect from the poetic type, nothing too special, but pleasant to be around.
A Tier
Leah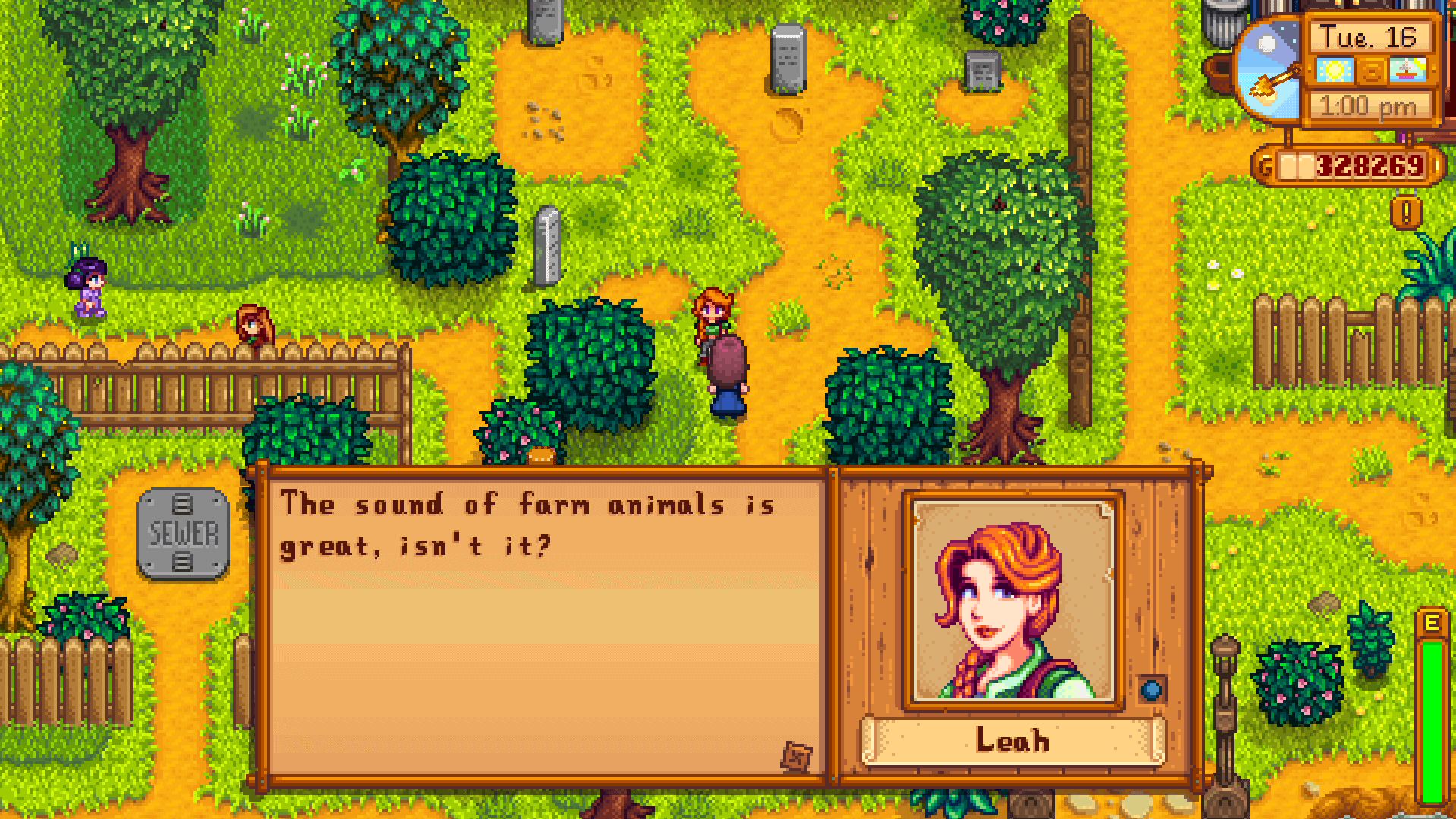 Gifts: 6/10
Unlockables: 2/10
Romance: 4/10
Opinion: 8/10
First of all, Leah's story is pretty good. It has many different ways it can go depending on your choices, and it's about building back confidence after a breakup, with her ex even showing up and changing gender to match yours, which is nice. Leah's benefits are pretty good, too, and she's relatively easy to befriend with Salads and Wine.
Unfortunately, the thing holding her back is the benefits of marrying her. However, she'll give you a free painting through her 14-heart event; after that, marriage will only get you some mushrooms and other forageables, which is better than nothing but still pretty lame compared to what others offer. Disappointing reward, but a cool person.
Sam
Gifts: 5/10
Unlockables 2/10
Romance: 6/10
Opinion: 8/10
Sam's a guitarist and just a lovely guy, trying to be a big brother while striving to make it in this world. While I do love his story and character, it's hard to admit he's much of anything special. He's easy to befriend by just buying him pizza and gives decent gifts while you're married, mostly related to the mines, as well as a sick halfpipe in your backyard.
He doesn't give you much of anything else, though. Cactus fruit and Coconuts are lovely but also pretty easy to acquire by scrounging around the desert a bit.
I give him points for having one of the best songs in the game tied to his 8-heart friendship event, though. Next time you're befriending this guy, do yourself a favor and ask for Hi-Energy Dance Music.
Abigail
Gifts: 5/10
Unlockables: 2/10
Romance: 8/10
Opinion: 8/10
Abigail is usually my default romance candidate, namely for the fact she'll give you a bunch of free resources, cooked dishes, or just straight-up bombs and crab cakes some days, which are all great.
She's also pretty easy to befriend, with Amethyst and Spicy Eel plentiful in the mines and Pufferfish and Pumpkin not being difficult to get a bunch of.
People love Abby mainly because of her personality; she's a gamer girl, just like me fr!!! But in general, she's a tomboyish girl who likes breaking from tradition; many people relate to and want that. I wish her relationship with her parents were expanded more outside of one line, but at least her story is cool, and she plays flute in your yard, so that's all nice.
Leo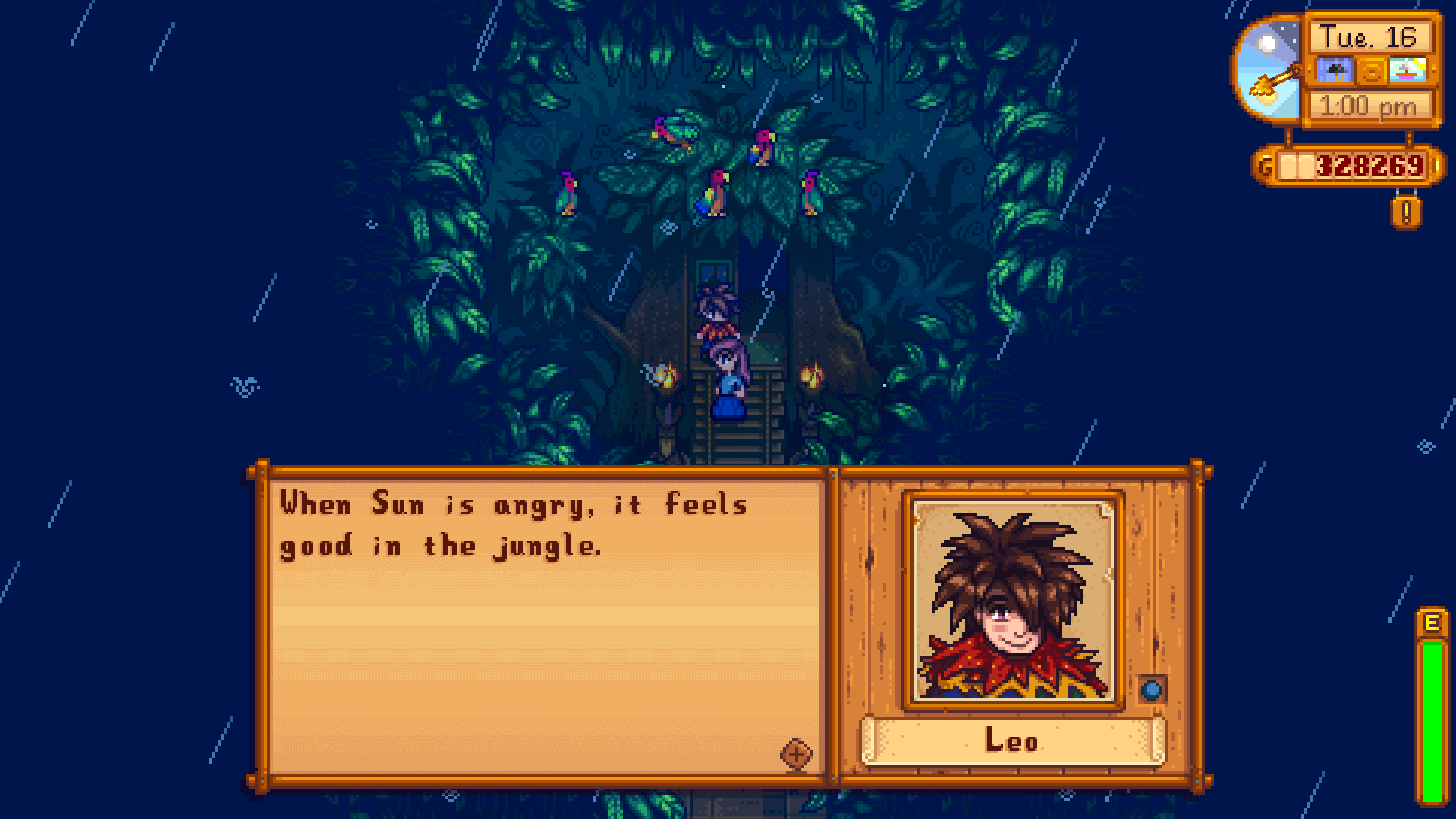 Gifts: 6/10
Unlockables: 10/10
Romance: 0/10
Opinion: 10/10
Leo is a fantastic little dude; I've never met anyone who disliked him. He's just a nice little bird boy. He's pretty easy to gift with Mangoes, and in return, he'll give you a few new recipes. And, if you befriend him enough, he'll move into Stardew Valley, giving you a new person in town to interact with permanently, which is fantastic. We love Leo in this house.
S Tier
Shane
Gifts: 7/10
Unlockables: 4/10
Romance: 5/10
Opinion: 9/10
Here's one of my favorite stories in Stardew Valley: the neglected and aggressive Shane eventually becomes a lovely guy to be around through your actions, and he has some of the most scenes of any character.
He's also one of the rare bachelors to send you things in the mail (it's not much, but it's something), and he's straightforward to gift by buying him pizza or Beer.
His story is about overcoming alcoholism, and it's incredibly well done. My only gripe is that the romantic aspect at the end feels tacked on, like it wasn't where you two were going with each other. Either way, he gives you blue chickens at eight hearts, and his story is lovely; I'd recommend experiencing it at least once.
Maru
Gifts: 5/10
Unlockables: 2/10
Romance: 9/10
Opinion: 8/10
Maru is an interesting case; the nerdy, scientific girl who often spends time in her shack warms up to you as you inspire her to show you beautiful things and make a silly lil robot. I think she's pretty underrated, not only for her incredible story but also for the free warp totems, bombs, and crab cakes you'd get in return for marrying her.
On top of that, she's also straightforward to befriend, loving cauliflower, strawberries, battery packs, and gold bars, which you can buy the raw materials for. She won't be unlocking anything special or giving you gifts outside of marriage, though, but what she does give you is still really good.
Emily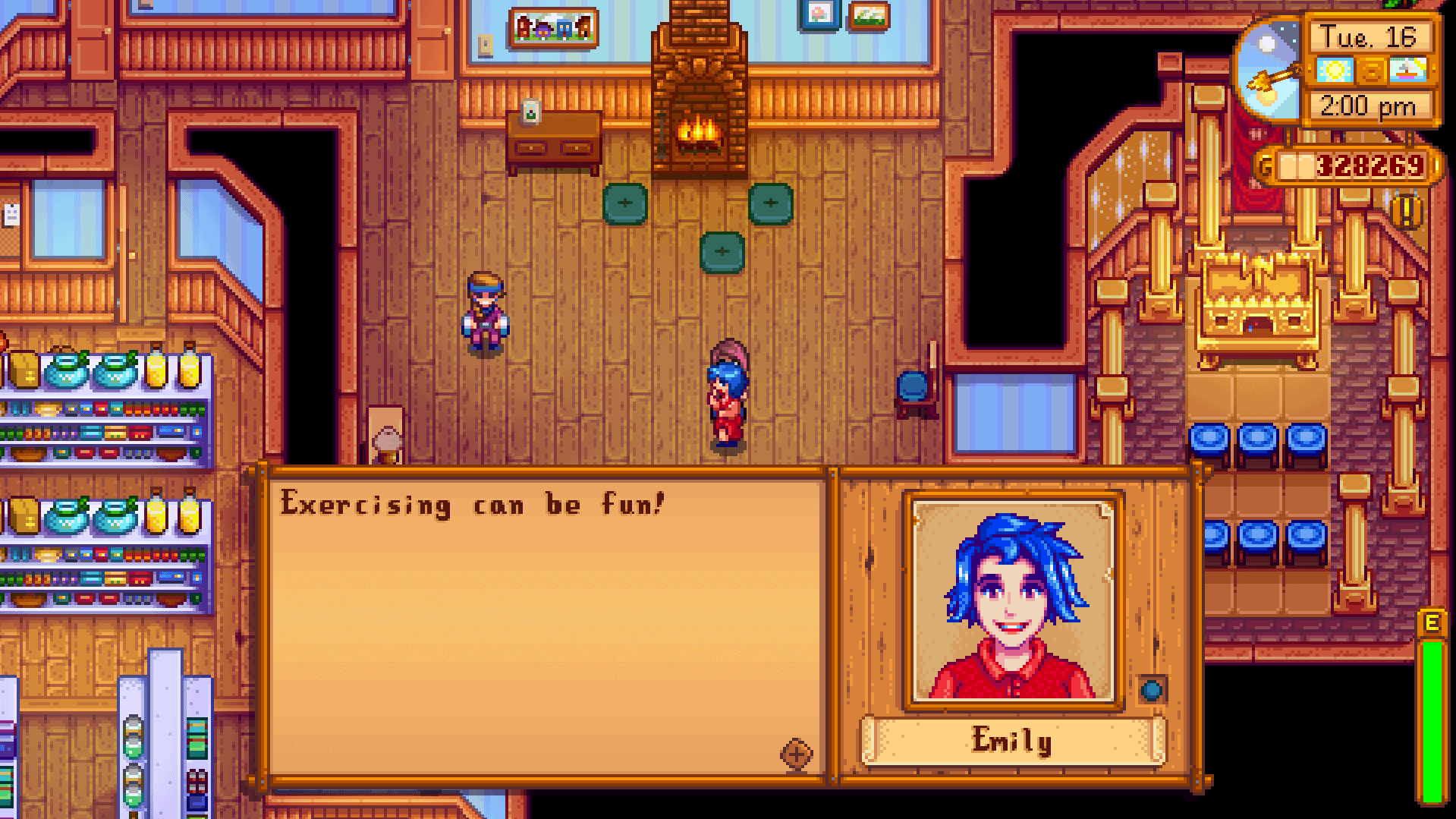 Gifts: 9/10
Unlockables: 5/10
Romance: 8/10
Opinion: 7/10
Emily is an eccentric and quirky girl with a love for the natural and mystical and a passion for sewing. I'll be honest: her story is just okay to me, but the benefits of going for her make her the best bachelor in the game; she'll give you free food, coffee, recipes, clothes, and wool, all while not being too hard to befriend.
You can farm wool or any gem to get your hearts up with her quickly, and given a free crystalarium from the community center, you can promptly cultivate emeralds or amethyst and give them to her twice a week for easy hearts. She also brings her bird into your home after marriage, and that's like half the reason she's this high up; that's so cool.
FAQs
Question: Who is the best marriage candidate in Stardew Valley?
Answer: Emily provides the best benefits to you, giving you some great items and bringing her bird with her.
Question: Who should I avoid in Stardew Valley?
Answer: In general, avoid Pierre and Marnie, as they give terrible rewards for befriending them.
Question: Is it worth befriending everyone in Stardew Valley?
Answer: Yes, as you need to do that for Perfection anyway.
Stardew Valley Character Tier List: Conclusion
I don't think I'd ever thought this hard about Stardew's cast of characters before, and it's weird going through everything they can potentially give you and ranking them based entirely on that. I'd never dated Emily before.
I usually would go for Abigail, Penny, or Sam, but after making this list, I might just go with her on a future playthrough.
While I'm glad I made this list primarily objective, as it makes it a better resource for newer players, a part of me does wanna see a purely subjective version, but then I remember that's just stepping into the Stardew fandom discourse of who is better than who, and thinking about that, I'm glad the list is less subjective now.