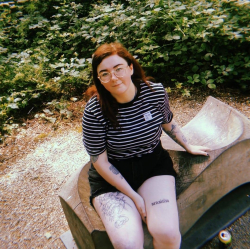 Latest posts by Ella Walsh
(see all)
Every town has its quirks and indeed its secrets, and Pelican Town is no exception! Pelican Town exists in the wholesome world of Stardew Valley and is full to the brim with wacky characters, hidden secrets, and unsettling histories! On the surface, each character appears perfectly pleasant, but as you get to know each character in Stardew Valley, you learn more and more about them and so grow to love (or dislike) them even more!
Stardew Valley is an adorable and surprisingly complex farming RPG built by our hero Concerned Ape ( A one-man band whose skills and talents know no bounds) Stardew Valley has so much to offer; you can farm, fish, mine, forage, craft, and even cook! When you aren't doing any of those, you can meet the residents of Pelican Town and chat with them to learn more about them as they start to reveal more of their lives to you!
Stardew Valley even comes with the option of dating, marrying, divorcing, and having children with any of the eligible residents of Pelican Town! Each resident has their own role and unique addition to the town, be it the business owners of the health center, local shop, fish shop, blacksmith, or even the Bar!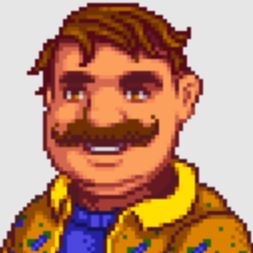 Then there are more out there characters like our dear Linus, who lives a simple life in his tent where he forages for food and is helped out by some of the more kind residents. Each resident is different and has their own likes and dislikes and their own story!
The Bar is a central (literally) part of Pelican Town, and often at night you can find most of the residents in there having a pint or two, its an easy way to come full of presents and hand them out to everyone you see (just be careful what you chose to give) someone who is perhaps overlooked, however, is the man behind the Bar!
I am, of course, referring to Gus, a local resident but also the town's Bar owner, which also offers its pros and cons! So let us find out everything that there is to know about Gus!
The Basics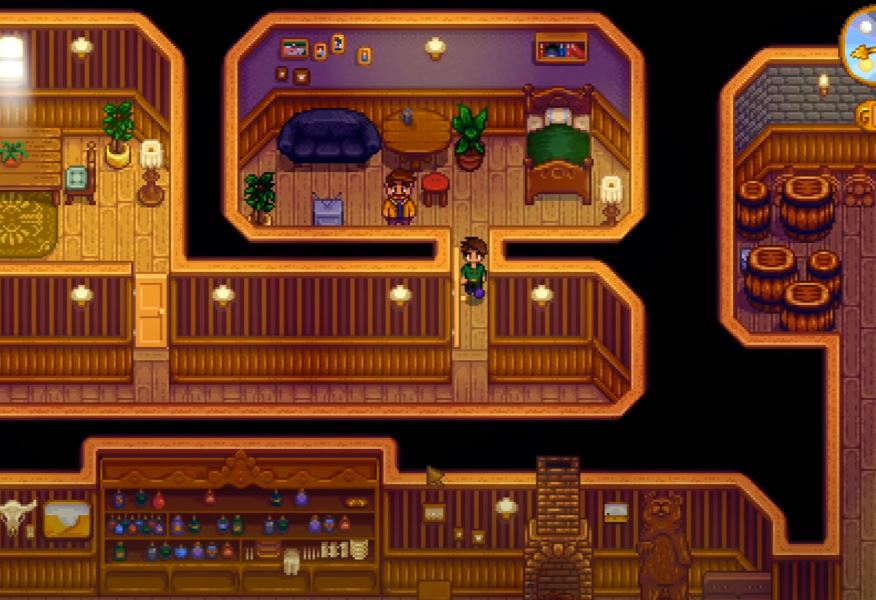 Gus actually lives in a room which is in the back of the local Bar, the Stardrop Saloon! While we don't ever learn anyone's true age in Stardew Valley, we can guess that Gus is roughly in his 40s-50s or older!
Gus's birthday is on the 8th of Summer, and while he has no family, he seems to have a friendship with Pam (although this may just be as she frequents the Bar but more on that later) and Emily (who works at the Bar) so honestly, Gus does seem to be lacking in his close friendships.
Gifts for Gus
As we have now learned, Gus does not have many close friendships, and honestly, maybe he should work on that! If you want to make an effort to befriend Gus, you will need to regularly chat with him (you have to go behind the Bar to do this, or he will think you want to buy something) and give him gifts.
Giving gifts adds points to your relationship meter with others, although you have to be sure that they will like the gift as if you give a bad gift it will actually take some points away and set you back!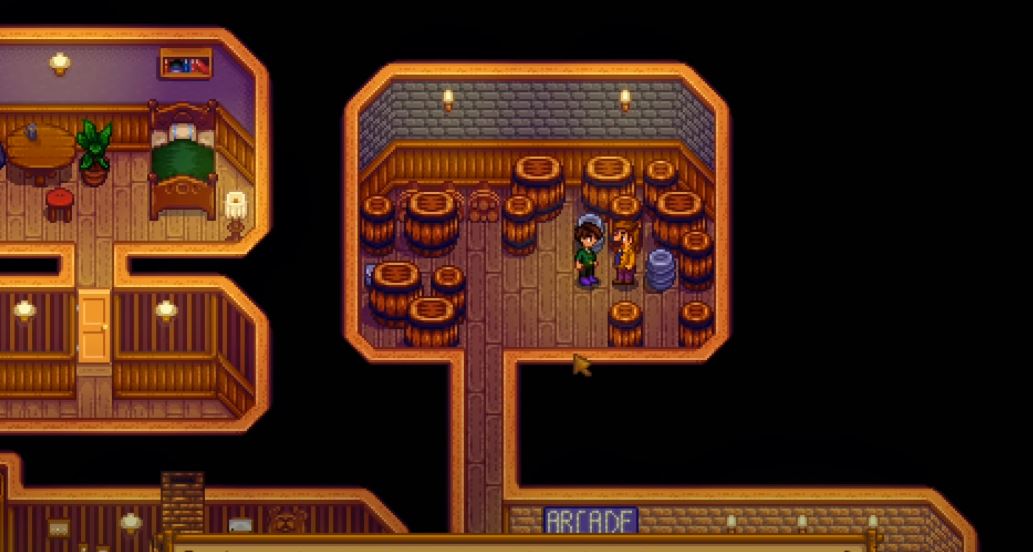 If you were to give someone a gift that they personally love, this would add 80 points to your friendship meter. If you give someone a gift that they like, however, this will only add 45 points to your relationship. If you give someone a gift which they are indifferent or neutral to, it will add 20 points.
This is where you must exert caution as if you give someone something that they dislike; it would take away 20 points from your relationship meter while giving someone a gift that they hate will actually take away 40 points from your relationship meter.
If you want to give a gift to Gus, here are some considerations for gifts that Gus loves:
Tropical Curry; 

To make this, you will need 1x Coconut, 1x Pineapple, and 1x Hot Pepper

Diamond; 

This can be found in the Mines

Escargot; 

This can be made if you have 1x Snail and 1x Garlic

Fish Taco; 

To make this, you will need 1x Tuna, 1x Tortilla, 1x Red Cabbage and 1x Mayonnaise

Orange; 

This can be grown and taken from an orange tree
Gifts that Gus likes also include:
Daffodils; 

These can be found in Spring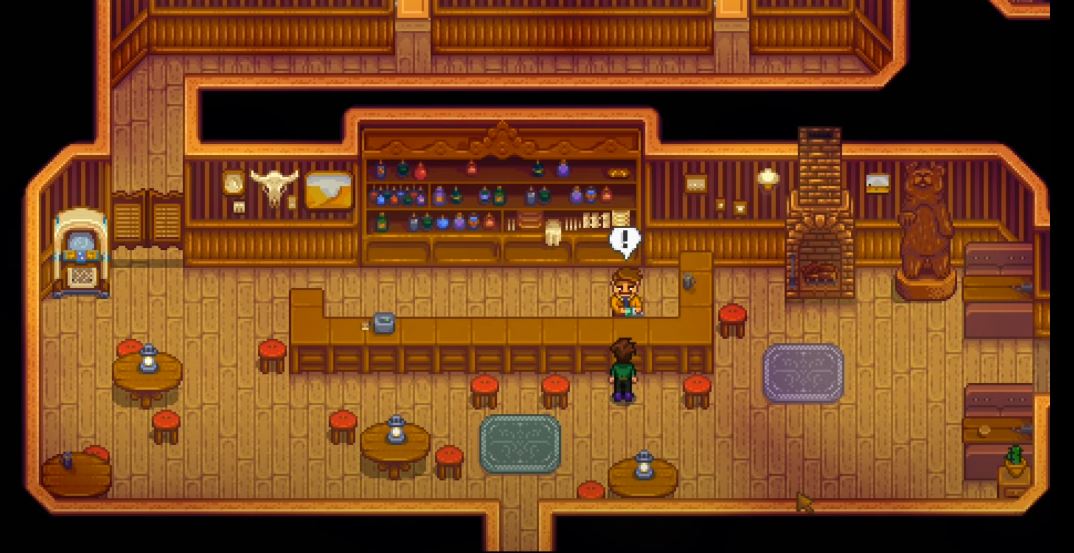 There are a lot of items that Gus is also neutral to, such as:
Mushrooms

All

 

Eggs; 

but not Void Eggs

All Fruit; 

but not Fruit Trees or Salmonberry

All Milk

Ginger

Leek

Winter Root

Dandelion

Snow Yam

Hazelnut
You should take care when providing the following items to Gus as he dislikes them:
Wild Horseradish

Salmonberry
Gus also hates the following items:
Movies are Great Gifts!
You can also gift someone with a ticket to accompany you to a film! There is a small range of films available in the Stardew Valley Theatre which everyone has their own opinion of!
Films that Gus loves include:
Wumbus

The Miracle At Coldstar Ranch
Gus also likes the following films:
The Zuzu City Express

It Howls In The Rain

The Brave Little Sapling

Journey Of The Prairie King

Natural Wonders; Exploring Our Vibrant World
Gus dislikes this one film in particular;
The perfect addition to any film is some nice snacks! Unfortunately, this is not straightforward, as are many of the options presented in Pelican Town. With snacks, there are also individual likes and dislikes; Gus loves the following snacks;
Truffle Popcorn

Cappuccino Mousse Cake

Stardrop Sorbet

Panzanella Salad
Gus likes the following snacks:
Star Cookie

Salmon Burger

Nachos

Chocolate Popcorn

Salted Peanuts

Popcorn

Personal Pizza

Ice Cream Sandwich

Fries
Gus's Schedule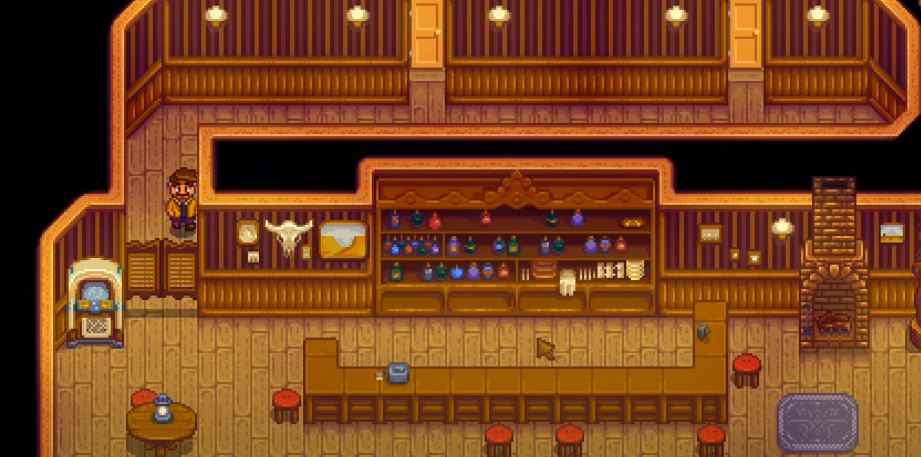 Like every other resident in Stardew Valley, Gus has his own schedule.
His normal schedule;
Gus begins cleaning glasses at the Bar at 12 PM and then moves to the Bar at 4 30 PM. Gus leaves the Bar and goes to bed at 12 AM.
On Mondays;
Gus leaves for Pierre's General Store at 8;30 AM. At 11 AM, Gus then returns to the Saloon. At 12 AM, Gus goes to bed.
On a Rainy Day;
Gus starts by cleaning glasses at the Bar at 12 PM and goes to the Bar to work at 4 30 PM. Gus leaves and goes to bed at 12 AM.
On Tuesday's if the Community Centre is repaired;
At 8, 30 Gus goes to the Community Centre kitchen; at 12, 30 Gus returns to the Bar. At Midnight Gus goes to bed.
On the 4th of Fall;
At 10;30 AM, Gus goes to the Clinic to have his check-up. At 4 PM, Gus leaves the clinic and goes back to the Bar. At midnight he goes to bed.
Gus's Heart Events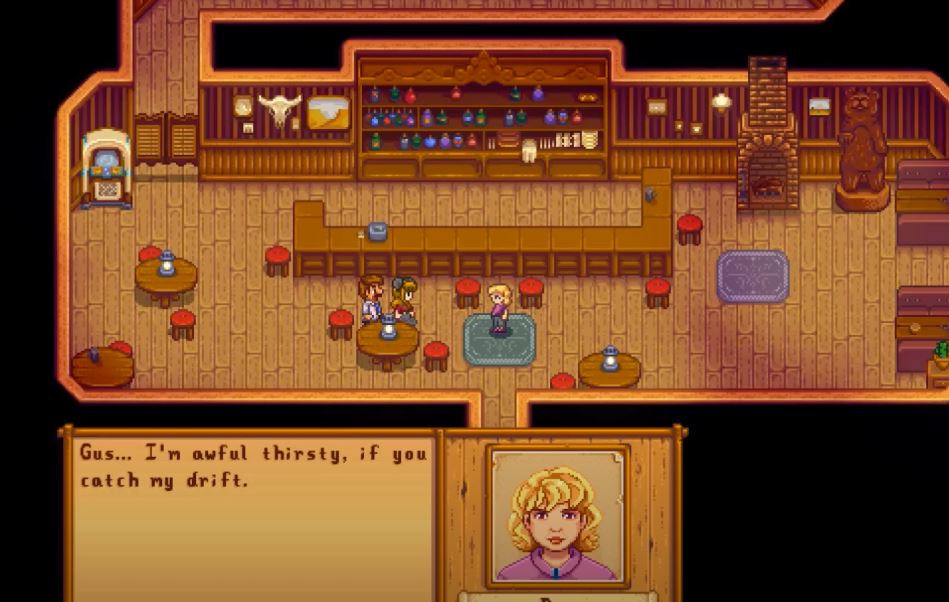 As you become closer with Gus, you will trigger some events with him as you naturally increase your relationship points on the meter.
At three hearts;
Gus will send you the recipe for a Salmon Dinner in the post.
At four hearts;
You trigger this event by having two hearts with Pam and entering the Saloon. Gus is sad and will share with you that there are financial problems with the Bar and that Pam won't settle her tab, which would help him. You then have two options to say to Pam, either that she doesn't need to pay right now or that she should pay. The option you pick will either add to or take away from your relationship.
At five hearts;
To trigger this event, you need to visit the farmhouse between 6 AM and 11 30 AM on a dry day. Gus visits you and tells you that he thinks of you as a good friend and gives you a gift of a Jukebox and a recipe for a Jukebox.
At seven hearts;
Once you reach seven hearts, Gus will send you the recipe for Cranberry Sauce in the post.
Quests with Gus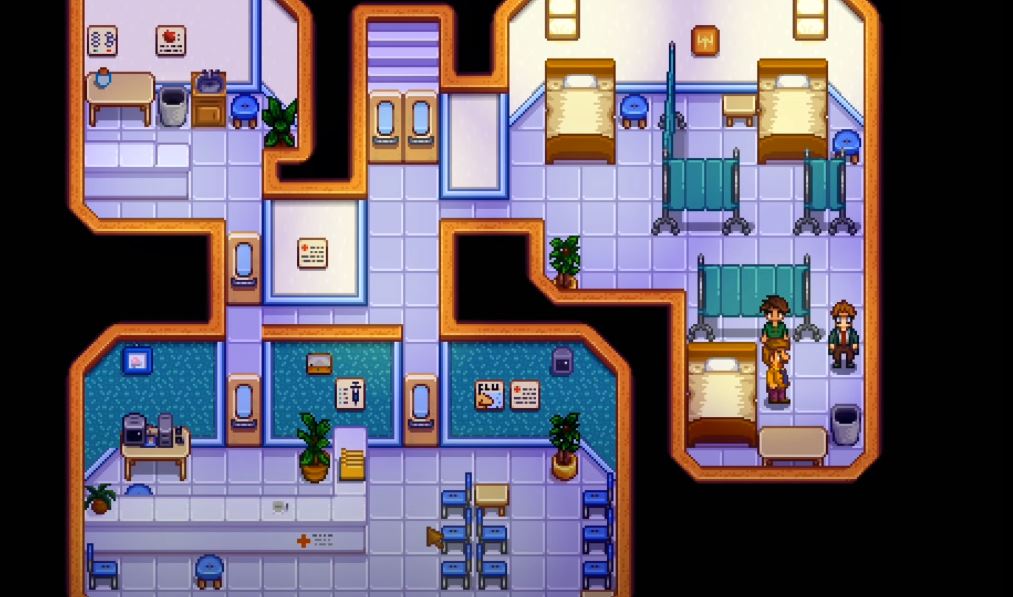 There are a few quests that occur between you and Gus;
Wanted: Lobster; 

Gus sends you a letter on the 6th of Fall where he asks for a Lobster. Completing the quest will reward you with 500g and a friendship heart.

Exotic Spirits;

 Gus sends you a letter on the 19th of Winter requesting a Coconut. The reward for completing this is 600g and one friendship heart.

Fish Stew;

 On the 26th of Winter, Gus requests an Albacore. Completing the request will give you 400g and one friendship heart.
FAQs
Question: What gifts does Gus like in Stardew Valley?
Answer: Gus loves Oranges, Diamonds, Fish Tacos, Escargots, and Tropical Curries.
Question: When is Gus's birthday?
Answer: While we don't know his birth year, Gus's birthday is on the 8th of Summer
Question: Can I date Gus in Stardew Valley?
Answer: No, unfortunately, Gus is not eligible for dating.
Gus Stardew Valley Guide: Summary
This is all that we know about our dear and beloved Gus, although truthfully, I feel he should push himself outside of his comfort zone and befriend a few more people in the town, rather than locking himself away in his Bar all day. I am sure there is a lot of pressure on owning your own Bar so maybe give Gus a chance!
Recommended Reads: