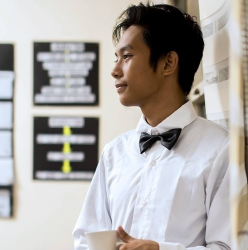 Latest posts by Arthur Monteclar
(see all)
While Stardew Valley is extremely popular as a 2D virtual farming simulator, it's more than that. You get to hone different skills and discover exciting items as you play along. Aside from that, you can also fish, kill monsters, and even lounge in the Saloon, just like in real life. 
And all this is even made more exciting because you can interact and build friendships with all NPC. To befriend any villager in Stardew Valley, you can treat them how you would any other friend in real life—talk to them daily, give them gifts, and do a couple of favors. Well, it sounds relatively simple, right? 
As you build your friendship with the characters, you also get to learn their quirks and backstory. Marnie is among the very first villagers you'll meet in Pelican Town. She is extremely friendly and helpful in getting you all ready for your new life in this rural town. She lives in a unique setup; just like some business owners in the city, her house and business space are in the same building.  
Are you interested to learn more about Marnie and her life? Check out this blog! We will discuss all the essential details about Marnie, including his schedule, relationship, heart events, quests, and more. Warning: Spoilers Ahead! 
Bottom Line Up Front 
Marnie is a ranch owner who lives in the northeast area of Cindersap Forest; her house is quite near Linus' tent. While she isn't married in-game, she is also not among the eligible bachelorettes you can marry. This is because she's dating another NPC in secret—Mayor Lewis. Marnie loves receiving gifts like any other NPCs, especially on her birthday. 
Marnie's essentials: 
Birthday: Fall 18

Home Location: Cindersap Forest Forest, Marnie's Ranch

Family: Jas (Niece), Shane (Nephew)

Friends: Lewis

Clinic Visit: Fall 18 (Same as her Birthday)

Night Market Visit: Winter 16

Occupation: Ranch Owner

Marriage: No
Marnie: Appearance, Personality, and Hobbies
Appearance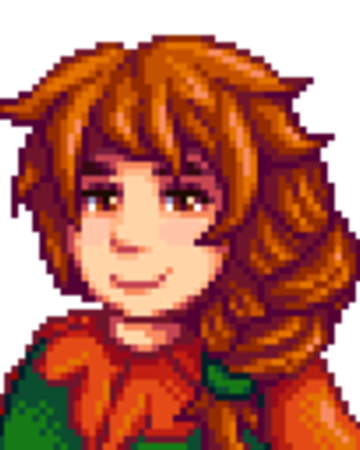 Marnie's appearance seems to be a poster girl of what rural life may look like. She has luscious ginger hair styled in a thick braid. Her iconic fringe bangs also accentuate her look. He wears a soft smile, which gives off an amiable sweet look. 
Despite his sweet and pleasing personality, she's one of the most hardworking villagers in town. You'll typically see her wearing an orange long sleeve blouse and an army green long dress with big yellow buttons. 
Like other villagers, she also wears clothing alternatives when she does other things. You can spot him on the beach wearing a short green dress, entirely fitting to the hot and humid sea breeze. Her brown eyes are comforting and telling; it seems like you can share your worries with her because she'll help you fix them.
After several game developments, Marnie's appearance didn't undergo any design alterations or updates. The only noticeable feature in her character design is the addition of her beach portraits and outfits. 
Personality
At first glance, Marnie seems to have her life altogether. She is a thriving business owner and a successful single woman. However, she deals with a lot of things. While she's extremely friendly, it's pretty hard to keep up with her schedule and availability. 
Running a ranch and raising a young girl might already be difficult for anyone. On top of that, she is also hosting a depressed relative with a drinking problem. So, you might find her erratic schedule a hassle. Remember, even NPCs have a life of their own; aside from being a ranch owner/storekeeper, she also has different things to deal with. 
Despite her busy schedule, she remains cordial and helpful whenever you need any of her help. 
Hobbies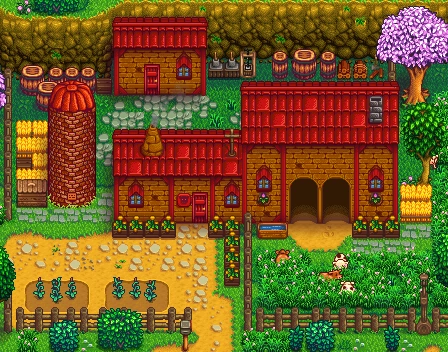 Marnie has a highly hectic schedule, yet she makes sure to unwind and relax. Aside from tending her shop, she loves going to the Town Square and meeting with her friend, Lewis. She also does aerobics with the girls, Jodi and Caroline. 
You can also spot her hanging out with most villagers in the Stardrop Saloon at night. So, if you're having a hard time finding her, you can regularly check and visit the Saloon after her work shift. 
Schedule
Marnie's schedule is relatively packed with different activities and chores. She is pretty busy tending the shop and growing her farm too. These duties make it quite tricky to track her down. Whenever she's not in the shop, she is occupied with doing other tasks. Like most NPC villagers, her routine can also be influenced by the weather. 
Here's a complete list of Marnie's schedule: 
Fall 18 – Marnie's Birthday/ Clinic Visit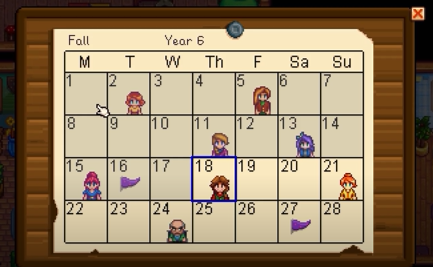 Interestingly, Marnie's birthday and clinic visit fall on the same day. She starts her day early and leaves her house at 10:30 am to go to Harvey's Clinic. Once she's inside the clinic, she waits for three hours to get attended to. At 1:30 pm, she walks into the exam room. 
When she's done with the checkup and the labs, she leaves the clinic and heads straight to her house at 4:00 pm. She will rest the whole day inside her home and will go to bed at 9:00 pm.
Winter 16 – Night Market Visit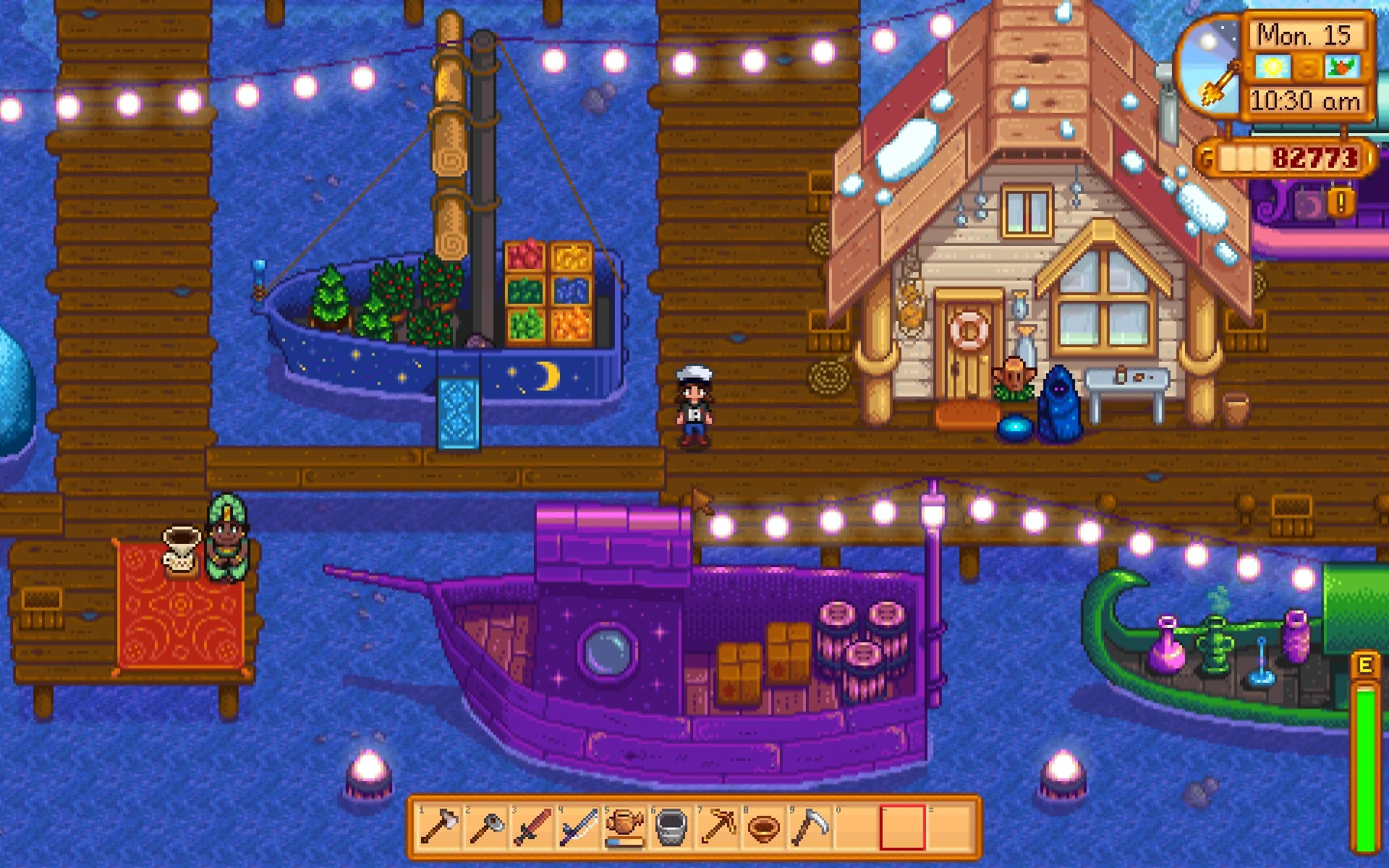 Many villagers also go to the night market on Winter 16. As for Marnie, she starts her morning at 6:00 am and goes straight to work at 9:00 am. She stands behind the counter of her shop, waiting for customers. After her shift ends, Marnie visits the Night Market. She strolls around the night market and goes home late at night, just a few minutes before midnight. 
Winter 18 – Jas' Clinic Visit
Marnie leaves the house at 11 to take Jas to Harvey's clinic. She stands in the waiting room at 12:00 pm and walks Jas into the examination room at 1:40 pm. Once Jas' checkup is done, she walks home and stands in the kitchen. She goes to bed at 9:00 pm, which seems to be her regular sleep schedule.
Raining
When it's raining, she doesn't leave the house. You can find her in her room at 6:00 am. She opens her shop from 9:00 to 4:00 pm. Afterward, she prepares their dinner as she walks to the kitchen. She leaves the kitchen at 6:00 pm and walks straight to her room. She stands in front of her dresser (maybe to check herself?) and goes to bed at 9:00 pm. 
Mondays
Marnie is among those villagers without an exact schedule. So, her days and routines heavily rely on the projects and tasks she's making. It is also not dependent on the seasons because most of the time, she's just simply nowhere to be found. She leaves the house to shop at Pierre's General Store on Mondays. 
After shopping, she heads straight to her house. Her schedule might seem like a blur most of the time, and you can't locate her anywhere. However, she walks inside her room and sleeps during her regular sleeping time. 
Tuesdays
This is probably the day when Marnie socializes the most. Before noon, she leaves her house and goes straight to Pierre's General Store. She follows Caroline's aerobics routine and exercises with the girls, Jodi, Emily, and Robin.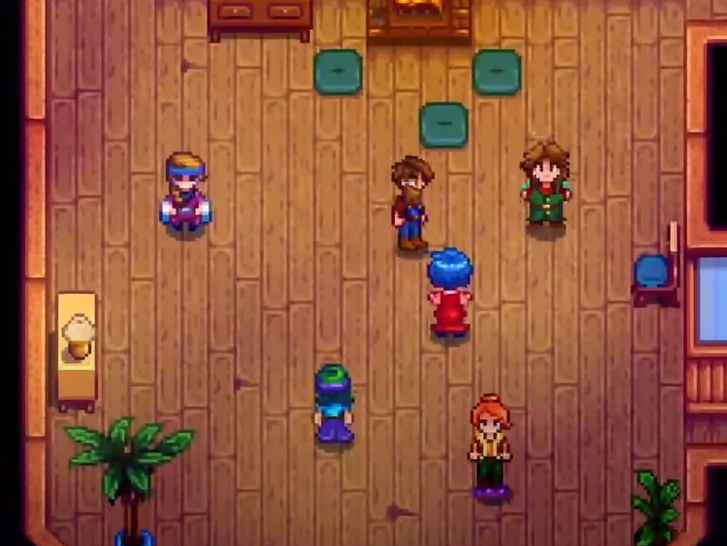 After the aerobics class, she stays and chats with all the ladies. She usually leaves the store at around 6:00 pm to head straight to her house. 
Wednesdays to Sundays
Her schedule for these days will also vary. However, I've noticed that she follows the same trend as most of her working days. The only difference is that she lounges at the Stardrop Saloon after her shift. She goes and hangouts with the other villagers and doesn't leave until 11:00 pm to go back home and sleep. 
Relationships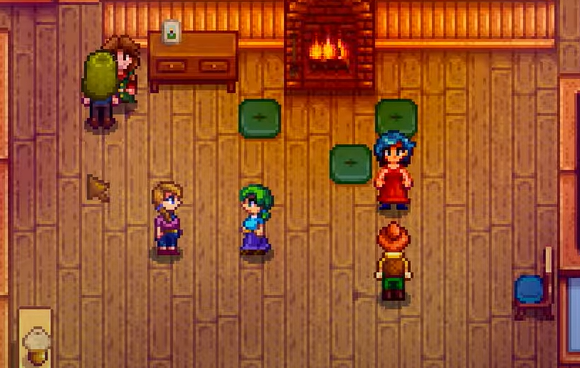 While Marnie isn't married, she takes care of her niece, Jas, and nephew, Shane. She considers both of them her family. She loves hanging out with Caroline, Jodi, Emily, and Robin to exercise and chat. 
However, her only friend is Mayor Lewis. They have a very close relationship, and they are secret lovers unsuspectingly. Marnie claims to be single, but they both confirm that they are dating during the Flower Dance. You can also notice that Lewis loves to visit Marnie's Ranch for his "business needs." 
Aside from that, you can occasionally see them drinking together at the Saloon in the evening. Surprisingly, you can even find the mayor's lucky purple shorts in Marnie's bedroom.  Mayor Lewis and Marnie have a very close relationship. Although Marnie claims to be single during the Flower Dance, Lewis and Marnie's 6-heart event confirms that they are dating. Lewis 
Marnie's Ranch: Home and Business Space in One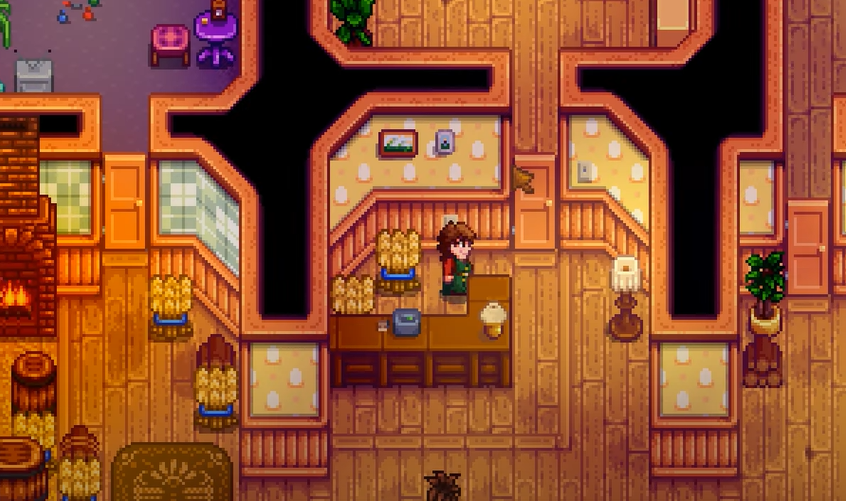 Like Pierre's General Store, Marnie's Ranch is her home and business space. You can easily spot it in the northeast area of the Cindersap Forest. She lives there with her family Jas and Shane. The ranch is open from 9:00 am to 4:00 pm every day, except on Mondays, Tuesdays, Fall 18, and Winter 18.
Marnie's Ranch: Items
When the shop is closed, you can still access the Ranch house from 9:00 am to 6:00 pm every day. The price for each item is already fixed and wouldn't change, unlike the Traveling Cart.
| | | |
| --- | --- | --- |
| Item | Description | Price |
| Auto-Grabber | It is an item you can put in your coop or barn. It automatically collects the produce from animals such as milk from cows and goats, wool from sheep and rabbits, eggs from chickens, ducks, dinosaurs, and more. This item is only available when your Farming skill is Level 10. | 25000 gold |
| Golden Egg | It hatches a golden chicken when placed in an incubator. You can place the golden chicken in a big coop so that it will hatch another golden egg. You can only buy it when your game's perfection score is 100%. | 10000 gold |
| Hay | You can use this to feed farm animals. | 50 gold |
| Heater | It will keep your farm animals warm and happy when it is winter. The animals' Mood Score increases by ten every ten minutes in the game. | 2000 gold |
| Milk Pail | It is a tool you can use to harvest milk from cows and goats. | 1000 gold |
| Ornamental Hay Bale | It is a decorative piece of furniture you can place indoors or outdoors. | 250 gold |
| Shears | It is a tool you can use to collect wool from sheep. | 1000 gold |
Marnie's Ranch: Livestock
You can also purchase livestock at the ranch, which are is listed below:
Livestock

Produce
Price

Building Requirement

Chicken (can be blue, white, or brown)
Egg;

Brown Egg;

Large Egg;

Large Brown Egg

800 gold
Coop
Cow
Milk;

Large Milk

1500 gold
Barn
Duck
Duck Egg;

Duck Feather

1200 gold
Big Coop
Goat
Goat Milk;

Large Goat Milk

4000 gold
Big Barn
Pig
Truffle
16000 gold
Deluxe Barn
Rabbit
Rabbit's Foot;

Wool

8000 gold
Deluxe Coop
Sheep
Wool
8000 gold
Deluxe Barn
What's interesting is you can also pick the color of the animal you will receive before you purchase. You can see this detail once you're prompted to choose the building your animal will stay in. It's usually on the top corner of the screen.
Best Gifts for Marnie
Do you want to increase your friendship with Jodi? Well, one of the best ways to do that is to give her gifts. While interacting with her and completing her quests can give you additional friendship points, giving gifts is one of the easiest ways to increase your friendship.
But always remember, there's also an art to gift-giving; you can simply give Marnie any items and expect her to like them. So, we've come up with a list of items that she truly loves. 
When you give her any of these gifts, she'll exclaim in delight and say, "This is an incredible gift! Thanks!" You can give her two gifts per week at most, and you can also give her an extra present on her birthday, which falls on the 18th of Fall. 
Diamond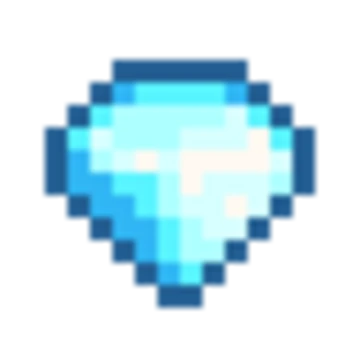 A diamond is among the most precious and expensive gemstones in Stardew Valley. There are many ways to get Diamonds. You can forage them in the mines on floors above 50. Sometimes, you can also find them in the Gem Nodes. It can also be dropped by a monster in the mines. 
Interestingly, you can find them inside fishing treasure chests and duplicate one in the Crystalarium. This way, you don't have to scour the mines or fight with monsters to obtain this gemstone. 
Farmer's Lunch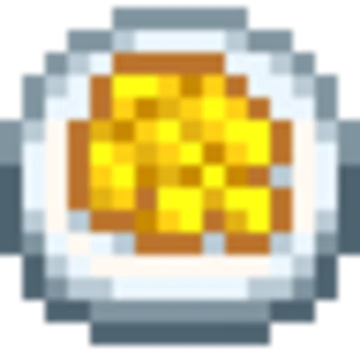 Marnie is really into scrumptious meals, like Farmer's Lunch. This cooked dish can be prepared using a cookout kit or in a kitchen of an upgraded farmhouse. To cook this meal, you need to reach Farming Level 3 and acquire the recipe. Prepare all the ingredients: omelet (x1) and parsnip (x1). Aside from cooking this, you can also purchase it in Krobus' Shop on Saturdays.
Pink Cake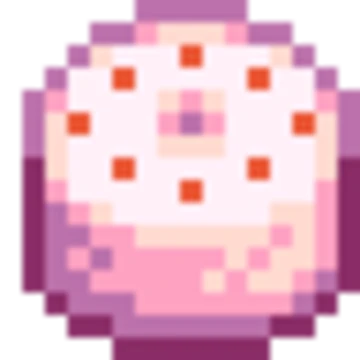 It's quite surprising that Marnie loves Pink Cake, considering that most young villagers like Jas, Vincent, and Haley love this item. It can be prepared inside the kitchen of an upgraded farmhouse or using a cookout kit. You can get the recipe by watching the Queen of Sauce on Summer 21, Year 2. To make the Pink Cake, you need melon (x1), wheat flour (x1), sugar (x1), and egg (x1). 
You can easily purchase Pink Cake on the Stardrop Saloon's rotating stock or check out Krobus' Shop on Saturdays. Aside from making or buying one, you can also obtain Pink Cake by killing a big slime. 
Pumpkin Pie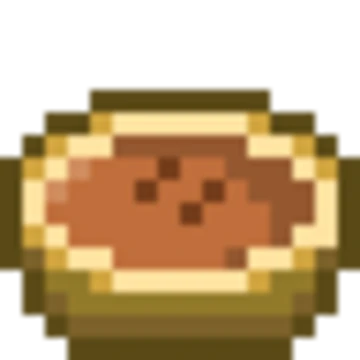 Marnie's favorite pie is Pumpkin Pie. You can learn the recipe by watching The Queen of Sauce on Winter 21, Year 1. Like some of her favorite dishes, you'll also need a few ingredients to make this dish, such as pumpkin (x1), wheat flour (x1), milk (x1), and sugar (x1). 
Unlike other cooked dishes, you cannot purchase this cooked dish in the Stardrop Saloon or at Krobus' Shop.
Marnie's Most Hated Gifts
Some Stardew Valley fans noticed that Marnie seems to be a materialistic woman. She likes precious items that are difficult to make or expensive to buy. Usually, she hates and dislikes items earned through fishing and foraging. Once you give her something she hates, she isn't shy to show her disappointment and say, "This is worthless. I don't understand you."
Here's a list of her most hated items: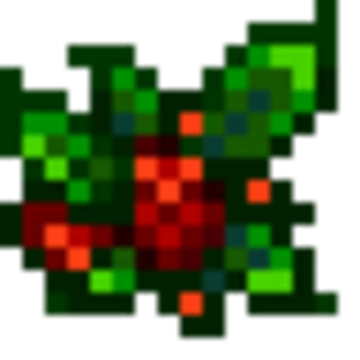 All Universal Hates

Clay 

Holly 
While she only hates three specific items, she also dislikes:
All Universal Dislikes

Salmonberry

Seaweed

Wild Horseradish 
Whenever you give her any of the gifts above, she'll probably be weirded out and say, "Oh. I guess I'll take it."
Quests
Aside from giving gifts, you can also build your relationship with Marnie by completing her quests. So, every time she asks a favor, make sure to lend a hand and help her. She only has two specific quests to complete. Sometimes, Marnie will also ask for a couple of items and lists on the town's "Help Wanted" board. Here are the following quests you can do: 
Cow's Delight
Marnie will send a letter in the mail on Fall 3. She will ask you to bring her a bunch of amaranths because it's her cows' favorite treat. Once you bring this item to her, she will reward the player with 500g. It will also add one friendship heart. 
You can complete the quest by buying Amaranth Seeds from Pierre's General Store for 35g. Sow and water the seeds so that they will grow after a week. The full growing cycle takes seven days before they are ready for harvest.
Marnie's Request
When you reach three hearts with Marnie, she will request you to bring a Cave Carrot. She will also mention that the cave carrot will be used to help train her goats. You can commonly find Cave Carrots in the mines. 
While they're not simply found on the mine's surface, they're extremely easy to unearth; start digging dirt underground with the Hoe. Once you deliver the item, you will witness an exciting cutscene where a goat attempts to do the trick. You will also receive plus 100 friendship points. 
"Help Wanted" Board
Marnie will also post on the "Help Wanted" board outside Piere's General Store. These include random requests for any items that she'll need. When you've completed the favor, she will reward you with gold three times the item's base value and an additional 150 friendship points.
Mayor's "Shorts"
Marnie does not give this quest, but she is highly involved in the events regarding it. Mayor Lewis sends you a mail on the third day of summer stating that he needs your help to find his purple "shorts," which are in Marnie's bedroom. You need to befriend Marnie with two or three hearts to enter her room.
You can increase your friendship with her by giving her favorite gifts like Pumpkin Pie and Farmer's Lunch. You can pick up the shorts in her bedroom and return them to Lewis, who is usually in the Mayor's Manor. The game will reward you with 750 gold after completing this quest by collecting the reward from your journal.
Heart Events
Anytime
You can trigger this heart event at any friendship level with Marnie. She will send you a gift of 30 pieces of hay that's enclosed in a letter that reads: 
Dear (Name),
You're such a good neighbor. I thought I'd send over some animal feed to make your job easier. Keep it up!
-Marnie
Your chances of receiving the gift increase as you increase your friendship points with Marnie. 
Three Hearts I
To trigger the first Three Hearts Event, you need to leave your farmhouse between 6:30 am and 9:30 am. Marnie will be waiting for you as you come out of your farmhouse. She's eager to tell you that she's trying to teach her goats some tricks. However, they don't seem to follow her command without their favorite treats, which are Cave Carrots.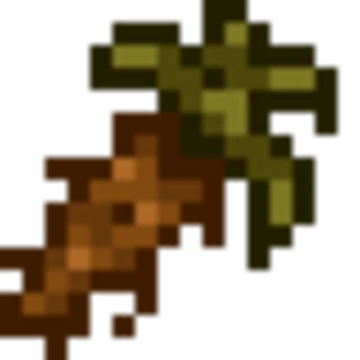 That's why Marnie will ask for help to bring her to the ranch between 9:00 am and 5:00 pm. If you get the item to the ranch, a cutscene will happen regardless of whether or not Marnie's home. The cutscene focuses on the player giving Marnie the cave carrot. 
Three Hearts II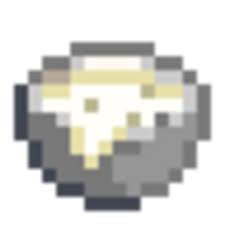 Marnie's second Three Hearts Event isn't that elaborate. Once you've reached three friendship hearts, you'll get a letter in the mail with a recipe for Pale Broth. It reads as: 
Dear neighbor,
When I'm not taking care of animals, I like to experiment in the kitchen. Since we've become friends, I want to share some recipes with you.
I hope you like this!
-Marnie
Six Hearts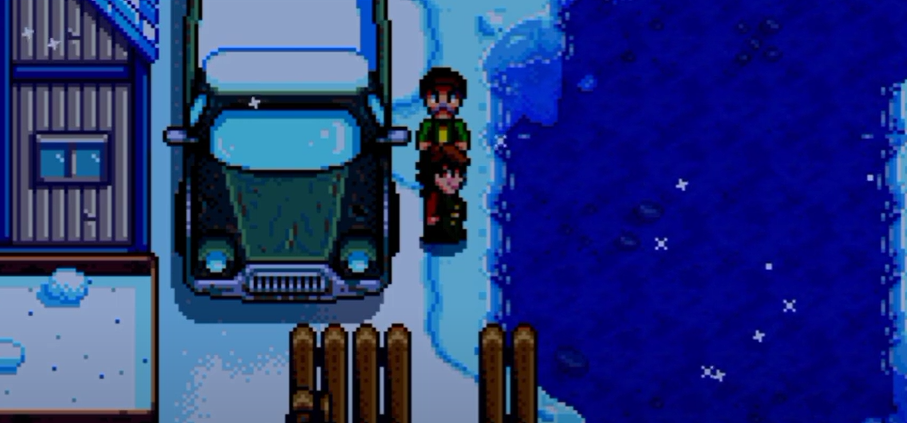 You can trigger the event once you also have six hearts with Lewis. Simply enter the town between 7:00 pm to 11:00 pm, make sure it also falls on a fine sunny day. 
You will notice Lewis and Marnie talking by the river about making their relationship status public. However, Lewis hesitates and mentions that it would undermine his authority. Feeling defeated, Marnie highlights that he is too concerned about his job. 
They both decided to continue keeping their relationship a secret. To their surprise, you pop up in front of Lewis and Marnie. Lewis is deeply worried that you've heard everything and asks you about his conversation with Marnie. You can choose to say: 

Yes… but I'll keep it a secret. 
When you choose this option, you get an additional 50 friendship points from Lewis. He will also thank you for respecting his wishes. 
Yes… and I'm going to tell everyone

.
Lewis will be extremely devastated to hear this. He will even cry hearing that you'll reveal their secret. Afterward, Marnie will ask why you were behind Lewis's house. You can't seem to find the right words to answer her, so instead, you run away. This leaves the two confused. 
Seven Hearts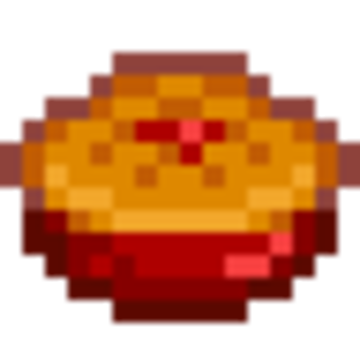 This is Marnie's last Heart Event. Once you reach seven hearts, she will send you a thoughtful gift with a letter in the mail. It's a recipe for Rhubarb Pie. The letter writes:
Dear neighbor,
When I'm not taking care of animals, I like to experiment in the kitchen. Since we've become friends, I want to share some recipes with you.
I hope you like this!
-Marnie
FAQs
Question: Should I befriend Marnie? 
Answer: Well, there are many benefits to befriending Marnie. You get valuable items and interesting cutscenes as well. While she might seem too occupied with her hectic schedule, she can be a good friend to have in town. You can befriend her by giving up to two gifts per week. Giving gifts on Fall 18, her birthday, will also give eight times effect and unique dialogue. Interestingly, you will also witness special cutscenes in her heart events.
Question: Why Can't I Marry Marnie? 
Answer: Many fans and players have been wondering why they can't marry Marnie when she's single. Well, she's not eligible for romance or marriage because she's dating someone else in Pelican Town—Mayor Lewis. 
You'll find a shocking amount of evidence of their secret relationship from heart events, secret notes to dialogues! One quest will even involve finding the mayor's lucky purple shorts in Marnie's bedroom. So, it's crystal clear that they are together. 
Question: How old is Marnie Stardew Valley?
Answer: Age seems to be a foreign concept in Stardew Valley, as all the NPCs' ages weren't revealed in the game. It's only safe to assume that Marnie is at least 40 years old, with all the other adult villagers, Clint, Caroline, Robin, Willy, Demetrius, Kent, Jodi, Gus, Pierre, and Pam. 
Question: I found Lewis' shorts in Marnie's bedroom. What should I do? 
Answer: If you found Lewis's shorts, you can choose not to return them to him. There are a lot of things you can do with them, such as: 
Prop the Shorts on Your Grange Display Contest during Fall to receive 750g from Lewis as a bride to keep his secret
Add the shorts as a special ingredient and dunk them into the soup during the Luau Festival. Afterward, you'll see an interesting dialogue between the Governor and Lewis. 
Give it back to Lewis only when he's on Ginger Island; you'll see him wear the shorts as beach attire for 28 days straight. 
Tailor it using a gold bard. This will turn the shorts into trimmed lucky purple shorts.
Question: How is Marnie related to Jas? 
Answer: Marnie is Jas' aunt. However, they aren't biologically related. When Jas' parents passed away, Shane adopted Jas because she is her goddaughter. Both of them moved in to live with Marnie, who's Shane's biological aunt.
Marnie Stardew Valley Guide:Bottom line
Marnie is definitely among the villagers in Pelican Town that highlights the plight of real-life events. Her backstory and personal life have a lot of interesting tidbits. While she's never in the shop most of the time, it's still quite convenient to befriend her. You'll get some delightful treats and recipes you can use to spice up your game.  
She's also the only villager you can buy animals and farmhouse supplies from. Marnie might be single, but she's currently dating the mayor. In the end, all she ever wanted was to have a public relationship with Lewis. Hopefully, I've covered everything in the guide that will help you understand Marnie's character.