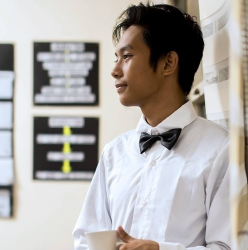 Latest posts by Arthur Monteclar
(see all)
Half a decade has passed, yet Stardew Valley continues to be a popular 2D simulation role-playing game. I could vividly remember the day I set my eyes and played this game; it was pure magic. You can pour thousands of hours into the game, yet there's still much more to discover. 
Concerned Ape has perfectly crafted a concoction of beautifully woven storylines, easy gameplay mechanics, and a relaxing setting. The game features diverse characters that make your stay in Pelican Town more interesting. 
Aside from befriending the townsfolk, you can also develop relationships and marry some characters too. Abigail is one of the eligible bachelorettes in the game; I call her the curious and daring purple-haired adventurer. Her parentage remains a long-standing mystery and the meat of many Stardew Valley fan theories.
Whether you're looking for a partner the first time or just restarting the game in time for a new update, Abigail is definitely an exciting choice! Read on this Abigail Stardew Valley guide as I discuss everything you need to know about her! 
Bottom Line Up Front
Abigail is among the six single ladies you can marry in Stardew Valley. Her life is riddled with intriguing details; some fans think the Wizard is her real father (notice the uncanny resemblance of the purple hair.) She's particularly geeky yet adventurous. 
Abigail's essentials: 
Abigail is a tough cookie to crack. She has a limited list of well-loved and liked items. Most of the items are even hard to obtain early in the game. However, she isn't particularly picky since you can acquire the items by foraging in the mines or cooking foraged ingredients. 
Nickname: Abby

Birthday: Fall 13

Home Location: Pierre's General Store, Pelican Town 

Clinic Visit: Spring 4

Night Market Visit: Winter 15th

Occupation: College Student

Marriage: Yes
Abigail: Appearance, Personality, and Hobbies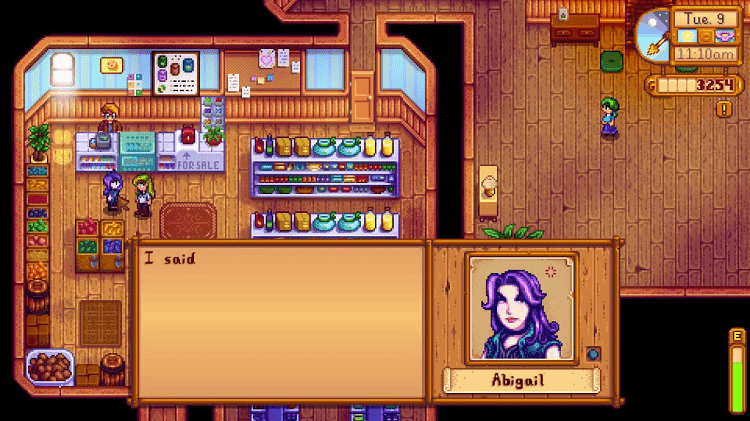 Appearance: Pretty, Pale Lady in Purple
Abigail is one of the most eccentric yet stylish ladies in Pelican Town. She knows her style, and she isn't afraid to show it. I love how she sports her hair; those purple curtain bangs and fringes frame her face well. She has an extremely pale complexion and olive eyes, which adds to her unique appeal.
Her outfit says it all—she's an adventurer at heart. She wears a pair of black pants, a blue vest, and a black shirt with a brown leather belt. You'd easily notice her brown boots, perfect for hiking in the mines or the woods.  Before the game launched, Abigail's character design went through several revisions and changes; she once wore a headband and a purple ribbon on her once blue straight hair.  
Personality: Always Thirsty for Adventure
 Abigail is intelligent and adventurous. She does not stay in her room the whole day; that's why I always find her an interesting character. Despite having an "alternative lifestyle," she has a warm, empathetic personality—she is also not quick to judge. 
She has a knack for adventure. Her desire for action and curiosity is quite refreshing. The more you know her, the more you'd realize why she craves such a life. It's pretty exciting to be around Abigail because she loves to challenge the "normal" or "traditional" views and would rather live an alternative lifestyle. 
Hobbies: Love for Video Games and All Things Occult
Do you fancy a date at the mines? Abigail's definitely the girl for you! She has a wide variety of interests and skills. She tends to move around a lot and doesn't spend too much time at home. You'd rather chance upon her in the woods, the graveyard, or near the river than in her house. 
When she isn't out on her daily excursions, you will find her playing video games in her room or playing the flute. She is also fascinated by all things occult and swordsmanship. Her hobbies tell you that Abigail is not like any typical girl. 
Family and Friends
Abigail's family is among the top intriguing topics in Stardew Valley; her character breathes life into many fan theories. Currently, she lives with Pierre (father) and Caroline(mother), yet she seems to hate the setup—in fact, she'd rather spend a day in the mines rather than be in the comforts of her home. 
Her mother opposes her hobbies and is concerned about her interests; she also has a strained relationship with her father due to their clashing beliefs. Some fan theories suggest that Abigail's values are extremely different from Pierre's because he isn't her real dad. 
It's safe to assume that Abigail's eccentricity drives people away, but she actually has two friends in town, Sam and Sebastian. They have a band together, where Abigail is the drummer. She usually barges into the boy's room to hang out with them. 
Abigail's Well-Loved Gifts
It seems like Abigail isn't materialistic, given that she doesn't fancy expensive items or have an extensive list of gifts. This is particularly difficult if you want to befriend her quickly. While you want to spoil her with gifts, you should be keen on her favorites. It's essential to build your relationship with her since giving a gift would have +80 friendship points.  
In this section, let's find out the best gifts you can give Abigails. Every time you give her any of these gifts, you'd find yourself smiling too. Here are some gifts that Abigail loves:
Amethyst
Abigail definitely loves everything purple. She dyed her natural hair with such color and loves Amethysts! You can easily find them on Amethyst nodes and Gem nodes in the mines. Aside from that, slain Green Slimes rarely drop them, too; you might catch them inside Fishing Treasure Chests or Garbage Cans. 
Whenever she receives this gift, she'll weirdly say, "Hey, how'd you know I was hungry? This looks delicious!" — I still find this intriguing and hilarious. This purple-haired girl eats gemstones! 
Banana Pudding
Abigail enjoys good food; as a matter of fact, six out of her seven Love gifts are dishes or edible ingredients. Banana Pudding is one of them; you can get the recipe from the Island Trader for 30 Bone Fragments. 
It would be challenging to make Banana Pudding early in the game, considering the recipe is hard to acquire. However, you need to have all three ingredients: x1 Banana, x1 Milk, and x1 Sugar if you really want to make one for Abigail. You can prepare this dish in a cookout kit or in the kitchen of an upgraded farmhouse. 
Blackberry Cobbler
Sweet dishes such as puddings and pies tickle Abigail's fancy. Aside from Banana Pudding, she also loves Blackberry Cobbler. You can source the recipe by watching The Queen of Sauce on Fall 14, Year 2. Like every other dish, you can cook it in the kitchen or through a cookout kit. The ingredients are x2 Blackberries, x1 Sugar, and x1 Wheat Flour. 
Chocolate Cake
Birthday cakes and blowing candles on your special day stem from superstitious beliefs, which is fitting for Abigail's personality. That's why a chocolate cake is definitely the perfect birthday gift for Abigail. 
However, you can always give her a chocolate cake any day of the week. To make this tasty dessert, you'll need three ingredients: x1 Wheat Flour, x1 Sugar, and x1 Egg. Don't forget to obtain the recipe by watching The Queen of Sauce on Winter 14, Year 1.  
Pufferfish
If fishing is one of your favorite hobbies, you can definitely venture out into the ocean around noon to catch one of Abigail's well-loved items, Pufferfish. You can only catch this fish during the Summer. So, you might as well grab a few and stock them up, so you have a gift for Abby all year round. 
Don't want to spend time fishing? Well, I couldn't blame you; fishing takes up most of your precious time. Luckily, there's another way to obtain Pufferfish. It may randomly appear in garbage cans or on the Traveling Cart for 600-1000g. 
Pumpkin
I'm sure you're growing Pumpkins during Fall, so save some for Abigail. It only takes 13 days to grow this crop. Simply buy the seeds from Pierre's General Store or Joja Mart and plant them on your farm. If you missed your chance to plant one, you could still buy pumpkins on the Traveling Cart for 960-1000g.
Spicy Eel
Abigail isn't really a picky eater, considering that Spicy Eel is one of her favorite cooked dishes. She is the only villager who seems to love this. 
You will receive the recipe from George once you reach seven friendship hearts. To prepare this dish, you need two ingredients: x1 eel and x1 hot pepper. Don't have the recipe yet? You can also buy the dish from Krobus's Shop or the Stardrop Saloon.  
Most Hated Gifts for Abigail
While there's a list of universally hated items, you'll only have to think of two things that will probably elicit a negative response from Abigail. Any of these gifts will result in a 40 friendship point demerit. 
Just avoid giving her any of these items, and you'll quickly gain friendship points and max out her hearts. 
Abigail's Routine: What is She Up To?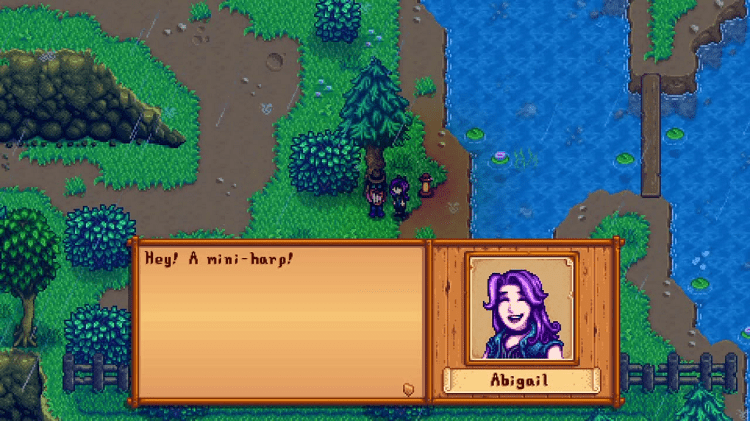 By now, it's no surprise that Abigail is hard to find. She just loves to explore the town and even wander through the mines. This comes as a challenge. If you want to befriend her quickly, you need to know her schedule. It also shifts as the season or weather changes. 
Spring Routine
On a normal day, She wakes up at 9:00 am and goes to the kitchen. At 1:00 pm, you'll find her near the bridge of Joja Mart. She spends the rest of her afternoon either on The Stardrop Saloon or in her room playing video games. 
On Wednesday nights, you'll find her in front of Mona's grave. 
Summer Routine
Abigail starts her day as usual and leaves home at 11 in the morning to go to the Train Platform. She loves wandering around town during the summer days—you'll chance upon her in the Carpenter Shop, or by the Mountains in the afternoon, perhaps from 2:00 to 5:00 pm. When she's done walking around town, she'll play video games at home. 
Fall Routine
It's ironic how Abigail loves to spend her time on the beach during Fall instead of Summer. Most days, she leaves the house to go to the bus stop at around 1 pm, and she won't be back home till 5:00 pm. 
 Like the other seasons, You'll find Abigail in front of Mona's grave at 7:00 pm. She also spends time at the Stardrop Saloon during weekends. 
Winter Routine
Abby's winter routine seems rather mundane than the other seasons. She spends most of her time indoors, either at the library, saloon, or just at home. However, her Wednesday schedule is the same. 
What's interesting is how she spends her Sundays throughout the season. She heads to the Wizard's Tower at 1:00 pm and spends almost the rest of her day in the Cindersap Forest. This might probably stem from the theory that the Wizard is, in fact, her father.
Abigail's Heart Events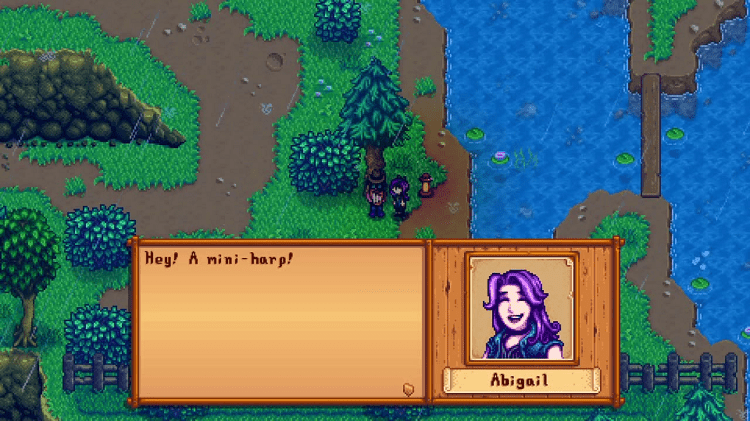 Two Hearts
Abigail's two hearts event happens inside her house. To trigger it, you need to enter Abigail's room. She is struggling to complete the game "Journey of the Prairie King." I love this heart event since I enjoy playing the arcade version. 
Whether or not you finish the level, Abigail appreciates the effort you made. You don't have to worry about winning—win or lose—you won't gain or drop friendship points.
Four Hearts
This is probably the first time I saw Abigail play her flute outdoors. The scene feels so uncanny as it's pretty similar to Sebastian basking in the rain.  
To trigger this event, all you have to do is visit the mountain from 12 pm to 7 pm. A conversation immediately ensues when you enter. Abigail asks why you're out in the rain. In the end, you get to stand in the rain with her as she plays the flute while you play the harp. 
Six Hearts
Abigail is quite unpredictable and adventurous, so seeing him swinging a sword on Mona's graveyard might not be a big surprise. However, her six-hearts event is riddled with some intriguing lines. 
You can prompt the event when you enter the town on a fine night, anytime from 9 pm to 12 am. Abigail notices you watching from a distance and mentions that she's practicing her swordsmanship for future adventures. She also asks you whether you've used a sword before; keep in mind that Abigail loves people who share the same insight as her—so pick the conversation that might elicit a positive response. 
After your conversation, now comes the interesting part! Pierre literally comes out, hiding from the bushes, and angrily interrupts your conversation. Abigail shuts off his backward views and flees to hide in the bush. 
Eight Hearts
In this Heart Event, you'll finally learn about Abigail's feelings for you in a "supernatural" way. She invites you to her room. To trigger the event, you must visit her home anytime between 8 pm to 10 pm.
Abigail will show you her spirit board, revealing a message that she's starting to like you. She blushes and pushes you out of her room. Since this is just a cutscene, you won't be able to respond to her. The good thing is the event won't affect your relationship with her.
Ten Hearts
You can only trigger this event once you've given a bouquet to Abigail—meaning you're actually dating her! Just enter the mines at night, and you'll find Abigail staring at the ladder into the mine. Before she heads down, she'll be startled by flying bats. That's why she runs to the corner and cowers in fear. You're prompted with a conversation; be sure to choose the answers that comfort her. 
In an act of bravery, Abigail confesses her feelings for you, and she pulls you in a tight hug. While this heart event is entirely skippable, I would suggest you go and witness such a heartwarming scene. After the event, I particularly love how Abigail finally conquers her fear as she spends most of her rainy days down in the Mines at level 20. 
Fourteen Hearts
I remember that Abigail's bravery and eccentricity drew me to her; she was the second bachelorette I married after Leah. Her 14-Hearts event is definitely my personal favorite.
The scene occurs in the Backwoods, where a monster attacks and leaves you momentarily unconscious. Leah musters up the courage to save and protect you. This only proves her love for you speaks beyond volumes. If anything, this final event is an overarching epilogue of how Abigail will treat you during your married life. 
Abigail as a Wife: She's Sweet, Brave, and Everything You'd Ask For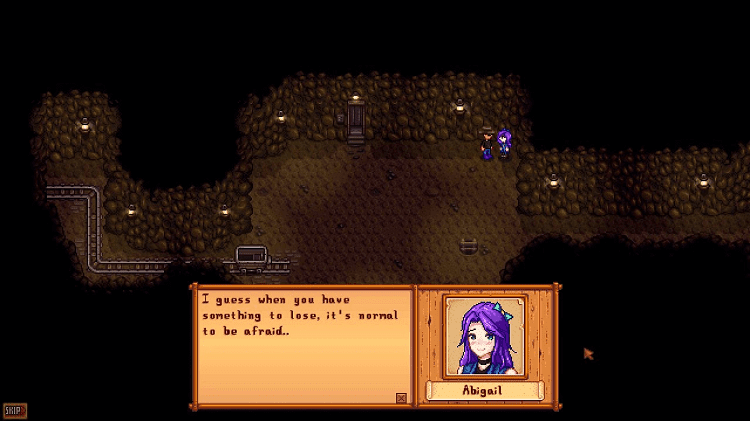 Abigail is a joy to be around; her lovely personality blossoms and grows in your married life. As she moves in with you, he will add a spouse room next to your bedroom. Aside from that, she'll set up a space where she can practice her flute—how nice would it be to see her swing swords too. 
She would also give several valuable items like Void Essence, Solar Essence, and Amethyst. While she doesn't fancy cooking (as seen on her Six-Hearts Event), she'll prepare some of the best dishes, such as Lobster Bisque, Chowder, and Crab Cakes. 
FAQs
Question: Where is Abigail in Stardew Valley? 
Answer: Abigail roams around town, and she spends most of her time outdoors, taking a walk in the Train Platform or, perhaps, loitering outside the Wizard's tower. She also hangs out at The Stardrop Saloon or the Library. 
Question: Who is Abigail's Father? 
Answer: Some theories suggest that The Wizard is Abigail's dad; in-game conversations even imply the jarringly obvious signs that Pierre might not be Abigail's dad. It's also clear that Abigail has a deeper connection with the Wizard than Pierre. However, CA hasn't confirmed the rumors up until now.
Question: What is the best gift to give Abigail?
Answer: Abigail's favorite items are quite hard to obtain or make. Out of the seven gifts, pumpkins are probably the easiest to acquire. It doesn't require much effort. You can have pumpkins all year round if you've built a greenhouse. While harvesting the crop takes 13 days, it ensures a steady supply of "love" gifts for Abigail. 
Time to Wife Up, Abigail!
Abigail is a charming and curious character that's definitely worth your time. Her intriguing Heart Events hooks and lures you in just like black magic. She also possesses some of the best qualities I'm looking for in an in-game partner. I love witnessing her journey to self-discovery—it's an enriching experience.
Abigail might be among the most popular marriage options, yet her character development surprises you beyond belief. I hope you find this guide helpful as you build your relationship and romance Abigail.