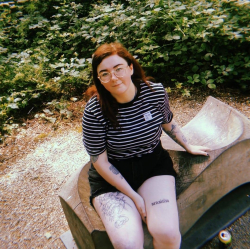 Latest posts by Ella Walsh
(see all)
Stardew Valley is (in my opinion) one of the best games ever made, not only because it is made by one amazing person, but because it is so insanely detailed and fun. There are so many moving parts to Stardew Valley. Fishing, mining, farming, crafting, cooking, friendships, marriage, divorce, children; you name it!
It can take a lot of time to adapt and learn about everything in Stardew Valley as it is not the type of game that holds your hand. This can make coming to terms with new skills daunting and even difficult; fishing is one such skill as there is so much detail and information!
In this guide, we will focus on Ocean fish, and in particular, the adorable and difficult catch; Pufferfish.
Bottom Line Up Front
The Pufferfish is an ocean-dwelling fish that can only be caught in Summer on a sunny day between 12 pm and 4 pm. The Pufferfish is relatively hard to catch as it has a floating behavior pattern and so can unexpectedly jump upwards when you are trying to catch it, which explains its difficulty rating of 80.
If you want to purchase a Pufferfish from the Travelling Cart, you can expect to pay up to 1000g for it, so I would recommend trying to find it on your own first.
You cannot make anything with Pufferfish that you can't make with any other fish, such as Maki Roll, Sashimi, and Quality Fertilizer. You can also use the Pufferfish in the Sewing Machine to make a Sailor Shirt. The Pufferfish is also needed to complete the Speciality Fish bundle in the Community Centre.
How to Get a Pufferfish
How Do I Catch a Pufferfish When Fishing?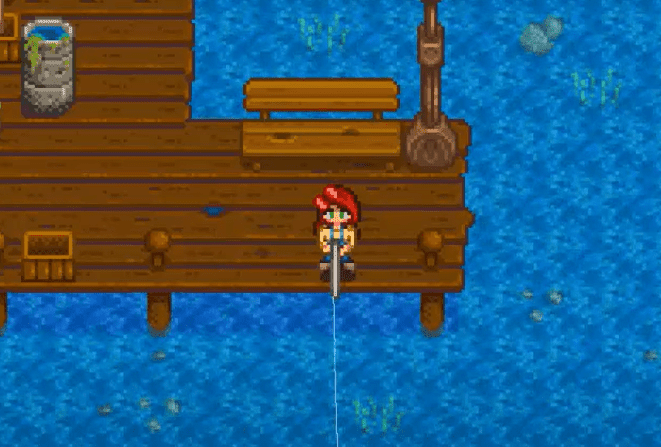 The Pufferfish lives in the Ocean between 12 pm and 4 pm. The Pufferfish can only be caught in the Summer and only in sunny weather. The Pufferfish is a relatively difficult fish to catch as it has a difficulty rating of 80/100 and has a floating behavior pattern which means that it suddenly shoots upwards when you are trying to catch it.
If you want to remove some of the restrictions on Pufferfish, you can add Magic Bait to your fishing rod, which means that you can find it in any weather, time, and season.
Where Can I Buy a Pufferfish?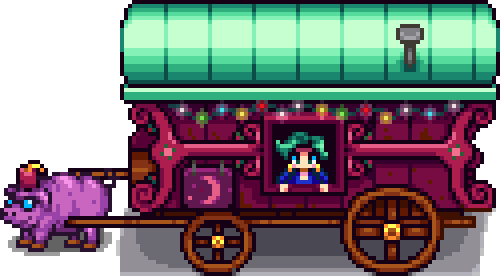 A Pufferfish can be found in the Travelling Cart, which appears to the west of Marnie's Ranch between the hours of 6 am and 8 pm. The Travelling Cart carries a very small stock of seemingly random items each time it arrives, so there is no guarantee that on the day that you choose to visit the Travelling Cart that it will have the item you are looking for.
If you do find the Pufferfish in the Travelling Cart, you can expect to pay a lot for it. One Pufferfish could cost anywhere between 600g-1000g.
Can I Stumble Across a Pufferfish?
Much like every other item within the game, there is a chance that you can find a Pufferfish inside a bin outside a resident's home in Pelican Town. Each of the bins can be looted once a day and can reward you with literally anything. This means that, unfortunately, some days you will get rubbish, or the dreaded Joja Mart can, but you can also get rare fish and expensive gems.
Uses for Pufferfish
What Recipes Can I Create with a Pufferfish?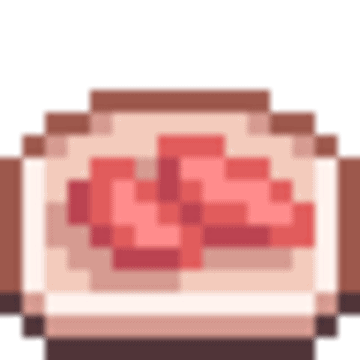 While the Pufferfish should not be consumed on their own as they are toxic to your health, the following can be made using Pufferfish;
Sashimi
Similar to Tuna, Sashimi is a cold fish dish that is eaten raw. If you want to make some Sashimi for yourself, you will only need one of any fish available in the game; this makes it easy to make in terms of ingredients and volume of ingredients!
The extra benefit of this super simple dish is that you will also get 33 health points and 75 energy points, so if you ever have a big day ahead of you, you should be able to easily make large volumes of Sashimi to help buffer your health and energy levels.
Before you can create any Sashimi, however, you need the recipe; to acquire this, you will need to befriend Linus, and once you and Linus reach three hearts in your relationship Linus will send you the recipe for Sashimi in the post. While Sashimi makes a great dish for you to take with you, it is not valuable when sold. Sashimi sells for only 75g, so I would not recommend selling this dish onward. Sashimi can, however, be gifted onward to the majority of the residents of Pelican Town, except Leo, Krobus, Kent, Emily, and Evelyn.
Maki Roll
Maki Roll is like Sushi, which of course, is an edible dish. If you want to create some Maki Roll, you need 1x Seaweed, 1x Rice, and 2x of any fish (of course including Pufferfish). Much like Sashimi, there are extra benefits to making Maki Roll which include 100 health points and 45 health points. If, after reading this, you are eager to make Maki Roll but do not yet have the recipe, do not worry!
To get the Maki Roll recipe, you can purchase it from the Stardrop Saloon (the bar in the center of Pelican Town) for 300g. You can also get the recipe for free by watching the cooking channel (Queen of the Sauce) on the TV in your cabin on the 21st of Summer during your first year. Although I would not recommend selling Maki Roll, you can sell this for 220g; although much like Sashimi, it is also a popular gift. The only people I would not recommend gifting Maki Roll to are Krobus, Evelyn, Emily, and Leo.
Quality Fertilizer
It may seem odd, but you can create fertilizer for your crops using fish! To create the Quality Fertilizer, you will only need 2x Sap and 1x of any fish (including Pufferfish). Once you have made some Quality Fertilizer, it should then be applied to tilled soil which in return will improve the quality of the crops that you plant in that soil.
To learn the recipe for the Quality Fertilizer, you need to reach farming level nine, following which you will be presented with the recipe. You can earn a lot by applying it to the soil, but only 10g if you sell it, so for this reason, I would not recommend selling Quality Fertilizer.
What Items Can I Craft with a Pufferfish?
You can only create one item with the Pufferfish, which is the Sailor Shirt, which you create by putting the Pufferfish into the Sewing Machine.
Do I Need a Pufferfish For Any Quests?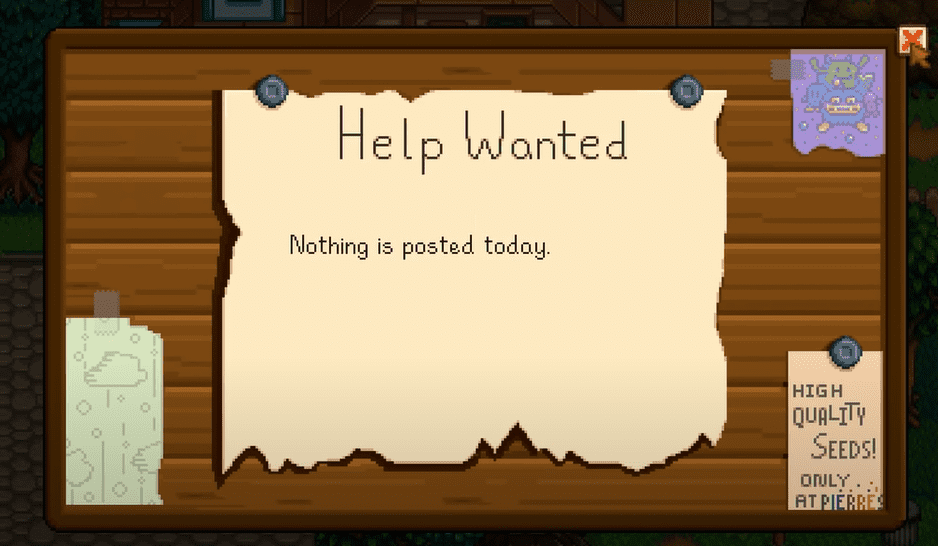 Some quests within the game require Pufferfish;
Aquatic Research Quest:

In this particular quest, Demetrius will request one Pufferfish on the 6th of Summer in your second year. If you complete this quest, you will be rewarded with 1000g and one friendship heart between you and Demetrius.

Help Wanted Board:

One Pufferfish may be requested on the Help Wanted Board outside Pierre's General Store, which, when delivered, will reward you with 600g and 150 friendship points between you and whoever had requested the Pufferfish.
Can I Donate a Pufferfish to the Community Centre?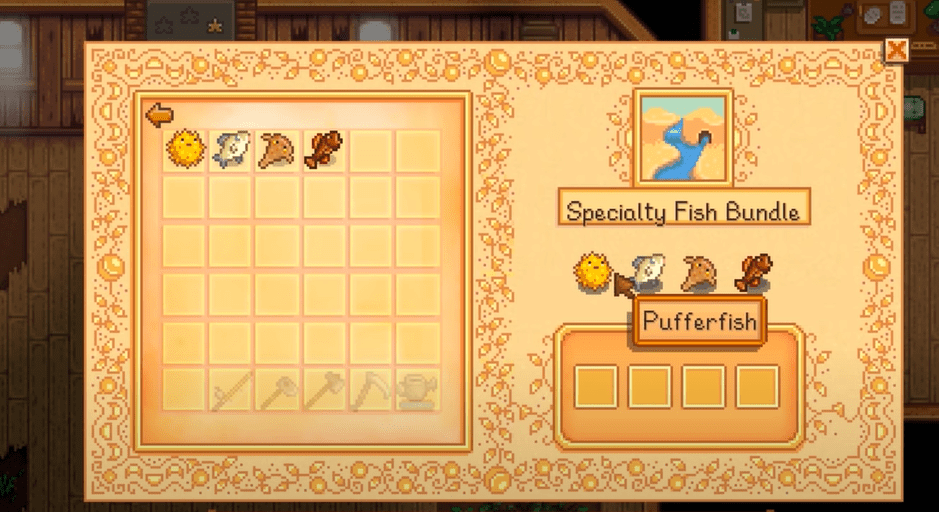 The great news (if you already have a Pufferfish, that is) is that the Pufferfish can indeed be donated to the Community Centre. Within the Community Centre, there is a Fish Tank which has multiple bundles; one such bundle is the Speciality Fish Bundle; to complete this bundle, you will need;
1x Pufferfish

1x Ghostfish

1x Sandfish

1x Woodskip
The reward for completing this specific bundle is that you will be given five Dish O The Sea dishes ready to eat (or gift). Eating these will provide you with 125 energy points as well as 56 health points which can make it a great addition to big adventure fuelled days such as days spent in the Mines.
If you would rather gift the dish onwards, this is also a great option that is available to you as the majority of the residents like the Dish O The Sea dish. The only residents who do not like the Dish O The Sea are Leo and Krobus.
Other bundles in the Fish Tank include;
Crab Pot bundle

Night Fishing bundle

Ocean Fish bundle

Lake Fish bundle

River Fish bundle
Completing all of the above and the Speciality Fish bundle will remove the boulder from the water beside the Mines, which will then let you pan for valuable items, which gives even more for you to do in the game and more ways to earn some extra money.
Who Can I Gift a Pufferfish to?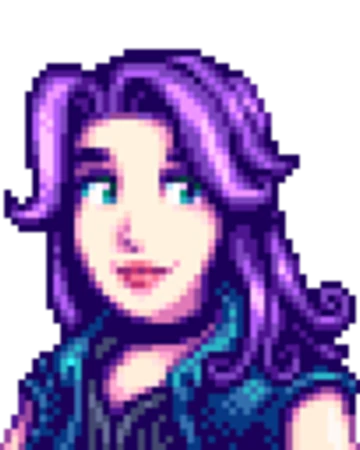 Most of the residents of Pelican Town do not appreciate being handed raw fish (which I find completely understandable now that I think about it). A small number of residents are neutral to the Pufferfish as a gift, however, which although is not as effective in improving your relationship as a gift that someone likes or loves; neutral gifts do still provide you with twenty friendship points between you and whoever you decide to present the neutral item to.
Demetrius, Elliot, Linus, Leo, Pam, Willy, and Sebastian are all neutral to receiving Pufferfish as a gift. Abigail is a strange exemption to the rule as she loves Pufferfish! Gifting Abigail with a Pufferfish will provide you with 80 friendship points between you and Abigail.
Evelyn, Pierre, and Haley hate the Pufferfish as a gift, so giving any of these characters the Pufferfish will actually take away forty relationship points between you and any of these characters, so always double-check how each character feels about the gift before you present them with it!
All the other residents of Pelican Town dislike Pufferfish.
Can I Put a Pufferfish In My Pond?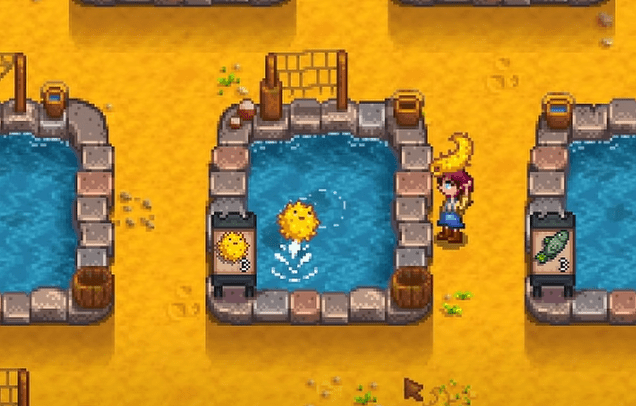 You can indeed place the Pufferfish in the pond on your Farm, where once placed, the Pufferfish will reproduce every four days. This will provide you with a constant supply of Pufferfish, so long as you continue to remove some of the Pufferfish as they reproduce as initially, the pond will only hold three Pufferfish. This is an exciting benefit to explore as you can place expensive fish in here and continually sell them!
FAQs
Question: How much does the Pufferfish in Stardew Valley sell for?
Answer: At a basic level, the Pufferfish sells for 200g, 250g at a silver level, 300g at a gold level, and 400g at an iridium level.
Question: Where can I find a Pufferfish in Stardew Valley?
Answer: You can find a Pufferfish in the Ocean only if you want to catch one for yourself; you may also find a Pufferfish for sale in the Travelling Cart, which visits the town on Fridays and on Sundays.
Question: Who can I gift a Pufferfish to in Stardew Valley?
Answer: Only Abigail loves Pufferfish, while Elliot, Leo, Demetrius, Sebastian, Linus, Willy, and Pam are neutral to the Pufferfish. Everyone else either dislikes or even hates the Pufferfish.
Pufferfish Stardew Valley Guide: Summary
I hope this covers everything that you need to know about Pufferfish and that you are excited and motivated to explore the amazing world of Stardew Valley!