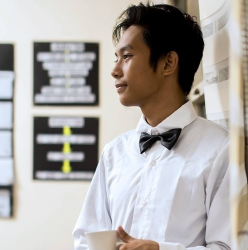 Latest posts by Arthur Monteclar
(see all)
You'll never get bored playing Stardew Valley. As you immerse yourself in this 2D world, you'll get to discover its secrets as you wander through the quaint little suburb, Pelican Town. This wholesome town has a welcoming crowd of delightful characters. And once you meet and get to know them, you'll love or hate them. 
This expansive game also explores different everyday activities tending your farm, fishing, upgrading your farmhouse, befriending villagers, or cooking meals. Aside from all of that, update 1.5 also allows you to do more fun things!
Stardew Valley opens up a new and challenging world for end game players with the ton of content added. And visiting Ginger Island is probably one of them. 
Before you can visit the island, you need to complete the Community Center or unlock Joja's Community Development Form. You can only go to the island once you've completed Willy's boat repairs. Once the boat is fixed, you can buy a ticket from Willy and visit the island. Here, you'll meet a new character, Leo. 
Leo is among the five occupants of Ginger Island, together with Birdie, Professor Snail, Mr. Qi, and the Island Trader. In this blog, I will be discussing everything you need to know about Leo. So, if you want to know more in-depth information about Leo's favorite gifts, his schedule, and Friendship Heart Events, read on. Warning: Spoiler ahead! 
Bottom Line Up Front
Leo is among the new characters you'll meet in update 1.5. He is a villager on Ginger Island and will eventually move to Pelican Town once you've reached his six hearts event. When Leo lost his parents at sea, he was forced to fend for himself. 
He likes most foraged items as an island boy but hates anything with alcohol! 
Leo's Essentials: 
Birthday: Summer 26

Home Location: Island Hut on Ginger Island (Less Six Hearts) Treehouse on Pelican Town (Six Hearts and More)

Family: N/A

Friends: Linus, Jas, Vincent

Clinic Visit: N/A

Night Market Visit: Winter 15

Occupation: N/A

Marriage: No 
Leo: Appearance, Personality, and Hobbies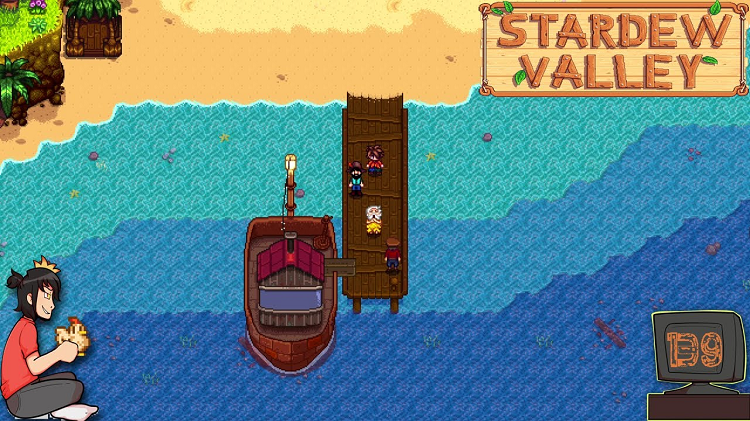 Appearance 
Being on Ginger Island most of his life, Leo has an eccentric look. His choppy frontal locks seem to be all over the place; it's messy-looking, probably because he hasn't had a haircut in a while. His rosy cheeks could also signify being out in the sun, and he strolls the island. Interestingly, Leo's clothes are quirky with a red and yellow jester-looking collar. 
Under his collar, he wears a blue long sleeve shirt paired with ragged dark brown pants. He looks adorable and cuddly when he greets you with his shy smile. Whenever Leo decides to live in Pelican Town, he won't change his look or clothes, staying true to the island boy that he is. Since Leo is relatively new in the game, he doesn't have any alterations or design developments.
Personality
Leo hasn't interacted with people on the island, even the island occupants like Birdie. He is a timid boy and rarely talks to anyone on the island. You can't even speak to him the first time you meet him. 
His aloofness is mainly because of being alone for a very long time. Unfortunately, he lost his parents in a shipwreck when he was young. He was a victim of the shipwreck, but he survived and ended up living on Ginger Island. 
When you enter Leo's house for the first time, you will see him standing on the edge of the stairs. You'll immediately notice his parrot on the perch. Once you approach Leo, he won't talk to you at first. The only way you can speak with him is by giving his parrot a Golden Walnut. 
This scene definitely shows that Leo is not only timid but untrusting to humans who don't care about his parrot, whom he treats as family. 
Hobbies
Leo loves to stroll around the island and go to the seafront as an island boy. He also loves to be with his pet parrot; he even continued living with his parrot when he moved to Pelican Town. Aside from that, he quickly made friends in town. He is extremely close with Linus and is usually seen with him. They even spend their Feast of the Winter Star together. 
He also loved to play with Jas and Vincent on the playground since he began attending Penny's tutoring sessions. So, he eventually became more social and friendly in Pelican Town.
Schedule
Leo's schedule is quite complex, given that it significantly depends on your Friendship Heart Events. Once you still have less than six hearts with him, he will still stay and live on Ginger Island. Check out his schedule below: 
Ginger Island Schedule
Raining
Whatever the season or day is, Leo doesn't like to go out when it's pouring. He stays inside his hut for the rest of the morning and only stands outside the hut's entrance at 11:00 pm. Leo observes the weather and returns to his hut at 2:00 pm. He goes to bed at 9:00 pm. 
Tuesdays
Leo loves to walk to the dock south of the island on Tuesdays at 10:30 am. He'll stand near the island's southeast entrance. He also strolls into the Jungle outside his hut in the afternoon. Just after sunset, he goes north of the island and visits the parrots. He typically goes home and sleeps early at 8:00 pm. 
Sundays
While Leo's schedule is mundane since he stays in his hut most days, Sundays s a special day for him. At 9:30 am, he leaves his house to visit the Banana Shrine. You can follow him by passing through the hidden passage in the Jungle. 
Once he's done visiting the Shrine, he lounges outside his hut and goes inside before the sun sets. He gets ready for bed at 9:00 pm. 
Mondays, Wednesdays, Thursdays, Fridays, and Saturdays
I consider this Leo's regular routine; these are the days when he doesn't visit the Shrine or head to the Jungle. Usually, he wakes up at around 9:00 am and stands outside his hut for an hour and a half. He just walks around the island for the rest of the afternoon. 
At noon, Leo goes to the docks and walks south of the island. After that, he walks northwest and stands west of the volcano entrance at 3:00 pm. He heads home at 8:00 pm to rest for the day. 
Pelican Town Schedule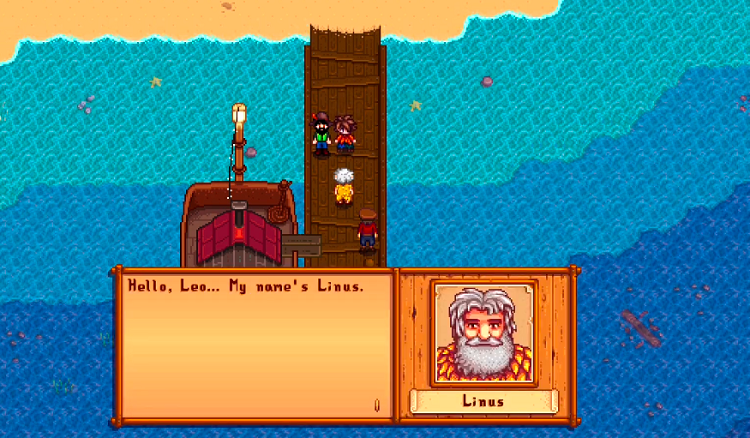 Once you reach six hearts with Leo, he'll move to Pelican Town. This significant change will also shift his schedule. Before, his schedule is determined per day; now, he follows a seasonal routine like most villagers. 
Spring, Summer, and Fall
Leo's routine is quite similar for the three seasons of the year. He still loves to visit Ginger Island. He goes to the island and lounges inside his hut early in the morning on Monday and Sundays. While he doesn't stroll around like he used to, he loves to visit the parrots. 
You can find him in his treehouse in Pelican Town on Tuesdays and Wednesdays. He also goes to the museum library at 9:00 am and stays there until 2:00 pm. He goes home early in the afternoon and enters his treehouse at 8:00 pm. 
Leo lounges near his treehouse on Thursdays and Fridays. He doesn't have much to do, but he also goes to the mountain lake. He spends his day in the playground alone or with Jas and Vincent on Saturdays. Unlike in Ginger Island, he sleeps pretty late, around 10:00 pm. 
The only thing noticeably different in Leo's routine is during the Thursdays and Fridays of Fall. Rather than going to the mountain lake, he goes to the community center in the morning. 
Winter
Leo's schedule is relatively the same too. However, I've observed that his Thursdays and Fridays are pretty different as well. During the winter season, he doesn't visit the mountain lake or the community center; he goes to the library museum instead. He stays there for the rest of the afternoon and goes home at 8:00 pm. After that, he gets ready for bed at 10:00 pm. 
Another thing he only does during Winter 15 is visiting Linus' tent and standing outside the entrance. They go to the Night Market together at 4:00 pm. He returns to his treehouse and goes to bed an hour and a half past his usual sleeping time.
Relationships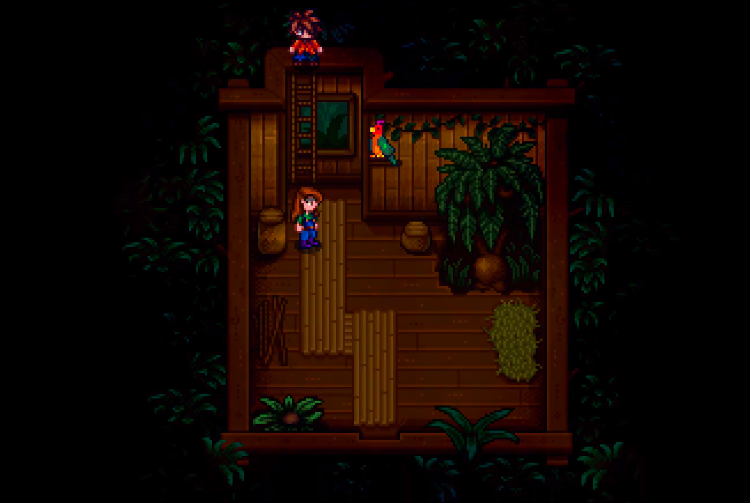 Because Leo had lived on the island for so long, he wasn't used to interacting with strangers. Rather, he considers the parrots his family. He won't even talk or interact with you until you please his parrots with Golden Walnuts. 
When he decided to move to Pelican Town, he quickly bonded with Linus because they live so closely with each other. Leo also has a close relationship with the kids, Jas and Vincent. They're often seen playing and bonding on the playground. 
Aside from that, he also starts attending Penny's tutoring class with the two kids. Maybe this is the main reason why he got with them and developed a crush on Jas, based on some conversations. 
Tips on Befriending Leo
It's fascinating to meet new characters in Stardew Valley. With the 1.5 Update, you get to do all that; however, it's more tricky than it seems. While playing the game, I even felt stuck and challenged when I just couldn't walk up to Leo and say hello. That is why I'm sharing some tips to befriend him. 
Interact with His Parrots
Leo's parrot plays a significant role in befriending him. Whatever you do, you won't be able to talk to him or even give him gifts not unless you befriend his parrots. You only need to give the parrots Golden Walnuts. 
While it seems quite simple as giving gifts, Golden Walnuts might be difficult to obtain. Luckily the parrots will provide you with tips on where to find them. Some Golden Walnuts are hidden in plain sight, while others can be obtained by performing different tasks, such as mining, fishing, looting chests, defeating enemies, etc. 
Raise Friendship Hearts through Gifts
Once you befriend his parrots, Leo will start trusting and talking to you. Just like any other Stardew Valley NPC, you can raise your Friendship Hearts with him by giving him gifts or simply talking to him at least once a day. 
Interestingly, the only way you can convince him to leave Ginger Island and start a life in Pelican Town is if you manage to raise six Friendship Hearts. 
Best Gifts for Leo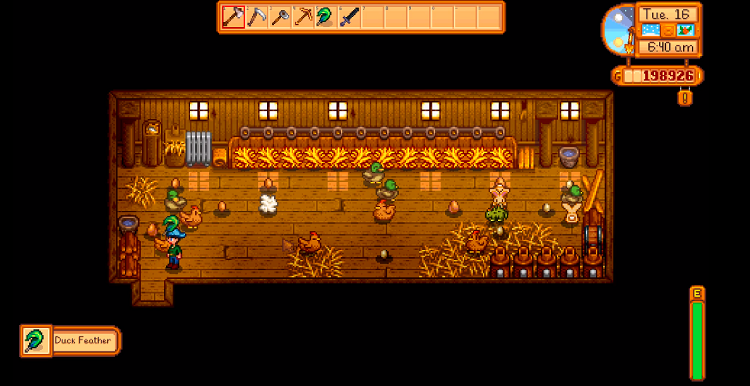 Leo appreciates gifts; he loves receiving gifts on his birthday, Summer 26. Once you give him any of his well-loved items, you will receive eight times the usual Friendship points from him, plus a unique dialogue. 
When Leo receives a gift he truly loves, he'll usually say, "I love this. I'm going to put it in my nest."
Duck Feather
Getting Duck Feather is quite easy to obtain from ducks with great friendship, a happy mood, and daily luck. However, you can easily buy this item in the Traveling Cart if you don't have ducks in your big coop. It might be expensive at 750g to 1250g per piece. 
Mango 
You need to plant mango saplings and wait for 28 days to harvest a fully grown Mango Tree. The Mango Tree will only yield fruits during the Summer when you plant it in Pelican Town. However, planting it on your Island Farmhouse will produce fruit year-round. 
Ostrich Egg
It's quite tricky to get ostrich eggs. They can be obtained from ostriches and solving the Journal Scrap #10 on Ginger Island. Sometimes, you can also find Ostrich Eggs on random drops from the chests in Volcano Dungeon. 
Since you can't simply purchase ostriches, you can acquire the Ostrich Incubator from Professor Snail. This Will incubate the eggs, in turn, hatch them into an ostrich. 
Poi
Leo also appreciates excellent and healthy meals, like Poi. It is a cooked dish prepared in the kitchen of an upgraded farmhouse or a cookout kit. You make it on your Island farmhouse or your place at Pelican Town. To obtain the recipe, you need to reach three Friendship Hearts with Leo. He'll send this recipe in the mail with a letter. Poi is fairly easy to make since it only requires one item: Taro Root (x4).
Pro Tip: Since most of Leo's favorite items are relatively difficult to source, you can opt-in giving him his liked items. Whenever you give him such items, he'll be happy and tell you, "Are you sure? This is so nice…" Here's a list of his liked items: 
All Universal Likes

(except any alcoholic drinks, coffee, and Cooking other than Bread, Fried Egg, & Triple Shot Espresso)

Dragon Tooth
Mango Sticky Rice
Nautilus Shell
Quartz
Rainbow Shell
Sea Urchin
Spice Berry
Leo's Most Hated Gifts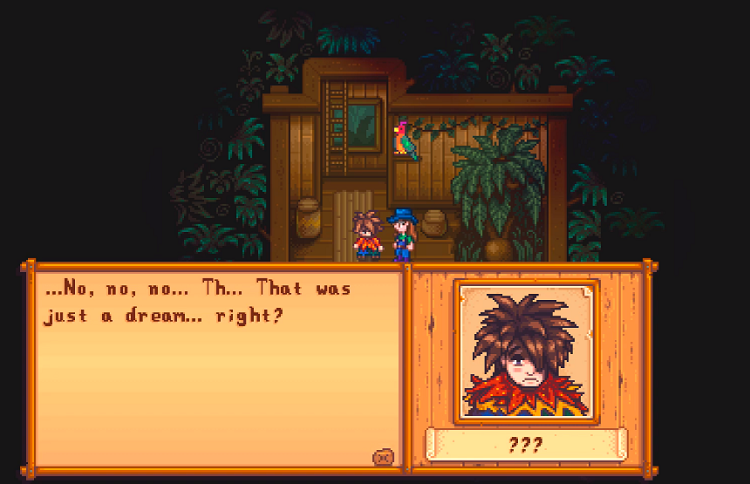 Besides knowing Leo's favorite gifts, you also need to be careful about giving the items he hates. Gift any hated items will elicit a negative statement, "*sniff* *sniff*… Why are you giving this to me? Do you want me to bury it for you?"
Here's an extensive list of his most hated items: 
All Universal Hates

(except Dragon Tooth & Sea Urchin)

Beer

Holly 

Hops

Mead

Morel

Oil

Pale Ale

Pina Colada

Triple Shot Espresso

Unlimited Rice 

Wine
Heart Events
Two Hearts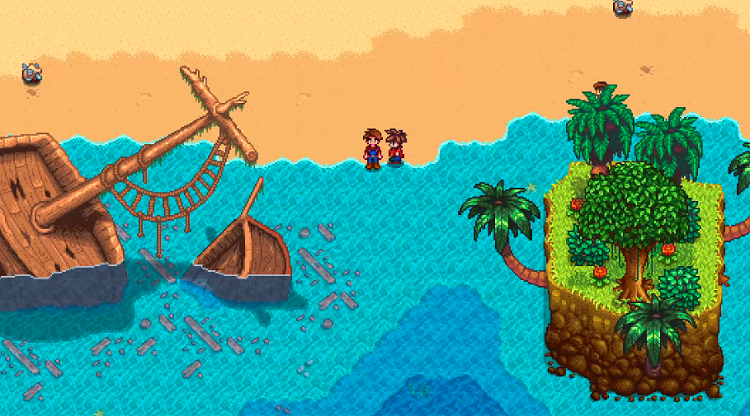 You can trigger Leo's Two Heart Event by entering the Island West on a sunny day from 6 am to 6 pm. As you stand by the shore, Leo approaches you from behind. He then asks you what you are doing. You can pick between four choices; whatever your answer maybe will not affect your friendship with him.
Here are your choices: 
I was just enjoying the waves.
I am looking for fish.
I was thinking about someone special. 
I am pondering the big questions.  
After that, Leo wonders about your town and asks what your home feels like. Again, you get to choose between four options:  
There's a town full of people.
There are forests, beaches, and mountains.

 

It's like here, but colder.
I live on a farm.
Deep in his thoughts, Leo thinks about your replies and asks if there are also any kids in Pelican Town. You can pick between two choices; neither would affect your friendship with him. 
Yes
What does that matter to a bird? 
Whatever your reply may be, Leo mentions that he's aware that he's not really a bird. He feels dejected and tries to avoid thinking such thoughts as it makes him feel lonely. Leo tries to fit in with the parrots but feels like he doesn't belong. Trying to avoid any more confrontation, he runs off before Willy enters the scene. 
Three Hearts
Once you reach three hearts with Leo, he sends the player a recipe of his favorite, Poi, in the mail. The letter reads: 
(Player name),
Here's a food from my home, that me and my family enjoy. Hope you like it.
-Leo
P.S. Willy helped me write this
Four Hearts
You can enter the Island North on a sunny day between 6:00 am and 6:00 pm to trigger Leo's Four Hearts Event. This time, you'll approach Leo from behind. He seems surprised and squawks like a parrot. You're quite surprised to hear this; in turn, Leo is also startled. 
Leo apologizes and explains that he isn't used to communicating with words. In retrospect, he wonders how his life could have been different if he wasn't washed ashore on Ginger Island. He also asks you whether he could be a normal kid again. Your answers from the dialogue options wouldn't affect your friendship with him.
After this heavy conversation, he tells you that he is quite happy to have met the parrots regardless; Leo even mentions that he will always consider them family. He appreciates you for always listening to him and even says that you might be a part of his family someday soon. 
Leo then teaches you to say "let's play" in parrot-talk to lighten the mood. 
Six Hearts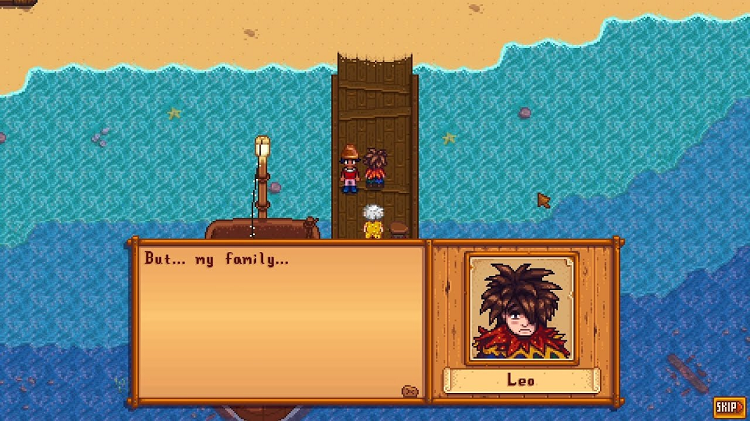 Personally, this is my favorite six heart event with Leo. I've always dreamt of the day that he'll get to live in Pelican Town, and now it's all happening. To trigger this event, you need to enter Island South, where the dock is. You must do this on a sunny day between 6 am and 6 pm.
You'll see Linus inviting Leo to move to the mainland in Pelican Town. Willy is also present in the scene, and he mentions that there are other kids in the town. He tells Leo that he can visit the island anytime he wants to. Then Willy asks you what your thoughts are about the proposal. Though whatever you say has no bearing on Leo's decision. 
He then tells you that he has decided to move to Pelican Town. That same night, all his parrots chime in to help him build a treehouse in the tree to the left of Linus' tent.
Seven Hearts
Once you've reached seven hearts with Leo, he'll send you a letter. You can either receive it in your mailbox in Pelican Town or Ginger Island. The letter includes a recipe one of his favorite dishes, Mango Sticky Rice. The letter writes: 
(Player name),
Here's a food from my home, that me and my family enjoy. Hope you like it.
-Leo
P.S. Willy helped me write this.
To make Mango Sticky Rice, you need three ingredients, including Mango (x1), Coconut (x1), and Rice (x1).
Nine Hearts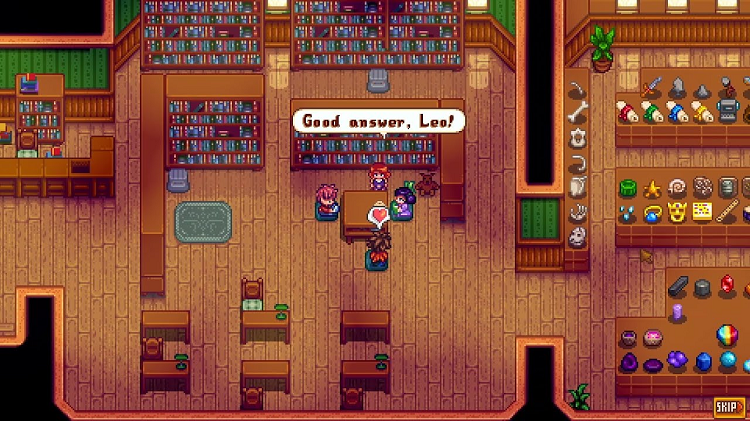 To trigger Leo's last heart event, you must enter the Mountain on a sunshiny day from 6 am to 7 pm. You'll notice a happy Leo cooking a bean hotpot with Linus on the campfire. He has been the happiest, adjusting well to life in Pelican Town.
Different cutscenes show his life in town. You'll see him at school/library with Penny with the kids, Vincent and Jas. 
Another scene also shows how Willy is helping Leo in fishing. The scene after this is definitely a bit cute and heartwarming as you'll witness Leo lurking over the bushes to watch Jas from a distance.
He immediately runs away once Jas notices him. He then goes to his treehouse and talks to his parrot friend. Despite being happy and content on the island, he undeniably misses Ginger Island from time to time. 
FAQs
Question: Why Can't I Talk to Leo?
Answer: Once you first arrive on the island, you may notice that Leo doesn't talk to you. Of course, being alone for so long, he puts his guard up. However, if you give Golden Walnuts to his parrots, he'll eventually trust you. 
In turn, you can befriend him just like any other character in Stardew Valley. You can give him gifts, talk to him every day, and even follow his own schedule. All you have to do is be persistent and care for his parrots' requests so he will warm up to you. 
However, when you start building your friendship with him, you should know that Leo doesn't post requests on the "Help Wanted" board in town. You can't also take him to the movies for extra friendship points.
Question: Why Should I Befriend Leo? 
Answer: Since Leo is among the latest additions of the 1.5 update, it's likely that you'll get more exciting content befriending him. He also offers a lot of perks, and his parrot friends are indeed helpful in exploring Ginger Island. 
Aside from that, you also get to convince him to live in Pelican Town by raising Friendship Hearts. Once you befriend him, you also receive valuable recipes and gifts. 
Question: What Rewards does Leo Give?
Answer: Leo is a thoughtful friend, and it shows. He is very keen on sharing different items with you—incredibly delicious recipes that remind him of his family. Once you reach three hears, he'll send you a letter with the recipe of Poi. It is a cooked dish made with taro root. It will add 75 energy and 33 health points. 
Aside from that, he will also give you Mango Sticky Rice. This tropical food will buff your defense by adding three points. It also grants 113 energy and 50 health points.  
Question: Why is He On Ginger Island?
Answer: Many Stardew Players are wondering how Leo was left to fend for himself on the island. Unfortunately, Leo's family was a victim of a shipwreck. You'd probably notice wreckage on the Island West, but it wasn't confirmed whether this is related to Leo's incident. 
In the shipwreck, Leo was the only surviving member of his family. Both of his parents ended up dying, and he was washed up on the island alone. Luckily, he found a new family on the island—the birds. The parrot took him in and kept him safe so he could live. 
Question: Can Leo keep his home on Ginger Island once he moves to Pelican Town? 
Answer: Yes, he absolutely can! Whenever Leo moves to Pelican Town, he'll still visit Ginger Island from time to time, especially during Summer. This only means that, like you, Leo has a home in Pelican Town and Ginger Island. 
In Pelican Town, he lives in a treehouse with his parrots. His home is just left to Linus' tent. It is located in the mountains. At the same time, his Island home is situated on Island East near the Jungle and the Banana Shrine. 
Leo Stardew Valley Guide: Final Thoughts
Leo's eccentric looks and lifestyle aren't because of his own choices. That's why it's pretty easy to sympathize with his pain. As a young kid struggling to find his place in the world, it's tough to even know what to do without adult supervision. 
However, he proves to be a strong boy. He is tenacious but extremely shy. Though he can be a tough shell to crack, Leo is a great friend. His parrot friends will give you tips and tricks to explore the island.  Aside from that, his heartwarming cutscenes and rewards are exciting. So, I would highly suggest that you befriend him. It might take a while to raise your friendship hearts with him, but it's definitely well worth it. 
He can be good company and an interesting character to get to know wherever life leads him in Stardew Valley.