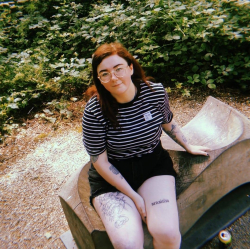 Latest posts by Ella Walsh
(see all)
Stardew Valley is (in my opinion) the most adorable and detailed farming RPG that you could ever find! It lets you enter an adorable old fashioned and a very community-focused town called Pelican Town. If you don't fall in love with the pixelated art style, you will for sure fall in love with the community members and how unique and kind they all are!
Once you enter Pelican Town, you are given your grandfather's old farm (which is run down), and you get to restore it, which is the most exciting part of the game; because you can do whatever you want with the farm! You can spend so so much time decorating and organizing your farm in whatever way you want to. I have seen people with complete spreadsheets which track every aspect of their farm and their farming layouts!
The best thing about Stardew Valley is for sure the autonomy; you can engage with the game really in any way you like. If you love fishing, you can fish until your heart's content; every day could be fishing! If you hate fishing, you never have to fish! In similar ways, you can always choose to engage or not to engage with Mining, Crafting, Cooking, Farming, and Animals!
One of the most exciting parts of Stardew Valley, where you could truly spend hours upon hours working on, is the customization of your farm. You can layout your crops in any way that you want, you can create different types of fences and fences in your crops, and you can also create different path styles and lay whatever paths you want around your farm.
You can also pick and choose which kind of extras you want on your farms, such as Silos (a personal favorite of mine) or Coops so that you can have some animals! The variety of animals that you can get is so exciting; you can get cows, chickens, sheep, horses and even pigs!
Another exciting building (and the focus of this article) is the Shed! We will learn more about this shortly!
The Carpenters Shop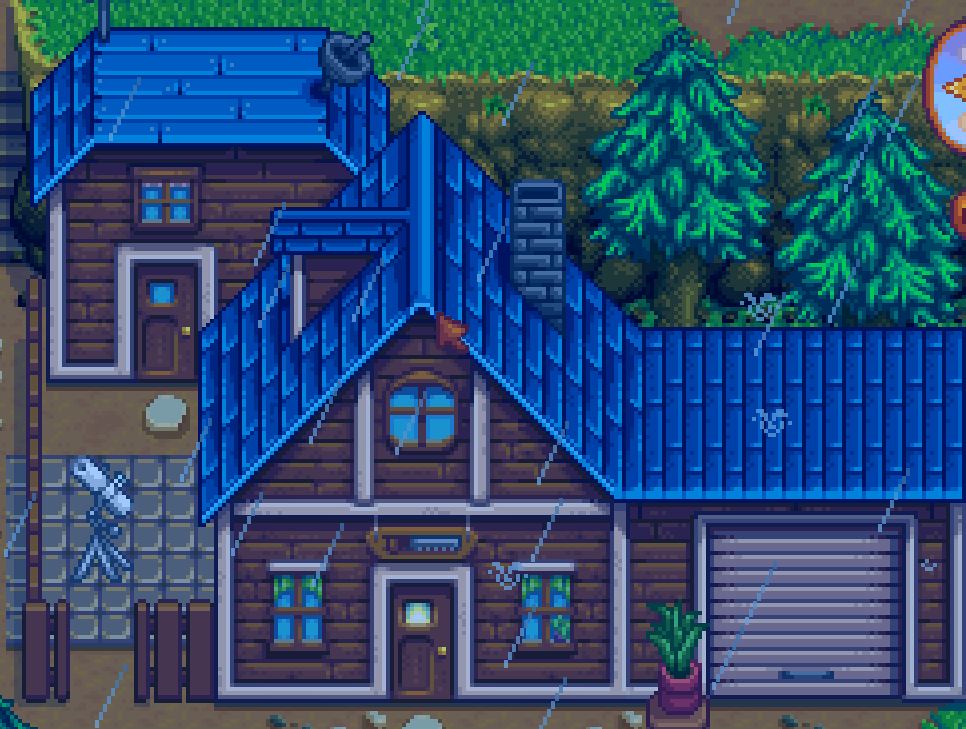 The key to success and optimizing your farm is definitely what you purchase and how you choose to use it from the carpenter's shop! Robin has a lot of exciting additional buildings for your farm available to you, which include;
The Barn

Big Barn

Deluxe Barn

Silo

Coop

Big Coop

Deluxe Coop

Mill

Stable
How to Get a Shed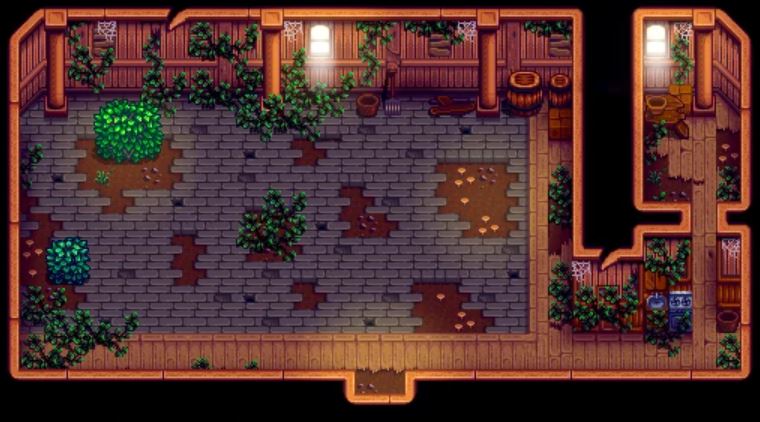 If you are eager to get a lot of new buildings for your farm, then Robin is going to be your very best friend! Robin is the towns carpenter, and she lives in her carpenter shop, which you can find at the very top of the map (just west of Linus's tent)
There are two types of Sheds that you can get from Robin; you can get a regular shed or a big shed. If you are eager to get the big Shed, it is important to know that you need to get the regular Shed first, which can then be upgraded in order to become the Big Shed (note that you will still have only one Shed)
For each type, you need slightly different things;
Shed; This requires 15,000g as well as 300x Wood.

Big Shed; This requires 20,000g as well as 550x Wood and 300x Stone.
This means that the combined cost for the big Shed is actually 35,000g, 850x Wood and 300x Stone as you need the regular Shed in order to upgrade to the Big Shed.
What is the Shed?
Sheds are basically a free for all! They are empty buildings, and not only can you place anything inside, but you can also decorate the Shed in whatever way you want! That means that you can place funky wallpaper and cool flooring and even make it look super cute with furniture and pictures!
The regular Shed is relatively small but can still hold and help you to achieve great things; the big Shed, however, is about the same size as your farmhouse, which I hope gives you an idea of the scope of the possibilities that come with the big Shed!
How Can I use my Shed?
There are a lot of ways to use the Shed, and it is ultimately up to you at the end of the day! Decorating is an option if you have a lot of cool furniture and décor that you don't have room for (or if you are particularly passionate about decorating and the aesthetic of your farm).
Using the Shed for Financial Gain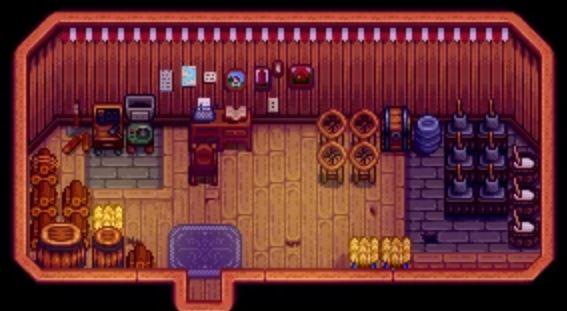 Another good option is to use the Shed to optimize the financial gain of your farm! To do this, you would make as many money-making machines (literally) and completely fill the Shed with them, so there is always something being made and always money to be had!
Examples of these include;
The Crystalarium allows you to replicate any gem or mineral you want! The best strategy for this in terms of monetary value is to place a diamond inside the Crystalarium as this is the most expensive and therefore has the highest resale value.
Once you place the diamond inside the Crystalarium, it takes five days to create a new diamond and will continue to do so indefinitely! If you want to make enough Crystalariums to fill the Shed, you will need to get comfortable making them for yourself, and so I highly recommend having a lot of furnaces too!
Another method for making money is to fill your Shed with Kegs! Your Shed is capable of holding 67 Kegs, which is an awful lot! Kegs are capable of making any of the following; 
Wine

Beer

Juice

Mead

Green Tea

Coffee
Preserves Jars store goods and effectively age them so that you can make any of the following;
Pickles

Aged Roe

Caviar

Jelly
The choice of what you make is yours! Due to the size of the regular Shed, the Shed is capable of holding 67 Preserves Jars!
Getting Creative
Seeing how people decorate their Sheds is honestly so inspirational! It is amazing to see what everyone is capable of imagining and executing! There is nothing I love more than browsing Reddit for inspiration, although if they have not explained how they made it, it can be completely baffling!
Using the Catalogue
If you intend on using a lot of decorative items in your Shed the best thing to do might be to buy the catalog. The catalog is a very large one-off purchase for 300,000G which can be purchased from Pierre's General Store.
The reason it is so expensive is that it contains all decorative items available within the game and you can take as many as you want from it (it's unlimited) which will likely save you a lot of money in the long run when designing complex and detailed shed layouts! Although I can imagine it will take quite some time to save up for it.
Here are some really cool ones that I found!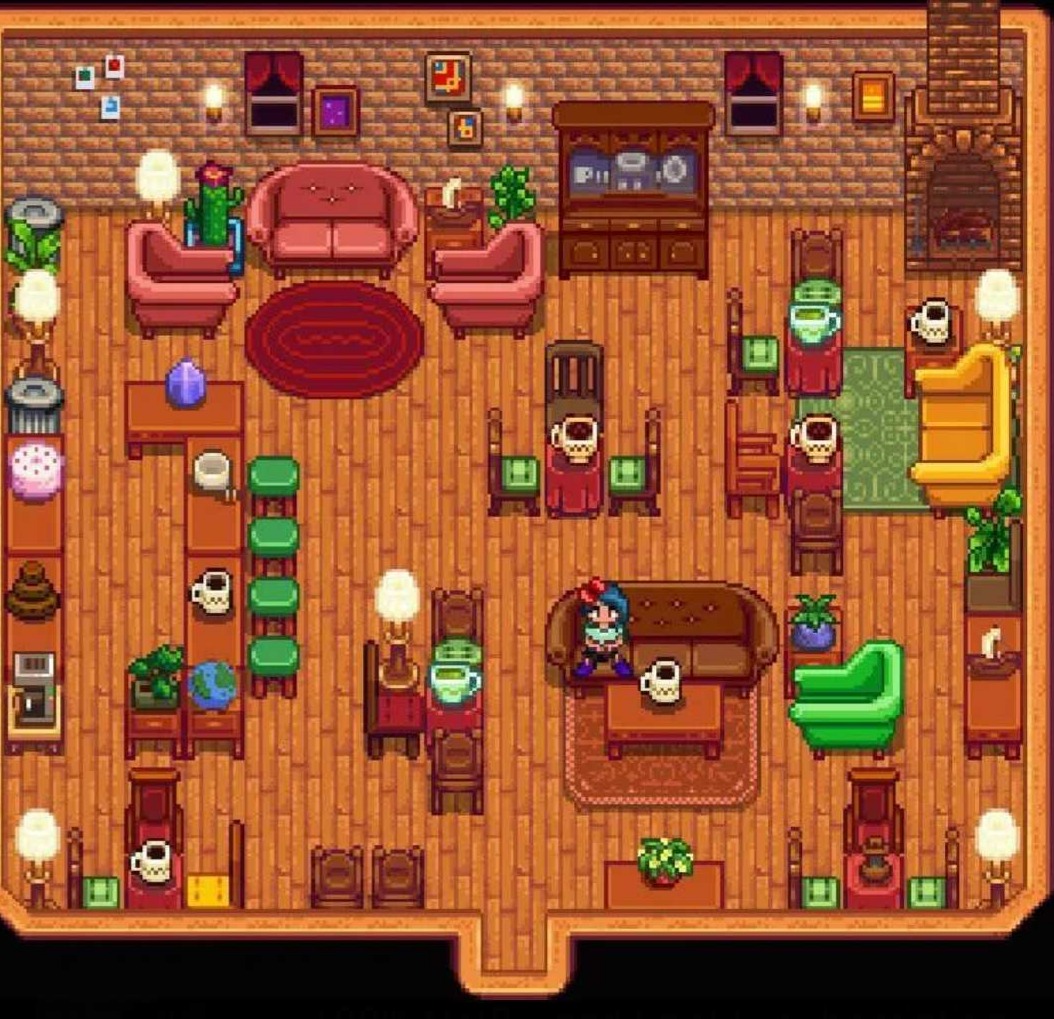 This one is titled as "I made my own Central Perk."
I am in awe of it! Yes, I am a big fan of Friends and watch it on repeat a lot, but besides that, the attention to detail in the coffee shop is amazing! It really shows you the possibilities that can come from a blank and empty shed! I am sure this took so long to make as there are a lot of tables and bar stools and sofas (the coffee was probably the easy part).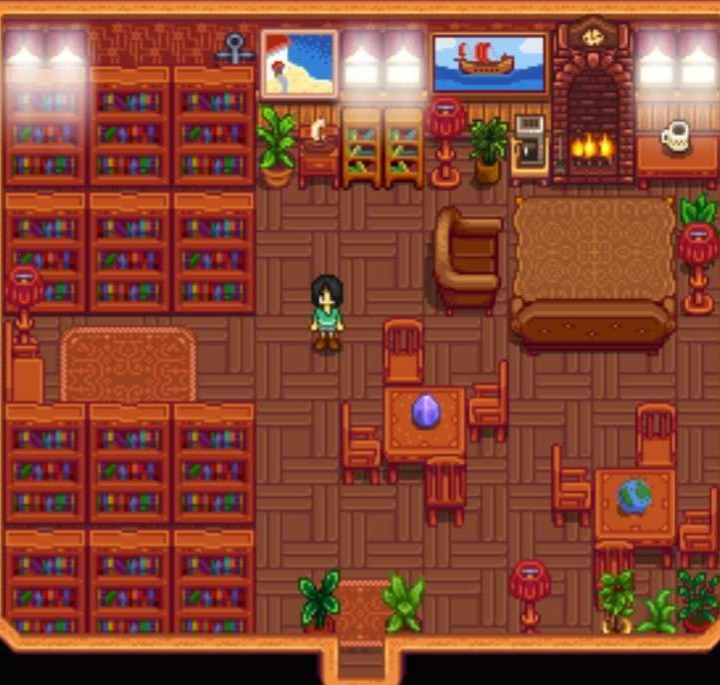 Why not make your own library?
My introverted ass absolutely loves this idea! Imagine your very own library; that was definitely my dream as a kid (and even now). I can imagine that in terms of time spent, this is not as complex as Central Perk for sure, although that being said, it is still complex!
You need a lot of bookcases to give it that library feels, although the rest is open for your own personal style, which I also love! I would absolutely fill it with plants, and I would definitely include the blue teddy bear seat (maybe like a kids section?), but this is the goal for sure, especially with that cozy fireplace. It's the perfect place to curl up with a book!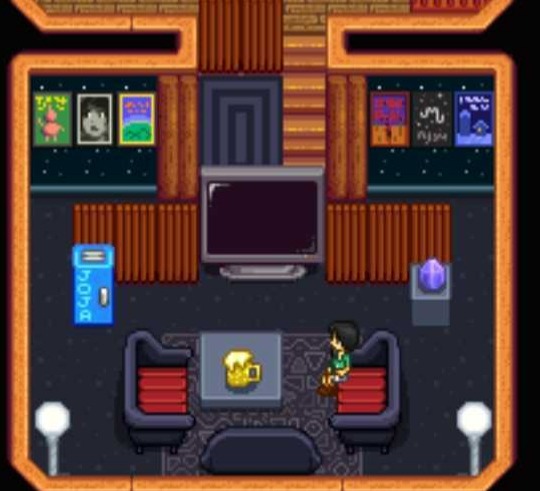 Your very own cinema?
I would absolutely love to have this too! This invested player made their own movie theatre in their Shed! The cool thing about this movie theatre is that it has super cool posters on the wall, which really gives it an authentic feel.
You can still make this completely your own, though, which is the other good thing about it! You can add bright wallpaper, for example, if that's more your vibe, along with lots of plants, or you could go dark and spacy like this one! I am sure it took a lot of time to make, but it's definitely worth the effort.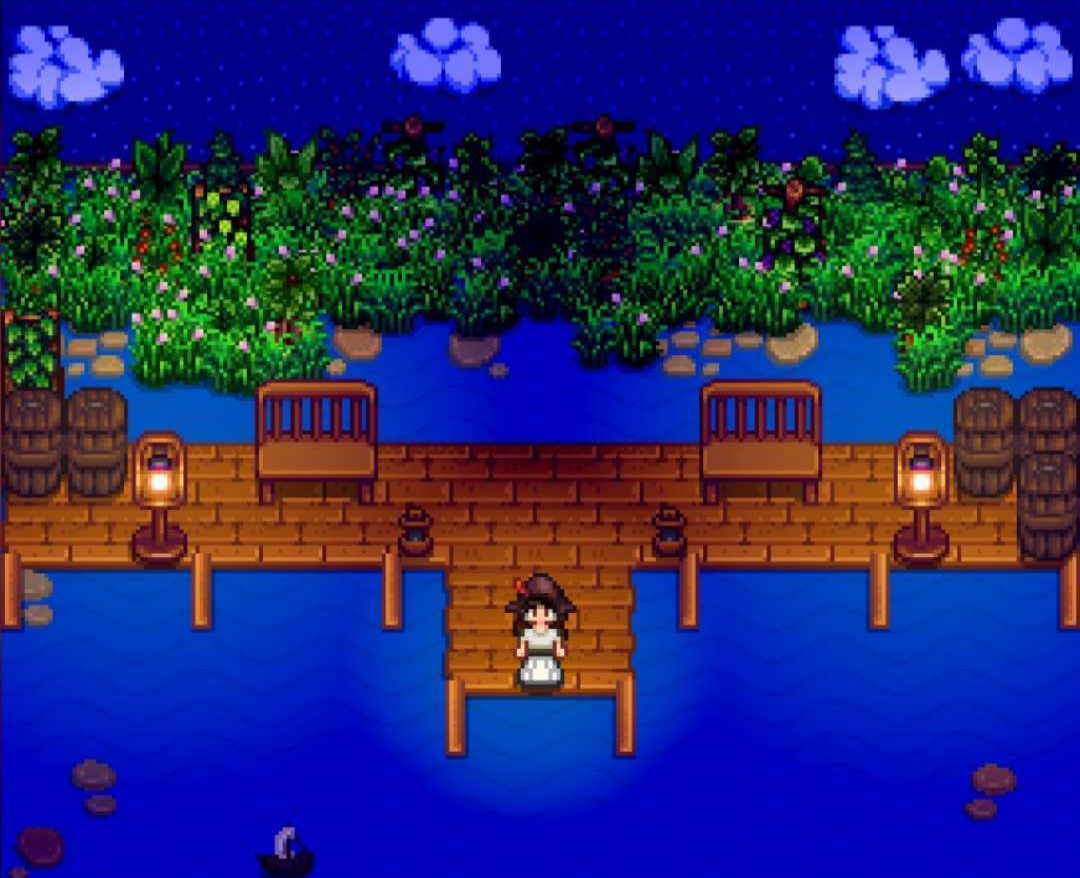 A dock??
This one really, truly blew me away to the point where I am still not certain how they did it! It looks so real, like an actual pier or something! I can imagine that the 'water' is cool flooring that the player got from the catalog or the shop. The clouds, I am also guessing, are cool wallpaper, and then on the back wall, the player has planted a lot of grass and added some cute stepping stones.
The player has then used different flooring to make it look like a wooden pier and added some decorative furniture, and I am baffled, though, by the legs of the pier!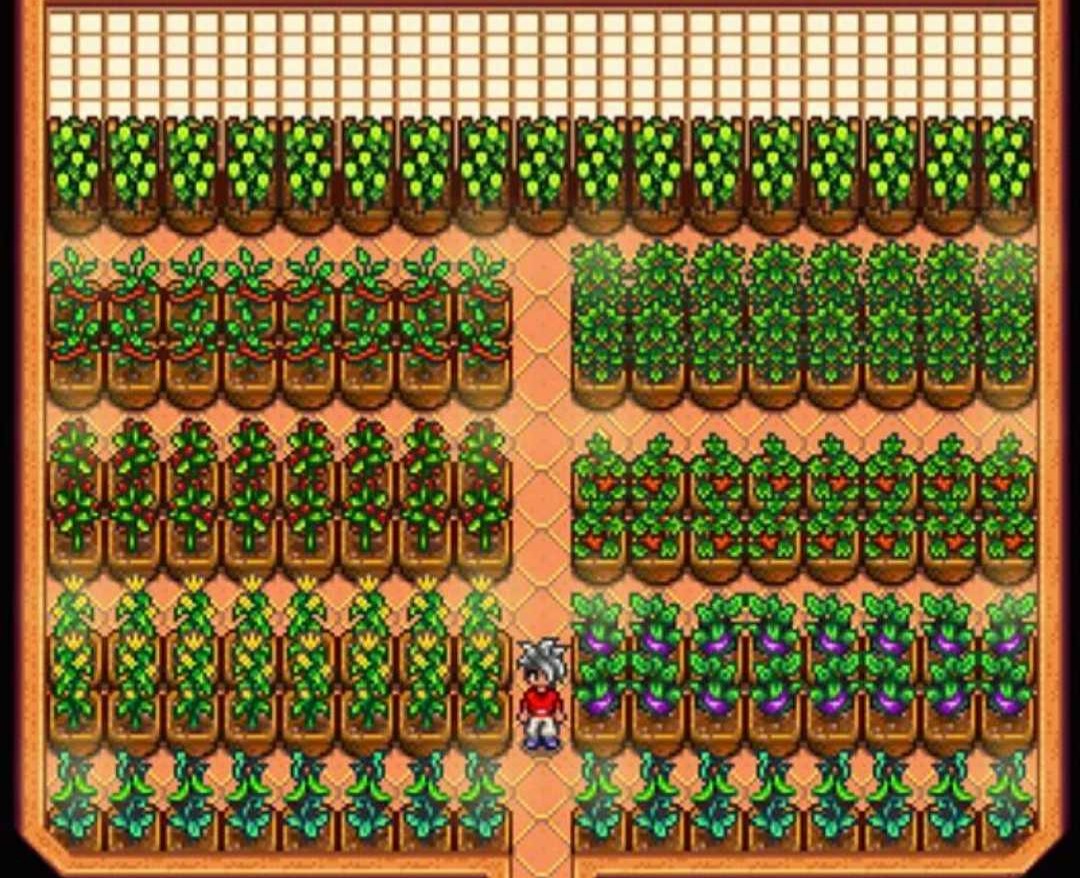 Plant heaven!
This is truly how I would imagine my house will be by the end of the year, as it is already overrun with plants! This layout is so soothing and relaxing, and although it would take a lot of time to accumulate the plants themselves, the setup would actually be quite painless! You can still add your own personal touches like cute flooring and wallpaper, and you could keep some room for decorations!
FAQs
Question: What do I need for a shed?
Answer: To make your own shed, you need 15000g as well as 300x pieces of wood
Question: What is the difference between the shed and the big shed?
Answer: None other than size! As you can guess, the big shed is much bigger than the regular shed but other than that they are the same.
Question: How can I make money with my shed?
Answer: There are a lot of options; popular options are to fill the shed with furnaces, Crystalariums, Preserves Jar, or Kegs and make sure that they are all constantly producing something so that you can keep making money!
Stardew Valley Shed Guide: Summary
I hope that this gives you some inspiration and some idea of what you can do with your shed, although, as I said, the possibilities are definitely endless, so don't feel confined to what others have done. You can really do whatever you want; don't be afraid to experiment!