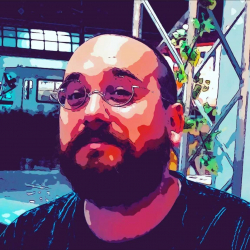 Latest posts by Seth Christmus
(see all)
In Stardew Valley, the 2016 indie title about running a farm in a small town, you start from humble beginnings. The farm you've inherited from your grandfather is overrun with weeds, filled with stones, and covered in oak, maple, and pine trees. Your main goal in the game is to turn this rundown farm into a bustling example of the best produce and animal products that Pelican Town has to offer.
Success will come to you eventually, and with that success, a desire to expand your farm and what it can do. Robin is the woman you'll want to find when you reach that point.
Robin is the town carpenter in Stardew Valley. She'll construct new farm buildings to place on your land and can also add on to the small home you have at the beginning of the game. Pretty soon, you'll have a farm complete with coop, barn, and stable, in addition to a house large enough for a family.
But Robin isn't just an NPC devoid of any personality. Take the time to get to know her and you'll more about herself and her life at home with her husband Demetrius and her two children, Maru and Sebastian.
If you're interested in learning more about her, this guide will give you all of the essential information you need to know about Robin. I'll cover everything from her daily schedule to real-world merchandise you can buy if she ends up among your favorite characters. Grab your tool belt and hammer, and let's meet Robin!
Bottom Line Up Front
Robin is a character in the 2016 video game Stardew Valley.
She lives in the mountains to the north of Pelican Town, where she works as a carpenter who can build upgrades for your farm and home.
Some of the buildings she can construct for you allow you to raise animals, while others are enhancements that make running your farm easier.
Robin's essentials:

Age – ??? (assumed to be in her 30s or 40s)
Appearance – red hair, brown hooded vest with cream lining, yellow long-sleeved shirt
Temperament – Friendly, driven, hard-working
Family – Demetrius (husband), Sebastian (son), Maru (daughter)
Friends – ???
Best Gifts – Goat Cheese, Peach, Spaghetti
Birthday – Fall 21
Appearance, Personality, and Hobbies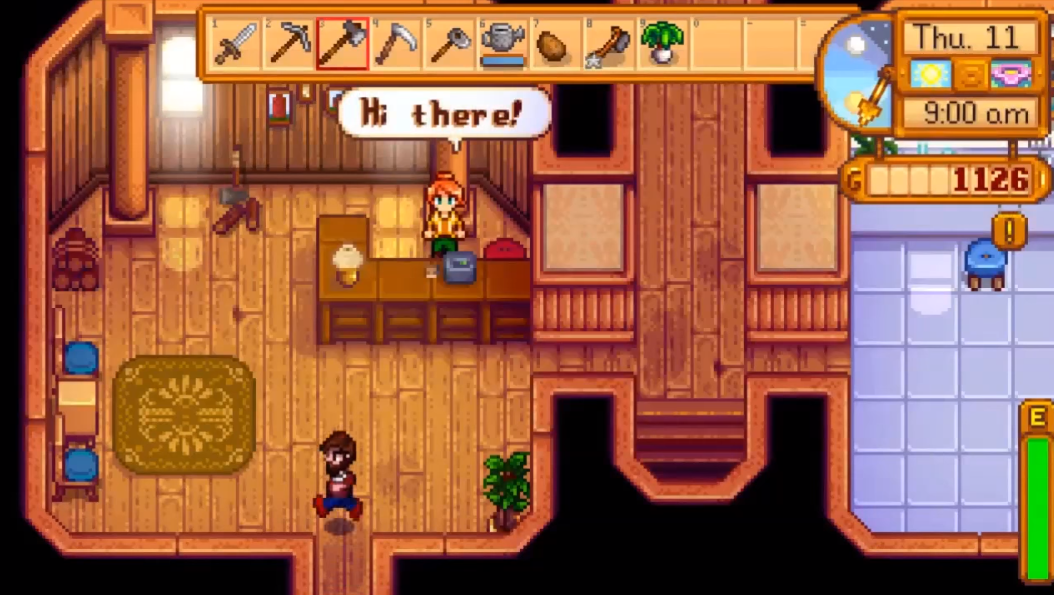 Robin has green eyes and reddish-orange hair that she keeps partly tied up in a ponytail. Her outfit consists of a brown hooded vest with what looks like a fuzzy, cream-colored lining. This is worn over a yellow long-sleeved shirt. The vest comes with a hood, and I'd like to imagine the vest has some extra pockets for her to keep some of her smaller carpentry supplies in while she's working, though we can't see that from her in-game portrait.
Robin is the first villager to greet you upon your arrival to Pelican Town. As soon as you step off of the bus, she's there to take you to your grandpa's old farm. I think this tells us loads about her as a character that she's willing to help out a stranger on the first day they come to town.
In addition, she'll randomly send you a gift of 50 Wood just for having any Friendship Level with her greater than zero. Outside of Mayor Lewis and Willy, Robin ranks up there as one of the most helpful people in the valley.
She's also hard-working and driven. She takes on large building projects for your farm and can finish them in just a few days, all by herself. She even built her own home from the ground up! Sure, it's a video game, but that kind of work ethic can't be matched.
Robin is also a mother. She has two children, Sebastian and Maru. Sebastian is her son from a previous marriage and she tends to worry about him more than Maru. He doesn't get along well with Demetrius or Maru and spends most of his time alone in his room. This is a source of constant worry for Robin – she simply wants what's best for Sebastian and would like to see him get out and socialize more.
When she's not constructing upgrades for your farm or running her store, Robin enjoys taking walks in the mountains north of Pelican Town. This is also where her home is located, so most evenings, you can find her right outside of it, relaxing in the nature of Stardew Valley.
On Tuesdays, Robin closes her shop to attend a weekly exercise class in Caroline's home, which is part of Pierre's General Store. She also enjoys dancing at the saloon on Friday evenings with her husband, Demetrius.
Family and Friends
Robin's family consists of Demetrius, Sebastian, and Maru. Here's what you need to know about them.
Demetrius (Husband)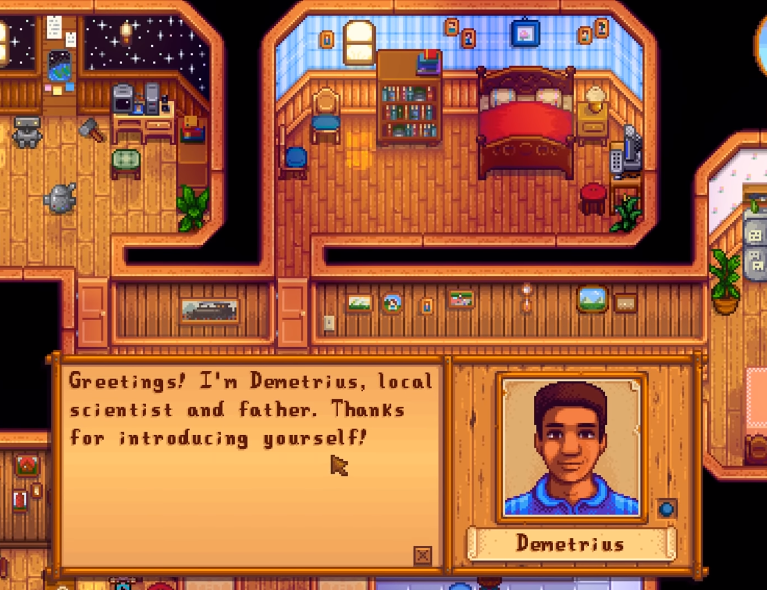 Demetrius works as a scientist, studying the wildlife found in Stardew Valley. Given Maru's age, Robin and Demetrius may have been married for nearly two decades at the point you meet them. He is Robin's second husband.
You can find Demetrius working in his lab or conducting research outside near his home. Speaking to him will yield comments about his work, Maru, or Robin. We learn that Demetrius thinks that Robin has a bit of a temper, something we can catch a glimpse of in his 6 Heart Event.
The two seem to have a happy marriage as their spats are small. Either way, it seems they've made up by the end of each week since you can find them dancing together at the saloon every Friday night.
Sebastian (Son)
Sebastian is Robin's older child and her son from a previous marriage. He spends most of his time in his room where he plays video games or does computer programming as a part-time job. When he does leave his room, it's usually just for a smoke break or to see his friends, Sam and Abigail.
Robin and Sebastian have a strained relationship. She often comes off as nagging to him, especially when it comes to his smoking habit. Sebastian also feels that Maru, his sister, gets preferential treatment from both Demetrius and Robin. You know that Robin cares about him though. She mentions in dialogue that she wants to talk more with Sebastian and worries about him but he won't open up to her.
Maru (Daughter)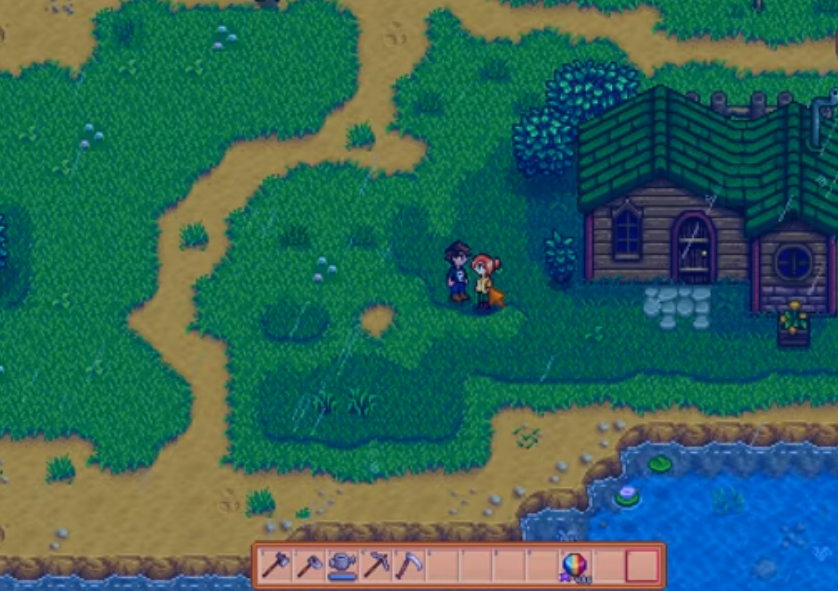 Maru is Robin's younger child and her daughter from her marriage with Demetrius. She works part-time in Harvey's Clinic. When she's not working, she's often helping her dad in his lab or relaxing on one of the benches in Pelican Town.
Maru is bright, talented, and personable, which makes her a target of Sebastian's angst. She also has a better and more open relationship with both of her parents when compared to Sebastian.
Robin will often mention her issues with Sebastian to the player, but she'll only occasionally talk about Maru and her likes and interests. This might be because she feels like Maru will be friendlier to the player and wants you to consider reaching out to Sebastian since he's shy.
Friends
While none of the villagers is explicitly mentioned to be friends with Robin, I think it's okay to assume that the women she attends the exercise group with on Tuesdays are friends in some sense of the word. This includes Jodi, Caroline, Marnie, and Emily.
Schedule
Every day except Tuesday, Robin's carpentry shop – conveniently located in her home – is open for business from 9 AM to 5 PM. After closing, she'll walk out to the mountain overlooking Pelican Town for the rest of the evening unless it's raining. She closes early on Fridays (4 PM) to go dancing with Demetrius at the Stardrop Saloon.
Robin takes Tuesday off every week. She spends the day at Pierre's home, which is inside the general store. There she participates in an exercise group with other women from the town.
After you restore the Community Center, on Mondays Robin will go there instead of hanging around outside of her home.
Like most other characters, Robin has an annual check-up at Harvey's Clinic. She goes to her appointment on Summer 18. Her shop is closed on this day and she spends the entire day at the clinic.
The Carpenter's Shop
The Carpenter's Shop is where you can purchase new farm buildings and upgrades for your home. Robin runs the shop inside of her home in the mountains north of Pelican Town. Here is a complete list of the structures Robin can build for you, plus their monetary and material cost:
| | | |
| --- | --- | --- |
| Building Name | Cost (g) | Materials Required |
| Barn | 6,000 | 350 Wood, 150 Stone |
| Big Barn | 12,000 | 450 Wood, 200 Stone |
| Deluxe Barn | 25,000 | 550 Wood, 300 Stone |
| Coop | 4,000 | 300 Wood, 100 Stone |
| Big Coop | 10,000 | 400 Wood, 150 Stone |
| Deluxe Coop | 20,000 | 500 Wood, 200 Stone |
| Fish Pond | 5,000 | 200 Stone, 5 Seaweed, 5 Green Algae |
| Mill | 2,500 | 50 Stone, 150 Wood, 4 Cloth |
| Shed | 15,000 | 300 Wood |
| Big Shed | 20,000 | 550 Wood, 300 Stone |
| Silo | 100 | 100 Stone, 10 Clay, 5 Copper Bars |
| Slime Hutch | 10,000 | 500 Stone, 10 Refined Quartz, 1 Iridium Bar |
| Stable | 10,000 | 100 Hardwood, 5 Iron Bars |
| Well | 1,000 | 75 Stone |
| Stone Cabin | 100 | 10 Stone |
| Plank Cabin | 100 | 5 Wood, 10 Fiber |
| Log Cabin | 100 | 10 Wood |
| Shipping Bin | 250 | 150 Wood |
| House Upgrade #1 | 10,000 | 450 Wood |
| House Upgrade #2 | 50,000 | 150 Hardwood |
| House Upgrade #3 | 100,000 | none |
Robin has items for sale in her shop, too. This includes a permanent stock of wood, stone, various pieces of furniture, and crafting recipes to build your own furniture.
She also has a rotating stock that changes daily and follows a theme.  The items in the rotating stock are different kinds of furniture to add to your home. Here are the different types of items she has on each day:
Monday – Oak furniture
Tuesday – Walnut furniture
Wednesday – Birch furniture
Thursday – 2 random items from a list of plants and small trinkets
Friday – 1 random item from a list of lamps and armchairs
Saturday – 1 random item from a list of artwork and chairs/stools
Sunday – 1 random item from Thursday's list of items (plants and small trinkets)
Community Projects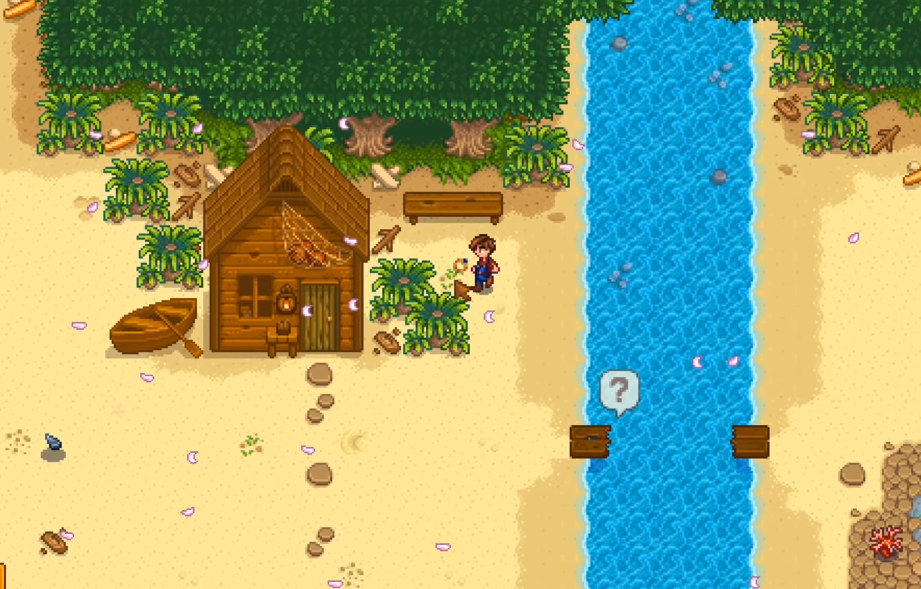 After patch 1.5, which added a lot of new content to Stardew Valley, you're able to ask Robin to build a few improvements in Pelican Town.
The most major, and most heartwarming, is the construction of a new home for Pam and Penny. It costs 500,000g and 950 Wood to complete the project but it gives you 4 Friendship hearts with Pam and the knowledge you've helped out a fellow townsperson.
The second upgrade involves multiple additions to Pelican Town in the form of shortcuts. While some of the new pathways may seem redundant, they help to slightly cut down travel time as you run around the valley. There are six shortcuts in total, all of which Robin constructs at the same time for 300,000g:
Cindersap Forest to the Beach – The new path is located next to Leah's cabin and takes you to the beach.
Pelican Town to the Beach – Robin removes fencing located south of the museum so you can freely travel to the tidepools directly from town.
Bus Stop to Backwoods – Robin constructs stairs that allow you to go up to the Backwoods area straight from the Bus Stop. To find them, go west along the road from the bus itself.
Mountains to Pelican Town – This new path appears to the east of Robin's mountain home. Some fencing is removed that allows you to enter the town to the north of JojaMart.
Mountains to Pelican Town – This path is located on the east side of the river, north of JojaMart and southwest of the bridge that leads to the Quarry. It is opposite the other new path from the Mountains to Pelican Town.
Adventurer's Guild to Mountain Lake island – Robin constructs a new plank that lets you access a small island located in the Mountain Lake directly from the Adventurer's Guild.
Best Gifts for Robin
Robin has three gifts that she loves, none of which are very hard to obtain. Giving her any of these will quickly raise your friendship level with her.
Goat Cheese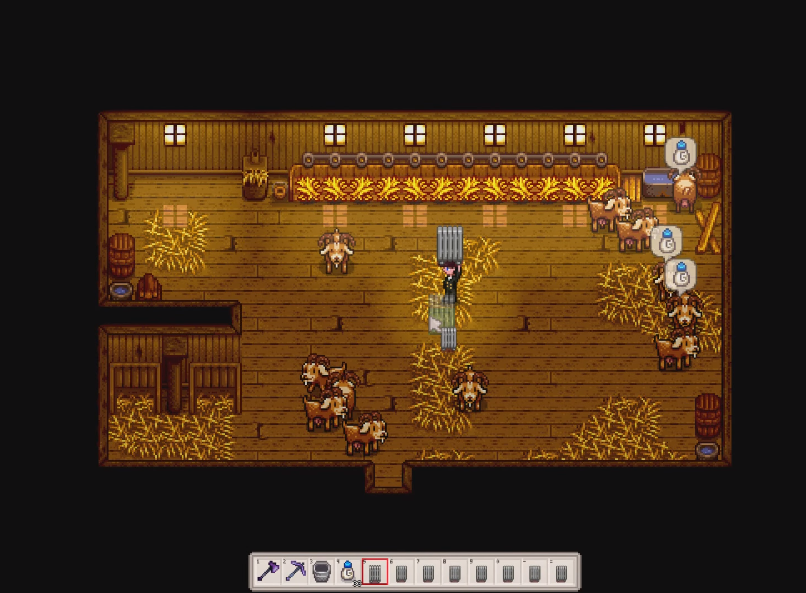 Robin has a taste for this particular cheese and it's a little tougher to obtain than regular cheese. Goat Cheese requires a few prerequisites to make. You'll need a Big Barn, a goat, something to milk the goat with (either a Milk Pail or an Auto-Grabber), and a Cheese Press. It doesn't matter which size of Goat Milk you use to make the cheese.
Peach
Robin's favorite fruit can easily be obtained by planting a Peach Sapling. It will take 28 days for the tree to fully grow and start producing a daily Peach. You can harvest Peach Trees in Summer, so it's best to plant them in Spring so they'll be ready to give you fruit from the start of the season.
If you don't want to plant a Peach Tree or don't want to wait around 28 days for one to grow, you have the option to purchase a Peach from the Traveling Cart for anywhere between 420g to 1,000g. Choosing the fruit bat option for the Farm Cave will also result in an occasional Peach.
Spaghetti
This popular Italian dish is Robin's favorite. Luckily for us, it isn't hard to get. You can simply buy it from the Stardrop Saloon for 240g on any day. If you're wanting to practice your culinary skills and have a kitchen or Cookout Kit, Spaghetti can be made using 1 Wheat Flour and 1 Tomato. You'll receive the recipe for Spaghetti after reaching 3 Hearts with Mayor Lewis.
Robin's Heart Events

6 Heart Event
To trigger this event, reach 6 Hearts with Robin and then enter her home anytime that she is home. This event is fairly quick and simple. When you enter, Robin will be cleaning her saw and will ask if you've ever made anything out of wood. Robin's response is the same no matter how you answer: she'll give you two crafting blueprints.
One is for a Drum Block and one is for a Flute Block, both pieces of furniture that emit sounds when you walk past them. This Heart Event is another of many examples of Robin's kindness.
7 Heart Event
After reaching 7 Hearts with Robin, she'll send you a recipe in the mail for Pumpkin Soup. In the letter she includes with the recipe, she mentions that her grandma passed it down to her. Pumpkin Soup can be made in your kitchen or with a Cooking Kit by combining 1 Pumpkin and 1 Milk of any size.
Related Quests
Robin's Lost Axe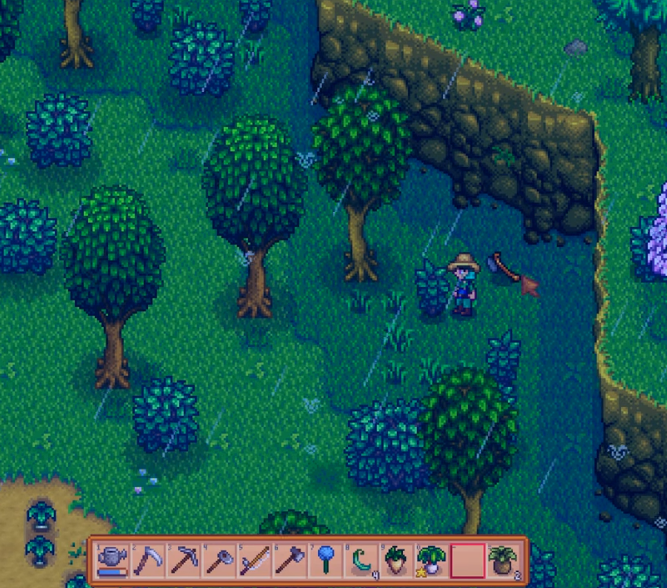 It seems that Robin is the forgetful type, even when it comes to things that are essential for her to earn a living! Not long after you meet her, she'll send a letter detailing how she lost her favorite axe somewhere in Cindersap Forest. You can find it northeast of the stairs that lead down to the sewer pipe. Returning the axe to her results in an easy Friendship heart and 250g.
Robin's Resource Rush
Robin may make a request at the Special Orders board when Fall begins. She wants either 1,000 Wood or 1,000 Stone. Complete this request for her and she'll give you the recipe to make a Stone Chest.
Robin's Request
In the dead of Winter of your first year, you should receive a letter from Robin. She needs 10 pieces of Hardwood for one of her projects. Hardwood can be obtained by chopping up a Mohagony Tree, a Large Stump, or a Large Log. It's important to note that you'll need at least a Copper Axe to chop a Large Stump and at least a Steel Axe to chop a Large Log.
Following through on this request gives you an additional Friendship heart with Robin and 500g.
Robin's Project
This is another request that can be found on the Special Orders board in Fall. Robin needs 80 Hardwood for a project and requests that you gather it for her.
After chopping up some stumps and returning to her with the goods, you'll be treated to a cutscene with Robin and Demetrius. It's another one of their not-so-serious arguments, this time over the efficiency of Robin's design for the bed she just built. You'll receive a recipe for the Deluxe Red Double Bed so you can try your hand at building your own bedframe, just like Robin.
Best Merch Items
While Robin doesn't have the popularity of the characters that are eligible for marriage, she does have some fun and unique merchandise related to her out there. Here are a few of my fan-made favorites:
FAQs
Question: Where is Robin's Carpenter's Shop?
Answer: Robin's shop is located in her home in the western room as soon as you step in the door. Her house is located in the mountains north of the Community Center.
Question: Can you marry Robin in Stardew Valley?
Answer: No, at least not in the original version of the game. Mods exist that allow you to marry Robin, those I suggest you use anything like that with caution so you don't mess up any game progress.
Question: What does Robin like?
Answer: In addition to the previously covered items that Robin loves, she has some items that she likes. These items are also good gifts but give less of a bonus to her Friendship points. The items that Robin likes are:
All Fruit
All Milk
All Universal Likes
Hardwood
Quartz
Fruit can be obtained in a variety of ways, including farming and foraging. You can get Milk once you have cows on your farm, which requires a Barn. Hardwood comes from Mohagony Trees, Large Stumps, and Large Logs. Quartz is most commonly found in the mines to the north of Pelican Town and Skull Cavern.
Robin Stardew Valley Guide: Conclusion
It's hard not to like Robin as a character because she just seems so, for lack of a better word, normal. She's a local small business owner on her second marriage with two grown children, one of whom acts like an angsty teen. For her to manage all of that and still manage to be the most welcoming resident of Pelican Town instantly made a good impression in my book.
Robin is one of the most important people in Stardew Valley as you look to grow and expand your farm's offerings. She does a lot for you and the town without asking for a whole lot in return, so I think it's best to buddy up with her and, as Demetrius says, try to stay on her good side.