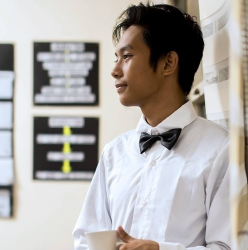 Latest posts by Arthur Monteclar
(see all)
Cooking is one of my favorite chores; I don't even consider it one! It's more like a hobby on the side. If you're just like me–who loves to cook and prepare tasty dishes–you're surely excited to learn about cooking in Stardew Valley. 
While SDV cooking seems like a passive activity—literally standing near your stove, waiting for the dish, it offers a lot of benefits. It took me longer to appreciate the game's cooking element since I fixed the community center, met villagers, and organized the farm. 
However, cooking isn't as straightforward as it seems. You don't even have a kitchen inside the old farmhouse at the start of the game. I've been eating raw food in the first few years of the game. After that, I'd used a cookout kit for quite some time before I decided to upgrade my farmhouse. Best believe, I've completed the Wild Medicine Bundle and got two cookout kits before I realized I needed to upgrade my house.
Crazy as it sounds, I was terrible with money at the start of playing the game (which you ULTIMATELY need to build a kitchen.) When I finally upgraded my house, the kitchen was a life-changing addition. I don't have to chug coffee all-day to regain energy; I even overbuy dishes in the Saloon to ensure I'm ready for a long day at the mines. 
Let's get down to the basics of SDV cooking, so you wouldn't have to end up like me. In this blog, I will explain what you need to do to set up your kitchen and learn all the 80 Stardew Valley cooking recipes. 
How to Cook: Where Do I Start?
1. Building a Cooking Place
Of course, you can't cook without a kitchen or a cookout kit. That's why you need to have one. The question is: how can I upgrade my house and build a kitchen? 
First House Upgrade: Kitchen
Initially, your farmhouse will consist of the necessities for you to get started—practically a tiny room with a single bed and no kitchen. 
Upgrading your farmhouse will cost you 10,000g and 450 pieces of wood, which is overwhelmingly expensive for a new farmer. But don't fret; you can quickly gain a lot of money by foraging and fishing. You can start clearing and chopping your farm's overgrown trees to get the wood. 
Once you have all the requirements, visit Robin at the Carpenter Shop in the North East section of Pelican Town. Interact with the till inside the shop and select the option to upgrade the house. The upgrades will be completed in three days. 
Making Meals Outdoors: Cookout Kit
If you're strapped for cash and reached level 9 in foraging, you can use the cookout kit for cooking anywhere. 
You can create the cookout kit using three ingredients: Wood x15, Fiber x10, and Coal x3. Unlike the kitchen, the cookout kit is not a permanent cooking space and will disappear if left overnight. 
2. Learning the Recipes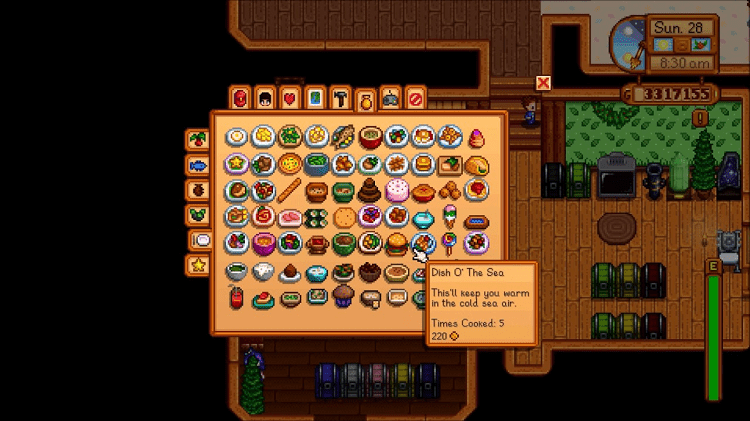 You have the kitchen or the cookout kit, but you just can't start combining raw ingredients to cook them on your stove. Of course, you need to learn the recipes to cook a dish. 
Here are some ways to collect all 80 recipes: 
Tune in to the TV channel "Queen of Sauce."

The show airs 32 cooking recipes every Sunday on rotation. It follows a two-year schedule. If you missed an episode, re-runs are also aired on Wednesdays.

Buy the recipe at the Stardrop Saloon.

Some recipes are also sold in the Saloon. If you want to prepare a dish or a drink, you can easily purchase one of them for 50g to 5000g. The triple-shot espresso is the most expensive recipe. 

Unlock heart levels or heart events from villagers.

Some recipes are only available once you befriend the characters at certain heart levels. 

Explore and upskill.

Once you've leveled up in a particular skill–like foraging, fishing, combat, farming, etc.–you'll be rewarded with cooking recipes too. 
After learning the recipe, it will be accessible from your kitchen stove forever. 
3. Finding All the Ingredients
Once you have the recipe, you must gather all the raw ingredients to make it. There are actually a total of 87 ingredients to cook all the dishes. They're categorized into seven different good/product groups, such as: 
Crops:

You can grow 26 crops on your farm to make a variety of dishes. There are also seasonal crops grown from seeds that can only be planted and harvested during a specific season. Some crops grow multi-season and will grow all year round. 

Foraged Goods:

These are the most accessible ingredients to find since they're scattered all over town. You can gather 13 foraged goods on the ground and prep them for your dish. These items are also season-specific, so it's best to stock some goods before the season changes.

Fruit Trees:

While there are nine fruit varieties in SDV, there are only four fruit trees used as cooking ingredients. You can plant fruit trees and expect them to bear fruits when in season. 

Animal Products:

These resources are produced by animals on your farm. To prepare most recipes, you only need eggs, and milk–duck eggs and goat milk can also be used as alternatives for any recipes needing such ingredients. 

Miscellaneous Items:

You can only use two miscellaneous items as cooking ingredients, which are

Maple Syrup

and Squid Ink. 

Artisan Goods:

To make these goods, you need artisan equipment like kegs, cheese presses, and mayonnaise machines. They typically take time and would also require certain resources/items to produce.

Fishing Catch:

There are 17 fishing items you can use to cook certain dishes. Some fishing items can also be found in Tide Pools.

  
Crab Pot Items:

You can float crab pots on the shores of any body of water to catch crab pot items. You can use eight crab pot items as ingredients for dishes like Fish Stew, Tom Kha Soup, Crab Cakes, etc. 

Items from the Store:

There are five (Sugar, Rice, Flour, Oil, and Vinegar) items you can easily buy from Pierre's General Store. They typically cost between 100g and 200g. You can also make them if you have the right equipment. However, buying them would save you some precious time. 

Dish Ingredients:

The last item on the list are dish ingredients. These entirely cooked and edible dishes are needed to refine and create a new dish version. There are six dishes used as ingredients. 
Having ingredients on hand can certainly help streamline your cooking process. That's why I tend to stock up on ingredients and store them in chests just in case I need them. Pro tip: keep at least 2 to 5 seasonal items before the season ends. 
4. Start Cooking on Your Stove (or Cookout Kit)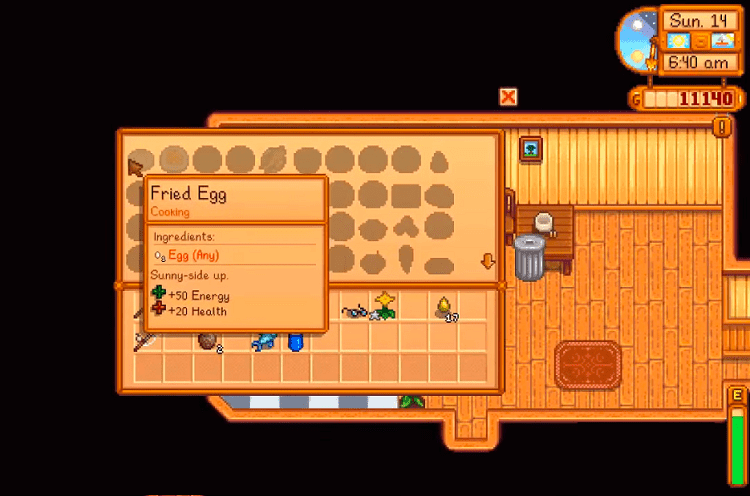 Now you are finally ready to start cooking! You can walk up to your stove (or cookout kit) and start cooking. Once you interact with the stove, you can see a menu that shows all the cooking recipes you've learned. Recipes with missing ingredients are greyed-out; hover across the menu to check all the items lacking in red. 
Remember that you can only cook if you have all the ingredients needed for the dish; all dishes you can cook are typically shown in full color. Once you are done cooking, you can check the cooked meal in your inventory; you can directly consume them after cooking or place them on the kitchen table. 
Preparing Dishes: How Can I Make Them?
Recipes from The Queen of Sauce
You can learn 23 episodes by watching The Queen of Sauce in the span of two years. Here's a list of all the recipes aired every season: 
Spring 

Stir Fry 

Coleslaw

Radish Salad

Omelet

Pizza

Hashbrowns

Complete Breakfast

Lucky Lunch

Summer

Baked Fish

Pancakes

Maki Roll

Bread

Carp Surprise

Maple Bar

Pink Cake

Roasted Hazelnuts

Fall

Tortilla

Trout Soup

Glazed Yams

Blackberry Cobbler

Crab Cakes

Fiddlehead Risotto

Fruit Salad

Winter

Artichoke Dip

Plum Pudding 

Chocolate Cake

Plum Pudding

Pumpkin Pie

Lobster Bisque

Bruschetta

Shrimp Cocktail

Poppyseed Muffin
Recipes Earned through Friendships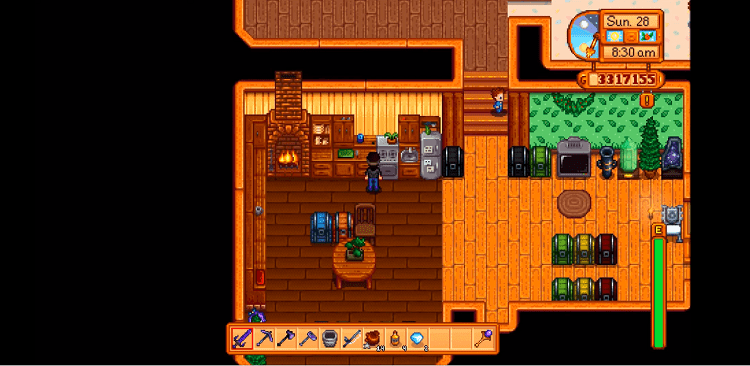 You can receive 37 cooking recipes by forging friendships among the villagers in town. They will share their favorite recipes via mail or even in person whenever you raise enough friendship points and reach certain heart levels.
Here are all the recipes you can receive by befriending the NPCs: 
Recipes Received Through Skills' Rewards
Once you level up your skills, you also discover some cooking recipes to help you enhance or master them. Having these dishes in your inventory while performing these activities is particularly useful.
Combat

– Roots Platter & Squid Ink Ravioli

Farming

– Farmer's Lunch

Fishing

– Dish O' The Sea & Seafoam Pudding

Foraging

– Survival Burger

Mining

– Miner's Treat
Cooking the Best Dishes
With a whooping number of cooked dishes in SDV, it's tough to remember every dish. In this section, I'll discuss my top favorite cooked dishes, divided into three categories: easiest to make, skill-specific, and the most profitable. 
Easiest to Make
You might have fewer resources or struggle to get recipes in the first few years of the game. Fortunately, you can easily make recipes without having many items. Some dishes only need one ingredient.
On the other hand, you can also make dishes simply by buying ingredients from the General Store. Here's a list of the easiest dishes to make: 
Sashimi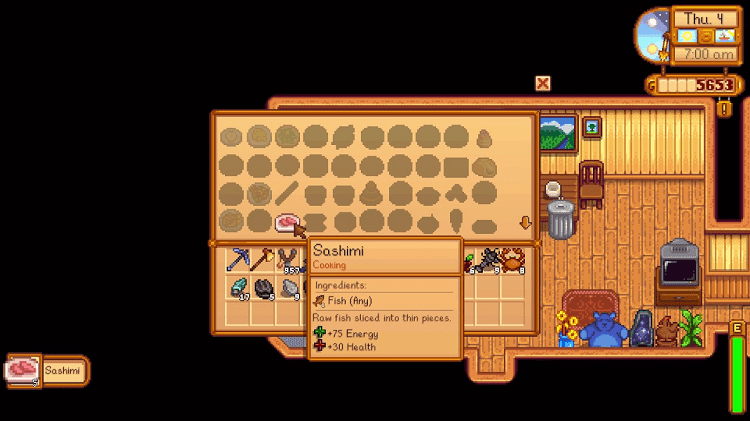 Ingredients Needed: Any Fish (x1) 
While these numbers don't compare to other stats from other dishes, it's the easiest to make! You only need to reach three hearts with Linus to learn the recipe. You can use any fish to make Sashimi, so you can get the cheap ones and turn them into a tasty meal. 
Pancakes
Ingredients Needed: Wheat Flour (x1), Egg (x1) 
Pancakes are among the easiest dishes to make; eating pancakes gives you a +2 foraging perk, so it's a perfect meal to start your day scouring for valuable resources around town.
You can easily buy the recipe in the Stardrop Saloon for 100g or tune in to the cooking show to learn it! It's a cheap and delicious meal that would probably cost you 50g for the flour at Pierre's. 
Rice Pudding
Ingredients Needed: Milk (x1), Sugar (x1), and Rice (x1)
The only tricky thing when making rice pudding is getting the recipe from Evelyn. You need to reach seven hearts with her before you get the recipe. Once that's over, this will be one of the simplest energy foods to make. 
Collecting the ingredients is relatively simple; you can even buy sugar and rice at Pierre's if you happen to run low on some stock. 
Bean Hotpot
Ingredients Needed: Green Beans (x2) 
Bean Hotpot is another one-ingredient dish! It's the best dish for aspiring blacksmiths, given its +32 Magnetism buff.
You need to befriend Clint up to 7 hearts before he gives you the recipe–this comes as a challenge, too, just like Eveyln's Rice Pudding. Other than that, ingredients and perks-wise, Bean Hotpot is among the most basic dishes. 
Best Dishes for Certain Situations
As you progress mid-game, you might need an extra boost not just to restore your health but also to offer hefty buffs as you perform your tasks. Here's a list of the best dishes to increase buff for certain activities:
Health Boost – Fruit Salad
Ingredients: Melon (x1), Blueberry (x1), Apricot (x1) 
Many avid SDV fans would agree that CA just wants you to eat tons of fruit, given the jam-packed nutritional benefits of this dish. Fruit salad offers the most health boost at 118 points, the highest health boost there is. 
You can learn the recipe by tuning in on The Queen of Sauce in Year 2, Fall 7. The recipe might not be available in your first year, but you can rack up the ingredients and keep them in your inventory for easy access. 
Farming – Pepper Poppers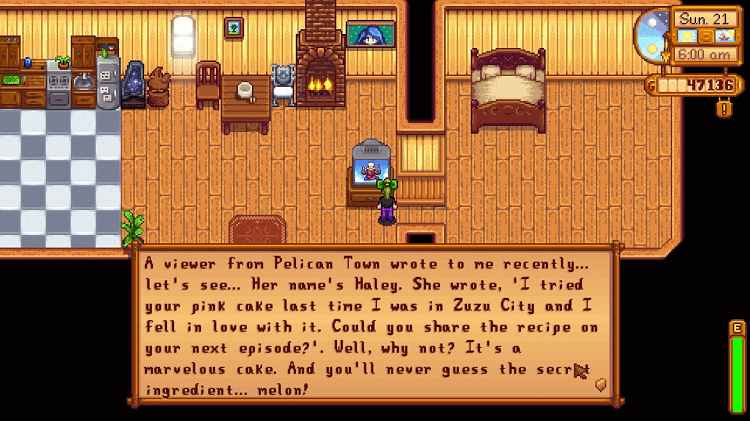 Ingredients: Hot Pepper (x1), Cheese (x1) 
Do you hate spicy meals? You might change your mind about it with this dish. Pepper Poppers are among the best dish to consume before farming. It offers +2 farming and +1 speed buff, which improves your movements. This dish is definitely one of the best perks of befriending Shane. 
Combat – Roots Platter
Ingredients: Cave Carrot (x1), Winter Root (x1)
Stop exploring The Mines and Skull Cavern unprepared! Aside from wielding your Galaxy Sword, keep a Roots Platter in your backpack and eat it before grinding deep in the mines. You can gain high stamina and a health boost to prevent you from passing out. 
Fishing – Fish Stew
Ingredients: Crayfish (x1), Mussel (x1), Periwinkle (x1), Tomato (x1)
Fish Stew is not mainly the easiest dish to make because it is a four-ingredient dish. However, it offers some awesome perks when consumed just before fishing. It's even better than Dish O' The Sea, considering its relatively high energy and health recovery points. 
To learn the recipe, you must befriend Willy up to 7 hearts. It's just befitting to learn the recipe from the expert fisherman himself! Go and make this meal if you plan to fish throughout the midnight. 
Foraging – Survival Burger
Ingredients: Bread (x1), Cave Carrot (x1), Eggplant (x1) 
Survival Burger is among the first few recipes you'll probably cook. It's a staple for those who need a foraging buff. While it might not be the best burger there is, you'd find yourself making survival burgers as you plan to scour for valuable foraged items.
Mining – Cranberry Sauce
Ingredients: Cranberries (x1), Sugar (x1) 
Before Fall ends, don't forget to plant some cranberries on your farm. You can make different kinds of dishes, especially cranberry sauce. This dish offers a +2 mining buff that gives you more chance to destroy some rocks without getting easily exhausted.
Most Profitable Dishes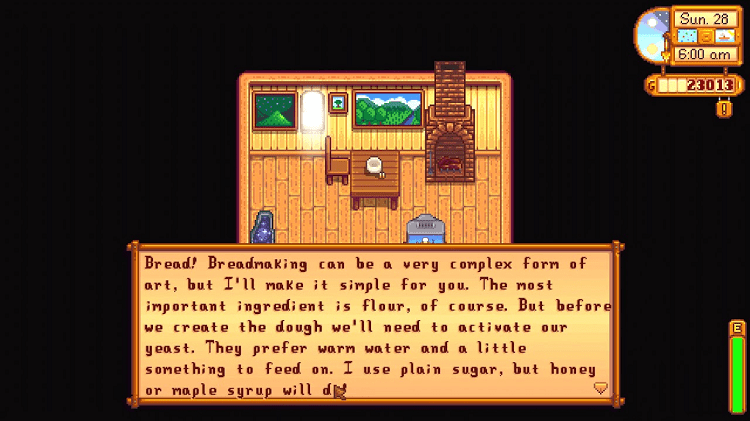 Typically, cooked dishes are sold lesser than their actual cost of production. Most players wouldn't even bother selling them for profit because of the low margins. However, this seems to be a misconception. There are a number of profitable recipes you can make, including: 
Bread
Ingredients: Wheat Flour (x1)
Item Cost: 10g
Profit: 50g 
The main ingredient of Bread is Wheat, which is among the cheapest crops to grow. A packet of Wheat seeds only costs 10g. Once the wheat is ready to be harvested, you can mill it into Wheat Flour and cook it into bread–it's that easy! You get five times the profit at a high selling price of 60g!
Sashimi
Ingredients: Any Cheap Fish (x1)
Item Cost: 20g to 60g
Profit: 15g to 55g
Other than being a quick and easy dish, sashimi is also highly profitable. You can make sashimi using cheap kinds of fish like Anchovies, Carps, Mussels, and Periwinkles. In fact, you won't have to catch a fish and spend your valuable energy; simply use a Crab Pot.  
Pale Broth
Ingredients: White Algae (x2)
Item Cost: 50g 
Profit: 100g
With a whooping profit of 100g, Pale Broth is truly among the most profitable dish. White Algae is an abundant resource readily obtained through fishing and monster droppings. You can't really use this ingredient in anything else–cooking the Pale Broth adds the best value for this item.    
Eggplant Parmesan
Ingredients: Tomato (x1), Eggplant (x1)  
Item Cost: 70g
Profit: 130g
Making Eggplant Parmesan is relatively easy. You can stock tomatoes and eggplants in your wooden chests to prep this meal all year round. If you have a surplus of ingredients and need quick cash, cooking eggplant parmesan is the key!  
Qi Seasoning: A Dash of this Special Sauce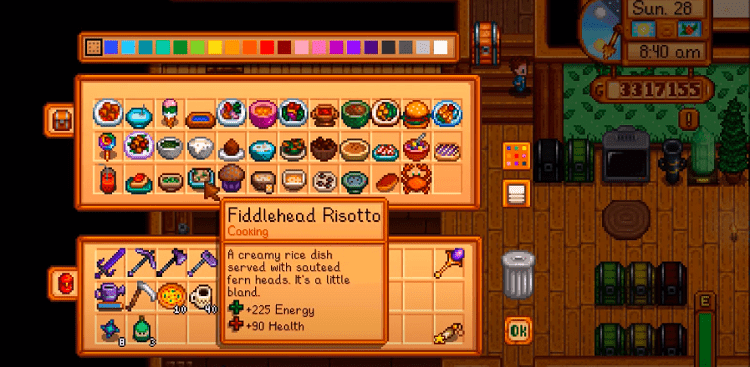 Qi Seasoning will only be available late in the game. If you want to level up your cooking, Qi Seasoning is life-changing! You can purchase it with 10 Qi Gems from Qi's Walnut Qi. The benefit of this handy food enhancer is worth all the hassle of obtaining the Qi Gems. 
Having this handy stuff in your inventory, refrigerator, or mini-fridge will turn any cooked dish into "Gold Quality." This directly improves its stats and sell price to another level.
Gold Quality dishes sell for 50% more than the regular dish. They also offer 80% more energy and health benefits–plus increased buffs and buff durations. 
And the Best Chef Award Goes To…
After experimenting with different dishes, you'll receive three kinds of achievements: 
Cook

– Once you've finished cooking ten unique recipes, you'll receive this reward and a delicate bow.

Sous Chef

– This achievement will only be unlocked once you've prepared and cooked 25 various recipes. You are also rewarded with a Plum Champeau for reaching this milestone. 

Gourmet Chef – This is the highest award you can get for cooking all the tasty recipes! After unlocking this achievement, you will also get a Chef's Hat and an Archer's Cap.
FAQs
Question: Is Cooking Important in Stardew Valley?
Answer: Cooking plays a significant role when it comes to the whole SDV experience. Most of the cooked dishes help supplement your energy and health when performing certain tasks.
Selling profitable dishes would also help you earn more money. More than anything, certain cooked dishes make for the best gifts for almost every villager.
Question: What Cooked Dish Offers the best Health and Energy Boost?
Answer: Fruit Salad is the perfect dish for the best health and energy boost. Besides this dish, you can prepare Pink Cake, Pumpkin Pie, Red Plate, and Chowder with health and energy regeneration sitting at 100-200 points.
Question: Will My Food Spoil if I Keep it in the Fridge for a Long Time?
Answer: No! Your food will not turn bad even if you keep them in your refrigerator, inventory, or mini-fridge for days. That's the best perk when it comes to SDV's cooked dishes–no spoilage. 
Cooking is also a Farmer's Thing!
There are a total of 80 cooking recipes in Stardew Valley, which only means that the game spans beyond the regular reap-sow mechanics. The intricacy of SDV's cooking recipes makes me appreciate the game even more.  The recipes are well-thought not only helping you with stat-increasing buffs or health boosts. With overwhelming choices, I still love making basics like Sashimi and Fruit Salad. 
Indeed, learning how to cook helps you become a better and more experienced farmer in Stardew Valley. Get saving and do that first upgrade for your kitchen!