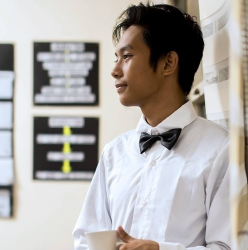 Latest posts by Arthur Monteclar
(see all)
If you've played Stardew Valley since 2016, you'd know how equally simplistic yet detailed the game is. It is a wholesome farming simulator that allows you to meet different engaging characters. The Pelican Town, the village you'll move into, is filled with friendly faces. 
Every character helps add a little spice to make the town a better and more exciting place to live in. They have their own background and stories that will not be an easy feat to know. The characters in Stardew Valley have unique personalities, different occupations, and views on life. 
In fact, you have to build a relationship and get close with an NPC to learn their secrets and anything beyond the surface. Some characters might look grumpy and simply not pleasant people to be around, but it takes a lot of patience and effort to reveal their life, just like George, for example.
He appears to be a tough and intimidating old man, but once you've improved your relationship with him, there's more than what meets the eye.
He might be a bit harsh, but you will definitely witness his sweet and endearing side once you become closer friends. His family is indeed an interesting bunch; his wife, Evelyn, has lived her whole life in town, while his grandson, Alex, moved to live with them when his mom died. Alex is also one of the twelve marriage candidates.
There's so much more to George than just being a grumpy old man in a wheelchair. So, read on and learn more about Stardew Valley's resident grandfather. In this blog, I will talk about everything there is to know about George, including his favorite gifts, schedule, hearts, and more! Warning: Spoilers ahead! 
Bottom Line Up Front
George falls into the grumpy old man with a soft heart archetype. He might seem intimidating at first, but you'll be in awe learning about his life as you get closer to him. Since he is really old, he has a lot of health problems. That's why he seldom leaves the house. 
You can typically find him at the General Store or Pierre's house when he leaves the house. In the store, he visits and prays to the Statue of Yoba. 
George's Essentials: 
Birthday: Fall 24

Home Location: 1 River Road

Family: Evelyn (wife), Alex (grandson)

Friends: N/A

Clinic Visit: All Seasons, Day 23

Night Market Visit: Winter 17

Occupation: N/A

Marriage: No 
George: Appearance, Personality, and Hobbies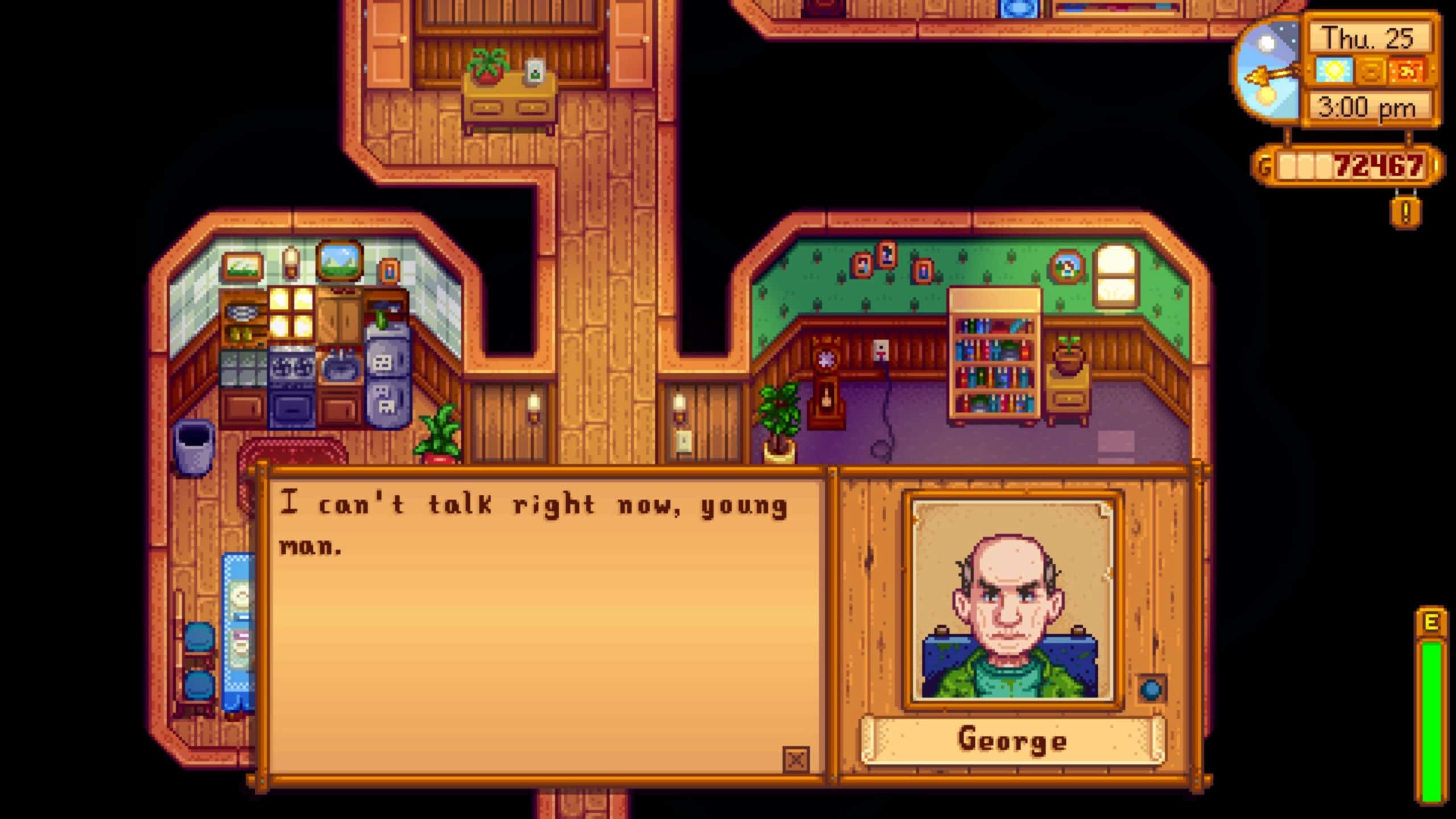 Appearance 
George looks like your typical grandpa. He has a balding head with white frizzy hair on the sides. He looks ill-tempered since his brows are constantly furrowing. You'll see his aging skin, fine lines, and wrinkles. All of which largely contribute to his stern and expressionless face. 
He wears a worn-out and stained aqua green shirt and a bright yellow-green jacket; the stains maybe because of his mobility issues. He is the only person who uses a wheelchair to move around in the village. His blue wheelchair perfectly complements his cool-toned outfit. 
Despite several modifications to different characters in Stardew Valley, ConcernedApe did not alter George's appearance.
Personality
Having little mobility can drive people to be irritable and mad. And it clearly shows how George interacts with others. Aside from his age, maybe being in a wheelchair for so long has significantly influenced his mood. He thinks that life has mistreated him, given his circumstance. You will usually see him frowning and getting really angry about the little things.
However, he can be a thoughtful and endearing friend. You'll appreciate his life and background once you get to know him even more. He will share different stories about his past and refreshing life lessons during your intimate conversations. 
Hobbies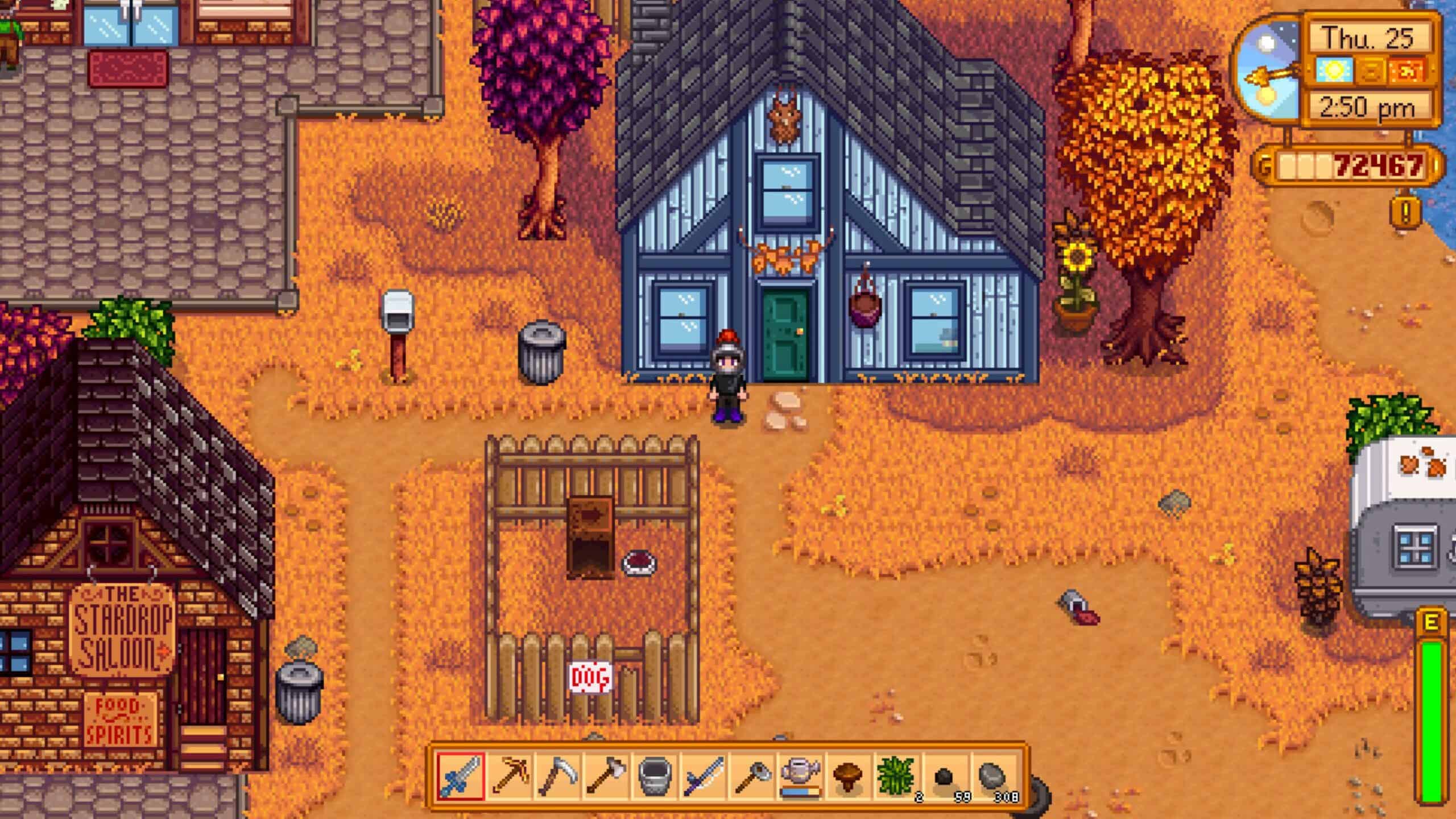 Because George is old and frail, he does not enjoy any strenuous physical activities. He was more active when he was younger and even spent most of his time in the mines. Currently, he loves to lounge in his house and relax in his living room while watching his favorite TV shows. 
Occasionally, you can see him outside his house observing the pots of flowering plants. I assume he loved gardening and farming when he was a tad younger. Besides staying inside the house watching TV, he also visits the local store on Sundays and prays to Yoba's Statue. 
George's most noteworthy trait is he loves doing things on his own. So, whenever you think he needs your help, let him do it first and wait whenever he calls upon you. Doing things independently probably gives him a sense of pride and joy. That's why he rarely appreciates any help. 
Schedule
Because George is quite old and has a lot of health problems, he does not enjoy leaving the house as much as he used to. He only spends most of his time in his living room. The only day he leaves home is on the 23rd of every season; he has a seasonal check-up and goes to Harvey's Clinic with Evelyn. 
Below is a more thorough rundown of his everyday schedule: 
Winter 17 ( Night Market Visit)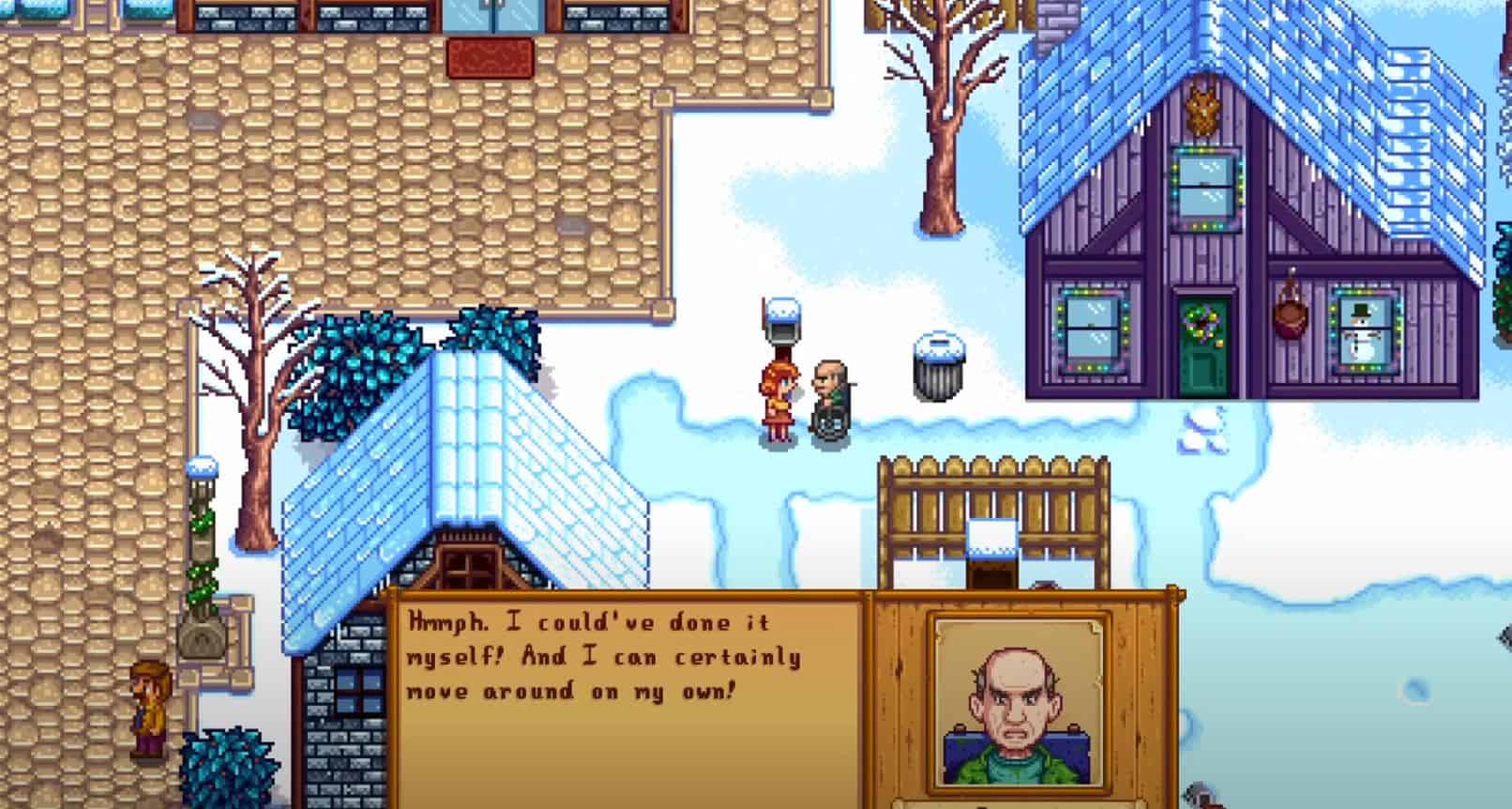 George wakes up pretty early than the rest of the villagers. You'll see him roaming around the house at 5:00 am. After that, he'll sit across from the TV and spend his whole morning before he goes to the kitchen table at noon. 
At 4:20 pm, he gets ready to attend the Night Market. He usually stays for the whole evening and goes home just 20 minutes before midnight. 
All Seasons, Day 23 (Clinic Visit)
George starts his daily routine at 6:30 am at the kitchen table and leaves home at around 10:30 am to go to Harvey's Clinic for his seasonal check-up. He will move to the exam room at 1:30 pm and leaves the clinic to watch TV at home. He sleeps in early at 8:00 pm. 
Raining
Do you love the rain? Well, George does not love it. So, whenever it's raining, he stays inside his house the whole day. At 6:30 am, you can find him in the living room watching TV. He remains at the kitchen table during lunchtime and goes back to the living room to watch TV again. At 8:00 pm, he gets ready for the night and sleeps. 
Sundays
George's routine starts at the same time every day. At around 6:30 pm, he is in his living room watching TV. However, this is probably one of the days when he is most active. I noticed that George loves to go outside and visit the Statue of Yoba inside Pierre's home on Sundays. 
He leaves his house at 10:00 am and prays across the Statue until 2:00 pm. After that, he heads home to watch TV and sleeps in at 8:00 pm. 
Regular Schedule
It's quite apparent that George is a home buff. He doesn't like spending his time outdoors. Once he wakes up at 6:30 am, he starts his day watching TV. He then goes to the kitchen table at noon, probably to eat his lunch. Then, he goes back to watch TV again. It's a pretty mundane routine, but he seems to enjoy it. Having alone time gives him the sense of peace and calm he needs. 
Relationships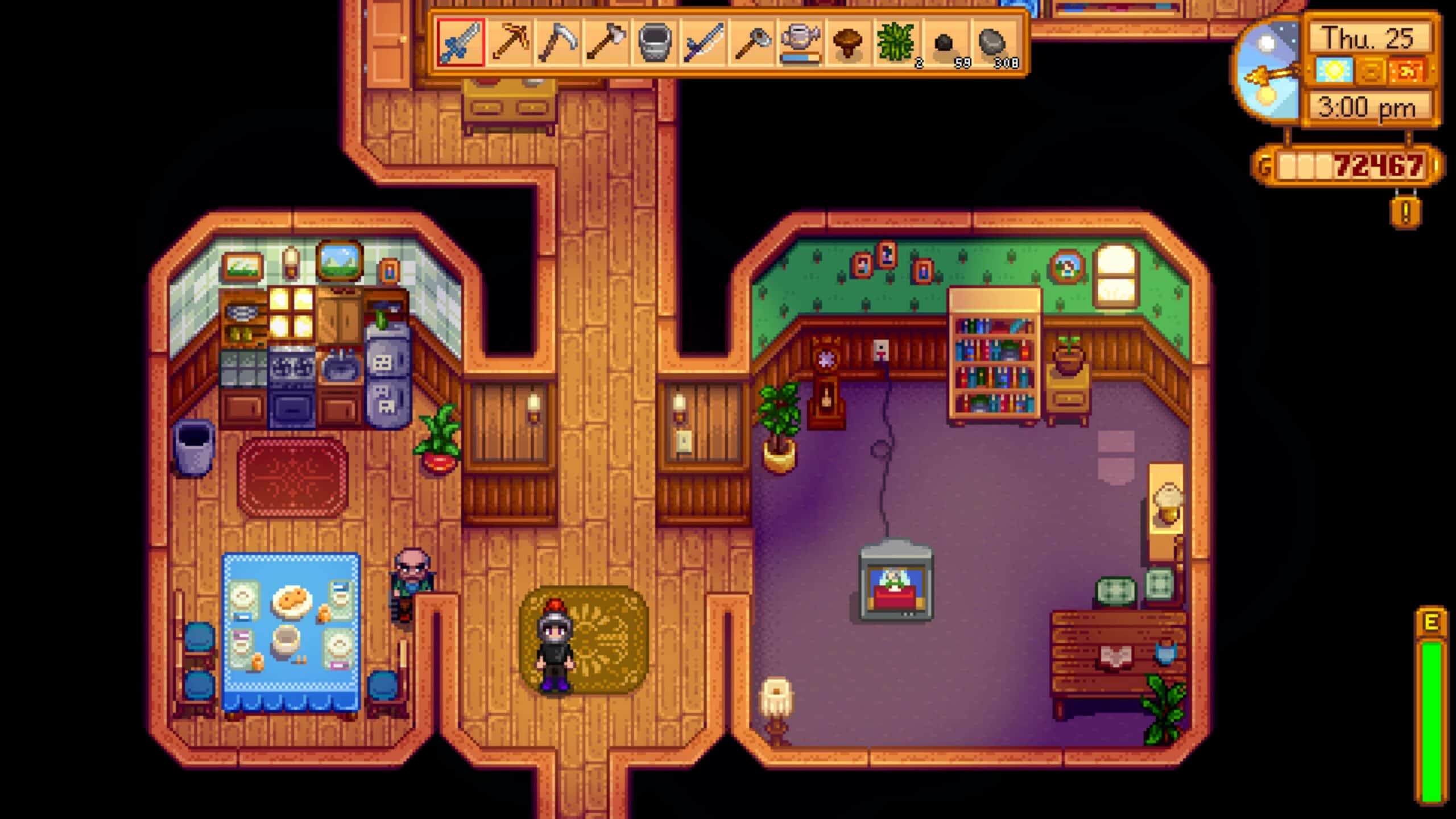 George is married to Evelyn. They've been together ever since the start, and they have a daughter named Clara. It seems to me that their daughter committed suicide and only left a note to Evelyn that writes: 
"Momma- If you're reading this, it means I've passed on. I'm so sorry you had to go through this. Know that I love you both.
Don't be too upset, I'm with Yoba now.
My final request: take care of Alex. He needs a family, something stable. He's a good kid.
Love, Clara"
This mystery wasn't thoroughly explored and discovered in the game. Many fans are left clueless about what the letter means. However, it's clear to me that George and her daughter might have a distant relationship considering she only addressed the letter to Evelyn.
While Alex is his grandson, they don't seem pretty close. They rarely interact and talk to each other. This might be significantly influenced by George's moody and irritable attitude. Interestingly, George doesn't have any friends in town.  
Quests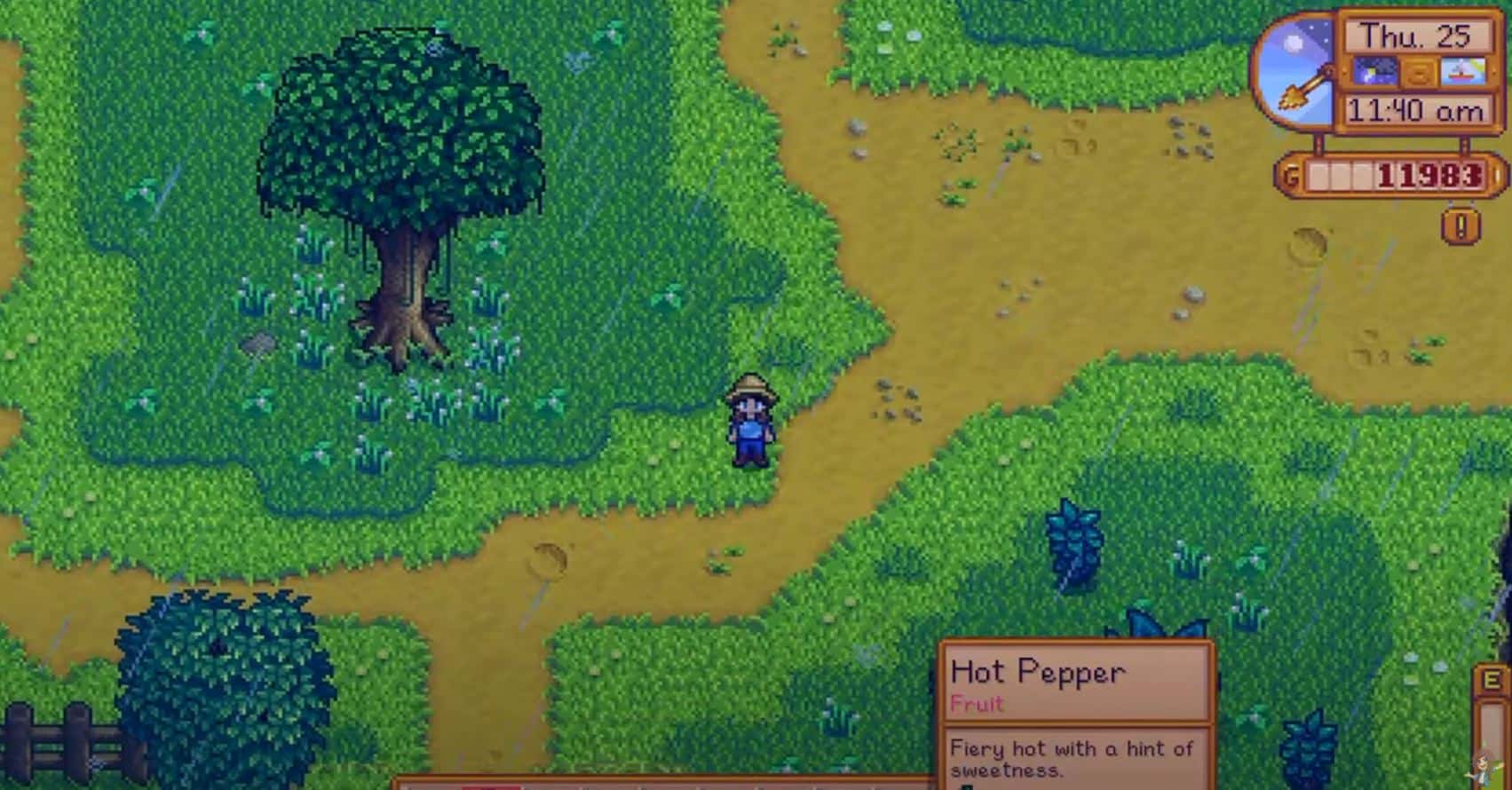 Among the best ways to build your friendship with George is doing his quests. Every time she asks for help, you can be at his beck and follow his requests. This way, you can significantly increase your friendship points with him. He only has one task to complete and a couple of favors posted on the "Help Wanted" board.
Here are the following tasks you need to accomplish to befriend George: 
Knee Therapy
Natural remedies can significantly aid George's bad knee. He will send you a letter on the 25th of Summer to help him with his ailing knee. He requests you to bring him a Hot Pepper in the letter because it will help treat his bad knee. Once you deliver the item, he will reward you with 200 g and 1 Friendship Heart.  
Help Wanted Board 
While George seems a bit prideful, he loves asking for help from time to time. So, he may randomly request an item at the "Help Wanted" board outside the General Store. When you deliver the item, George will reward you thrice its base value plus 150 Friendship Points. 
Side Quest: Advanced TV Remote 
It's no secret that George loves watching TV. You can make him extremely happy by giving him the Advanced TV Remote. It's perfect for an avid TV buff like George since it has more buttons than the regular remote.
You can obtain the item by completing a quest called "The Pirate's Wife." Once you've gathered and obtained the items in the quest, you need to give them to the rightful owners; as for the Advanced TV Remote, you need to give it to George. 
Best Gifts for George
George is not a hard pleaser when it comes to gifts. He likes accepting everyday foraged items. So, you wouldn't have a hard time finding the perfect gift. Always remember you can give her two gifts per week, and an extra one on his birthday on Fall 24. 
Giving gifts on his birthday will either give you eight times increase or decrease in Friendship points depending on your gift. When he loves the gift, he'll say, "This is my favorite thing! Thank you."
Fried Mushroom

This home-cooked dish has an aromatic and earthy flavor. You can prepare it using a cookout kit or inside a kitchen of an upgraded farmhouse. Aside from being scrumptious, this dish offers a +2 attack buff for seven minutes. 
I would safely assume that George loved gorging into this meal when he was out in the mines hunting and scouring precious gems and metals. To make the dish, you need to obtain the recipe from Demetrius (+3 Hearts) and prepare all the ingredients, such as Common Mushroom (x1), Morel (x1), and Oil (x1).
Leek

Early in the game, you can immediately spot leeks around town. This is one of the most common foraged items during Spring. You can find them on the Mountain, the Backwoods, the Bus Stop, and the Railroad. So, you will be spoilt for choice foraging leeks in town. 
If you hate walking around and foraging, you can also grow your leeks on your farm by planting Spring Seeds. You can also grow leeks on your farm from Spring Seeds. However, it will yield different mature plants, including Wild Horseradish, Daffodil, and Dandelions. 
George's Most Hated Gifts
Many Stardew Valley fans noticed that George hates random things, but one common denominator among them is anything foraged. So, gifting foraged items can be tricky since he loves and likes them as well.  You need to remember that he only wants two foraged items: Daffodils and Leeks—all the rest might not be up his alley. So, be careful! You might lose those precious friendship points whenever you give him the wrong gifts. 
Every time he hates the gift, he will not hide his disappointment and say, "This is probably the worst gift I've ever seen. Thanks a lot."
Here's a list of all the items he hates: 
Clay 

Dandelion

Holly 

Quartz
Aside from these four, he also dislikes two specific items, which are Salmonberry and Wild Horseradish. Whenever you give him these gifts, he'll tell you, "That's a terrible gift."
Going to the Movie Theater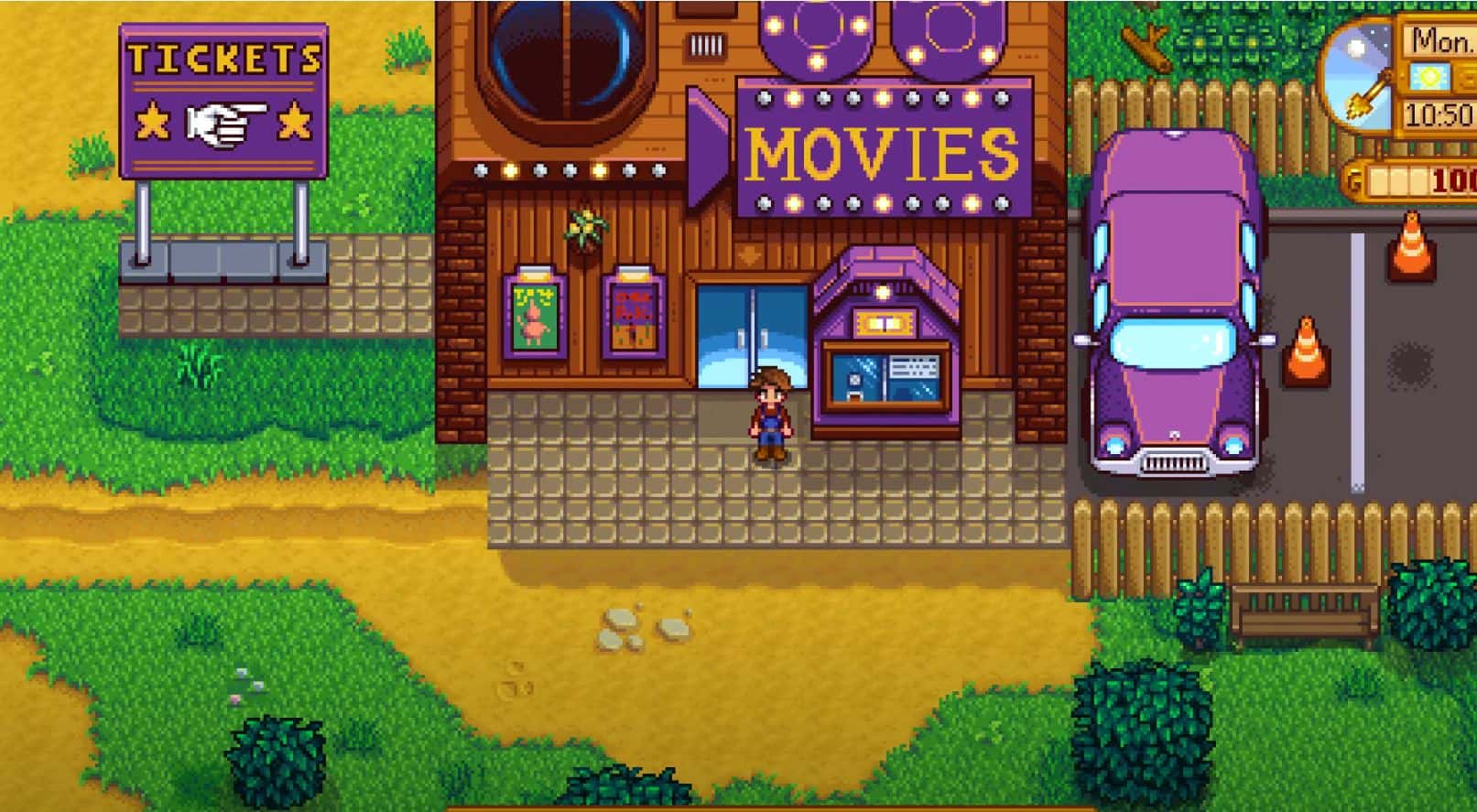 If you accomplish the Movie Theater bundle, you can also bring an NPC to the movies once every seven days. Bringing George to the cinema and giving him a ticket for a movie he loves will increase your Friendship points by 200. Whenever he doesn't like/love the film, it won't cost any Friendship deduction.
There are only eight movies to watch, so it's also essential to know which movies he loves. This way, you would waste 1000g on buying the ticket. 
When it comes to movies, George loves: 
George also likes; 
Natural Wonders: Exploring Our Vibrant World
The Brave Little Sapling
The Miracle At Coldstar Ranch
Wumbus
Always remember that George does not like;
It Howls In The Rain
Journey Of The Prairie King: The Motion Picture
Mysterium
And while you're watching movies, you should also consider giving him his favorite snacks from the concession stand. George appreciates receiving snacks. You will earn 50 Friendship points for a loved snack and 25 Friendship points for a liked snack.
These are the snacks George loves; 
Black Licorice
Stardrop Sorbet
He also likes the following: 
Fries
Nachos
Personal Pizza
Popcorn
Salmon Burger
Salted Peanuts
Sour Slimes
Truffle Popcorn
Don't forget that he hates any snack that is not on his loved or liked list. So, avoid giving him anything that isn't on this list. 
Heart Events 
Anytime
George will send you a gift in the mail at any Friendship level greater than zero. He will send you 35 pieces of stone. The chance of receiving this gift increases as you build your friendship with George. 
Along with the gift is a letter that writes: 
Found some good quality stones.
Maybe you can build with it or something.
-George
Three Hearts
Once you've reached three hearts with George, he will send you another gift in the mail. It is a recipe for one of his favorite dishes, the Fried Eel. He mentions that he is pretty excited to share this with you since he had this recipe lying around. Quite jokingly, he also writes, "Try not to burn it."
To make the Fried Eel, you need eel (x1) and oil (x1).
Six Hearts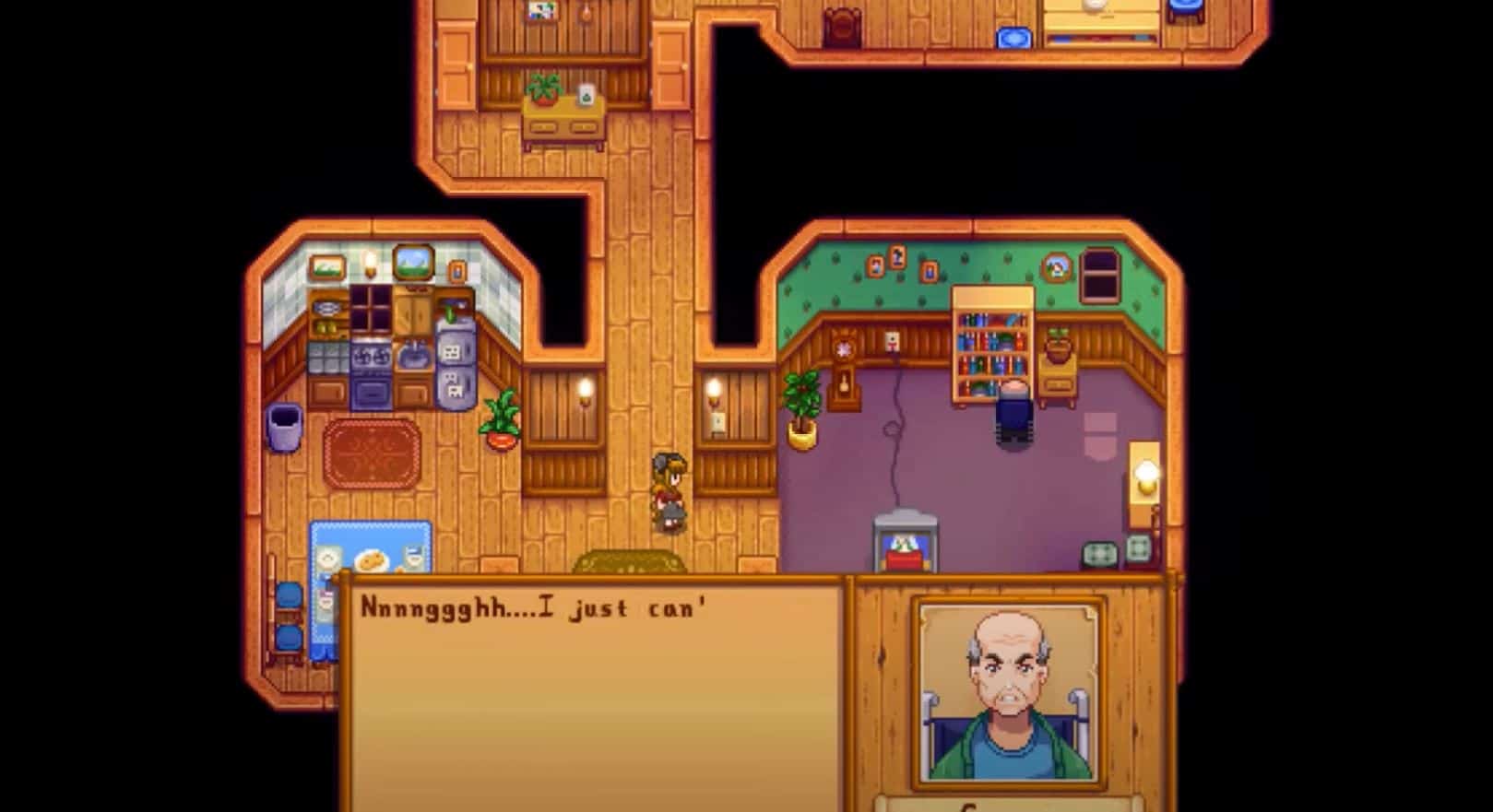 To trigger the six heart event, you need to enter George's house when he is around. You'll witness George struggling to reach something on a bookshelf. You get to help him by retrieving the item yourself. George thanks you, but an awkward silence plagues the scene. To cut the awkwardness, George starts talking about his life and the reason why he is in a wheelchair. 
Seven Hearts
This is George's last heart event. Once you reach seven hearts with George, he will send you a gift in the mail. It's a jazzed-up recipe for his favorite dish. 
The Spicy Eel is a profitable recipe and gives you additional luck(x1) and speed buff (x1) when consumed. Unlike the Fried Eel, you won't need oil for this recipe; instead, you will need one Hot Pepper. 
Just like when he sent you a recipe before, he'll also enclose a letter that writes: 
Figured I'd give you this recipe I had lying around. Try not to burn it.
-George
Interesting Trivia Facts about George
George will request Quartz even though he hates it
If you're keen on checking the "Help Wanted" board, you will notice that George will sometimes post requests. One of his requests is to bring him Quartz for his aching back. While this doesn't raise any eyebrows, giving George Quartz on any other day except when he requests it will provide you with a demerit in Friendship points. 
This is because George hates Quartz as a gift. Every time you give him Quartz, he will practically tell you this: "This is probably the worst gift I've ever seen. Thanks a lot."
He Had a Terrible Mining Accident
It's common knowledge to all Stardew Valley fans that George cannot walk or move without a wheelchair. However, not many fans know the real reason behind that. If you're still new to the game, this might be a surprise for you; George had an accident working in a coal mine over 30 years ago. 
While his accident is not an excuse for his sour and grumpy attitude, he suffered a lot and lost his lower limbs when he slipped when setting off dynamite—primarily the reason why he can never walk again. Interestingly, you might notice that he will make footstep noises as if he was walking. 
Evelyn hates George's Eel Recipes.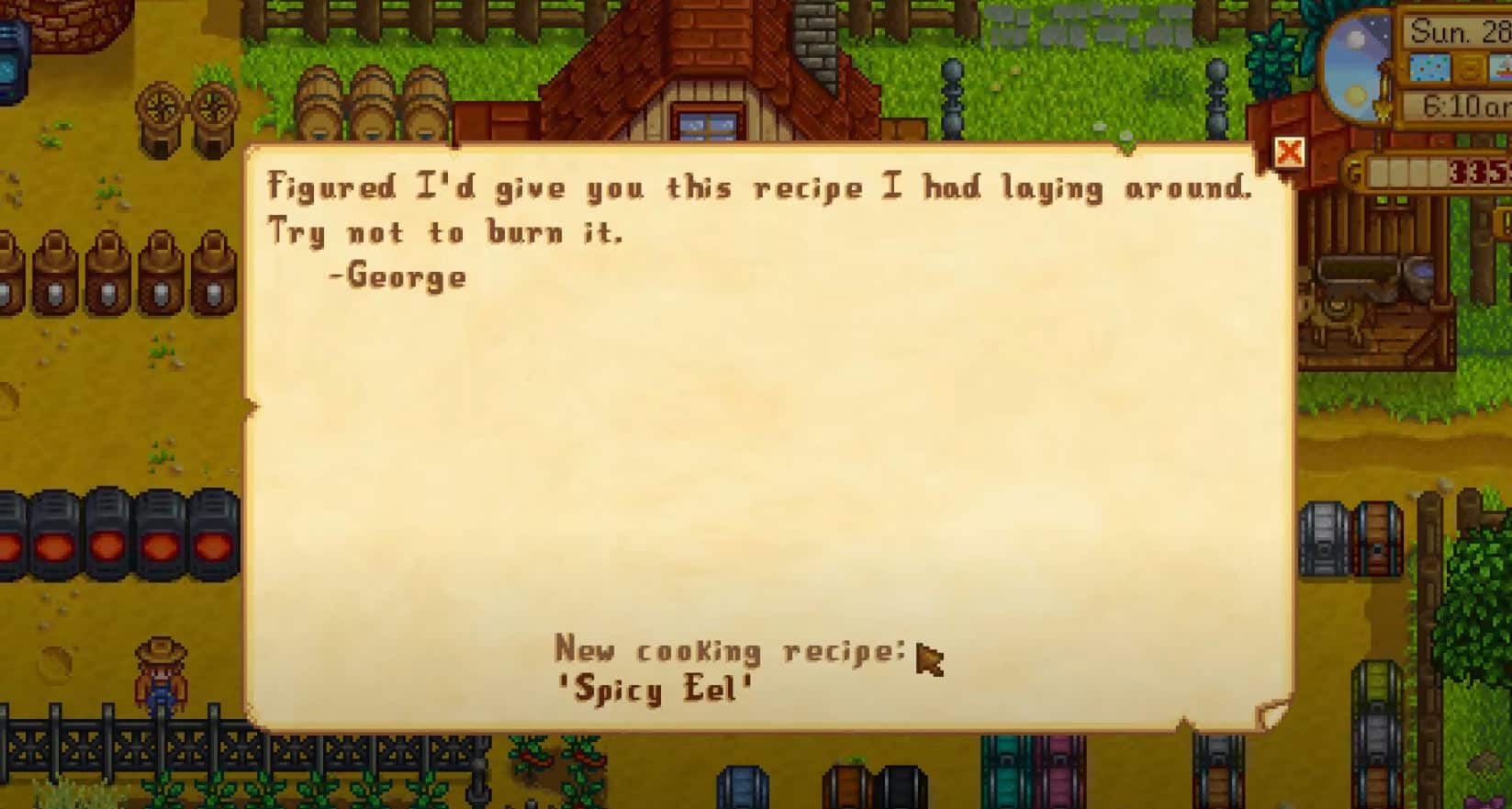 George loves to give you valuable recipes like the Fried Eel and Spicy Eel. They offer excellent nutrition and health buffs. However, these two dishes are among Evelyn's most hated gifts. She probably hates it because of its exotic, greasy texture. 
George met his wife during a Festival
George is not really keen on sharing his personal life with you, even when you're already close friends. However, Evelyn usually shares juicy details about his relationship with George. In one of your conversations, she will tell you that she and her husband met in a snowball fight during the Festival of Ice. She even recalls that George used to be "a gentleman" when they were younger. 
FAQs
Question: Where can I find George in Stardew Valley?
Answer: It's not really tricky to find George in Pelican Town. He usually stays in his house at 1 River Road with his wife and grandson. Whenever he's out, he just visits the Statue of Yoba at the General Store. Aside from that, he goes to Harvey's Clinic every season on the 23rd day. 
Question: What are the best gifts for George? 
Answer: George is very easy to please. He loves most foraged items during the Spring Season. I personally recommend giving him Daffodils, Leeks, and Earth Crystals because they are relatively easy to obtain.
Question: Where does George hang out in Pelican Town?
Answer: George loves spending time alone. He does not have any friends in town. That's why he is mostly cooped up in his living room watching TV. He doesn't go out to get groceries or even go to the Saloon. Sometimes, you can spot him on the town's grounds. 
Question: Where does George work in Stardew Valley?
Answer: George no longer works. However, it's safe to assume that he worked as a coal miner in his younger years before his terrible accident. He seems experienced and knowledgeable about the mines when he recalls his life as a previous miner. 
George Stardew Valley Guide: Bottom line
It's pretty easy to judge and hate George for his sourgraping and toxic traits. However, the more you get to know him, the more approachable and interesting his life is. He is like a typical ill-tempered yet thoughtful grandpa. The moment I tried to befriend him, I started cracking the code that his life isn't always rainbows and butterflies.
Despite that, he always tries to give a straight face and not show his vulnerabilities to others. It's pretty impressive to befriend such a character because you get to understand and relate to him as well. I was even devastated to know the real reason behind why he was in a wheelchair.
George is an interesting character, and befriending him offers some perks. If you don't want to miss out on his rewards and engaging conversations, then try and build your relationship with George.