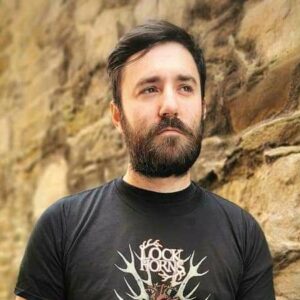 Latest posts by Callum Marshall
(see all)
When you sit down for your first-ever playthrough of Stardew Valley, you approach the game with a certain naivety that is both a blessing and a curse. When you begin, everything is brand new, and every character is making their first-ever introduction.
Each new area is untapped and begging for you to explore, and all the secrets hidden within this charming adventure are there to be unraveled; what I wouldn't give to experience Stardew Valley as a newbie again.
However, those that come fresh to the game don't quite understand how intense this game can be, how organized you have to be to truly excel at this game, and how even the most minor decisions in the early game can alter your entire playthrough.
The best example of this is the Farm Layouts that players will be offered when they begin their adventure. On the setup menu, the player will have a choice of some pre-set farms, offering different biomes and quirks that will alter your long-term Stardew experience.
It can be an overwhelming choice to make, especially if you don't have all the info needed to truly make an informed decision. Well, luckily for you, I have first-hand experience playing on all of these farm types, and I have a good sense of what the ideal layout looks like so that you can thrive in the late game.
In this guide, we will be breaking down the different farm layouts present in the game to help you understand their features, and then we will be offering a few ideal arrangements for each. So let's go! Here is our Stardew Valley Farm Layout Ideas Guide.
The Pre-Set Farm Layouts in Stardew Valley
Let's kick things off by breaking down each of the Stardew Valley farm maps on offer. There are six to choose from, and each one offers something completely unique. Check it out:
Standard Farm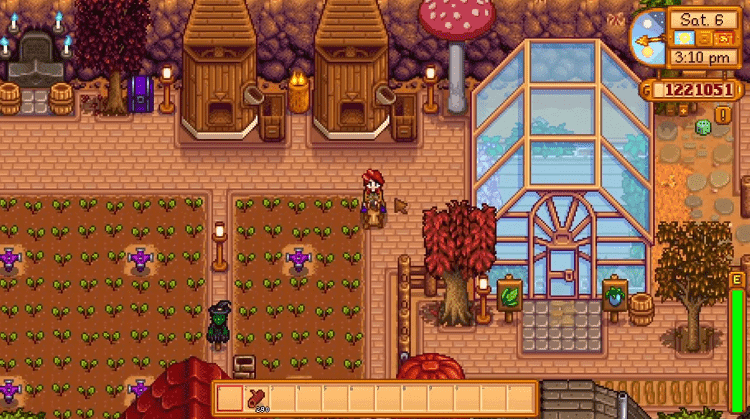 First up, we have the standard farm. This is the farm that most new players will go for, and honestly, that is the right decision as you then have the versatility to turn this farm into anything you like, with maximum space to work with and no limitations in terms of your farming methods.
Sure, it can be a little boring as it doesn't have any fancy features, but if you use the space right, those benefits given by other farm maps become irrelevant in the long term.
Key Features
Tonnes of space

Virtually no limitations

Vastest area of tillable soil, making it best for crop farming
Wilderness Farm
Next, we have the Wilderness Farm. Now in terms of shape, structure, and things that this farm map has to offer, it doesn't really stray too far from the Standard Farm map. However, there is one important caveat, and that is monsters.
When the player plays on the Wilderness map, there will be a cavalcade of monsters that spawn on the island and cause chaos while you go about your daily routine. Outside of that, there is a little less farming room and more water, but on the bright side, you can catch mountain fish on the farm, which is nice.
Key Features
Monsters will spawn on your farm

You can get your hands on monster drops without venturing to the mines

Less room for farming due to more bodies of water

Players can catch mountain fish 35% of the time
Mountaintop Farm
Next on the list is the mountaintop farm, a farm that caters to those players that put a lot of stock in the mining profession. This area's key feature is the mini-quarry that players will have access to in the bottom-left of the farm.
However, the main drawback of this farm is that due to all of the high areas, and the cliff faces, there is much less space for building and farming. For new players, much like the Forest farm, this is a comfortable step up in difficulty from the standard farm without being too overwhelming.
Key Features
A Quarry is available on the farm. (can sometimes be blocked by boulders or logs)

Less farming and building space due to the mountain format

Players can catch river fish on the farm
Forest Farm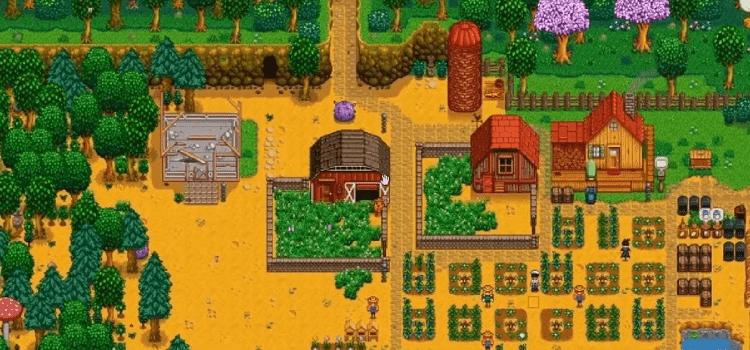 Now we have the Forest Farm, by personal favorite primarily due to the aesthetic but also because of the cool features it offers. This farm has a lot less space for farming overall as there are more bodies of water, and there is a large portion of the farm that mimics the features within the Secret Woods.
The player will be able to gather up to 20x Hardwood on the farm every day, and you can also find Forest Forage and seasonal forage on the farm too. Then a lesser-known fact is that there are unique weeds that ensure that players get mixed seeds instead of fiber, which can be invaluable when you are starting out.
Key Features
Unique weeds offer a guaranteed batch of mixed seeds

Can gather Forest and Seasonal Forage on the farm

You can chop Hardwood stumps on the farm (8 Stumps daily)

Significantly less room due to the forest and water added go this map

Can catch Woodskips and fish found in the Cindersap Forest
Riverland Farm
Now we move onto the Riverland farm, which is unsurprisingly a farm that is made up mostly of rivers and other bodies of water. Yes, there is still limited space where you can build farm buildings, and there is tillable soil that you can use to grow crops, but it only makes up about 30% of the landmass.
It's probably the most challenging farm for new players to adjust to, as the farming methods needed to succeed are so far removed from the traditional standard layout.
Players will need to fish a lot, use Crab Pots in excess, make the most of their limited space, and they will also need to gather a lot of their wood away from the farm. Overall, an excellent farm for fans of the fishing mini-game but a tricky one to master.
Key Features
The farm is made up of 70% water

The player is able to catch river fish on their farm

Significantly less tillable soil for farming
Beach Farm
One of the most recent Farm Map additions has been the Beach Farm, which is perhaps the most unique of all the farms on offer. This map offers a lot of unique features which provide benefits and drawbacks to the player.
The positives of choosing this farm are that there is the ability to catch sea fish on the farm, you can collect lots of beach and forest forage without ever leaving your private land, and you occasionally find supply crates washed up on the shore.
Honestly, it all sounds peachy, but the one key drawback of this farm is that the player is that sprinklers are useless on this map as the sand doesn't allow for these machines to work effectively. For this reason, this is not a farm that is geared towards new players, but if you fancy a challenge, this is absolutely the way to go.
Key Features
Players can catch sea fish on the farm

Slightly less tillable soil for farming

Supply crates often wash up on shore

Players can collect sea and forest forage on farm

Sprinklers have no effect
Four Corners Farm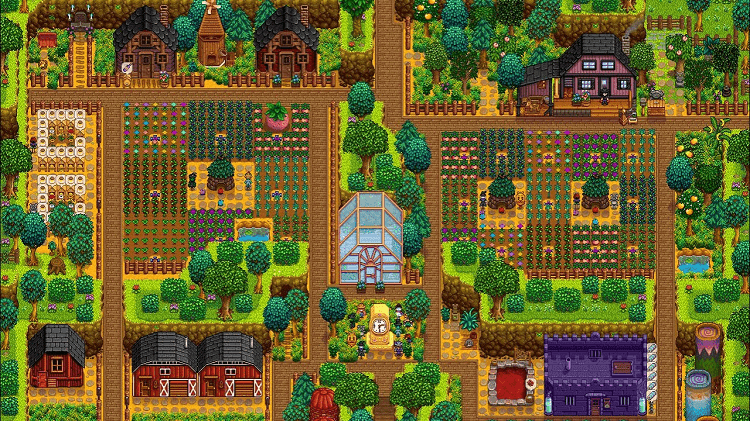 Then lastly, we have the Four Corners farm, a farm that is geared towards Co-op players that like to have their own space. This, in terms of features, is somewhat similar to the standard farm, but the farm is segregated into four areas, offering equal space for each farmer to call their own.
However, it also provides mini-versions of the different unique farm maps, and players can pick their quadrant based on their preferred profession. The top-right is modeled after the standard farm; the top-left is a forest farm quadrant with stumps and unique weeds.
Then the bottom-left is a fishing farm where you can catch Cindersap Forest fish, and finally, the bottom-right is a mountain farm where players will have access to a teeny little quarry section.
Separated into four and perfect for co-op playthroughs

quadrants are geared toward certain professions (Fishing, Farming, Mining, Forage)

Slightly less tillable tiles than standard farms
Stardew Valley Farm Layout Ideas
Okay, now that you understand what each farm map has to offer, it's now time to show you the best in class when it comes to building a farm you can be proud of. Before we begin, here are our selection criteria:
Uses all of the space available effectively

Is aesthetically pleasing

Features all the key buildings needed for a 'complete' farm
Plus, we are going to combine the standard and wilderness farms as they are so similar. Okay, here we go:
Standard Farm/Wilderness Farm
The Perfect Balance of Beauty and Practicality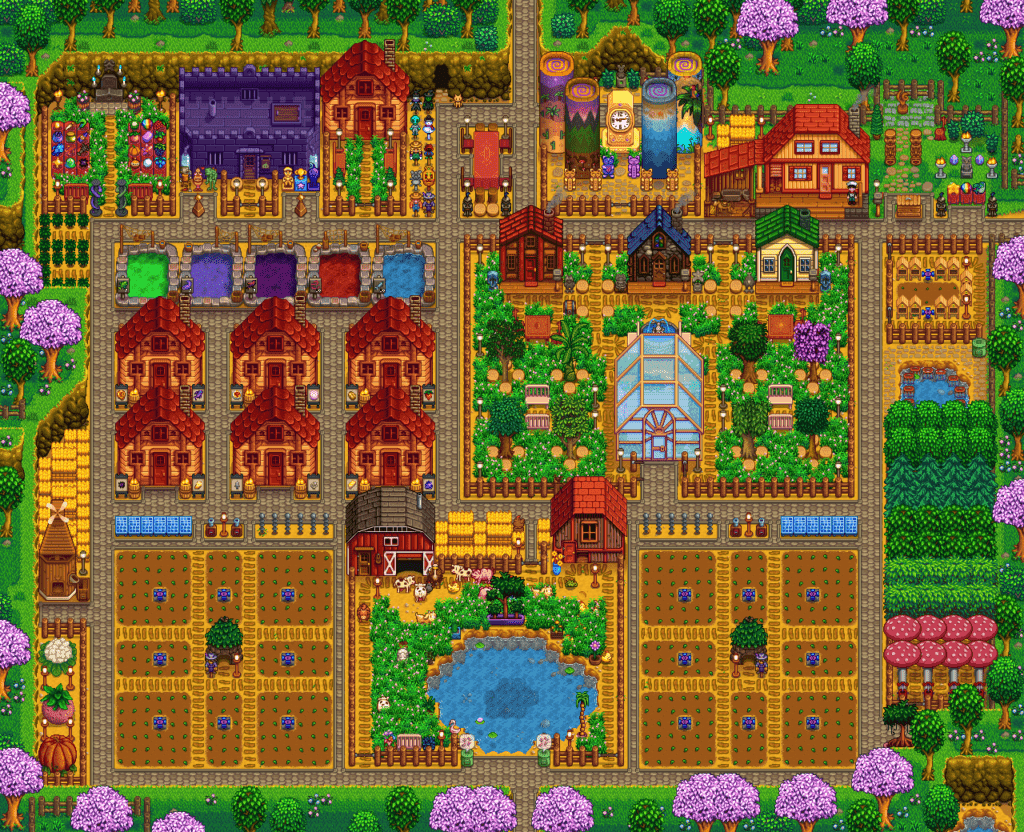 Let's begin proceedings with this gorgeous standard farm design. If you are looking for something that has a little bit of everything and crams it into this tiny space, then this design will be just the ticket. You have all your essentials like Barns, Coops, and Junimo Huts with huge crop fields, mills, lightning rods, bee houses, fish ponds, and sheds.
Then there are even some luxury additions like a Slime Hutch and a section dedicated to the magical obelisks and the Gold Clock.
However, the best part of this design is the little details like the Giant Crop field, the organized orchard of different trees, including Giant Mushroom trees, the gorgeous plaza where the player houses are, and the shrine for Grandpa is also a nice touch.
The Bee Farm Layout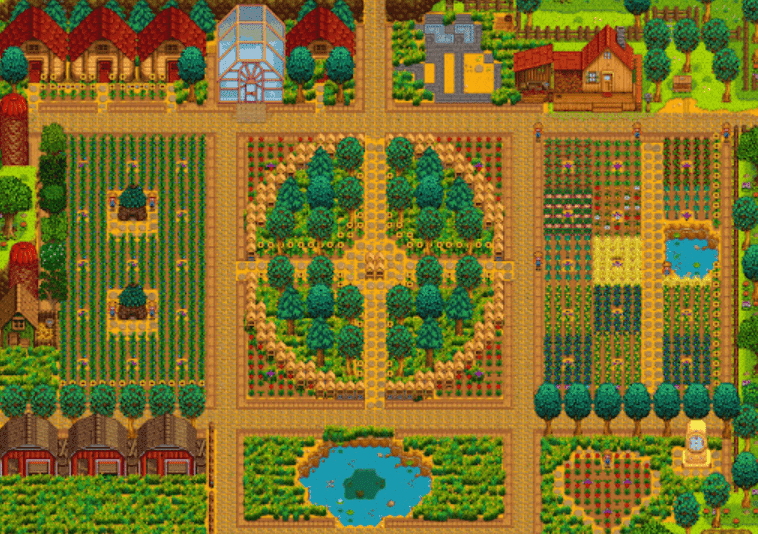 This might not be as jam-packed with features as the entry above, but if you are someone that values beauty above making money in Stardew Valley, this might be more to your taste. In this design, you still have all the essentials and even some luxuries like the Gold Clock to keep things pristine.
However, it's the aesthetic decisions that make this design great, such as the gorgeous red flowers in the heart-shaped plot and, of course, the centerpiece of the entire farm, the circular park area, which is chocked full of beehouses. So if you want to rely on honey as your primary source of income, this is a fantastic idea.
A More Achievable Farm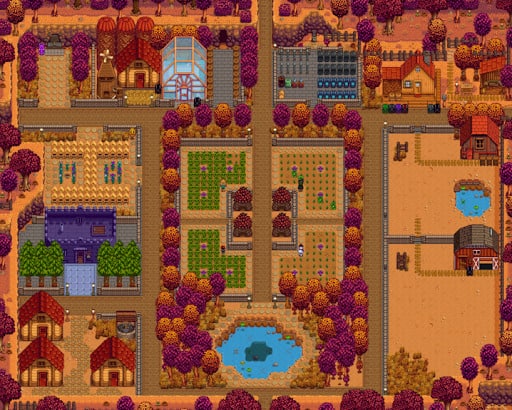 We recognize that the two above are more in line with dream farms which will be more suited to players with years and years of in-game time invested. So we thought we would offer a farm layout that is a little less complex and more achievable.
This one has ample space for your animals, a lovely central area with Junimo huts for farming crops, an area for sheds, a Slime Hutch, and an area dedicated to machines and artisan apparatus. It's an excellent neat design that has the flexibility to be altered and added to as you go further in the game.
Forest Farm
A Woodland Hideaway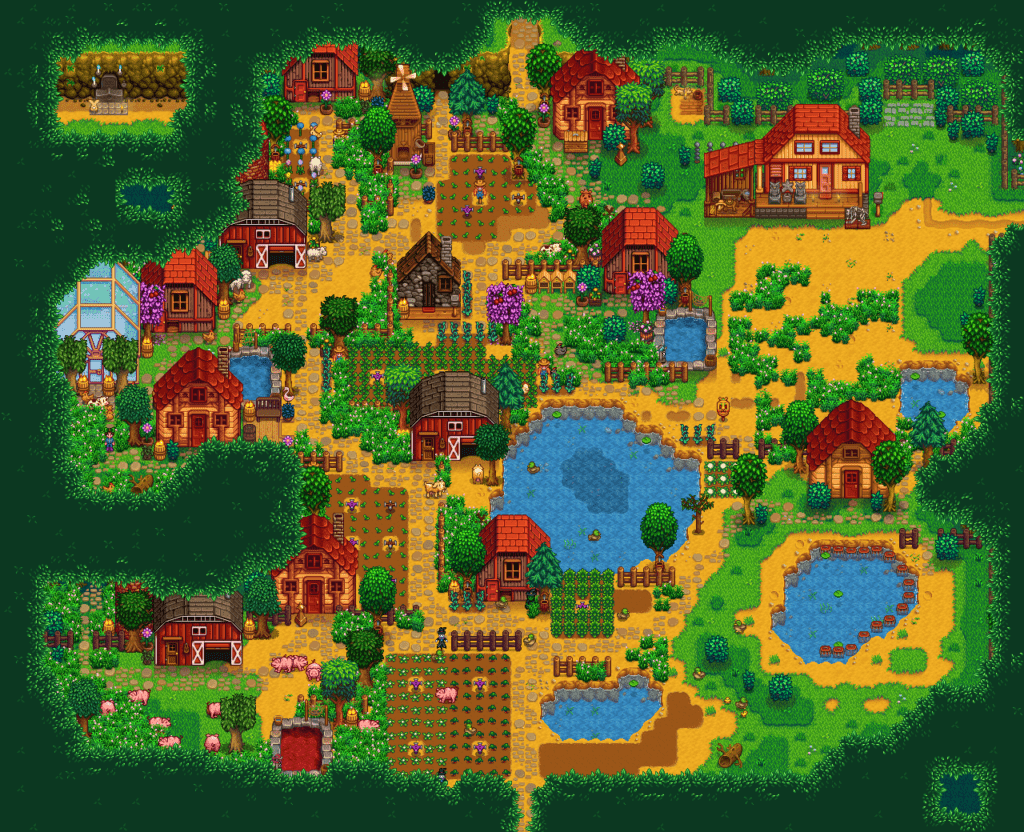 Now we have the forest farms, and this one is an excellent and simple design that doesn't overload the space and retains the quaint feel that a forest setting offers, as this farm blends with the natural environment. Here you have the essentials and little else, with little pockets of the farm dedicated to animals who can roam freely around this relatively open space. It hasn't got all the bells and whistles, but it sure does look tranquil.
The Land of Elves and Pixies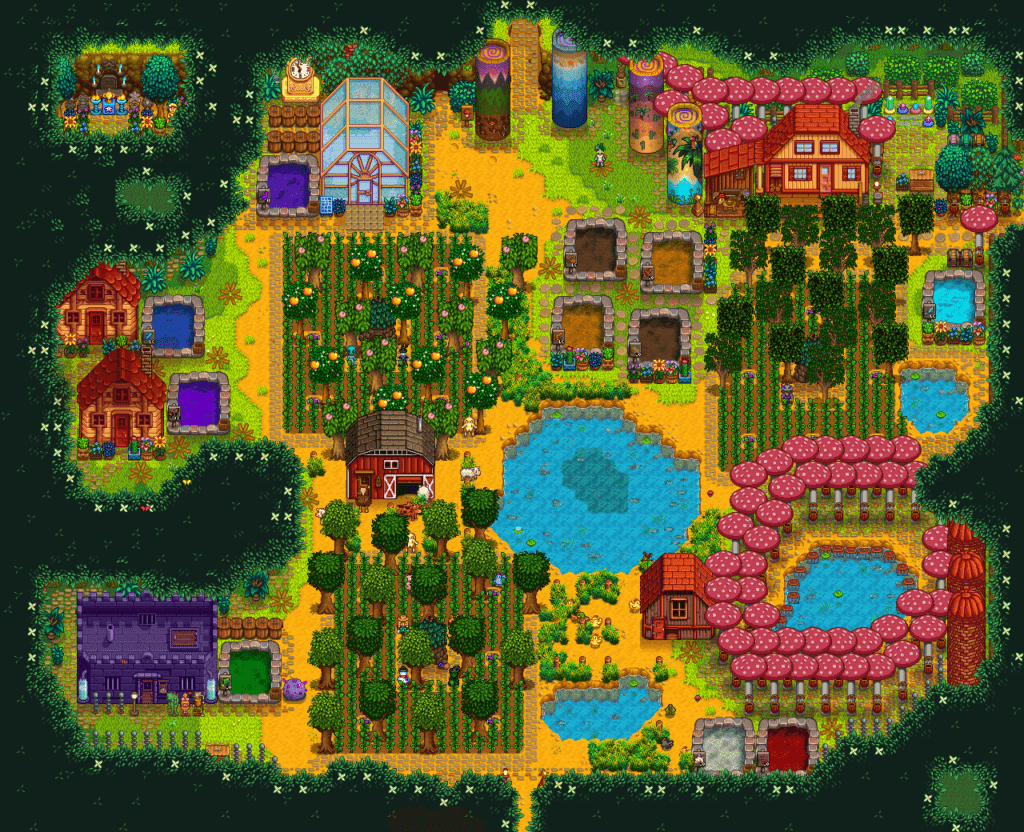 Now we have a forest farm that leans more into the magical lore of the Junimos and the other magical creatures present within the game. This farm looks like something straight out of a fairytale, with an abundance of trees, mushrooms, and multicolored ponds.
It could maybe be a little neater, as those Obelisk positions bug me a little personally, but overall it's an incredible and vibrant design work emulating.
Riverland Farm
A Farm Found Downstream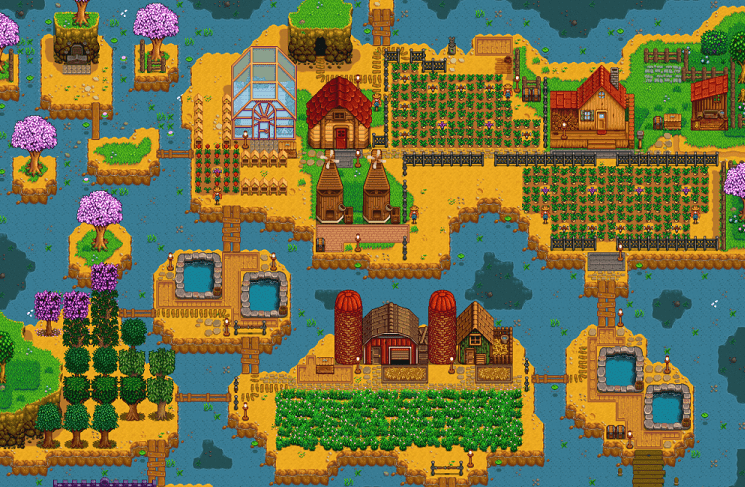 Now we have the Riverland farm format, a map type that is perhaps the most difficult to turn into a functional and thriving farm. Space is hard to come by here, but this example above shows that you can still have it all. We like that each island on this farm has a different function.
You have an island for animals, one for crops, one for Fish Ponds, another for a slime hut, and even a little orchard. We admit it isn't perfect, but truthfully, very few river farms are. These farms are about sacrifice, but with this format, you can have a functional and balanced farm.
By the River, a Farm that Delivers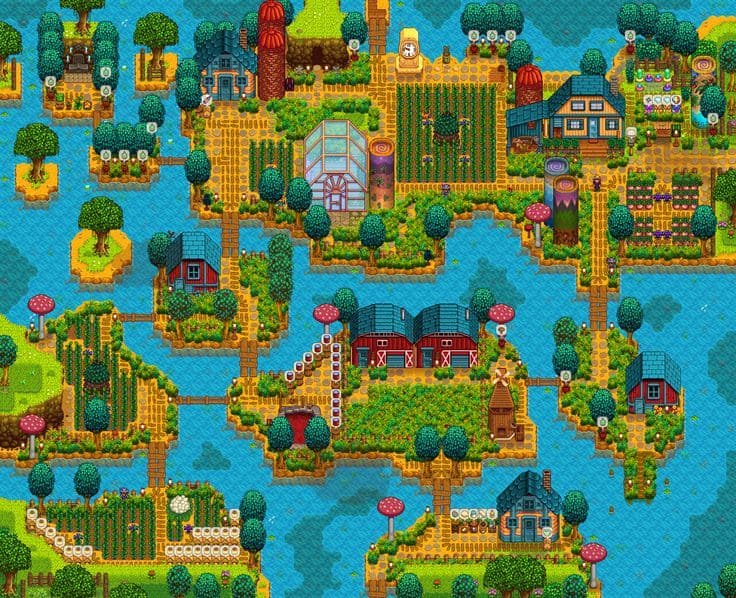 We reckon that the river farm above is a step up from the previous entry and is about as close as you can get to having it all with this farm type while still keeping things looking neat. This farm uses the same segregation method with different farming methods separated by island.
However, this one has all the extras like Mushroom Trees, Obelisks, and the like, as well as some decorative gestures. We love the way this is put together and how everything is crammed in without it looking claustrophobic. This farm can be a nightmare to manage, but when it looks this good after all that struggling, it makes it all worth it.
Mountaintop Farm
Up in the Hills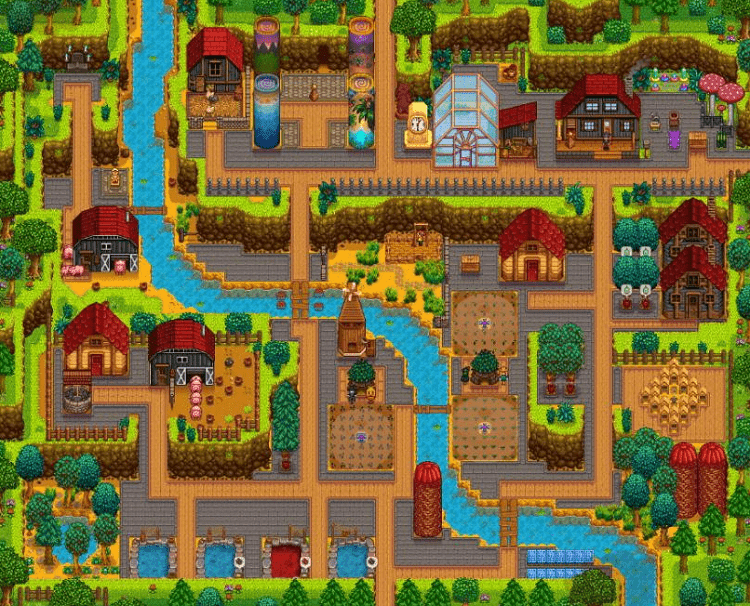 Next, we have the mountain farms, which just so happens to be my first ever farm, so I'm pretty familiar with what makes a lovely mountain farm. Now, this one is a good one and one that players can quite easily emulate without too much effort.
The format is pretty straightforward; the farming areas are limited, making it easy to maintain, and the aspects of this farm are nicely spaced out, meaning it doesn't feel cramped. We love this bee house plaza and the four pillars area. However, I do have gripes with this one.
Firstly, I don't like that the stairs are pasted over with wooden pathways, as it takes away from the mountain aesthetic. Plus, Grandpa's shrine looks a little bare. However, all in all, this is a very attainable and well-designed mountain farm.
A Farm with Lofty Standards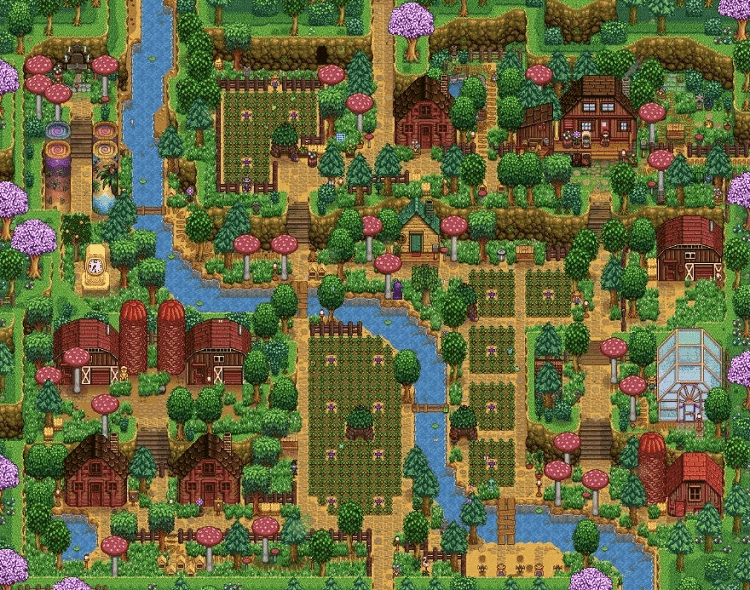 Then we have another mountain farm which is essentially the first option but better. This design incorporates more color through the use of Mushroom Trees, they make sure they leave the staircases as is to maintain the mountain aesthetic, and the space is used much better for those that like to make huge profits, with tonnes of crop beds.
On the flip side, there isn't a lot of artisan farming incorporated into this design, but that's a small sacrifice to make.
Beach Farm
Sand, Sheds, and Seashells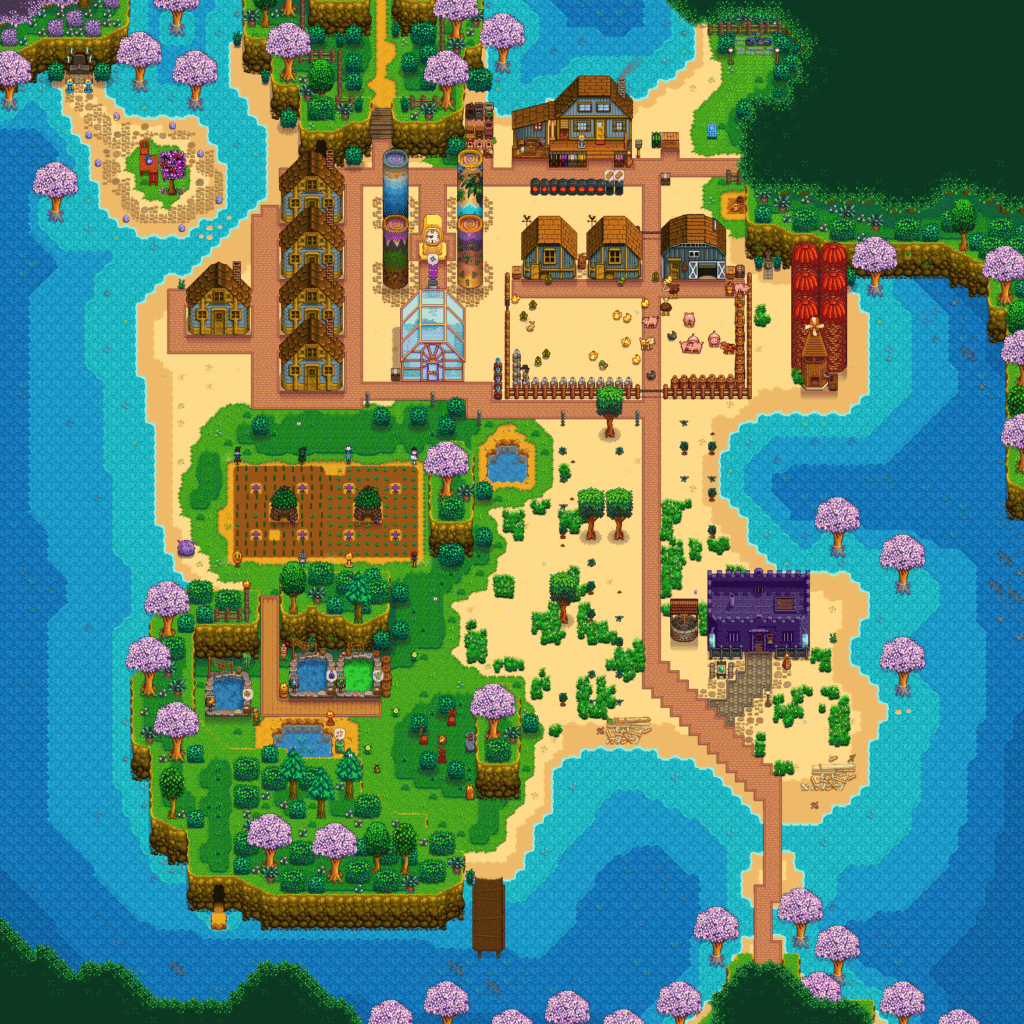 If you have tried to run a Beach Farm, you will know that the way you make money is very different. You need to lean into artisan farming, fish farming, and livestock to turn a profit, and this design lends itself to that. Here we have a plan that offers all the end game buildings, Barns, Coops, Fish Ponds, a Slime Hutch, and even a concise area for automated crop farming.
However, we would wager that the vast majority of the money being made is happening in those sheds lined up in a row.
It's a classy design that manages the limitations of the beach farm well while still keeping things feeling spaced out and satisfying to look at. We would personally change up the bottom right corner of the farm, but that's a matter of preference.
Trees by the Sea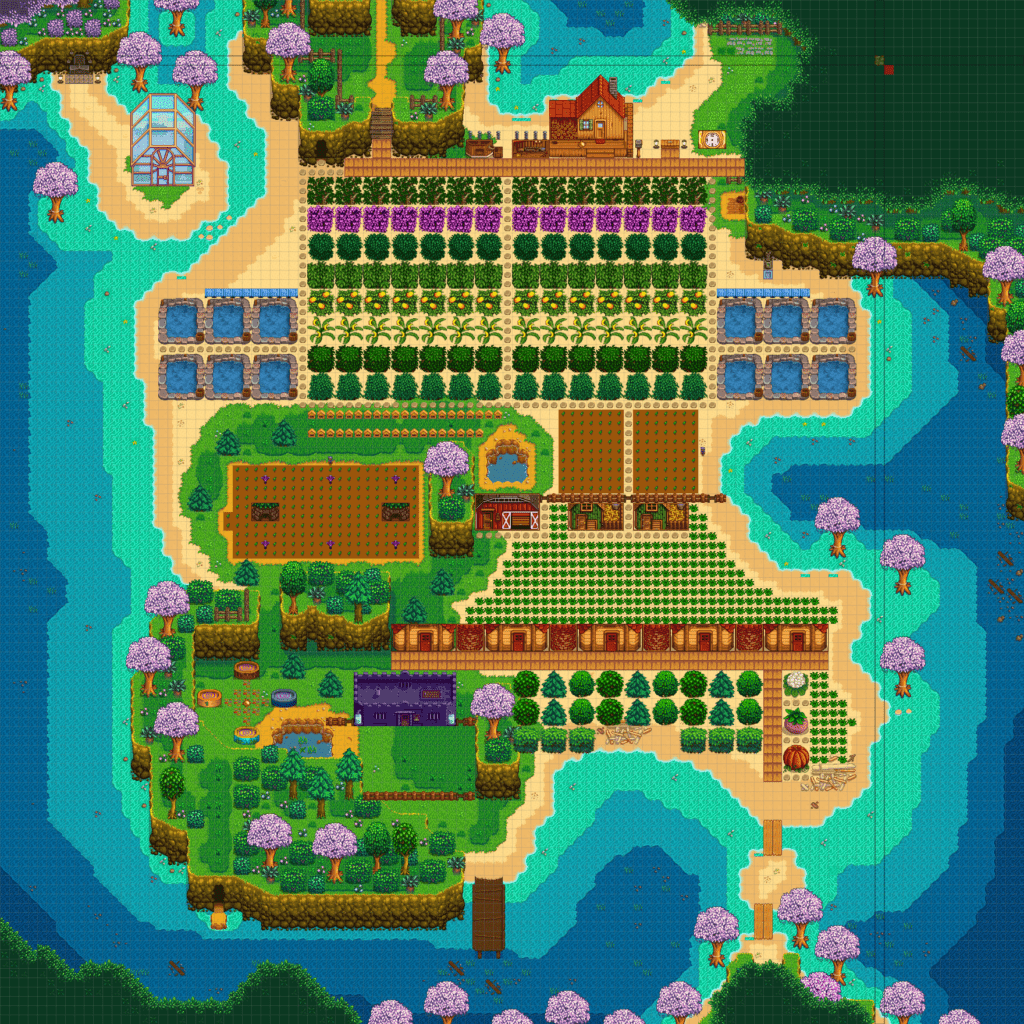 Remember what we said about using alternative methods to make a beach farm work? Well, why not turn your sunny seaside farm into a fully blown orchard. This design showcases how to use tree farming to turn huge profits year-round.
Plus, the design also incorporates fish farming, a row of sheds, a limited area for crops, and even some giant crops just for show. This is one of the most fully fleshed-out beach layouts I have come across, so if you can pull this off, then you have my respect.
Four Corners Farm
Four Corners, One Vision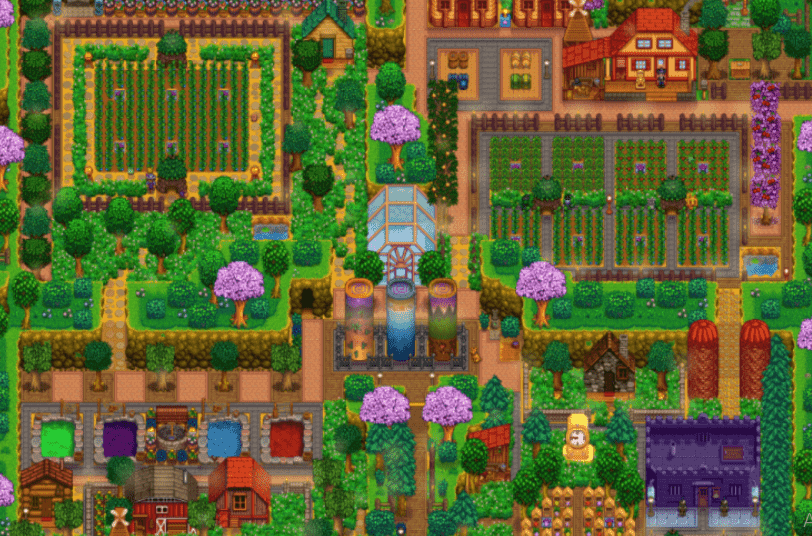 Then lastly, we have the four corners farm, which, if done right, can be one of the most beautiful and well-rounded farms on offer. Now, the common thing to do here is to have each area of the mal play to a theme, depending on the features of that section. However, this one bucks that trend and really tries to maximize profit wherever possible.
The space is utilized well to allow for automated crop farming, fishing farming, and bee farming. Pretty much every inch of this space is accounted for, and that alone is to be admired but to do it with such cohesion and style. Well, that is the gold standard.
Profits, Profits, Profits!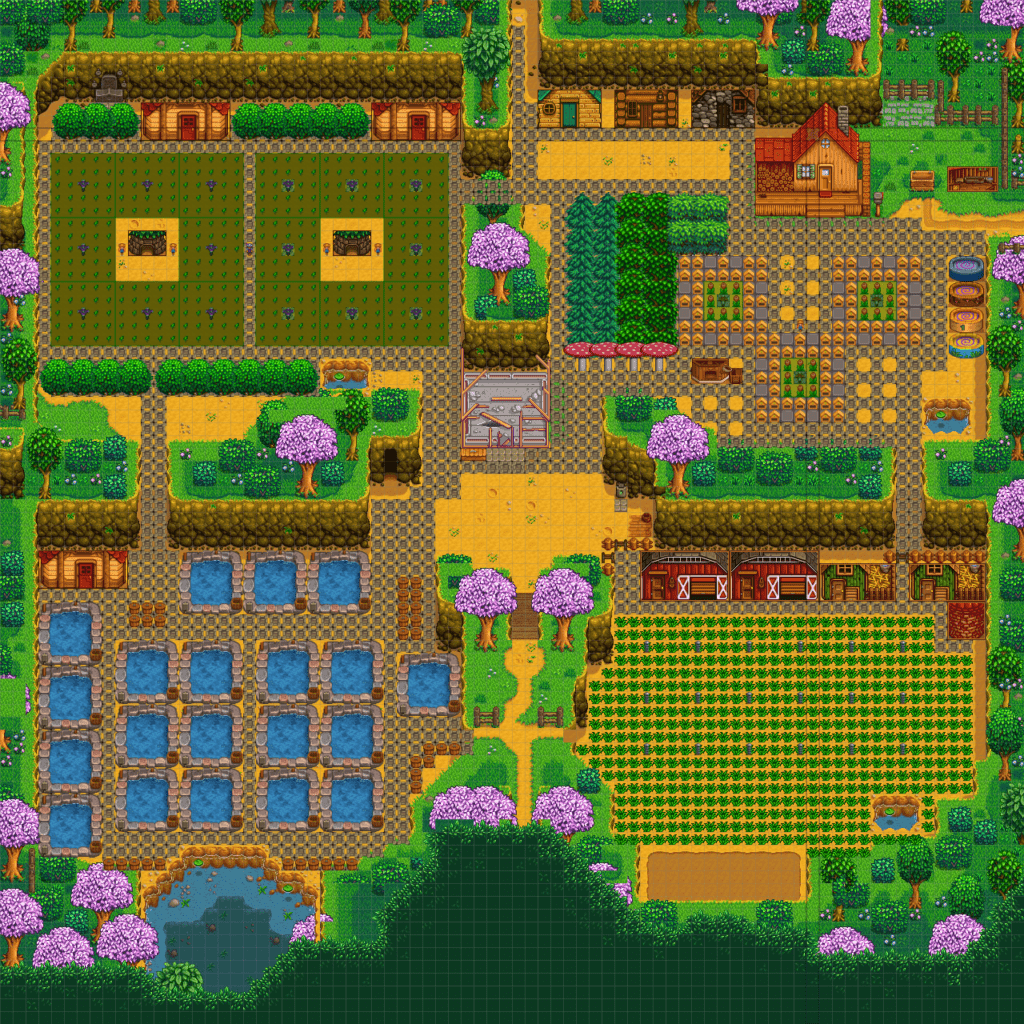 Then to show you the other side of the coin, you can go with the thematic approach and separate your farm into four chunks and really go to town on those farming aspects. Here you can see that crop farming, fish farming, artisan farming, and livestock farming are all accounted for, and they are done with no half measures.
This design is all about profits in abundance, and while it isn't the prettiest, it sure is functional. I mean, look at all those ponds, so many fishies!
FAQs
Question: What is the Best Farm Layout?
Answer: It really depends on your playstyle, your preferences in terms of farming professions, and also how much of a challenge you want to experience throughout your farming adventure.
However, in general, we would say that the standard farm, or perhaps the four corners farm, are the best options. This is purely due to the flexibility that these maps offer and the increased space that players have to work with. 
Question: When is a Farm Considered Complete?
Answer: It really depends on how dedicated you are to the 100% completion goal. A lot of players will consider their farm complete when they have completed the community center, seen all of the endgame content, and the game runs out of steam.
However, other players will not consider their farm complete until their farm has all the magical buildings, is fully automated, and looks pristine. As I said, it's down to your overall engagement and how motivated you are to perfect your farm. 
Question: What is a Giant Crop?
Answer: This is a particular crop that grows in a 3×3 plot of tillable soil when the player plants 9x of the same crops, and they all grow to be gold quality or higher. This will then cause this plot to grow into a giant crop, which offers more crops than you planted, which are all guaranteed to be gold standard or higher.
This is a nice boost, but truthfully, most players will tend to keep the giant crops on their farm as a permanent fixture as they will never wilt or die, even as the seasons change, making them a fantastic decoration for your farm. 
Stardew Valley Farm Layout Ideas: Make the Most of Your Space
As you can see from the litany of ideas and layouts proposed above, there are a lot of ways to structure your farm, and while logically, there are better ways to do things than others based on profits and productivity, some folks just want their farm to look pretty. So for that reason, there really isn't a wrong way to go about things.
However, we hope that these ideas offer some inspiration and allow you to conjure up a farm that is profitable and aesthetically pleasing in equal measure. As always, thank you for reading SdewHQ.