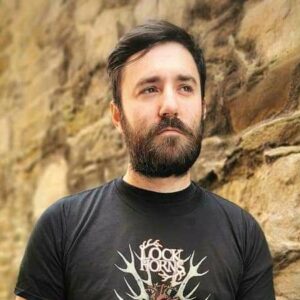 Latest posts by Callum Marshall
(see all)
There are so many things to love about Christmas, the magical time of year when the big fat man dressed in red pops up from the south pole to spread cheer, and drop off a few presents on our wishlist.
You might love the food, the whimsical decor, and the abundance of cinnamon and gingerbread scents that float through the air for an entire month. Or perhaps it's the coming together of friends and family to wrap off a busy year.
I personally love the tunes that play ad-nauseum for the month of December. My personal favorite, rather typically as an Irishman, is The Pogues – Fairytale of New York, closely followed by Step into Christmas by Elton John.
Why is this relevant, I hear you ask? Well, my third favorite is the theme from the Stardew Valley festival, The Feast of the Winter Star.  When this jaunty tune kicks in as I enter Pelican Town on the 25th of Winter, I get that warm, fuzzy feeling that I associate with Christmas, and that, in a nutshell, is why this festival is one of the best within the game.
The Feast of the Winter Star is Stardew Valley's tradition which emulates Christmas, and it's a wonderful way to wrap up the year, after the excitement of the Night Market a week prior.
It's a festival that offers some great opportunities to get to know the townsfolk better, collect some seasonal oddities, and, best of all, you get to play secret Santa with a pre-chosen member of the community. It's all the joys of Christmas boiled down into a cute, quaint little event.
However, you may be just getting started on the long slog through winter, and with so much time to plan due to harsh conditions halting your crop production, you might be here to brush up on this event in order to get the most out of it when the time comes.
Well, far be it from me to keep that information hidden. Here is SdewHQ's Stardew Valley Feast of the Winter Star Guide. I think 'Yule' really enjoy it!
What Is the Feast of the Winter Star?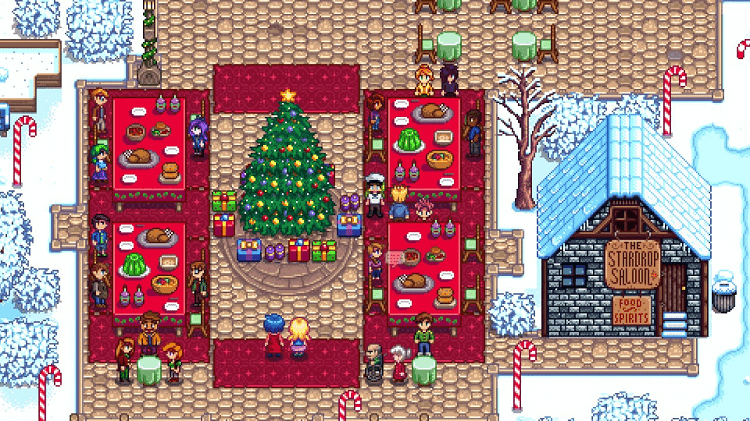 The Feast of the Winter Star festival is Stardew Valley's take on the real-world tradition of Christmas.
While a lot of festivals within Stardew Valley are quite peculiar and are completely unique to this little fictitious part of the world, The Feast of the Winter Star is one that emulates a tradition that the majority of the world celebrates annually. This is also true of the Egg Festival (Easter), and Spirit's Eve (Halloween). 
This event takes place on the 25th day of Winter, but players will be notified of the event a week before on the 18th of Winter by mail. Major Lewis will invite the player to the festival and also let them know which member of the community they will need to get a secret gift for. This is selected completely at random.
The event takes place from 9 am to 2 pm in Pelican Town, and when the festival concludes, the player will be returned to the front door of their farmhouse at 10 pm.
Background/Lore
So you may be wondering, what's the difference between Christmas, and The Feast of the Winter Star festival? How did it get its name, and what small details did Eric Barone decide to tweak to make this festival unique to Stardew Valley?
Well, firstly, The Feast of the Winter Star gets its name from a lone star that can only be seen from Stardew Valley during the Winter season. This has been an attraction that has brought a lot of tourism to the valley over the years, as rumor has it that those who gaze upon the Winter star will be blessed with good luck for the year ahead.
If the player manages to convert the abandoned Joja Mart into a cinema by completing the Missing Bundle, the player will notice that in the Winter season, the Cinema will be showing a movie titled 'Miracle of Coldstar Ranch'. A movie that essentially marries together this story with some classic Christmas movie tropes.
What that star in the night sky actually is, we have no idea. However, many also theorize that this star is linked to the magical powers of Stardrops, and these energy-boosting fruits may be a product of the Winter Star.
Give and You Shall Recieve
The decorations and the blankets of white snow everywhere are cute and all, but we know you are here for one thing, and one thing only. Presents. However, you may be wondering how this process works, and what you might receive if you do attend the festival. Well, wonder no more; here's the lowdown:
Finding Out Your Giftee
As mentioned above, you will learn who you will be providing a gift for on the 18th of Winter. Your giftee will be written in a letter posted to the player by Major Lewis. This means that you will have a whole week to procure an item that your selected villager will love.
The Benefits of Gifting
You may be thinking that there are no benefits to giving the gift other than getting one in return, but that's where you are wrong. You see, when you provide a gift from your chosen giftee, you will gain 5x the friendship points that you would normally get from a standard gift.
This means if you give them a loved gift, you will gain 400 friendship points, which is the equivalent of just over 1.5 hearts. It's not quite as much as the 8x friendship level boost you will get on everyone's respective birthdays, but it's well worth capitalizing on nonetheless.
What Gifts Can you Recieve?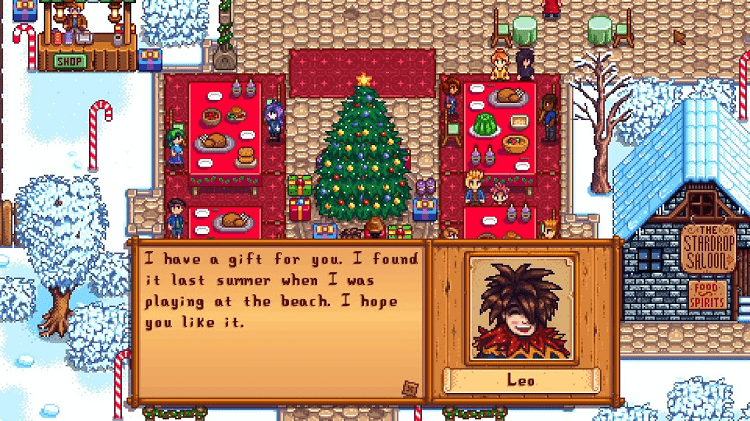 If you give a gift, then the universe will repay you in kind by having a resident of Stardew Valley give you one right back, and this could be from just about any random villager.
There are some characters that offer unique gifts, whereas others will gift items from a shared pool. Ultimately, you want to get a gift that's useful, and this can become a rarity, especially in the late game. So if you want to know what you might be receiving and ruin the surprise, here is the list of items on offer:
Iridium Bar
5x Gold Bar
5x Geode
5x Frozen Geode
5x Magma Geode
25x Warm Totem: Beach
Dressed Spinner
Magnet
99x Wood
50x Stone
25x Hardwood
From Vincent, Jas, or Leo
Rainbow Shell
Ancient Doll
Clay
Geode
Frozen Geode
Magma Geode
Shared Pool
Pumpkin Pie
Blackberry Cobbler
10x Deluxe Speed-Gro
Glow Ring
Poppyseed Muffin
Nautilus Shell
Purple Mushroom
Beer
Wine
Ruby
Emerald
Pink Cake
Jade
Tea Set (Festival Exclusive Item) *
Of all the items listed above, the marquee items that you should be aiming to get your hands on each year would be the event-exclusive Tea Set, an Iridium Bar from Clint, 25x Beach Warp Totems from Willy, or an Ancient Doll if you haven't already found one for the museum from the kids within the town.
Everything else is pretty lame by comparison, but it depends on where you are at within the game. In the first year, unless you get Clay or a Geode, there aren't really any useless gifts.
Who's Left Out?
As you might have deduced, not everyone is in the hat when your secret Santa is selected. There are a few characters that cannot receive a gift or give the player a lift. Some of these are down to availability at certain stages of the game, and some are always out of the picture. Here is a quick overview:
Dwarf
Krobus
Marlon
The Wizard
Sandy
Kent (Until he arrives in Year 2)
Leo (Until he comes to the town via Ginger Island)
What's In The Shop?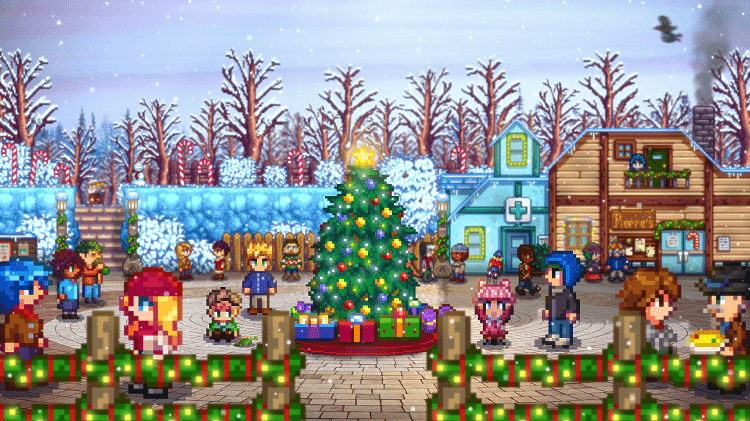 While the gift that you receive and who you receive it from is purely dictated by chance, the good news is that the items within this event's unique shop always remain the same. Offering some stability and certainty to this day full of surprises. Pierre's shop offers a selection of fun seasonal items which will allow you to spruce up your farm and get things looking festive for the closing days of winter.
While it kind of sucks that you can't get these items at the start of winter, it at least allows you to plan ahead for year two's Yule time. Here is a list of the items available in the Feast of the Winter Star shop:
| | |
| --- | --- |
| Item  | Price |
| Winter Banner | 1,000g |
| L. Light String | 800g |
| S Pine | 500g |
| Ornate Window | 1,000g |
| House Plant | 700g |
| Festive Dining Table | 3,000g |
| Large Red Rug | 1,000g |
| Decorative Axe | 1,000g |
| Wood Panel | 500g |
| Log Panel | 500g |
| Log Panel (2) | 700g |
| Tree of the Winter Star | 5,000g |
| Manicured Pine | 800g |
Of all the items listed, I would say that the one item you should prioritize is the Tree of the Winter Star, because you can't be going through the Winter season without putting up your Christmas Tree, it just wouldn't feel right.
Outside of that, the Decorative Axe, the Festive Dining Table, and the Panelling options are also great items to pick up.
FAQs
Question: What's The Best Gift?
Answer: In my humble opinion, the best gift is the Tea Set as this is an item that you can only get through this event, making it super-rare and special. However, if you aren't lucky enough to get this one, an Iridium Bar, Beach Warp Totems, or an Ancient Doll are good gifts too.
Question: Can You Get a Christmas Tree in Stardew Valley?
Answer: Yes, you can get one at this very event, albeit under a different name. In Pierre's shop at the event, you will be able to buy a Tree of the Winter Star for 5,000g. This is Stardew's version of a Christmas Tree, complete with decorative bobbles and a shiny star at the top.
Question: How Many Festivals Are In Winter?
Answer: There are two festivals per season, so by extension, there are two events in Winter. These are the Feast of the Winter Star mentioned above, and then the Ice Festival which takes place on the 8th of Winter and has the player take part in a fishing competition, with the chance to win some event exclusive prizes.
Can I Grow Crops Again Yet?
As you can see from the information above, The Feast of the Winter Star is a staple of the Winter season in Stardew Valley, and while some events lose their appeal after you attend once or twice, this event will be one of the few that you will make the time for every single year.
This is because the event allows you to improve your relationships with characters, get your hands on some cool decor, and obviously, there is a little something waiting for you in the form of a gift if you do decide to make an appearance. I mean, who doesn't want free stuff?
We hope that this guide gave you all the info you could ever need before attending The Feast of the Winter Star, and as always, thank you for reading SdewHQ!