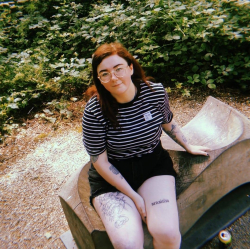 Latest posts by Ella Walsh
(see all)
The world of Stardew Valley is a wholesome and adorable one. It is filled with many friendly townspeople who play a range of key roles in the town to maintain it and make it a wonderful place to live!
The characters in Stardew Valley are completely developed, and all have their own interesting backgrounds and histories that you have to work pretty hard to reveal. It is only by getting close with a character that you are able to learn things about them other than what you can see on the surface.
Even getting to know the character can take time and effort; the best way to get to know someone is to regularly interact with them, especially on their birthdays, and give them gifts. Giving a gift on someone's birthday is the single most powerful way to really improve your relationship with them! This may sound simple in theory, but each character in Stardew valley has their own unique likes and dislikes, which you need to remember or learn!
There are lots of options when it comes to gifts, and better gifts give better rewards! The most efficient way to improve your relationship with someone is to regularly talk with them and give them gifts that they love!
The characters in Pelican Town are all unique in many ways, different ages, different occupations, different views, and different backgrounds. Take Linus, for example (the real hero of Stardew Valley, in my opinion). He shuns a capitalist society and is happy living in his tent and foraging for goods. Meanwhile, there are characters like Mayor Lewis (who sucks, in my opinion) who have some shady goings-on!
When it comes to the characters of Stardew Valley, the children of Pelican Town can often be overlooked as there are not many interactions with them or ways to get to know them! There are only three children in Pelican Town, Jas and Vincent!
For now, let's learn more about Jas!
The Basics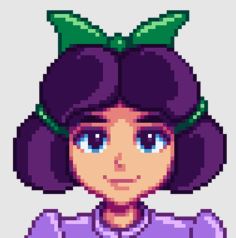 Jas lives with her aunt and her godfather. Jas's aunt is Marnie, and she lives with her in Marnie's Ranch with Shane, who is her godfather. We do not know much about Jas's family, but we do know that her parents are both unfortunately no longer alive.
Jas is, however, a happy and pleasant child who can often be found spending time with the only other young child in Pelican Town, Vincent. While there is no school in Pelican Town, Jas and Vincent are both taught by Penny and can often be seen with Penny going to the Library to learn.
While we do not know her exact birth year, we can guess that Jas is anywhere between 5-9, and her birthday is on the 4th of Summer. While you cannot get to know Jas as well as other characters (duh, she's a child), you can still give her gifts just to be nice!
Gifts for Jas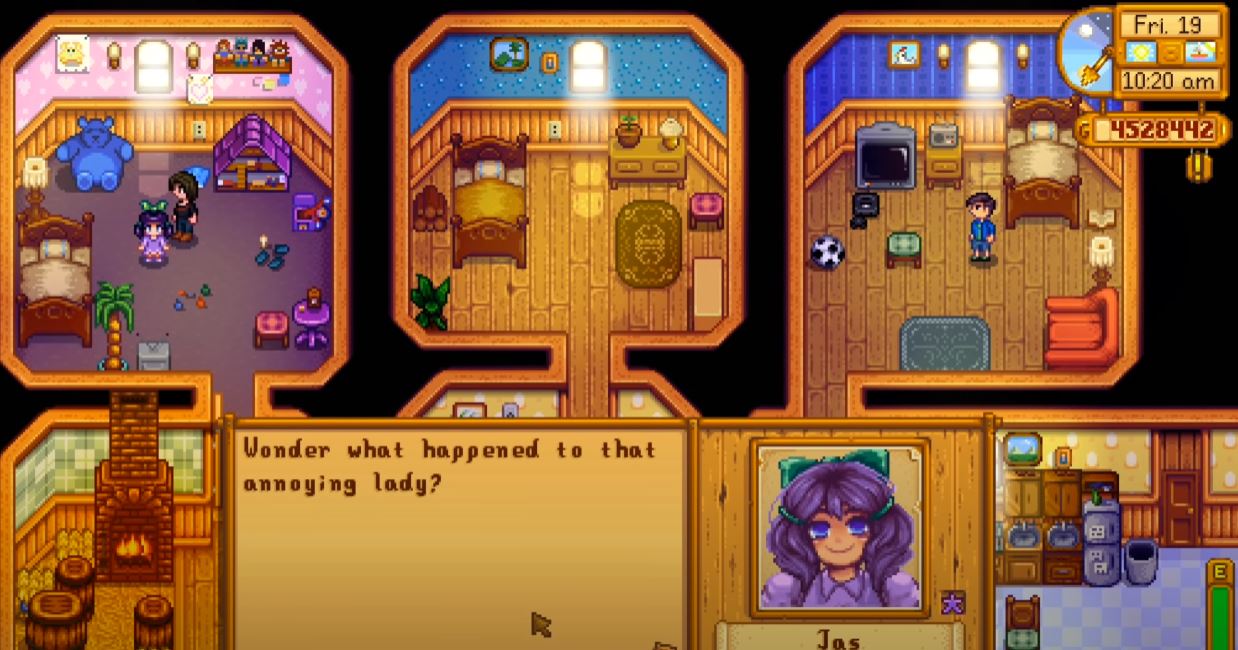 Although she is a young girl, Jas is just as opinionated when it comes to gift-giving as any of the other residents of Stardew Valley! Jas has her own likes and dislikes and so being careful with what you present to her is equally as important as it is with anyone else.
If you want to be super nice to Jas, you can give her a gift that she loves; this includes;
Pink Cake; 

This can be made if you have 1x Egg, 1x Sugar, 1x Wheat Flour, and 1x Melon.

Fairy Rose; 

This can be grown from Fairy Seeds or potentially bought from the Travelling Cart, which visits on Fridays and Sundays (although it has a limited rotating stock)

Plum Pudding; 

This can be created if you have 1x Sugar, 1x Wheat Flour, and 2x Wild Plums
You can also give Jas gifts that she likes, which include;
Daffodils; 

This can forage during Spring

Coconuts; 

This can be foraged and found in the Desert
Gifts that Jas is neutral to are only;
All Milk

All Universal Neutral Gifts
Jas does, however, dislike the following, and so I would not recommend gifting them to her;
All Eggs

All Vegetables;

 but not wheat or hops

All Fruit;

 but not fruit tree or coconut

Leek

Dandelion

Hazelnut

Winter Root

Ginger

Mushrooms 

Quartz

Snow Yam

Holly
Jas does have strong opinions, as we know, and so she hates the following items;
Wild Horseradish

Triple Shot Espresso

Clay

Pina Colada

All Artisan Goods;

 but not Jelly, Oil or Honey
What About a Movie and Some Snacks?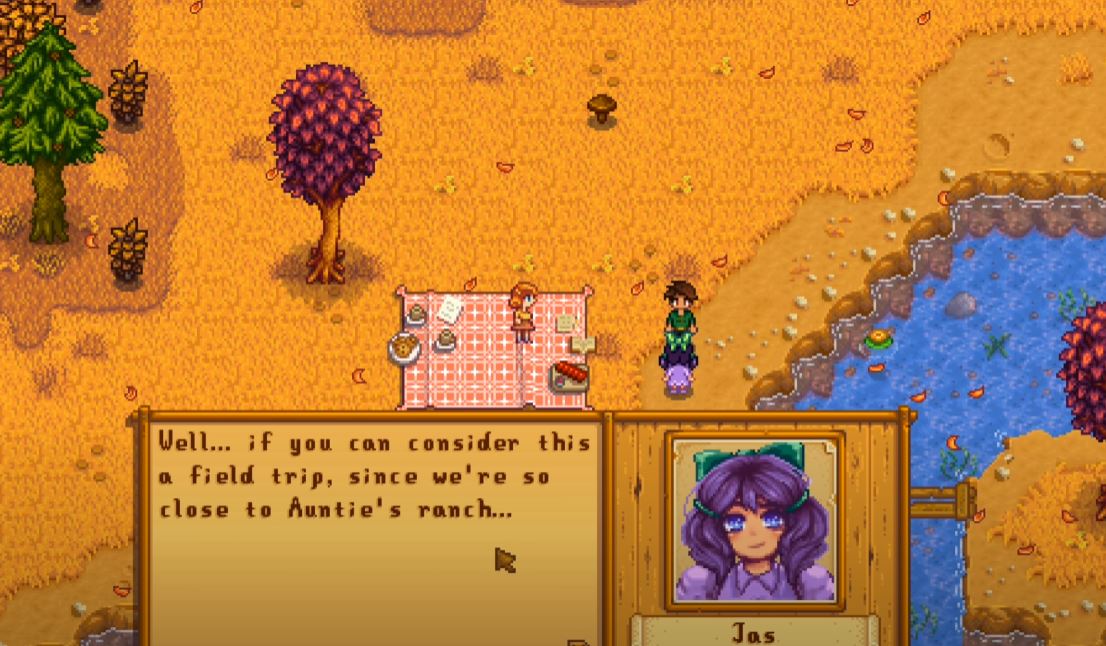 Jas loves the movies as much as anyone else, and once you have a movie theatre, you could always buy two tickets to a movie and gift one! Movie Tickets have the same effect as any other gift, and so you need to check if the person you are giving a ticket to actually likes the movie!
Movies that Jas loves include;
Wumbus

Natural Wonders: Exploring Our Vibrant World

The Brave Little Sapling

Journey Of The Prairie King: The Motion Picture
Movies that Jas likes include;
The Zuzu City Express

The Miracle At Coldstar Ranch
Jas dislikes the following films;
Mysterium

It Howls In The Rain
The perfect addition to any movie are some snacks, much like movies and gifts in general; everyone has their own personal tastes when it comes to snacks.
Jas loves the following snacks;
Sour Slimes

Stardrop Sorbet
Jas also likes these snacks;
Ice Cream Sandwich

Cappuccino Mousse Cake

Star Cookie

Salmon Burger

Cotton Candy

Apple Slices

Personal Pizza

Chocolate Popcorn

Rock Candy

Jawbreaker
Hardly surprising for a young kid; there are no snacks that Jas dislikes!
Jas's Schedule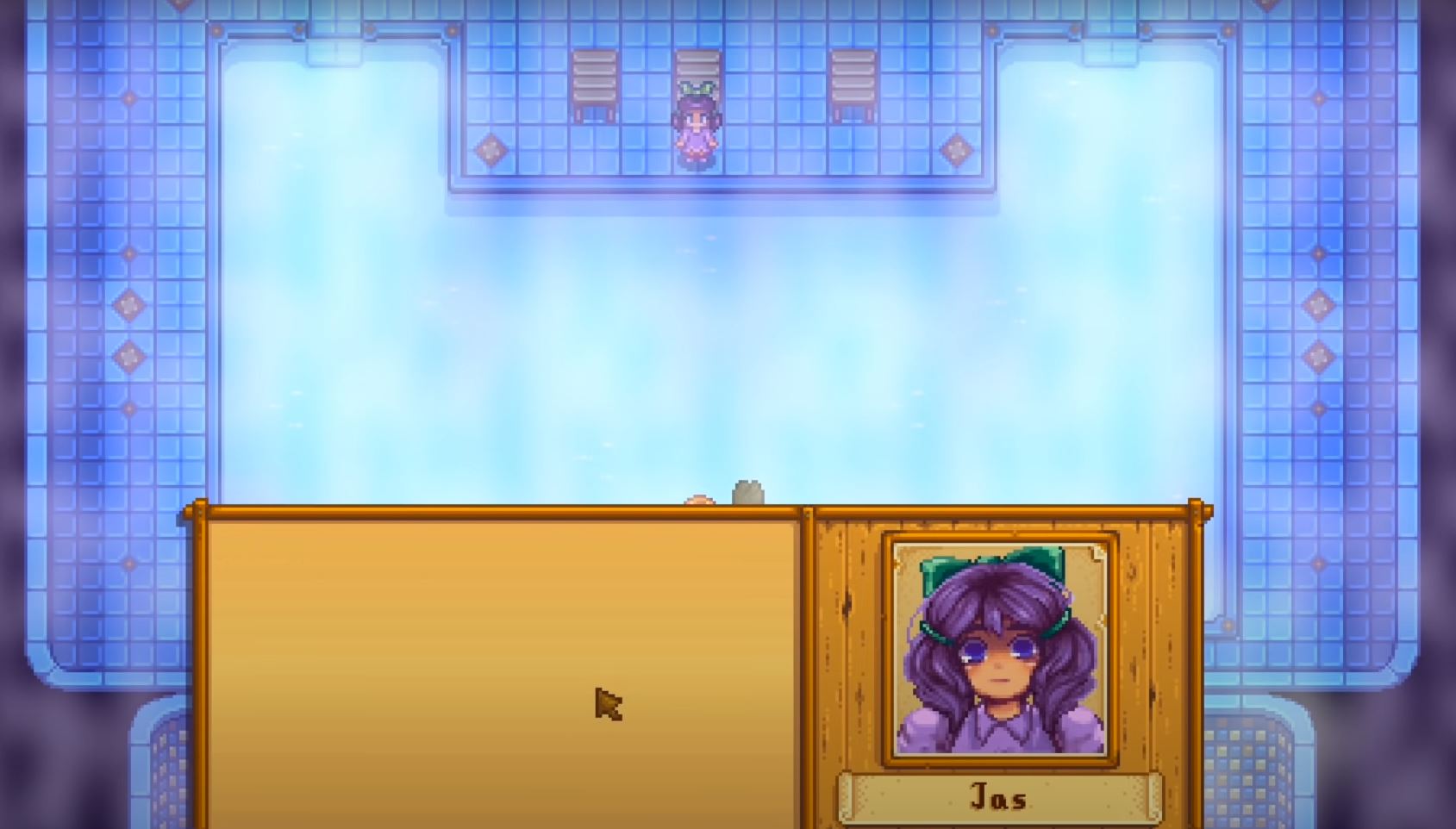 If you want to give Jas any of the above gifts that we have found, you will need to find her first! Like all other residents of Pelican Town, Jas has her own schedule, which of course, varies depending on the day and even the season.
Regular Schedule (Monday, Thursday, and Sundays)
Jas leaves her house at 11 AM to go to the tree just west of her house and skip. At 3 PM, Jas goes home again; Jas goes to bed at 7 PM.
On Tuesdays, Wednesdays, and Fridays;
Jas goes to the Library from 9 AM – 2 PM. Jas then leaves at 2 PM and goes to the river, which is to the southwest. At 4 20 PM, she leaves and heads home#
On Saturdays;
Jas leaves her home at 10 AM to stand underneath a large tree. At 12 PM, she goes to the playground where she will skip; she then leaves the playground at 5 PM and stands at 2 Willow Lane. At 8 PM, she heads home.
If it is raining;
She will be at home all day but will be available in Marnie's Ranch from 11 AM – 7 PM.
In Summer;
Jas stands outside the Ranch at 11 AM. At 1;20 PM, she goes to the beach. At 4 PM, she leaves the beach and goes home, and at 7 PM, she goes to her bedroom.
On the 18th of Winter;
She has her check-up at the Clinic and will be there from 10;30 AM – 4 PM.
Heart Events with Jas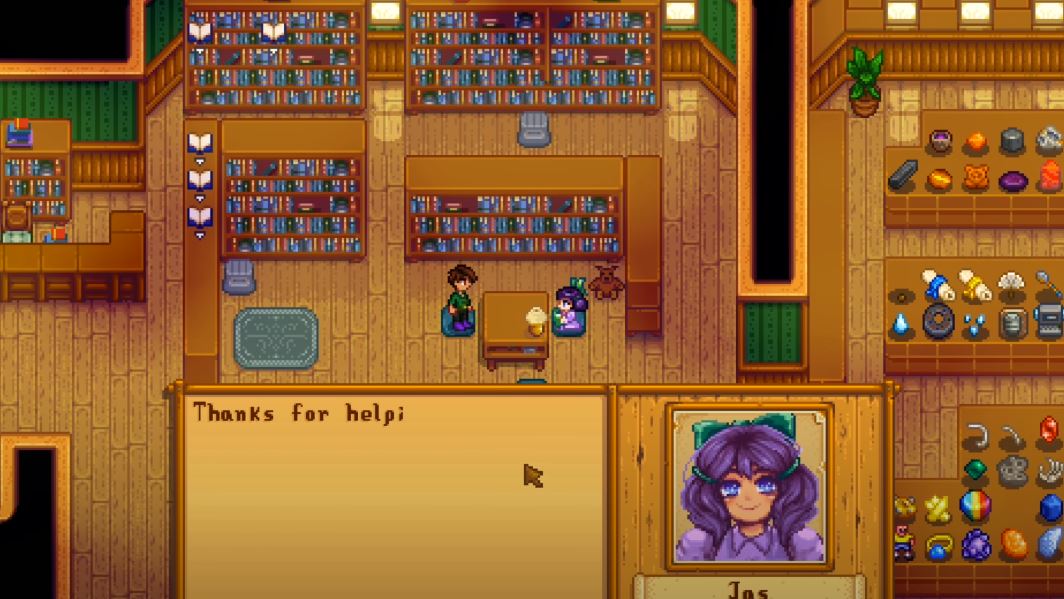 There are not many heart events with Jas; in fact, there is only one. Once you reach eight hearts in your relationship meter with Jas and Vincent, you need to trigger the event by going to the Cindersap Forest between 6 AM – 5 PM on a sunny spring day.
Here they will share tips with you as to how to clean Spring Onions which means that going forward, and all your Spring Onions will sell for 5x the price.
FAQs
Question: Is Jas Marnie's daughter?
Answer: No! In fact, Jas is Marnie's niece. Not much is known about the origins of the stories of Jas's mum and dad; however, what we do know is that something tragic had happened, and both of Jas's parents are sadly no longer with us. The story as to how Jas came to live with Marnie or have Shane as a godfather is also a mystery.
Question: What should I give Jas in Stardew Valley?
Answer: Jas loves Pink Cake (as I am sure most children would) as well as Fairy Rose and Plum Pudding!
Question: Are Jas and Vincent related?
Answer: No, they actually are not! Vincent's parents are Jodi and Kent, who live in Pelican Town! Sam is also Vincent's brother. Being two of the only children their age in Pelican Town, it seems that Jas and Vincent are two best friends, so at least they have each other for company and can be frequently seen together around Pelican Town.
Jas Stardew Valley Guide: Summary
This should now be everything that you need to know about one of the smallest and sweetest residents of Pelican Town! While there are not as many usual benefits as befriending the adults in Stardew Valley, it certainly does pay to be kind to both Jas and Vincent as they can teach you many important things in return!
My recommendation would be to regularly gift to Jas and Vincent on the same days so that you can reach eight hearts with them both sooner rather than later to start making even more money and prioritizing your Spring Onions!