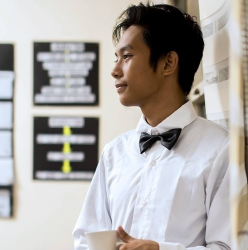 Latest posts by Arthur Monteclar
(see all)
Stardew Valley is uniquely fascinating to play; this simulated virtual paradise will probably fulfill everyone's deepest desires—to wake up and do whatever you want. In Stardew Valley, you live in your very own house in the quaint and beautiful Pelican Town. You can grow your crops, lounge and fish in the seas, go on adventures in the mines, and spend all your days decorating your place just how you like it. 
And what's even enjoyable is you don't simply do all this on your own. You can also make friends that will make your new life even better. With over 28 NPCs, there's just so much more to discover. Each character is unique with their likes and dislikes. They also have their own backstory. 
This is one of the many things I love about Stardew Valley; you'll be spoilt with intricate details because Concerned Ape never skimps on the NPCs' specifics. However, the game's unguided mechanics allow you to play at your own pace. You don't have to rush into doing anything; you aren't forced to try things you're uncomfortable with. And that includes interacting with characters.
So, if you're not keen on building friendships or relationships with other villagers, that's fine. However, if you want to dip your toes and romance any bachelors or bachelorettes in the game, Emily would be your best bet!  
Emily is Pelican Town's budding fashion designer; she's very keen on making her own clothes and accessories. Her perky attitude lights up any room. To impress her, you need to know more about her character! Read on to learn all the exciting details about Emily, her schedule, heart events, and even gifts. Warning: Spoilers Ahead! 
Bottom Line Up Front
Emily is among the twelve single villagers you can romance and marry in Stardew Valley. She lives with her sister, Haley, another marriage candidate. Her home is located south of the town square, next to Jodi's house. She also works at the Stardrop Saloon most nights. 
As a budding designer, she has a penchant for all things fabric. One of her favorite gifts is cloth and wool.
Emily's Essentials: 
Birthday: Spring 27

Home Location: Pelican Town, Willow Lane 2

Family: Haley

Friends: Sandy 

Clinic Visit: Winter 11

Night Market Visit: Winter 15

Visits Sandy: Fall 15

Occupation: Waitress/Aspiring Fashion Designer

Marriage: Yes
Emily: Appearance, Personality, and Hobbies
Appearance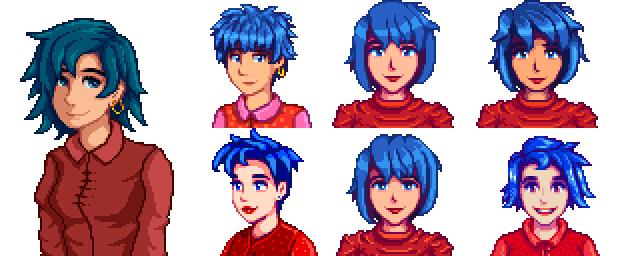 At first glance, you'd immediately notice Emily's beaming smile. She looks pretty dashing in her vibrant red blouse. Her deep blue hair will catch your attention. She is among the few villagers who dyed their hair into a particular color. She loves to keep unique short-layered fringes and rock the whole look. Her hair also perfectly complements her bright brown eyes. 
Emily's desire for styling and tailoring clearly show in her dainty clothes. When she's on the beach, she wears a cute red dress—probably more fitting for her to wear every day as it accentuates her look.
Over the years of the game development, Emily's look drastically changed. Her hairstyle frequently changed; she wore a bob with an undercut at one point. She also had angled hair with fringe bangs before. Her clothes were also altered from the v-neck, button-down shirt from the pink and red blouse, and the red turtleneck shirt.
Personality
Emily is very in tune with her feelings and thoughts—to the point that she's highly spiritual. She is also caring but surprisingly believes in alternative medicine and natural remedies, as seen on her visit to Harvey's clinic. Unlike some marriage candidates, she doesn't struggle with her finances. She's financially well off. Her friendly attitude is quite refreshing as if nothing seems to bother her. 
While she seems pretty perfect, she also has internal struggles and puts out a positive image of herself. She might be a tough cookie to crack, but knowing her back story is also quite surprising. Her optimism seems like a facade for underlying issues that need resolution. 
Hobbies
When Emily's not busy working in the Stardrop Saloon, she tailors most of her time. She is enthusiastic about becoming a famous fashion designer. One of her heart events even involved dressing up the whole townspeople with clothes that express and represent their most authentic selves. She's also a fitness queen since she attends Caroline's aerobics class on Tuesdays.
Aside from tailoring and sewing, she loves to hang out with her friend, Sandy. She even goes to the Calico Desert to visit Sandy on her birthday. She also has a knack for caring for animals, like how she nurses the parrot during her Four Hearts Event. 
Schedule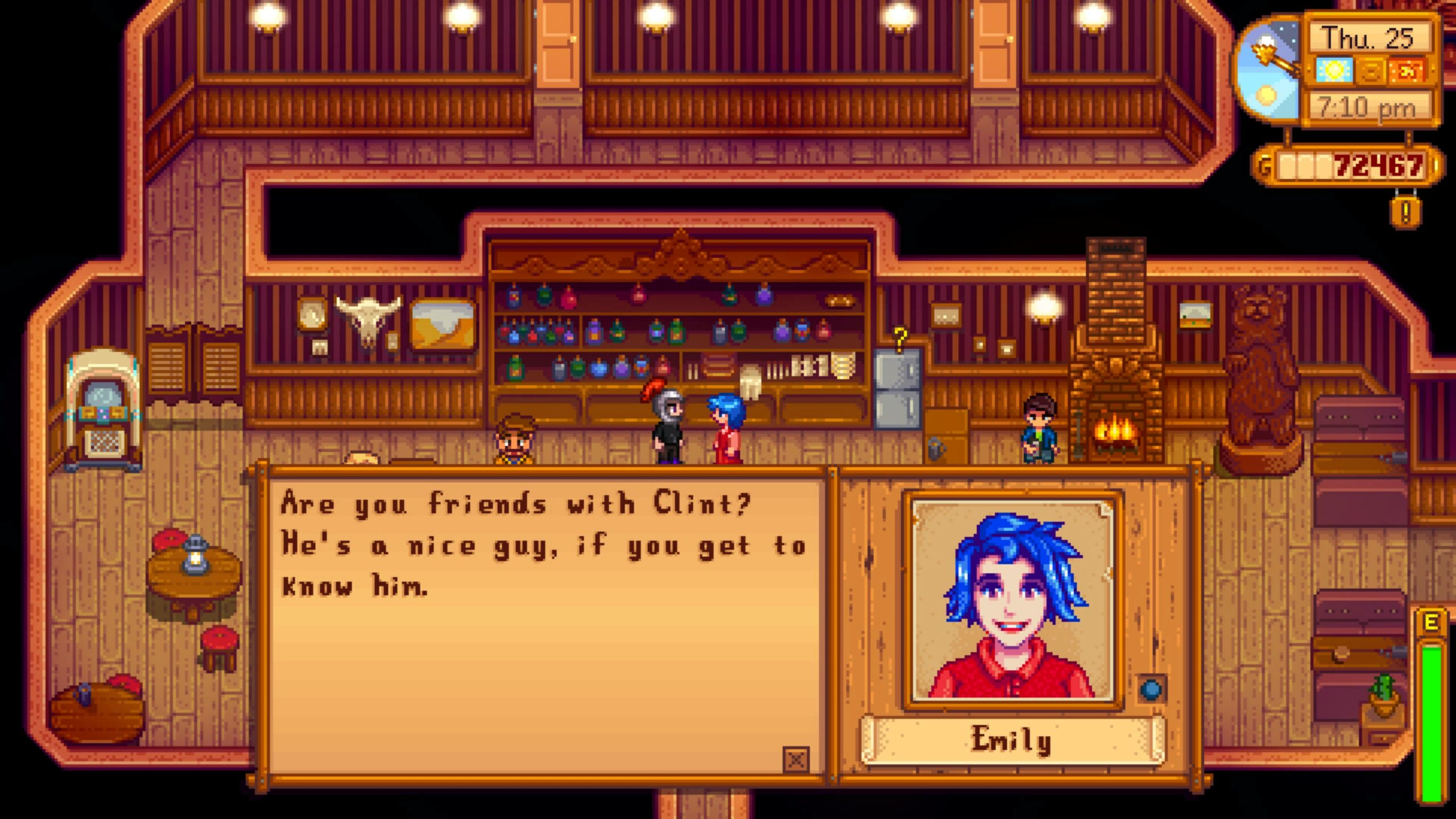 Emily is always out and about and spends most of the time outside her house. As the head of the household, she is responsible for many things and works most days at the Stardrop Saloon. So, it is natural that her schedule is quite erratic and complex. Here, I'll explain and list her schedule thoroughly. 
Fall 15 (Sandy, Her Bestfriend's Birthday)
Interestingly, Emily goes out of her way to celebrate her friend's birthday. Instead of working, she wakes up early and leaves town at around 10:30 am to go to the Calico Dessert. She goes and parties with her and doesn't come home until midnight. 
Winter 11 (Clinic Visit)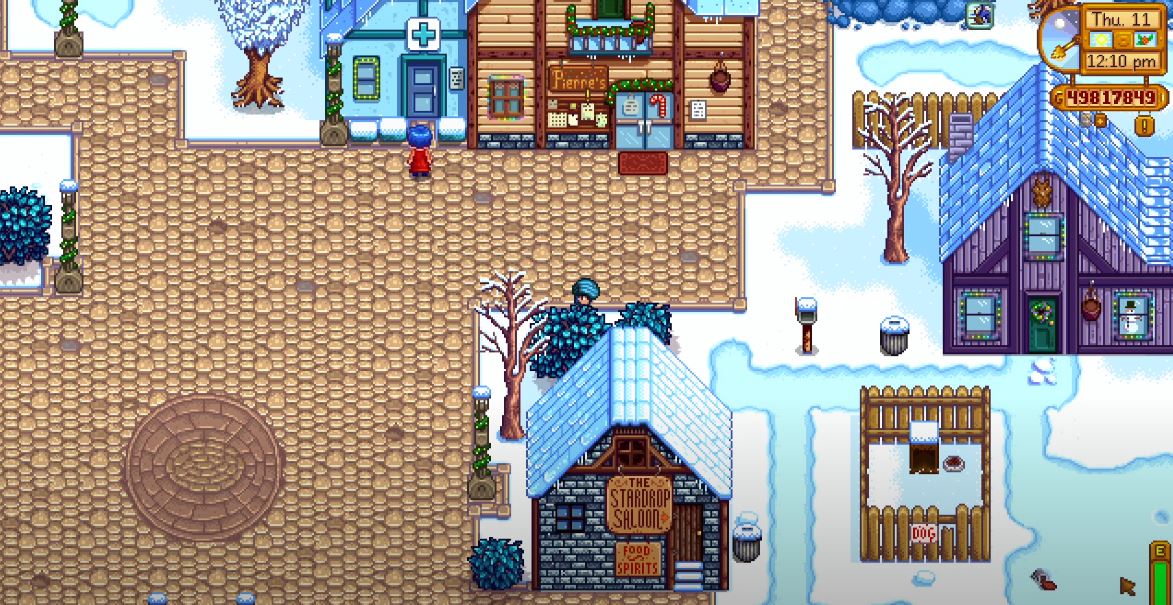 Emily is a late riser; she usually starts her day past sunrise. At 9:00 am, she's still in the bedroom, preparing for her clinic visit. After one and half hours, she leaves home at 10:30 am and waits in the clinic's waiting room. 
At 1:30 pm, she moves to the exam room. Once her exams are done, she leaves the clinic and goes to work at 4:00 pm at the Stardrop Saloon. She's probably one of the few villagers who still work after their clinic visit. After working, she goes home and rests at 12:30 am. 
Winter 15 (Night Market Visit) 
Many villagers also go to the night market on Winter 15, including Emily. She usually starts her day at 9:00 am and stays in her house the whole morning until 2:30 pm, where she heads straight to the night market.  She will not work on this day, so you can't find her in the Stardrop Saloon. She strolls around the night market and interacts with fellow villagers before going home at 12:30 am. 
Rainy Days
Every other NPC in Stardew Valley has a different schedule or routine when it's raining. And Emily has her own too. She still wakes up at 9:00 and stays in for the rest of the morning. She only goes out at 3:30 pm to start her work shift at the Stardrop Saloon. At 1:30 am, she heads straight home to rest for the night. It's pretty noticeable that her work shift is extended for an hour when it's raining because she typically leaves work at 12:30 am. 
Tuesdays 
On Tuesdays, Emily attends Caroline's aerobics class at the General Store. She leaves home at 10:00 am and goes to the venue. The aerobics class starts at 1:00 pm. Once the class ends at 4:00 pm, she leaves the General Store to work at the Stardrop Saloon. She ends her shift at 12:30 am and goes home for the night as usual. 
Fridays (Restored Community Center)
Whenever the Community Center is restored, Emily visits every Friday. She walks into the Crafts Room at 10:00 am and stays until she leaves for work at 3:00 pm. Once she finishes her shift at 12:30 am, she goes home for the night. 
Mondays, Wednesday to Sundays (Regular Schedule) 
On days when Emily doesn't have anything else to do, she stays in her house for the rest of the morning. She only leaves home to work at the Stardrop Saloon for the rest of the night. After her shift, she goes straight to bed and rests. 
Relationships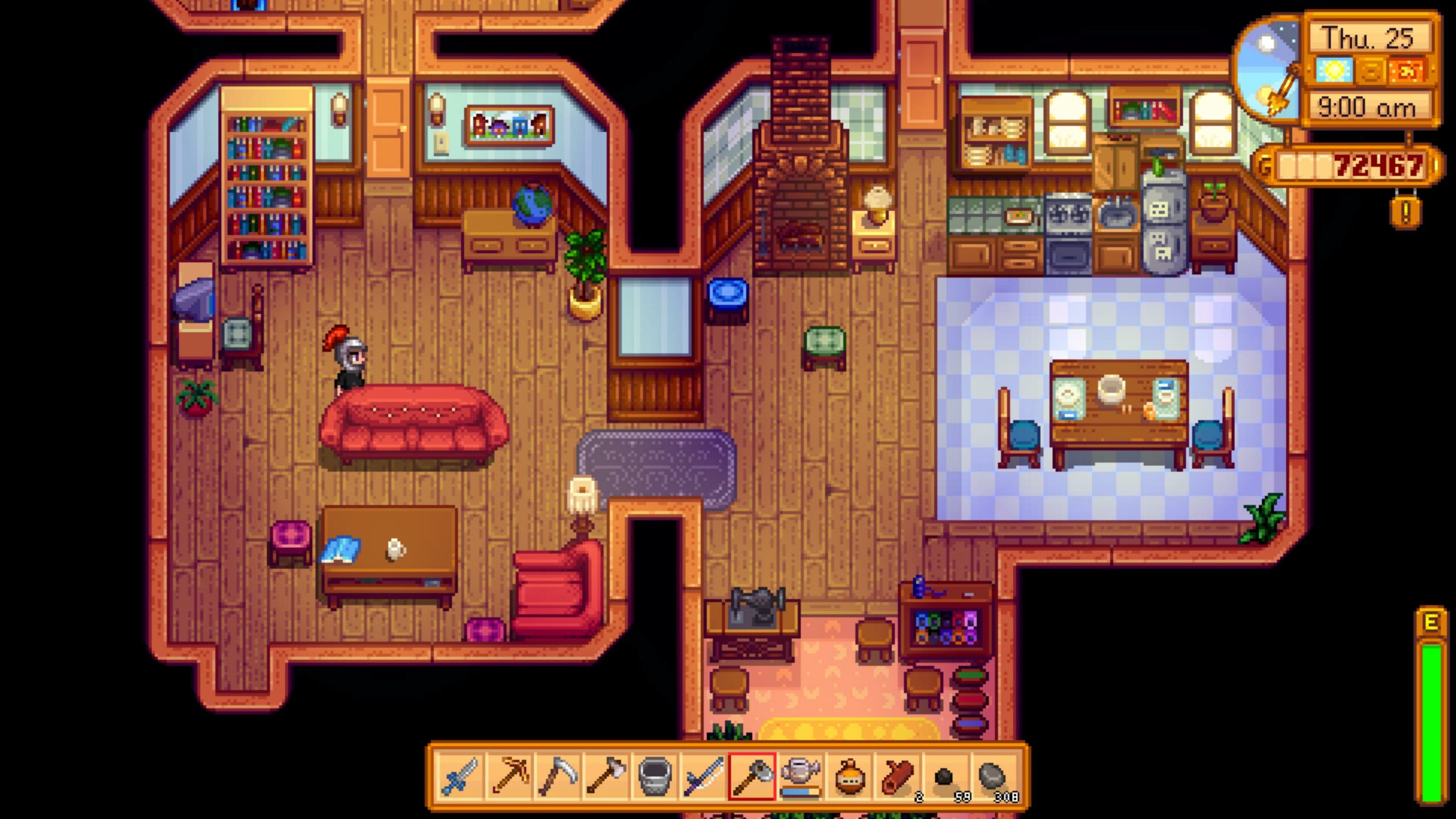 Emily lives with her sister Haley. They are in charge of caretakers for their parents' house, who currently live a globe-trotting lifestyle. While their parents have been traveling the world for the past two years, Emily steps up as the head of the household. She works at the Stardrop Saloon since Gus employs her as a part-time waitress. 
She never misses mentioning her best friend, Sandy, in her dialogue. While Emily lives in Pelican Town, she goes to the Calico Dessert to spend the whole day and party with Sandy during her birthday. When it's time to go back to town, Sandy accompanies Emily to the bus station and bids her goodbye. It's definitely a cute and heartwarming scene.
I've also found a couple of evidence about Clint's feelings and romantic interest in Emily. He mentions it in several dialogues and cutscenes, but he seems too shy to confess to her. 
Quests
Befriending Emily involves a bit of work, from giving gifts to interacting with her and completing her quests. So, if you want to romance her, be ready to help her whenever she asks you favors. She particularly has three quests to complete and will also list a few favors in the "Help Wanted" board. Here's a guide of the quests you can do for her: 
Fresh Fruit
Emily will send you a letter on the 6th of Spring, Year 2. She writes in the letter that she's craving for a taste of Spring and is requesting you to bring an apricot. Once you deliver her the item, she will reward you with 600g and 1 Friendship heart.  
Clint's Attempt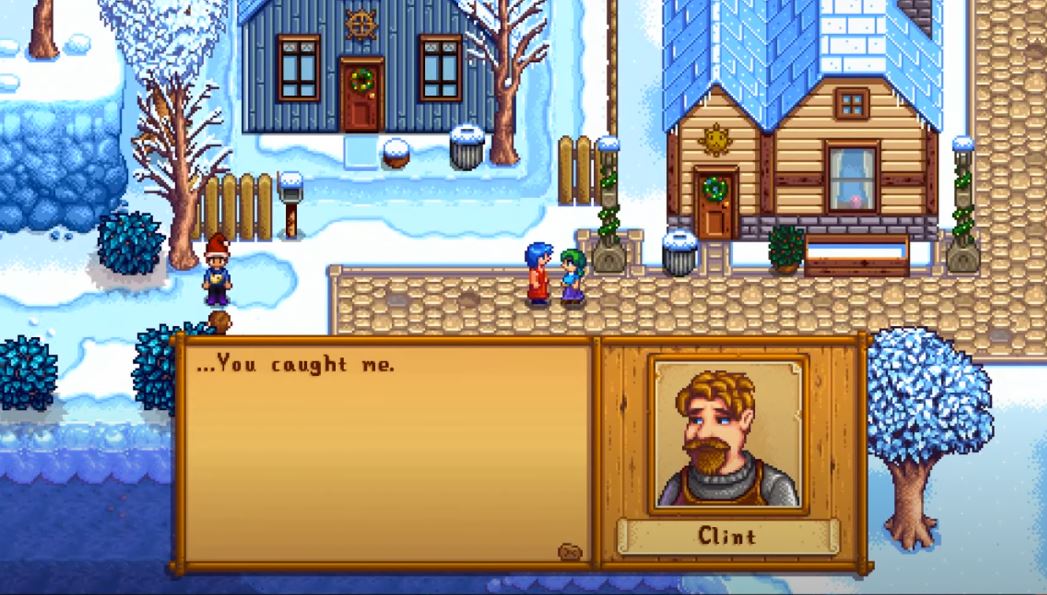 I've previously mentioned earlier that Clint has unrequited feelings for Emily. On the 6th of Winter, Clint mails you a letter asking for a favor. In this quest, you'll be helping Clint. He will ask you to help him bring an amethyst to Emily. He would ask you to tell Emily that the gift is from him. 
Obviously, Emily didn't request this, but you'll earn 1 Friendship heart with Emily. Remember that doing this quest would count against Emily's two gifts per week limit. 
"Help Wanted" Board
From time to time, Emily would also ask for several random items on the "Help Wanted" board outside Pierre's General Store. When you complete the quest and deliver the item, she will reward you with three times the item's base value plus 150 Friendship points. 
Best Gifts for Emily 
Are you keen on adding more Friendship points with Emily? The easiest way to do it is by interacting with her and giving her gifts twice a week. However, you also need to know which items are her favorites. You can avoid giving things she'll probably dislike and hate this way. Doing such can significantly impact your friendship points too. 
I'll elaborate on the gifts Emily truly loves in the next section. When you give her any of these gifts, she'll beam in joy and say, "This gift is fabulous! Thank you so much!" 
Amethyst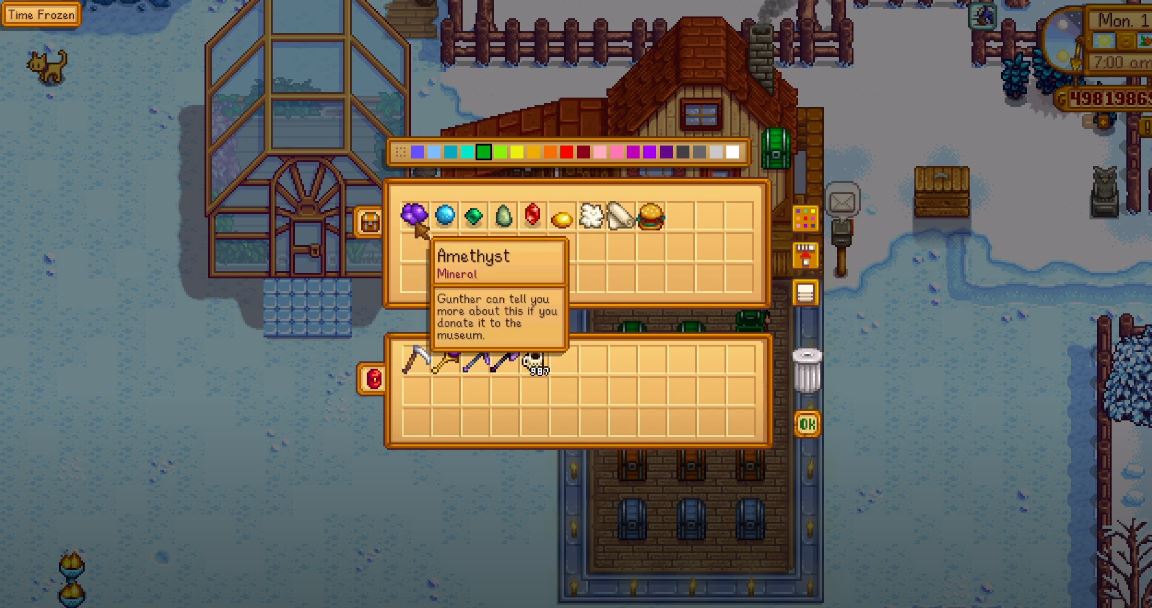 You can obtain this mineral from the amethyst nodes and gem nodes in the mines. Sometimes, green slimes may also drop them once defeated. You can also find them in fishing treasure chests or even garbage cans. Amethyst was also Clint's chosen gift for Emily in a quest.
Aquamarine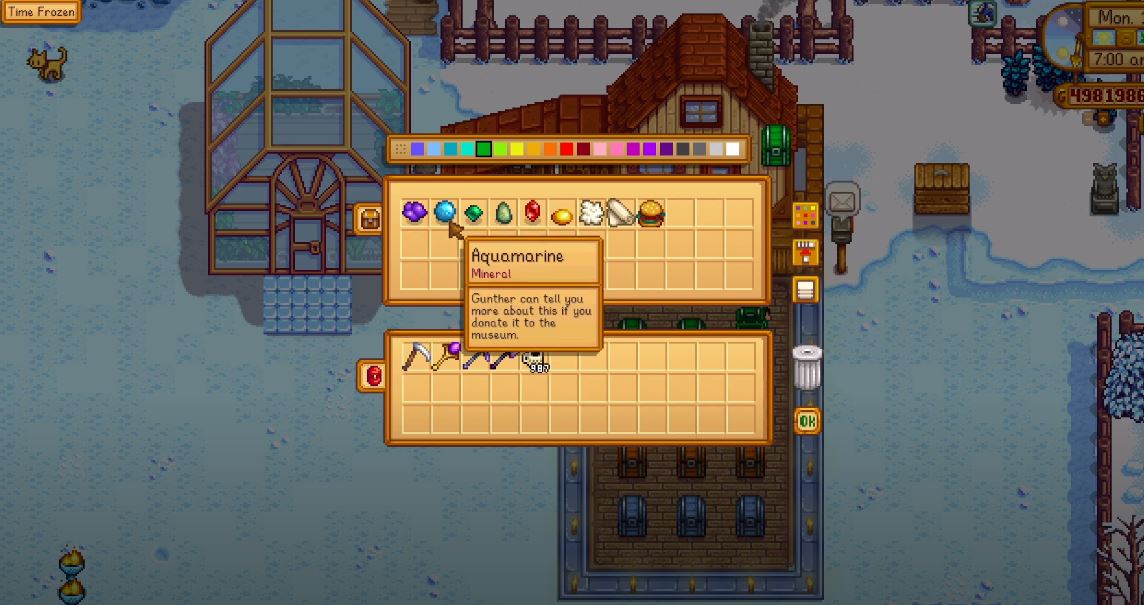 Emily loves natural gemstones, partly because of her spiritual beliefs? I'm just assuming here, but I find it quite interesting that most of her favorite gift items are gemstones. You can check the aquamarine nodes and gem nodes in the mines to source aquamarine. If you're lucky, you can also find it from fishing treasure chests and garbage cans once you reach the bottom of the mines.  
Cloth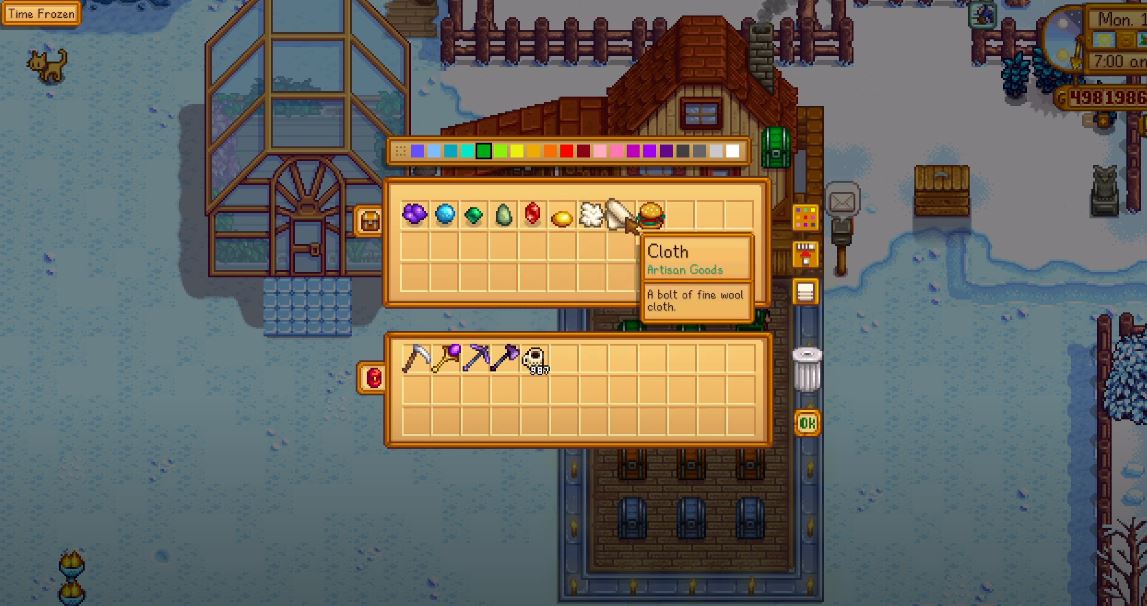 Of course, Emily is an aspiring fashion designer; she needs all the resources to make her vision into reality. That's why she loves receiving cloth. This artisan product is made out of wool using a loom. Make sure to place quality wool into the loom as it will most likely produce two pieces of cloth. The silver, gold, and iridium quality wool will give you a 10%, 25%, and 50% chance of producing two cloth pieces, respectively.  
Emerald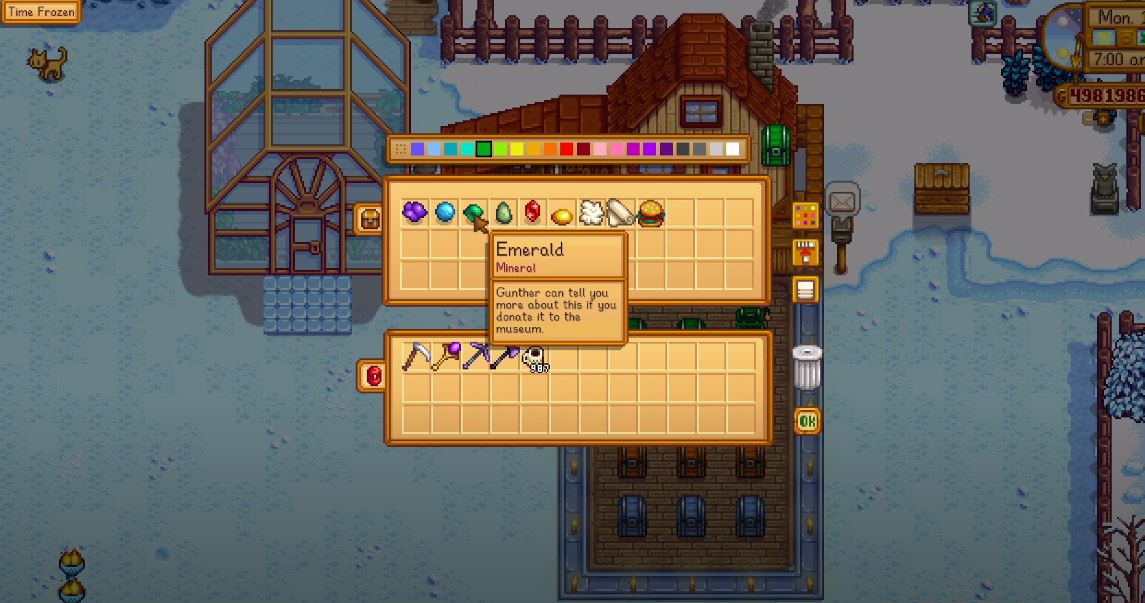 Like most gemstones, emeralds can be obtained in various ways. You can find them in emerald nodes and gem nodes in the mines. You can also find them inside fishing treasure chests or garbage cans. Aside from that, you can also receive it as a gift at the Feast of the Winter Star. 
Jade
Jade is also one of Emily's favorites; she probably uses it to bedazzle her tailored clothes and accessories. You can obtain it in the gem nodes and jade nodes. Like the rest of the gemstones, you can also find them on fishing treasure chests and garbage cans. 
Ruby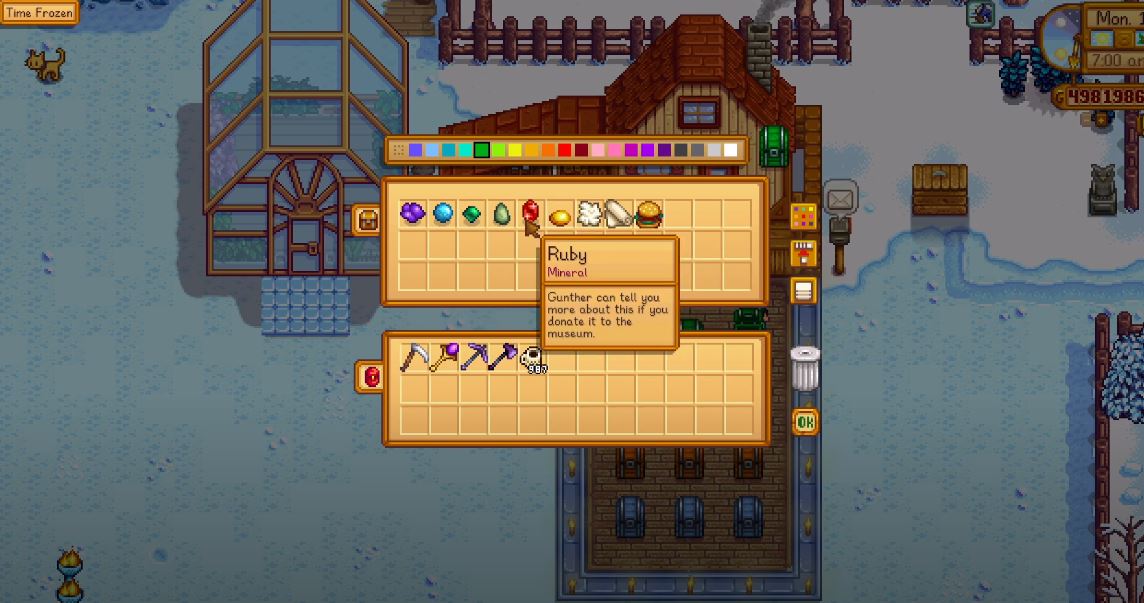 This precious stone has a vibrant color and beautiful luster. You can easily find Ruby in ruby nodes and gemstones in the mines 80 floors down. You can even find these on fishing treasure chests or garbage cans on your lucky day. 
Survival Burger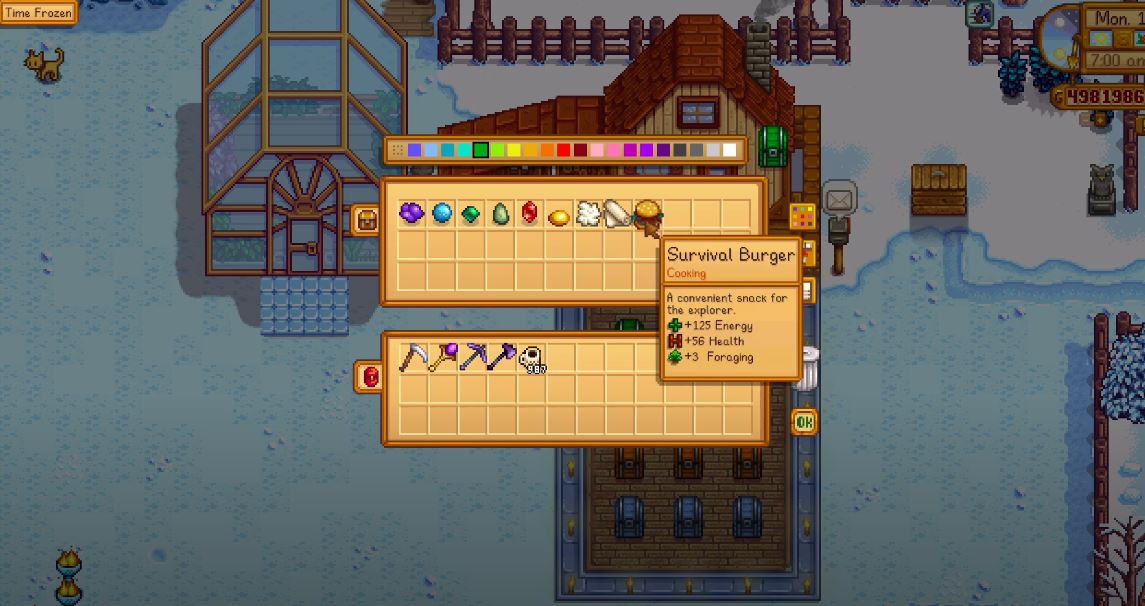 This is probably the only cooked dish that Emily loves. You can prepare it inside the kitchen of an upgraded farmhouse or a cookout kit. To get the Survival Burger recipe, you need to reach foraging level 2. Make sure to have all three ingredients: bread (x1), cave carrot (x1), and eggplant (x1).
If you don't have the recipe or the complete set of ingredients, you can also check and purchase it at Krobus' shop on Saturdays. Occasionally, you can find five Survival Burgers in the Skull Cavern's treasure room. 
Topaz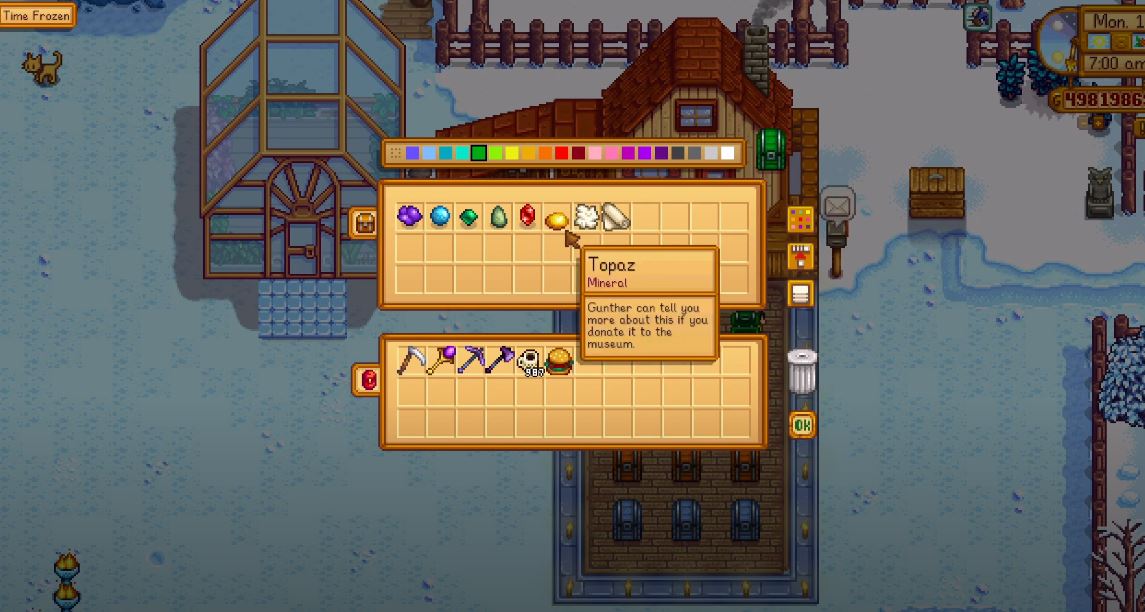 This might seem like a pretty common gemstone. However, it is still prized for its rich color and beauty. You can find it on fishing treasure chests or in the garbage cans as well. They can also be obtained in topaz nodes and gem nodes. 
Wool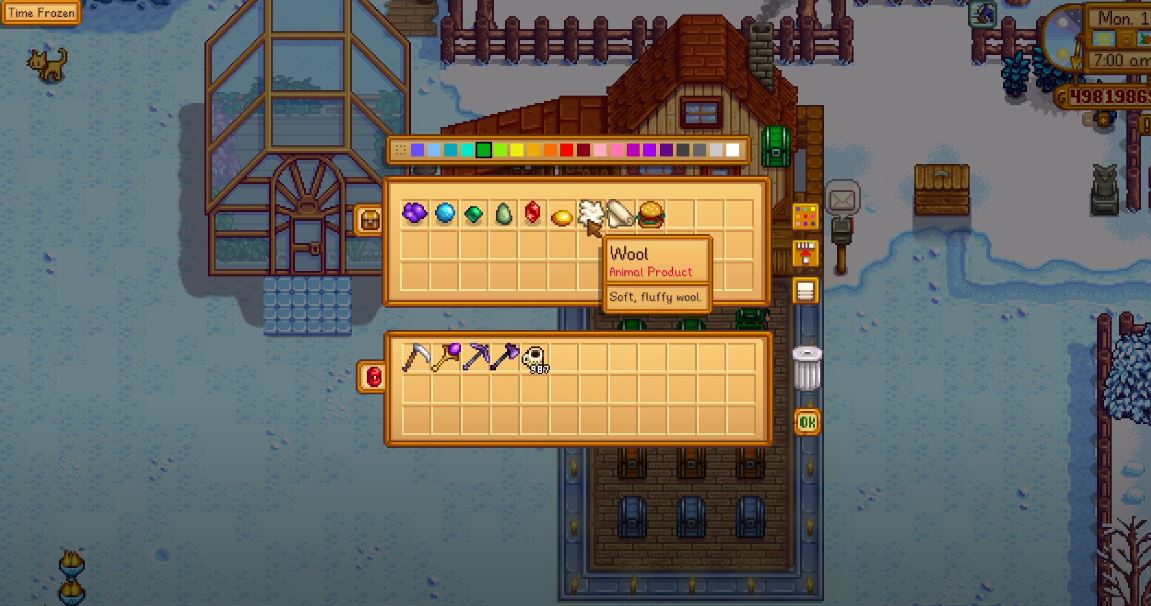 Because wool is the primary item that makes cloth, it's no surprise that Emily loves receiving wool. This animal product is obtained from rabbits or sheep. You can also buy it in the Traveling Cart for 1,020 to 1,700g.
Emily's Most Hated Gifts
Many Stardew Valley fans think that Emily is another tough girl to please and romance. All of her well-loved favorites are quite expensive and challenging to find, considering that she doesn't have any love items that can be obtained through foraging. She's also quite picky when it comes to food.
If she hates your gift, she'll be disgusted and gives a bad remark: "This gift has strong negative energy. I can't stand it."
Here's a list of her most hated items: 
All Universal Hates

Fish Taco

Holly 

Maki Roll

Salmon Dinner

Sashimi 
You should also avoid giving her items she dislikes, such as fried eel, ice cream, rice pudding, salmonberry, and spicy eel. Giving any of these items will demerit your friendship points with Emily.
Heart Events
Anytime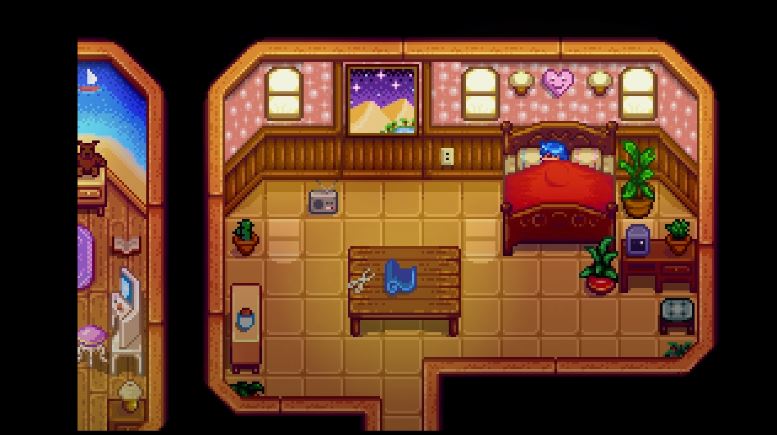 When you earn any Friendship level greater than zero, Emily will send you a letter in the mail with a gift set. The letter writes: 
Hi!
How are you doing? I hope you enjoy the gift I've sent you… Well, goodbye!
-Emily
Enclosed in the letter are some of her favorite items such as cloth, sea urchin, and wool. You'll have a higher chance of receiving the gift as you get closer to Emily. 
Two Hearts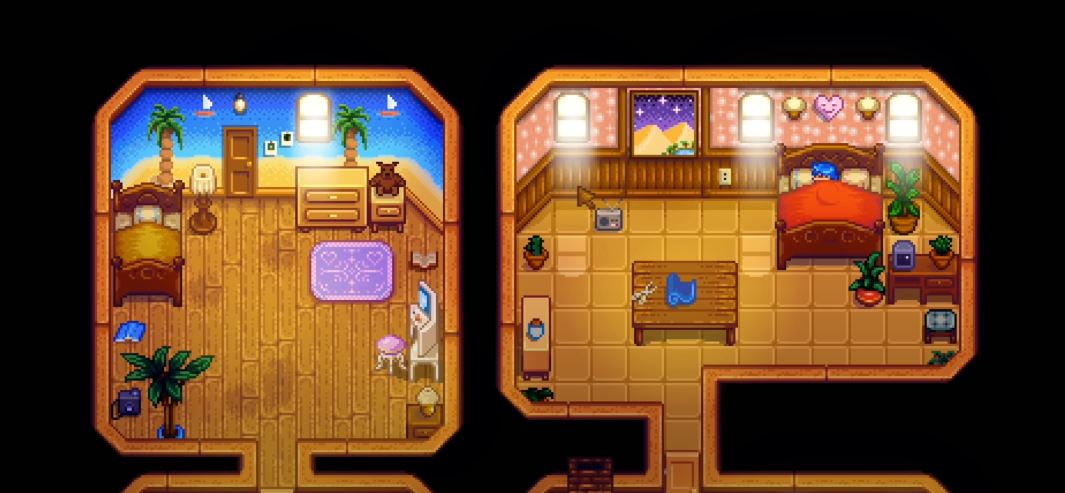 You need to enter Emily's house to trigger this insightful two hearts event. You'll find her asleep in her room, and a cutscene ensues of Emily's dream. In the dream, you can vividly see abstract shapes, colors, clouds, and palm trees surrounding Emily's body as she floats and chants some "power words." Disrupted by your sudden appearance, she wonders why you're in her dream. She notices rainbow streaks flying by and sees them as some sort of sign. 
After that, you immediately disappear, and Emily wakes up from her strange dream. She's pleasantly surprised to find you inside her bedroom as she gets out of bed. She then mentions that there's something special about you. 
Three Hearts
Once you've reached three hearts with Emily, she'll send you a letter with a salad recipe in the mail.
The letter reads: 
Flip this letter over for instructions on how to make a super-healthy meal!
You'll feel energized. See you soon.
-Emily
To make the salad, you'll need leek (x1), dandelion (x1), and (x1). 
Four Hearts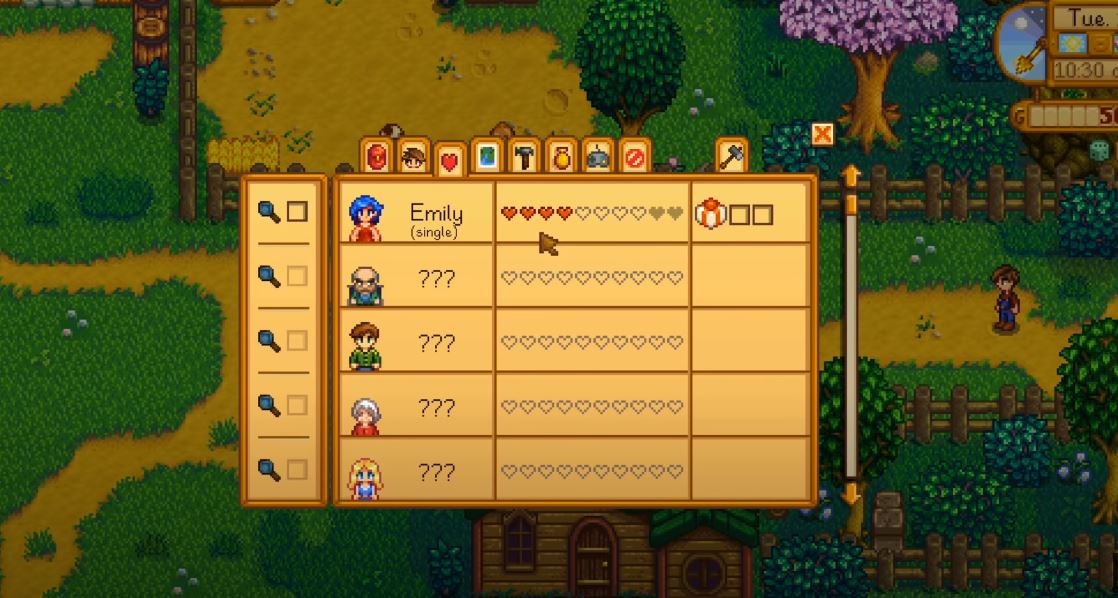 You can trigger this event when you enter the town on a sunny day. However, it can't be triggered during the Winter season. You'll find Emily leaving her house on a sunny day. She waves at the three parrots that fly by. 
However, she quickly notices the fourth parrot that flies suspecting low; it eventually smacked straight into her house windows. Emily rushes to the injured parrot and cradles it in her arms. She promises to take good care of the parrot and houses it inside her room. If you come near it, the parrot will squawk and hop around. 
Six Hearts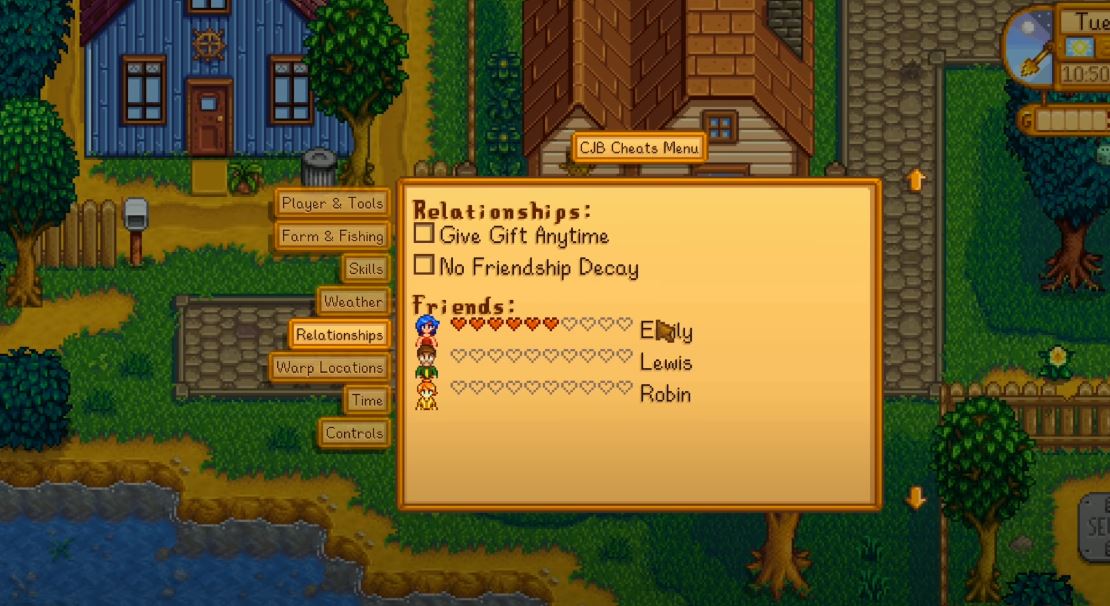 The Six Hearts Event happens in Emily's house when she's inside; simply enter her room, and she'll be giddy to show you her secret hobby. She'll turn on the stereo and begin dancing for you. Once the music ends, she'll ask her opinion about her performance. You can either tell her: 
Whenever you choose to say this, Emily will be glad to hear your compliments, and your friendship points will increase by 25 points.
"That was embarrassing.."

 
These words cut to the heart. Any person hearing this would be sad, and Emily has every right to feel dismayed about your statement and give you a 50 point friendship demerit.
Say nothing and do a slow clap.
Sometimes, actions are truly enough to express how you feel. If you are truly impressed by Emily's performance and choose this option, you earn 25 Friendship Points from her. 
Seven Hearts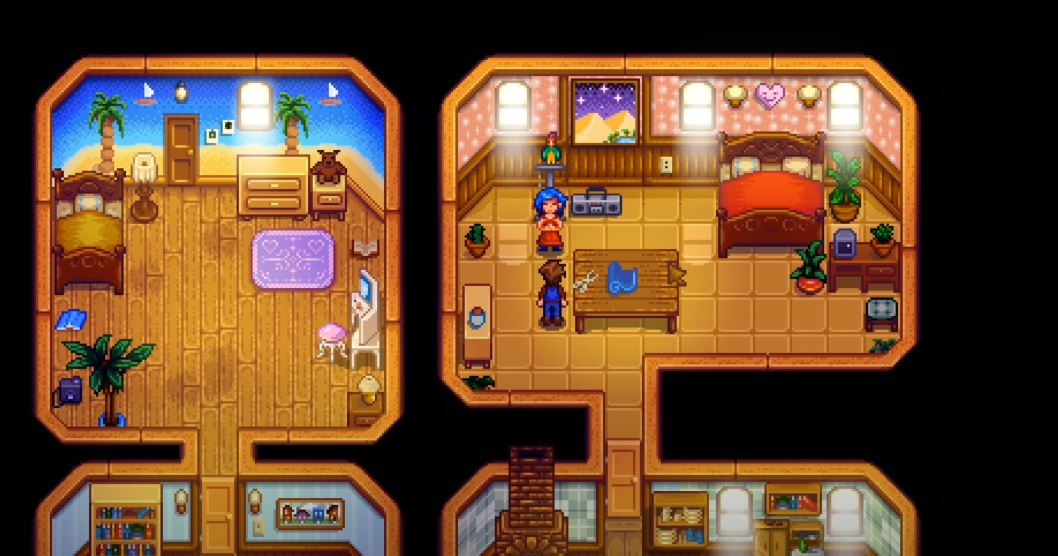 Emily has a penchant for sumptuous meals. She has quite a particular palate, and she's eager to share some of her recipes with you. Once you reach Seven Friendship Hearts, she'll send you a recipe for a Red Plate. The letter contains the same words as the previous event. 
Eight Hearts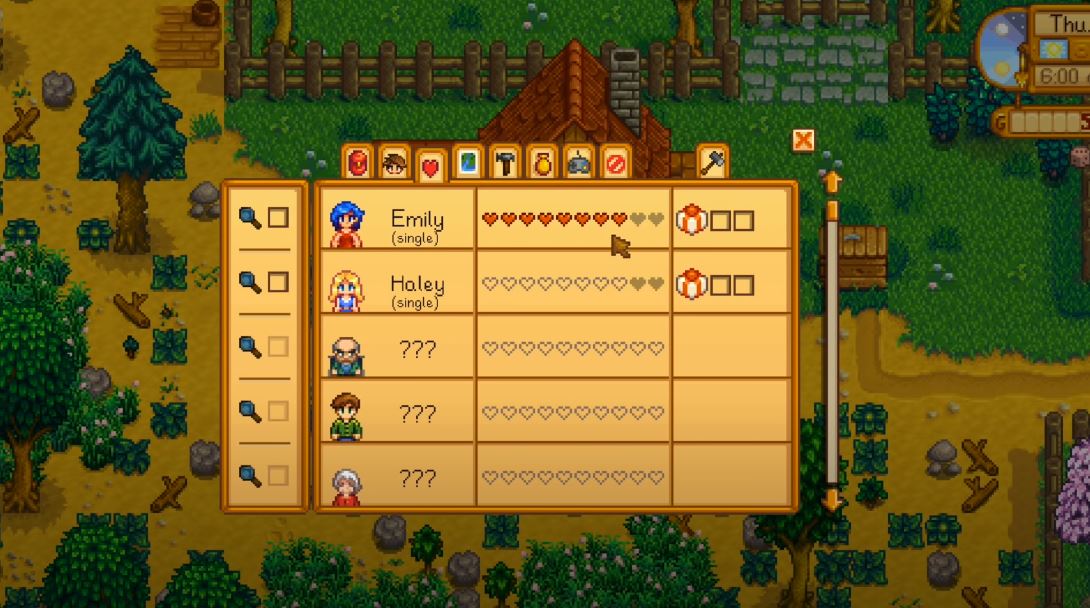 For her Eight Hearts Event, Emily invites you to visit the Mayor's Manor that same day during open hours. If you've missed the event on the first day, don't fret. You still have the chance to join on the following days. 
Once you enter the Mayor's house, Emily will explain the event's purpose. She persuades everyone to express their true selves through fashion. Mayor Lewis, Shane, Robin, Abigail, and Clint are attending the event. All of them take turns going behind the curtain. 
Emily tells everyone to pick any clothes that speak to them. Shane puts out a full "goth" outfit. On the other hand, Robin tries on a fine dress while donning a new hairstyle. Mayor Lewis proudly wears a fancy hat, cape, and cane. Abigail surprises everyone with a full suit of armor. Now, Clint seems shy about the whole prospect, so Emily tries to convince him. Clint tried on some clothes. 
While he's gone changing, Emily privately talks to you. Soon after, your conversation is interrupted by Clint, who isn't entirely happy with your growing fondness for each other.
Ten Hearts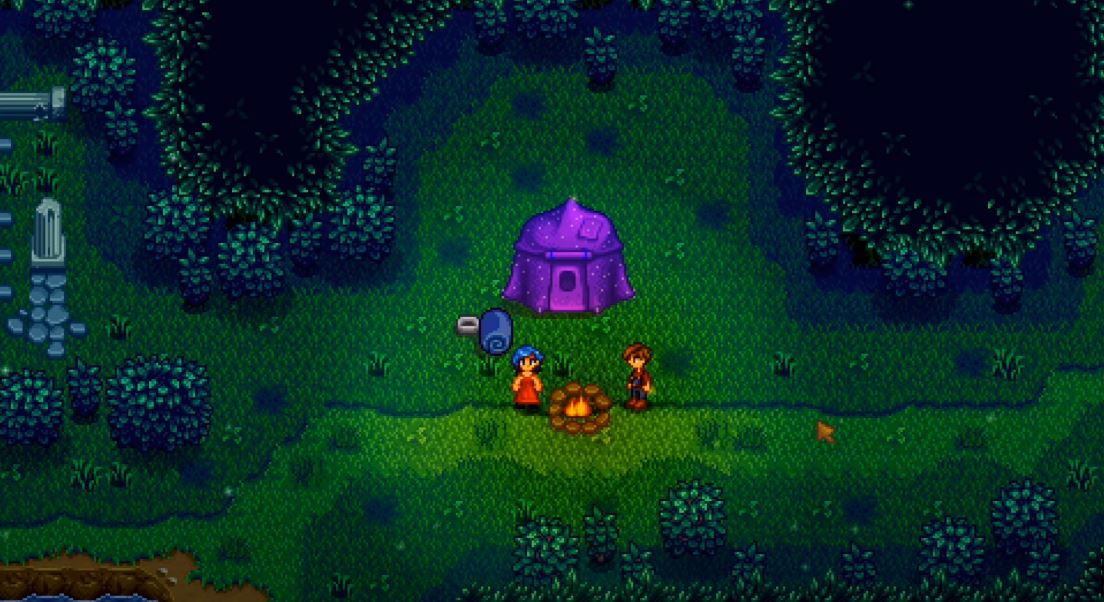 In Emily's Ten Hearts Event, she will invite you to meet in the Secret Woods after 10 pm the same night. You can break the Large Log blocking the entrance with a Steel Axe. However, if you still don't own a Steel Axe, the heart event will trigger either way, whether it's not raining or festival day. 
Once you enter the Secret Woods, you will go camping with Emily. Both of you will hear a strange and loud sound coming from the forest. She says it's a bit cold, so she sits closer and snuggles with you by the fire. 
A bear came out, and both of you jumped inside the tent out of fear. The bear continued to taunt you by sniffing around your tent. Eventually, it left. However, Emily will quickly notice that you only have one sleeping bag inside the tent. This means that you have to share the bag as both of you are too scared to go out. After the cutscene, the day ends, and you'll receive a letter for Emily that reads: 
"Thanks for joining me last night… I had a great time.
I'm actually glad that bear showed up!
See you soon
Love, Emily
Group Ten-Heart Event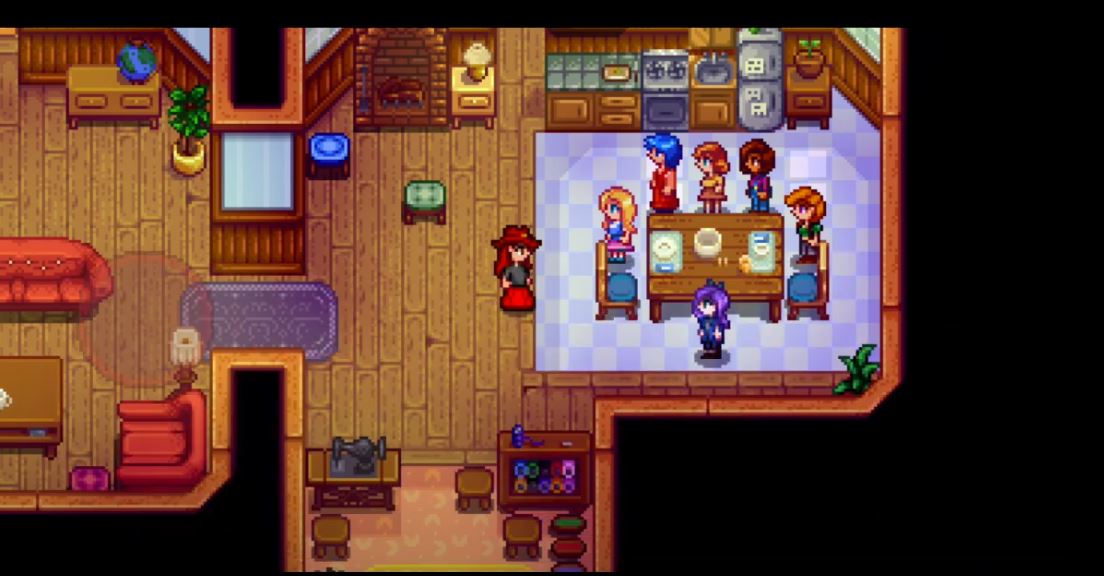 This event will only trigger when the player: 
is still unmarried;

has given a bouquet to all available bachelorettes;

raised their friendship to 10 hearts, and;

has witnessed each bachelorette's 10-heart event.
If you meet all the requirements listed, you can trigger the cutscene once you enter Emily/Haley's house. Just like the bachelor's group ten-heart event, all the bachelorettes will be mad at you for eating them all at once. They won't interact with you and will say mean dialogues for a week.
They will also refuse any gifts you give. After a week, they will forgive you, and eventually, the interactions will return to normal. The event will not trigger if you are married, have given a wilted bouquet or a mermaid's pendant to any of the bachelorettes. 
Fourteen Hearts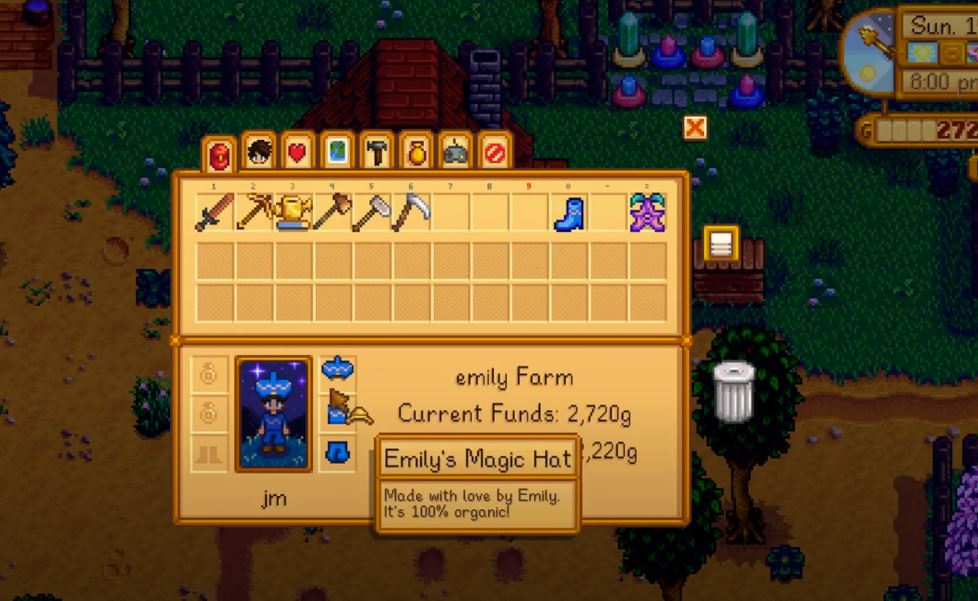 This is Emily's last heart event; she'll be waiting outside your farmhouse to give you a quest entitled, "Errand for Your Wife." She asks you to bring her 200 pieces of fiber. Once completed, Emily will give you a new outfit after waiting three days for her to finish the tailoring. The outfit includes Emily's Magic Hat, Emily's Magic Boots, Emily's Magic Shirt, and a pair of blue Genie Pants.
Marriage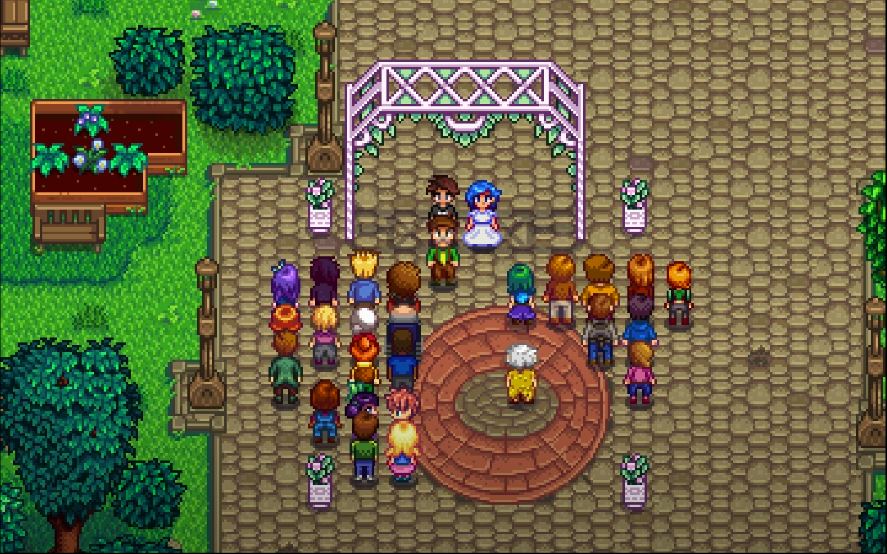 When you choose to marry Emily, she will move into your farmhouse and add her own room right next to your bedroom. Aside from that, she'll also set up a small crystal garden behind the farmhouse, where she spends most of her time meditating and being attuned with her spirituality. 
Her parrot will also be living with you as well. She's an extremely thoughtful wife and would offer you different items, like cloth, wool, duck feather, refined quartz, or bean hotpot. She likes to prepare different kinds of things so you'd be surprised at what things she'll offer you. 
FAQs
Question: Is Emily a good wife in Stardew Valley?
Answer: Many players choose not to consider Emily, especially since she wasn't always developed to be a romance option. However, she's a good candidate. Her kind heart, quirky attitude, and interesting cutscenes are enough reasons to pick her,
Question: How old is Emily Stardew Valley?
Answer: Age might not be a widely accepted concept in-game. That's why ConcernedApe didn't release any information about the characters' exact ages. But, it's quite safe to assume that Emily is around her late 20s to early 30s, just like Leah, Shane, Elliott, Harvey, and Sandy. 
Question: Will Clint and Emily date in Stardew Valley?
Answer: Everyone knows that Clint has a crush on Emily. However, they will never end up together even if you don't pursue her unless you use a mod called "Life Cycle."  
Emily is Pelican Town's Certified Fashionista
Emily is a unique character; she's simply happy-go-lucky and optimistic. Her unique taste for many things, especially in fashion, is quite challenging. This makes her hard to please. While she's a tough nut to crack, she'll eventually open up to you once you become friends.
Her light-hearted cutscenes and character development are just a few reasons I personally like this character. I hope this guide has enlightened you about Emily's character, especially if you're considering marrying her.
Recommended Reads: