Latest posts by Melika Jeddi
(see all)
Like many others, I was enthralled by the delightful indie game, Stardew Valley. It captured my heart from the moment I started playing it, and the lore and characters have stayed in my heart ever since. So when Eric Barone, aka ConcernedApe, announced he was working on Haunted Chocolatier, I was beyond excited. There's no way that a game produced by the same developer as Stardew Valley won't be spectacular.
But what else do we know about Haunted Chocolatier? What will the story be? What's the gameplay like? When's it being released? Hold your horses, okay! I know you're excited, but let's not get ahead of ourselves. We have so many questions but Eric is being very cautious about how much he's revealing at this stage of development.
Fortunately, I was more than happy to trawl through the info we have so far to try and answer as much as possible about this much-anticipated upcoming game. Let's get into it!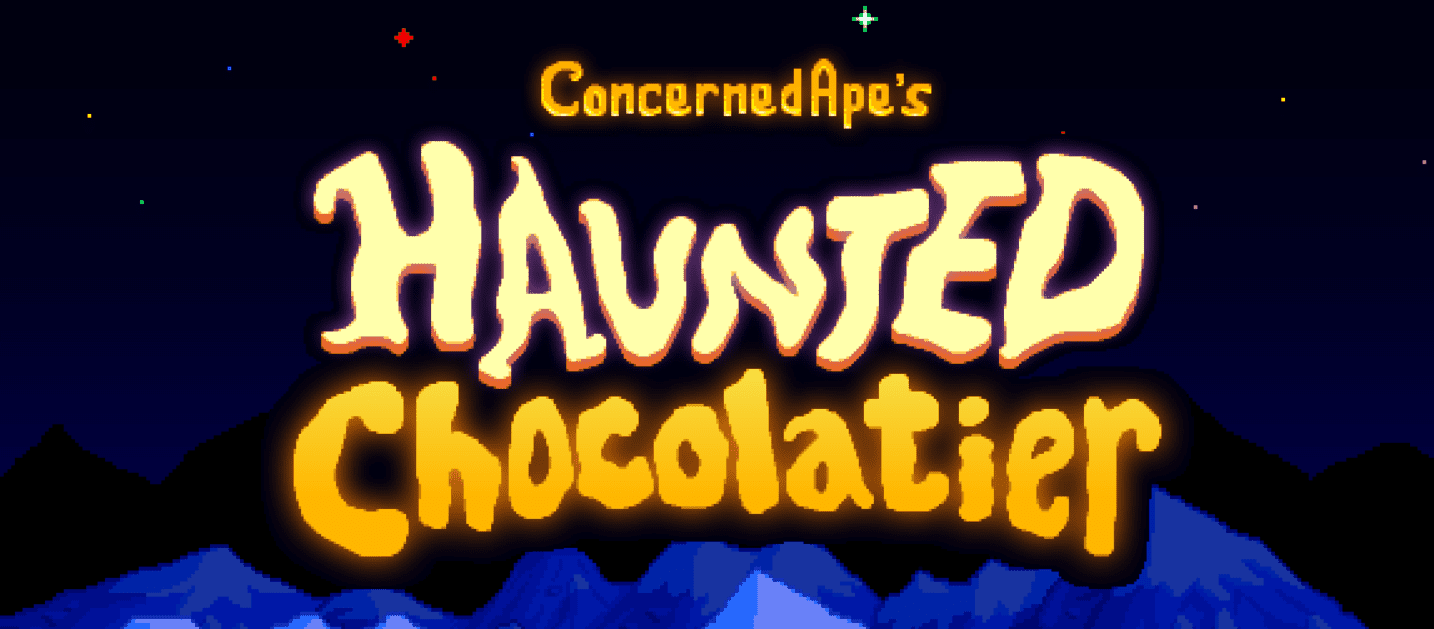 Haunted Chocolatier at a Glance
Genre – Cozy action RPG
Release date – TBD
Developer – Eric Barone aka ConcernedApe
Art Style – Pixel art
Platforms – Confirmed for PC, consoles and other platforms to be announced.
Why Should We Care?
New games come out all the time, what's the big deal with Haunted Chocolatier? Why all this hype around it? Well, although the promo material we have so far does look epic, the truth is that most of the anticipation is due to Eric's reputation rather than the game itself.
If Stardew Valley didn't exist, I'm sure Haunted Chocolatier would just be yet another cute cozy title on a few people's radars rather than the cultural phenomenon it is in reality.
Stardew Valley is one of the most successful indie games of all time. Absolutely everything was conceived and developed by ConcernedApe and the whole game is a masterpiece. It flows impeccably smoothly, and you can see how much love and passion went into producing it.
The gaming community certainly took note, and it was a huge success. As of March 2022, the game had sold a whopping 20 million copies, and the popularity still shows no sign of slowing. With that in mind, it's easy to understand why so many people are excited about Haunted Chocolatier.
Eric has demonstrated his talent for producing an incredible game, and we fully trust him to do the same again this time.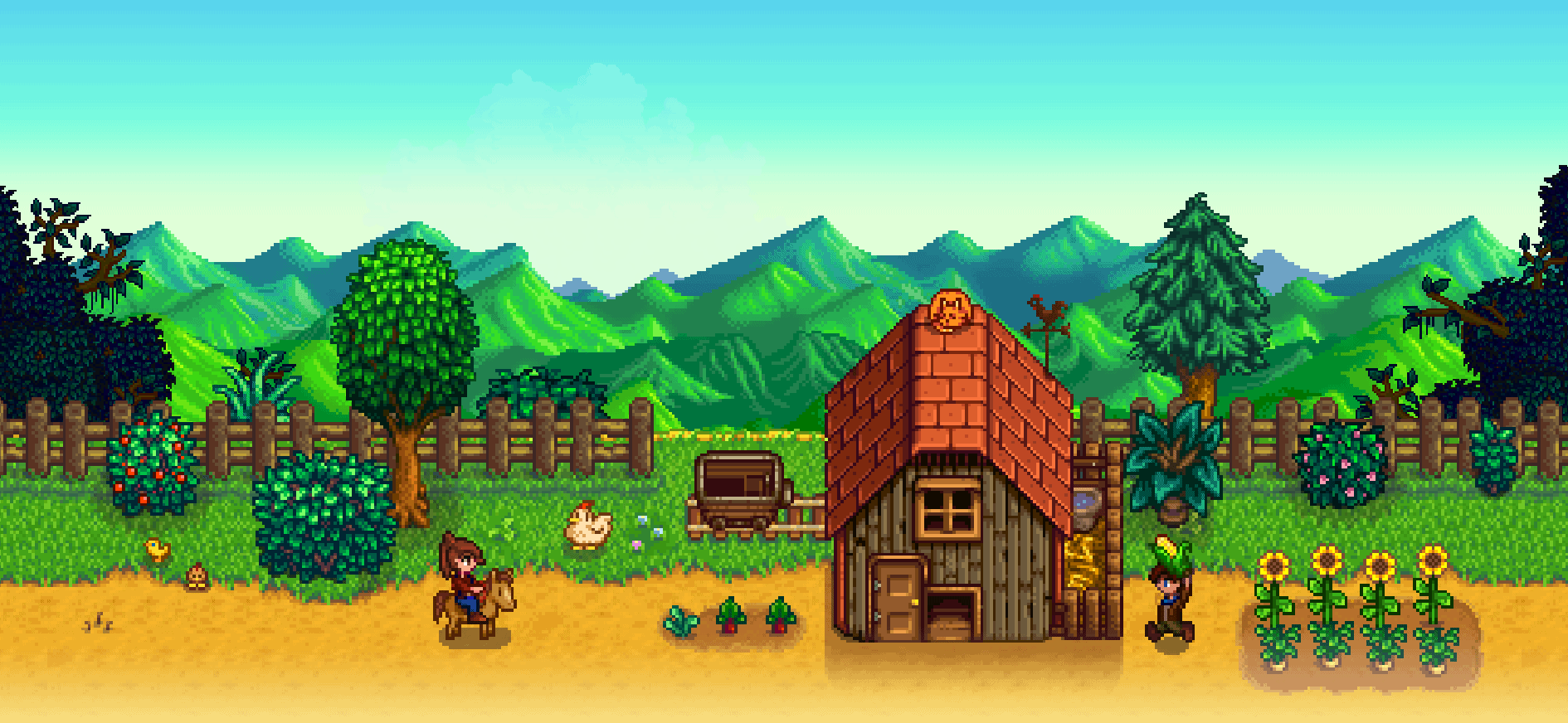 Will It Be like Stardew Valley?
It's a fair question. After all, it's what ConcernedApe is known for. Well, as Eric has stated on his website for the game, 'In some ways, yes, but in many ways, no'.
Despite the vagueness of the answer, he does then go on to elaborate and acknowledges similarities such as how you interact with the townspeople. However, he's also confirmed that the gameplay will be totally different, and he described Haunted Chocolatier as an 'action RPG'.
One thing that's clearly the same is the art style. Many of the visual assets visible in the promo materials are identical to Stardew Valley, such as the tree stumps or the gold tracker. Eric's also gone for a near-identical color scheme as well as a very similar font for the dialogue. He's clearly playing up to the positive reputation of his first game and trying to forge a connection between the two.
One of the plot points also seems to be similar. In Stardew Valley you move there to manage the farm in pursuit of a more quiet life, having just come from city living. There's a line in the Haunted Chocolatier trailer where a character asks you "What's it like, living in the big city?", so it seems that the start of your journey is based on the same premise.
A much more interesting question in my opinion is whether there will be any in-game connection between the two titles. The lore of Stardew Valley is one of the reasons I love it so much, and I'm intrigued to find out whether Haunted Chocolatier is set in the same universe.
Eric has deliberately chosen not to answer this, claiming 'I'm not ready to reveal anything like that just yet'. However, the fact he's included that in his FAQs makes me feel like there could definitely be a link!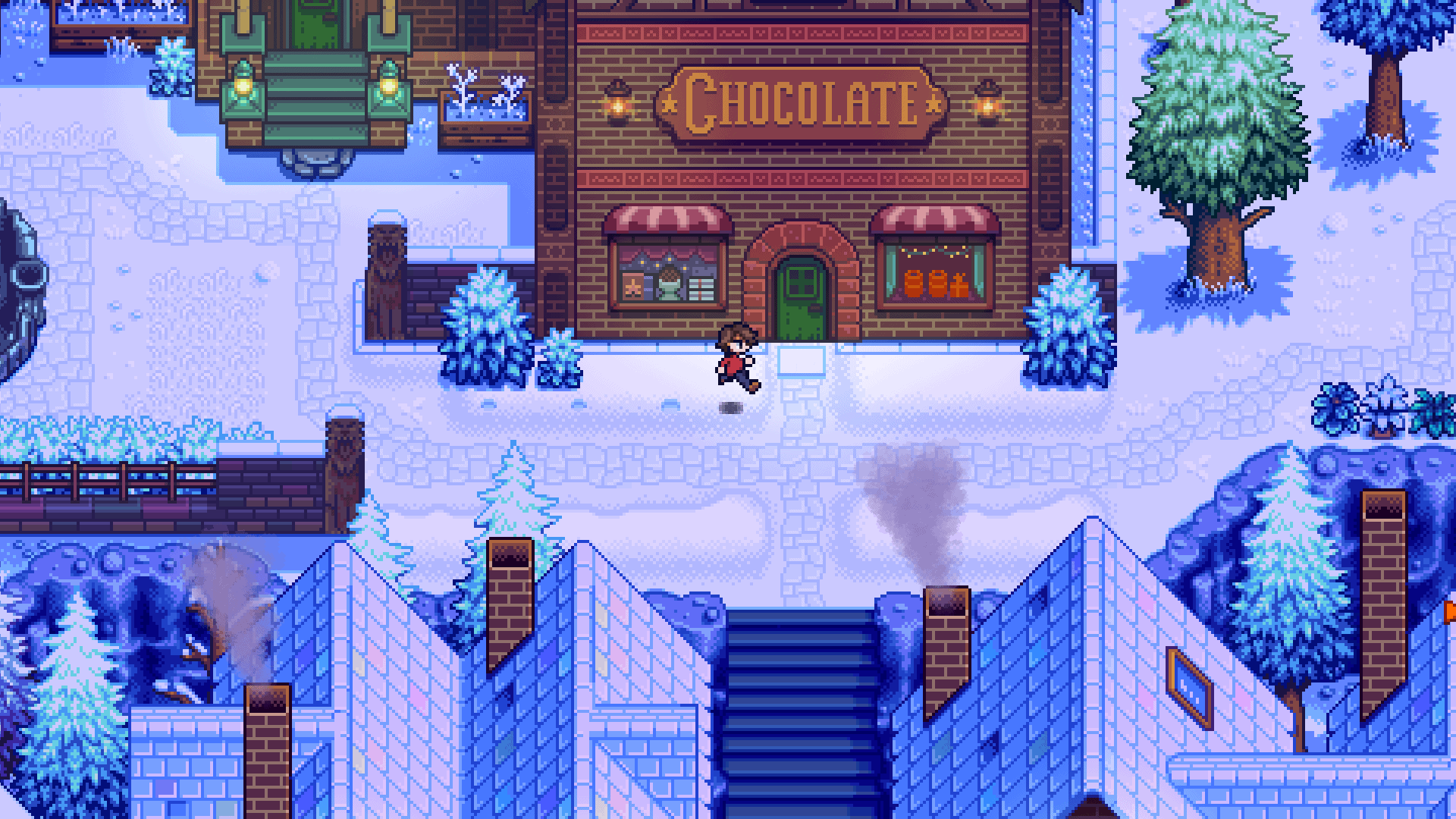 Dissecting the Trailer
Given that we still don't even have a release date, the trailer is impressively detailed. It gives us a decent idea of what we can expect, although it's important to note that this is only an early gameplay trailer. As such, there's still plenty that can change between now and the game being released.
The first thing that comes to mind is how charming the setting is. The town looks quaint and cozy; I really can't wait to explore it and to get to meet all the NPCs. At the forefront of the game is the magnificent building that we call home. Our chocolatier. It has a gorgeous fountain outside and the entire building is huge and elegant. It's like a mansion that we've decided to repurpose to produce chocolate.
However, you can't make chocolate without ingredients. To source them, you must traverse through the mysterious world hidden behind one of the doors.
Through it, you face various enemies as you explore for new ingredients to make chocolate with. Collect delicious items such as Nectar and Huckleberries to bring back with you. Then, you can throw them into your pot to make unique new chocolatey goodies.
Open up shop to sell your new creations and watch as the customers roll in. Interestingly, it looks as though the townsfolk won't be your only customers. The trailer also seems to show a series of ghosts making their way through your shop. Presumably to do with the 'Haunted' part of the title. The ghosts seem friendly from the trailer, but who knows what's really going on?
There are some fun locations within the town that appear during the trailer. One seems to be a fancy research lab with vials and machines, and even telescopes. My guess would be an astronomy lab, but perhaps it just belongs to a regular scientist who also happens to love space.
There's also a bar with pool and a poker table which will be a fun place to hang out in the evenings. We pan across a bakery at the start, so I wonder if they'll pose any competition to us. There are also some caravans that look positively futuristic.
Overall, the trailer gives us plenty to get excited about and it looks like it's shaping up to be an incredible game. I'm most excited to discover the world behind our home and to figure out the combat system. However, there's also a brief clip where the player gives a gift to their partner, so I'm also excited to discover all the romance options. It seems that Haunted Chocolatier has plenty to offer and I can't wait to play it!
When Will Haunted Chocolatier Be Released?
The short answer is that we don't know. ConcernedApe hasn't given an official release date yet, and this is a deliberate choice.
He says that he wants to 'be able to work in peace without the pressure of a release date'. Given the recent discussions about the toxicity of crunch culture in the game development industry, I'm glad that he's taken this choice for himself. He deserves the space to be able to work on Haunted Chocolatier to the best of his ability without having to worry about rushing it to meet a deadline.
Having said that, we can make some educated guesses. He's said previously that Stardew Valley took him 4.5 years from start to finish, and we know that he started working on Haunted Chocolatier at some point in 2020. If we assume it'll take him around the same amount of time as Stardew Valley did, then we can expect to see it around 2024/2025.
However, there are other aspects to consider. He'll be able to work on a bigger budget now given the success of his first title.
Although he's committed to remaining a solo developer and has no plans to bring anyone else on, he'll be able to invest in developing tools to help streamline the process. He's also got more experience than he did before. On the flip side, it seems that Haunted Chocolatier is a more ambitious project, so may well require extra work.
Personally, I reckon these factors will balance out and will mean it takes almost exactly the same amount of time as Stardew Valley did. I would love for it to be ready sooner, but not at the expense of quality. I'm glad that Eric is committed to giving this game all the time that it needs to make it great.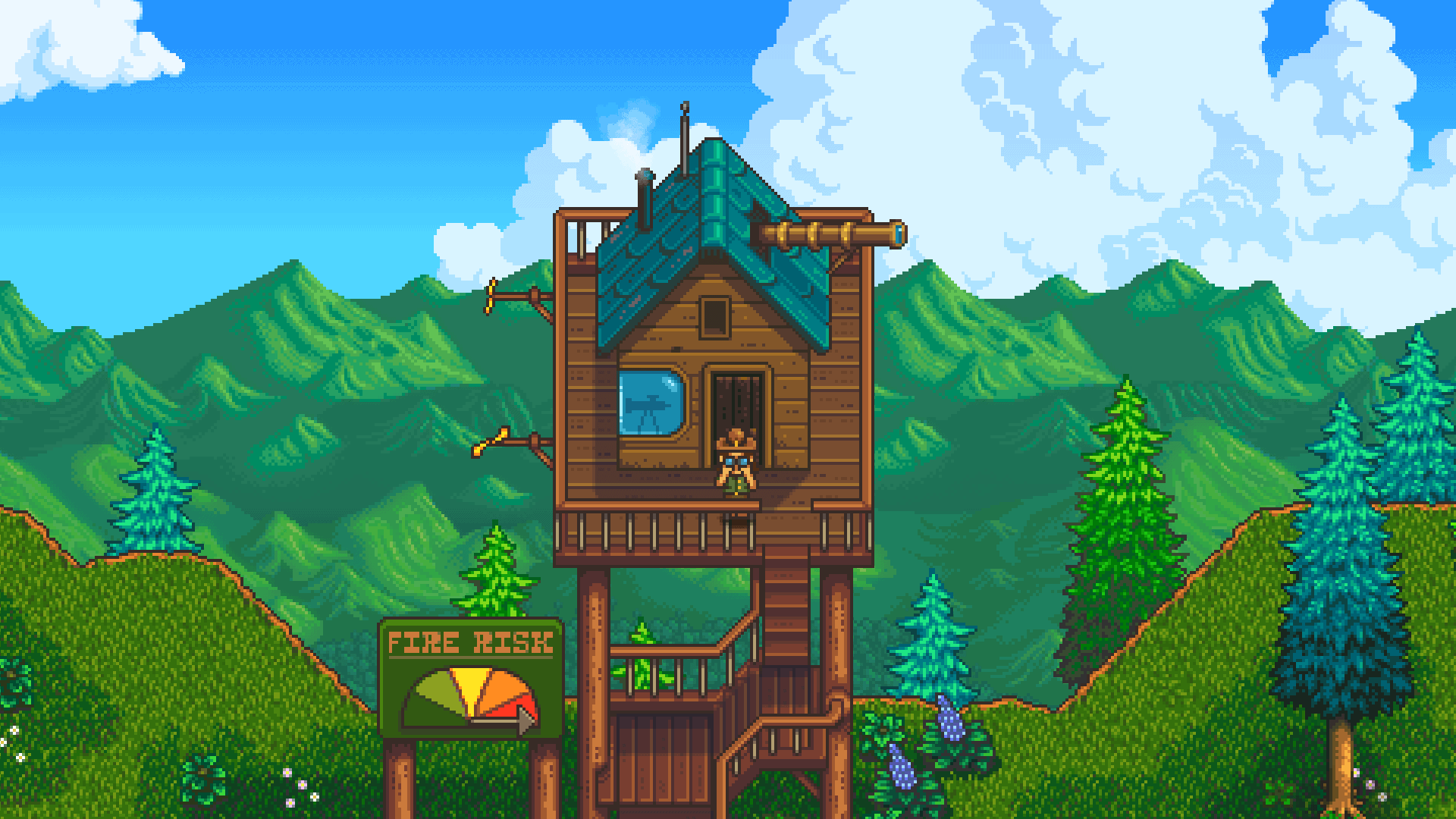 Miscellaneous Musings
One of the reasons that Stardew Valley became so popular was the multiple romance options. I hope that we have the opportunity to date and marry people a bit older than in Stardew Valley. Although I love the characters, I did always feel that they seemed rather young.
It would be cool if Haunted Chocolatier had bachelors/ bachelorettes aged between 20-40 to make it more inclusive for older players. The character models seen in the trailer do look to cover a range of ages, so I'm quietly optimistic about this.
One thing that struck me is that it seems Haunted Chocolatier will have a heavier focus on combat. We see in the trailer that gathering ingredients involves defeating enemies, plus Eric himself describes the game as an action RPG. That means we can expect to do plenty of fighting and I'm curious to see all the weapons and battle items that we'll get access to.
There's also been a boss revealed, a giant bee, so we can safely assume that there will be several of these boss battles throughout the game. Perhaps defeating them unlocks new resources, so in this case, beat the bee boss to get access to honey?
Given how large the chocolate shop is, and the range of furniture visible, I would imagine that customization is likely to be an option. This was present in Stardew Valley but I hope it's even more prominent in Haunted Chocolatier.
I'd love to have a large range of customization items such as rugs, decorations, and wallpapers. It would be super cool if we could also get lots of new clothing options, but there's nothing from the trailer to suggest that it's a possibility. We'll have to wait and see!
FAQs
Question: Is Haunted Chocolatier a sequel to Stardew Valley?
Answer: It's complicated. Whilst the gameplay is similar and the art style is identical, ConcernedApe hasn't yet revealed if they're set in the same world. However, regardless of whether or not they share lore, we know that it's not a direct sequel. The focus is on a chocolate shop rather than a farm, so don't go into it expecting a new version of the same game.
Question: What platforms will Haunted Chocolatier be available on?
Answer: Thus far, ConcernedApe has only confirmed it will be available for PC. However, we can safely assume it will also release for consoles (probably Nintendo Switch, Xbox One/ Series X, and PS4/5). Stardew Valley also got a mobile release, so perhaps Haunted Chocolatier will as well.
Question: Are there trailers for Haunted Chocolatier?
Answer: Currently (as of January 2023) we only have the initial teaser trailer for Haunted Chocolatier which was released in October 2021. However, the game is still in a relatively early development stage, so I expect we'll get a more detailed trailer within the next year or so.
Conclusion
There's still a lot of mystery surrounding Haunted Chocolatier. Very few details have been released thus far, so a lot of info circling the internet right now is just speculation. With this article, I've summarized everything we know for certain, as well as added some of my own hopes and theories.
Hopefully, you should now have a better idea of what to expect from the game. It's got the same cute pixel art style as Stardew Valley and it seems to include many of the features that we loved before. It'll be fascinating to see the similarities and differences once the full game is released. One thing I'm particularly excited for is learning the lore of the world. I love to fully immerse myself in a game, and a compelling story is a way to do it.
Whilst you're waiting for Haunted Chocolatier to be released, why not learn more about its predecessor, Stardew Valley? We have loads of great articles here at SDew HQ, such as this guide to Journey of the Prairie King. Or if you're looking for something entirely new to play, check out our list of games like Stardew Valley!