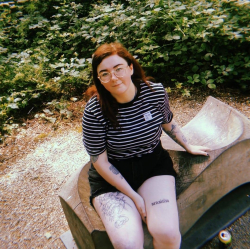 Latest posts by Ella Walsh
(see all)
Cloth is a much sought-after resource in Stardew Valley with a surprising range of uses; luckily, there are options for every skill and player type to acquire Cloth doing the things you love to do! These will be explained in more detail but to summarise, you can get cloth;
Use some Wool in a Loom
Recycle soggy newspaper in a Recycling Machine
Defeat Mummies
Visit the Desert Trader
Become Emily's BFF
What Are the Benefits of Cloth?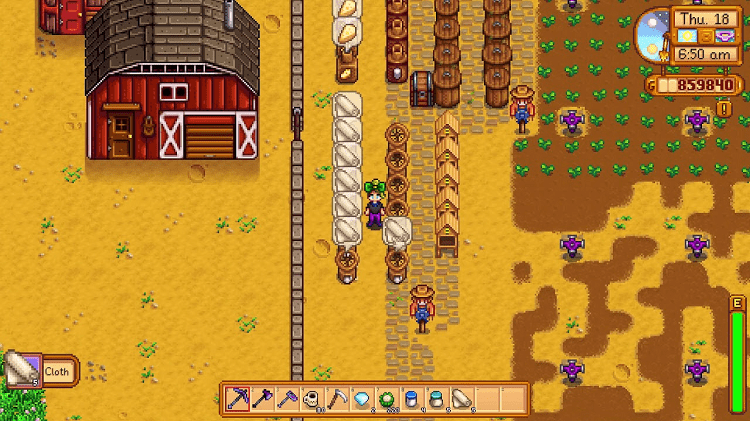 While Cloth may seem dull and one note, it can be used in a surprising variety of ways, including Fishing, Making Friends, Altering Clothes, and even finishing Buildings.
Community Cloth
Who knew you could use Cloth to restore a community? Well, I did, of course. If like me, you are keen to support Pierre and close that pesky Joja Mart, you are likely searching for Cloth to make some progress with the Community Centre challenge.
Cloth is needed to complete the Artisan Bundle in the Pantry within the Community Centre. To complete this Bundle, you need to provide six of any of these individual items;
Apple

Apricot

Cheese

Cherry

Cloth

Goats Cheese

Honey

Jelly

Peach

Pomegranate

Truffle Oil
If you do manage to complete the Artisan Bundle (which, granted, is quite tricky), you will be sufficiently rewarded for your efforts! A Keg is an excellent gift for completing this Bundle, as you can make any wine, some beer, and ale!
Completing all Bundles in the Pantry (Spring Crops, Summer Crops, Fall Crops, Quality Crops, and the Animal Bundle) will give you the most exciting reward for keen Farmers, the Greenhouse.
Everyone Loves a Yarn!
Most of the residents of Pelican Town would appreciate a surprise Cloth gift! While I would not be thrilled at receiving this kind of gift, Emily loves Cloth, so she would be your prime candidate if you have some spare Cloth lying around!
Other good options for giving Cloth (in terms of female residents) include;
That is not to say that the men of Pelican Town don't also appreciate Cloth. You can also gift Cloth to;
It is good to consult the above list before offering Cloth to anybody because you can upset some people by giving them Cloth (utterly fair if you ask me! Specifically, you should not give Cloth to Jas, Vincent, or Sebastian as they hate it.
Of Course, There Is Also Cloth-ing
As the name would suggest, Cloth is essential for making Clothing, so if you consider yourself a Tailor, you will need to be in constant supply of Cloth. To customize any item of Clothing, you require one piece of Cloth each time. If you consider yourself a fashionista, keep at the Cloth creation.
Cloth For Fishing
Cloth is quite a multipurpose item; it can even be used to lure more fish! You can use Cloth to create a Dressed Spinner for your fishing Rod; this makes it easier to catch fish by making them more likely to take the bait (literally). To create this, you will need the following;
1x piece of Cloth

2x Iron Bars

To have already reached Fishing skill level eight
Cloth For Buildings
One of the most exciting options available is to create a Mill which will allow you to create a range of new exciting products such as Rice, Beets, and Wheat. To do this, all you need is;
4x pieces of Cloth

150x pieces of wood

50x pieces of Stone
Of course, you will also need to visit Robin to request construction and remain patient while it is built!
How to Get Cloth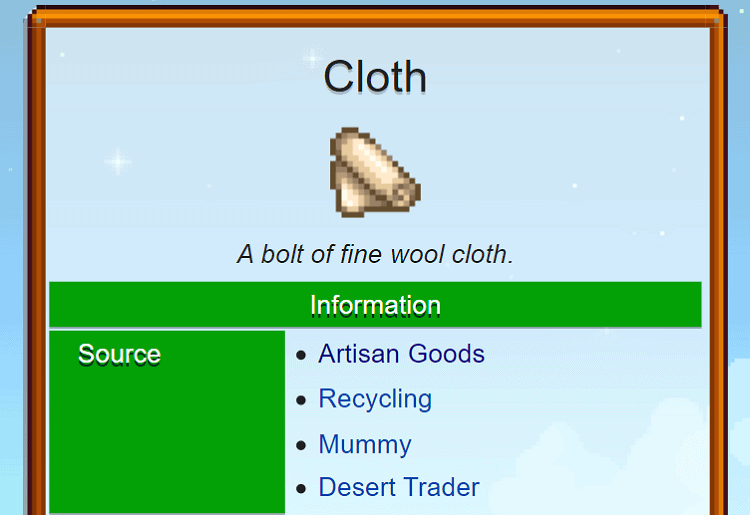 Cloth, like many other things worth having, requires time, energy, and hard work. That is to say that Cloth cannot be purchased easily or happen on your adventures. Luckily, there are many different ways to get Cloth that should suit every type of player!
Creating Cloth Using a Loom
Creating a Loom
If you consider yourself a Craftsman, you might prefer to make your Cloth on a Loom! Of course, if you do not already have one, acquiring a Loom also comes with the challenge.
Looms are not instantly available for you to craft, as you first need to reach Farming Level Seven to unlock the recipe for the Loom. This can take some time unless, of course, (much like me) you prefer to farm and decorate, in which case you should get the recipe in no time!
Once you reach level seven, you will also need the following;
60x pieces of Wood

30x pieces of Fibre

1x Pine Tar
Creating Cloth In Your Loom
Now that you have Loom, you can wheel away until your heart is content to make as much Cloth as you like! To create Cloth in your Loom, you will need them;
1x piece of Wool (This can be obtained by getting Sheep on your farm and shearing them)
Once you have this, it will take four hours for the Loom to create a piece of Cloth, so I recommend constantly having Cloth on the go and storing up the Wool from your Sheep.
How to Get Cloth by Recycling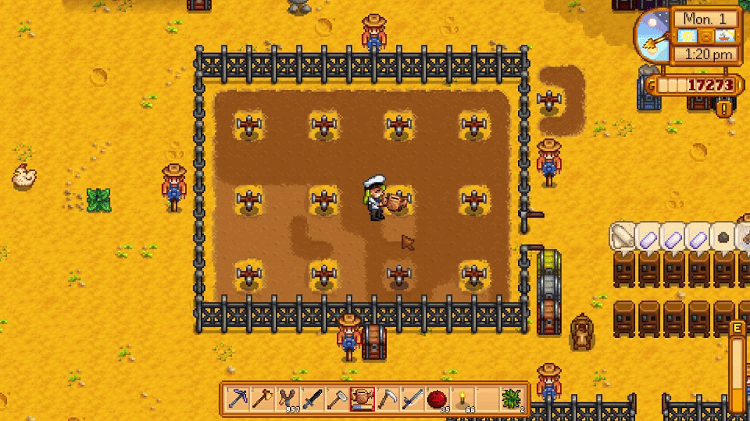 Creating a Recycling Machine
As an eco-conscious girl, I find it so exciting that you can make a range of exciting items by recycling what would otherwise be thrown away! If you are shocked by this option, it could be that you haven't come across a Recycling Machine yet. Luckily for you, a Recycling Machine is not hard to create; all you need is;
Fishing level four

25x pieces of Stone

25x pieces of Wood

1x Iron Bar
Using Your Recycling Machine
Now that you have the coveted Recycling Machine, you can make a range of items, including Cloth. Using the Recycling Machine, you can create something out of nothing, such as;
Stone, Coal, or Iron Ore from Trash

Wood or Coal from Driftwood

Torches or Cloth from Soggy Newspaper, although the chance of Cloth is only 10% compared to a 90% chance of a Torch

Refined Quartz from a Broken CD or Broken Glasses
Finding Soggy Newspaper
You can only find Soggy Newspaper from Fishing. At the same time, previously, I would have been devastated to spend time and precious energy fishing only to get a sad little piece of Soggy Newspaper. Now that I have the recycling machine, even this is exciting!
Getting Cloth by Unwrapping Mummies (kind of)
You have a 20% chance (quite good odds) of getting Cloth by defeating Mummies in the Skull Cavern in the Desert, so this may be an option for you if you are a skilled fighter!
Befriending Emily
As she is a talented seamstress, Emily often gifts Cloth to her friends so that you can give her her favorite things (Amethyst, Aquamarine, Emerald, Jade, Ruby, and Topaz)
Desert Trader
You can visit the Trader in the Desert and swap 3x Aquamarine pieces (although only on Wednesdays) for one piece of Cloth.
How to Get Cloth in Stardew Valley: FAQs
Question: Can I Sell Cloth?
Answer: Yes, and it is pretty profitable for 470g per piece.
Question: What do I Need to Create a Loom?
Answer: You will need 60x Wood, 30x Fibre and 1x Pine Tar.
Question: What can I Recycle for Cloth?
Answer: You can use Soggy Newspaper to make Cloth, although the chances of it becoming Cloth are only 10%.