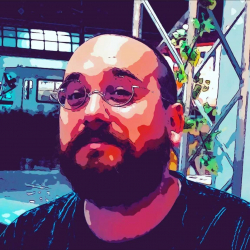 Latest posts by Seth Christmus
(see all)
Stardew Valley, the indie darling released in 2016 by Eric Barrone (aka ConcernedApe), features a motley cast of characters that help make your experience in the game more vibrant and fun. Each resident of Pelican Town has a story to tell, with likes, dislikes, and hobbies they reveal as the player gets to know them.
Under the right circumstances, some relationships will culminate in more than just friendship – marriage is possible, too.
Maru is one of the eligible bachelorettes in Stardew Valley. She wears many hats: scientist, engineer, tinkerer, nurse. She is constantly experimenting on something when she isn't working at the town's clinic. Chat with her on any given day and she's liable to tell you about a robot she wants to work on.
Looking to learn more about Stardew Valley's resident roboticist? Read on to find out all you need to know about Maru.
Bottom Line Up Front
Maru is a character in the video game Stardew Valley and is one of 12 characters you can marry.
She works in Harvey's Clinic during the day.
She likes to build gadgets and help her dad, Demetrius, in his lab.
Maru essentials:

Age – 18 – early 20s
Appearance – Brown hair, round glasses, purple shirt, denim overalls
Temperament – Inquisitive, smart, ambitious
Family – Demetrius (father), Robin (mother), Sebastian (half-brother)
Friends – Penny, Harvey
Best Gifts – Battery Pack, Cauliflower, Cheese Cauliflower, Diamond, Gold Bar, Iridium Bar, Miner's Treat, Pepper Poppers, Radioactive Bar, Rhubarb Pie, Strawberry
Birthday – Summer 10
Appearance, Personality, and Hobbies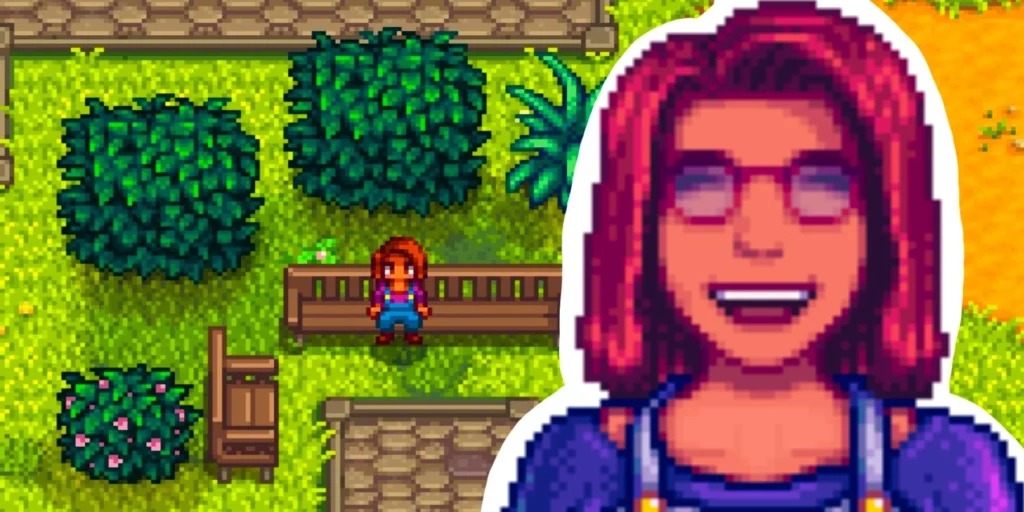 Maru has short reddish-brown hair that falls just to the back of her neck. Her daily outfit consists of a purple long-sleeved shirt and blue overalls. Her sprite figure also wears brown shoes. Her round glasses complete her engineering aesthetic.
Her age isn't known, but like most other characters you can marry, it's widely assumed that Maru is anywhere from 18 to her early 20s. Her father, Demetrius, is extremely protective of her and even mentions that she hasn't left home yet, implying that she's on the younger end of adulthood.
Maru is bright, friendly, and full of laughter, but above all else, she's inquisitive and ambitious. She dreams of building a robot someday, a point that becomes central to her Heart Events. Her curiosity fuels her hobbies, chief among them tinkering with all kinds of gadgets. If she seems a bit spaced out at times, don't worry, because usually, as she says it, "I was just thinking about some gadgets I'm making."
Maru is interested in all manner of sciences. When she's not busy working on something electrical or mechanical, she'll stargaze with her telescope outside her home. She also helps out Demetrius in his home lab and works as an assistant in Harvey's clinic.
Family and Friends
Maru lives with her father, Demetrius, her mother, Robin, and her half-brother, Sebastian. Robin was previously married before marrying Demetrius. Demetrius is a scientist and can be found working in his lab on most days, often with Maru helping him. Robin is the town's carpenter and can be commissioned to build farm buildings and upgrade your house.
Sebastian, on the other hand, is somewhat of a recluse. He spends a lot of time in his room writing computer programs. He only comes out now and then for a smoke break. Because of this, he doesn't have the best relationship with his mom, step-dad, and Maru.
Maru is friends with Harvey and Penny. She spends a lot of time with Harvey at work and on her days off she'll hang out with Penny. During the Flower Dance, she'll dance with Harvey if she isn't asked by the player.
Demetrius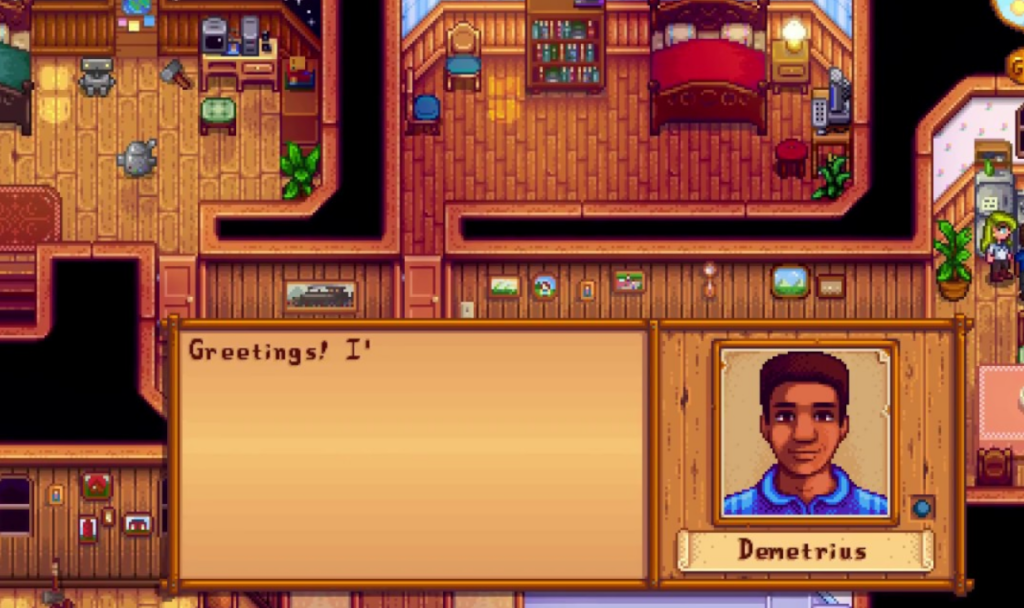 Demetrius is a scientist who moved to Pelican Town to study the diverse natural ecosystem found in Stardew Valley. He lives in the mountains to the north of town with his family. His marriage to Robin is a happy one, though they are known to argue over small issues, like the definition of a fruit.
As mentioned before, he's protective of his daughter, but they get along well. His relationship with his stepson is less rosy, however. Sebastian feels that Demetrius crosses boundaries that a stepfather shouldn't, including telling him how to live his life. He also feels that Maru gets preferential treatment from Demetrius.
Robin
Robin works as a carpenter and will construct many buildings and improvements on the player's farm – for a fee, of course. Her son, Sebastian, is from a previous marriage. Maru is her daughter from her marriage to Demetrius. She has a friendly personality and will invite the player to their family home in the mountains on occasion.
Like Demetrius, Robin struggles to balance her relationships with Sebastian and Maru. She worries about her only son and will remark to the player about how he seems to not care about his future. She can sometimes mess up in how she treats Sebastian, like throwing away his old comic book collection, which he will mention to the player provided they have enough Hearts with him. She has trouble getting him to open up to her about anything.
Her relationship with Maru, however, seems to be better, as she doesn't mention any strife between them. She will ask the player how they and Maru are getting along, which shows that she has an interest in Maru's personal life.
Sebastian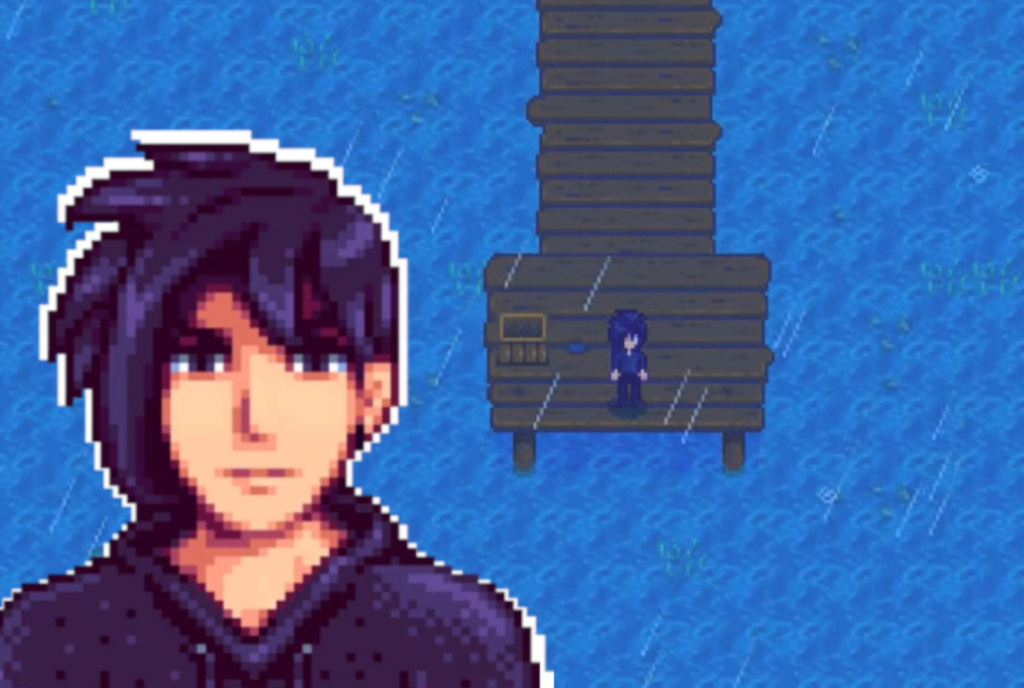 Unfriendly and cold when you first meet him, it can take a while for Sebastian to warm up to you so that you can learn anything about him. He spends most of his time in his room programming for work or indulging in his hobbies, which include video games and comics. He'll occasionally venture out for a smoke break, a walk down to the beach, or to play in his band with Sam and Abigail.
Sebastian is Maru's half-brother, but the two aren't exactly what you would call close. He feels that Maru receives preferential treatment from both Robin and Demetrius. He also thinks that Maru's bright, friendly attitude is just an act.
Harvey
Harvey is the town's doctor. He runs a clinic located next to Pierre's General Store. He constantly worries about the clinic not having enough patients to continue to operate, a worry that he shares with his assistant, Maru.
Maru helps Harvey out in the clinic on Tuesdays and Thursdays. You'll find her at the counter, where she sells a pair of medical goods: Energy Tonic (restores the player's energy) and Muscle Remedy (removes exhaustion).
It's not evident at first, but Harvey has a crush on Maru. This is made clearer by two events, the first being the Flower Dance and the second being the Luau. Harvey will dance will Maru at the Flower Dance if neither of them is dancing with the player. At the Luau, Harvey will hint at a little affection, saying, "Good thing I brought my sunscreen. I wonder if Maru could use some sunscreen on her shoulders?"
Penny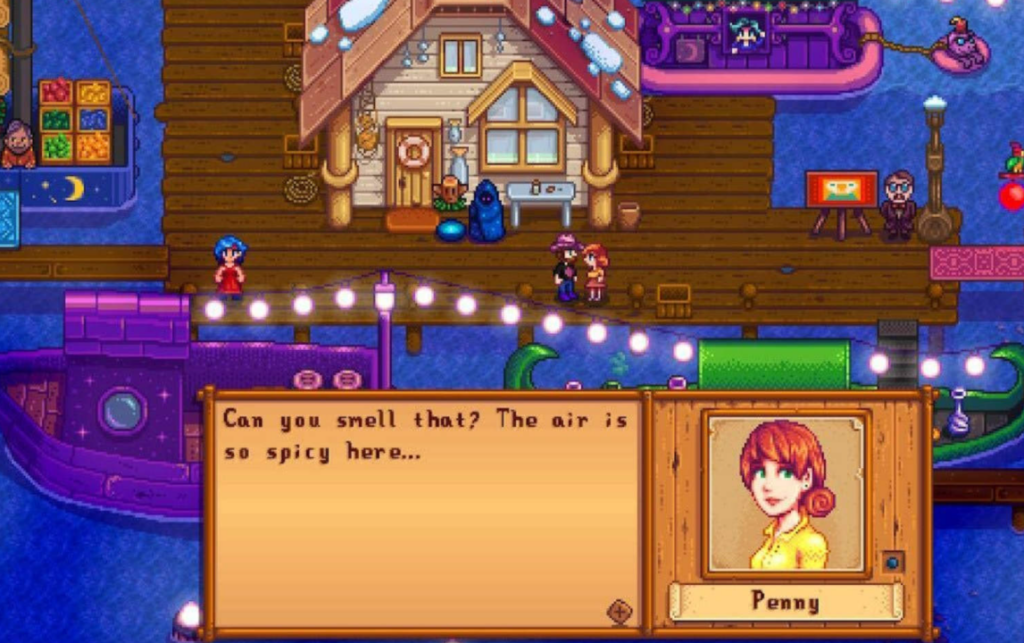 Maru's gal pal Penny is another of the 12 characters you have the option to marry in Stardew Valley. She teaches Jas and Vincent, taking them on field trips and having reading sessions with them at the museum. She lives with her mother, Pam, in the trailer by the river.
Though no specific dialogue points to them being friends, now and then they can be found sitting together on the bench in front of the Stardrop Saloon. They have similar personalities as well. Both are kind and caring individuals that take a genuine interest in the player and their farm the more you get to know them.
Schedule
Maru follows a predictable schedule that makes her easy to track down no matter what time of year it happens to be. On Tuesdays and Thursdays, you'll find her working in Harvey's Clinic from about 9:40 AM to 4:45 PM. She keeps this schedule even after marriage, so finding her on those days is never an issue.
The rest of the days of the week are a little trickier, but she's still only in one of a few places at any given time. On Mondays, she'll work in Demetrius's lab until the afternoon, at which point she'll walk to the bench in front of the Stardrop Saloon and sit for a few hours, sometimes with Penny. This also happens on Sundays.
Maru's schedule on Wednesdays, Fridays, and Saturdays changes slightly depending on the season. The times for her activities remain the same, but the locations are different. In Spring, Fall, and Winter, Maru will work in the lab in the mornings and walk to the bench next to the Community Center, where she'll spend some time before going home.
In Summer, instead of going to the Community Center, Maru will go the Mountain Lake located to the east of her house. There she'll relax by looking over the lake before heading home in the evening. After returning home during Summer, she'll look at the stars with the telescope that's outside of her house. She'll stargaze until she goes to bed at midnight.
Why You Should Marry Maru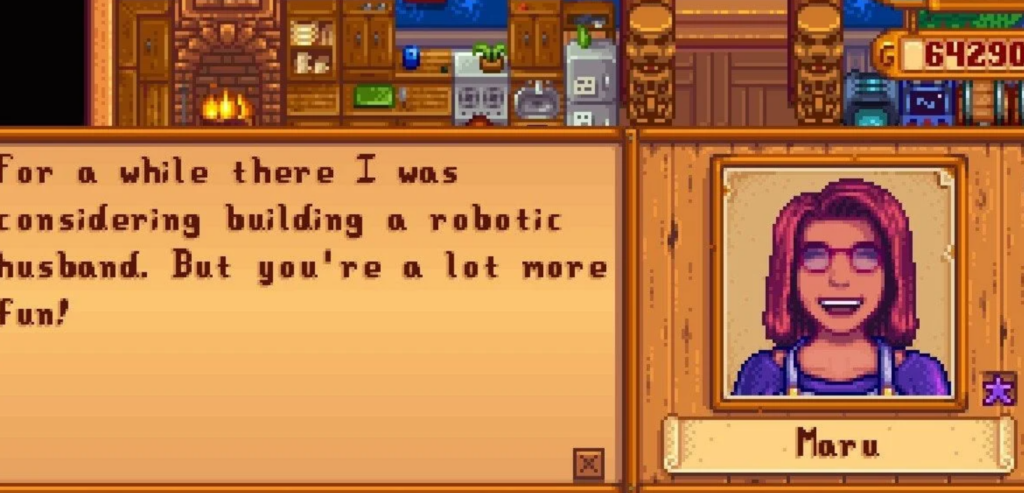 Maru was the first character I gravitated towards for marriage. Personality-wise, she's a gem. She's smart, funny, and has the drive and ambition to reach her goals. She's not afraid to experiment and try new things in her work, like building a sentient robot that thinks and feels. She's generally well-liked in the Stardew Valley community, especially when it comes to her meal-time preferences.
From the get-go, Maru asks you about you and how things are on the farm, signaling a genuine interest in you and how your work is going. Other characters, like Shane, Haley, or even Harvey, take a little while to open up and accept your interest in them, but Maru is friendly from the start without any hesitation.
There's that old saying though – when you marry someone, you marry their family, too. This is true even in the video game world. Maru's family is nice once you get to know them, but they might scare you off at first.
First, we have her father, Demetrius. In Maru's 2 Heart Event, he flat out says he doesn't want anyone getting in the way of her future. Second, her mother, Robin, is always nice to the player, but you may walk in on one of her arguments with Demetrius. Last, Sebastian is cold when you first meet him and a loner. He has troubles in his love life, as Maru says to the player after marriage that she wishes Sebastian would ask Abigail out.
After you marry her, Maru will get a space for her things in the house and an outside hobby area. Maru's room puts her loves on full display. Complete with star-filled wallpaper, computers, a robot, a book, and a hammer adorn the floor.
She also brings a telescope from home. Her hobby area, like that of all the other characters you can marry, will be to the right of the farmhouse. You'll occasionally find her there working on a gadget of some sort.
Best Gifts for Maru
Battery Pack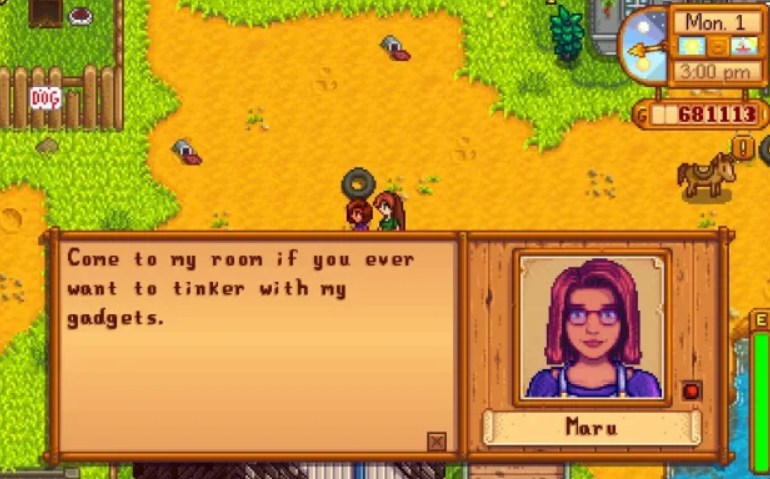 Battery Packs can be hard to come by at the beginning of the game. They can be bought from the Traveling Cart for somewhere between 1,500g and 2,500g, but after you craft either a Lightning Rod or a Solar Panel, you'll be able to produce Battery Packs right on your farm.
You might not want to part with your Battery Packs, however. They are useful when it comes to crafting items and are a material needed to make Iridium Sprinklers, which can cut down significantly on your farming time. Presumably, Maru uses the ones you give her to power her gadgets.
Cauliflower
Cauliflower is a farming staple during Spring. They take the longest to grow but have the highest selling price of Spring vegetables. If you have a few extra lying around, consider giving them to Maru or making her the next favorite item, Cheese Cauliflower. You can purchase seeds to grow this veggie from Pierre's General Store.
Cheese Cauliflower
This classic dish is one of Maru's favorites. Pam will mail you the recipe for Cheese Cauliflower after you reach 3 Hearts with her. You can also find it randomly in Krobus's shop, in the trash can outside of the Stardrop Saloon, or as part of the saloon's menu.
Assuming you don't want to give Maru your trash can Cheese Cauliflower, you can also make it in your kitchen or with a Cookout Kit. As the name suggests, the recipe requires cheese and cauliflower.
Diamond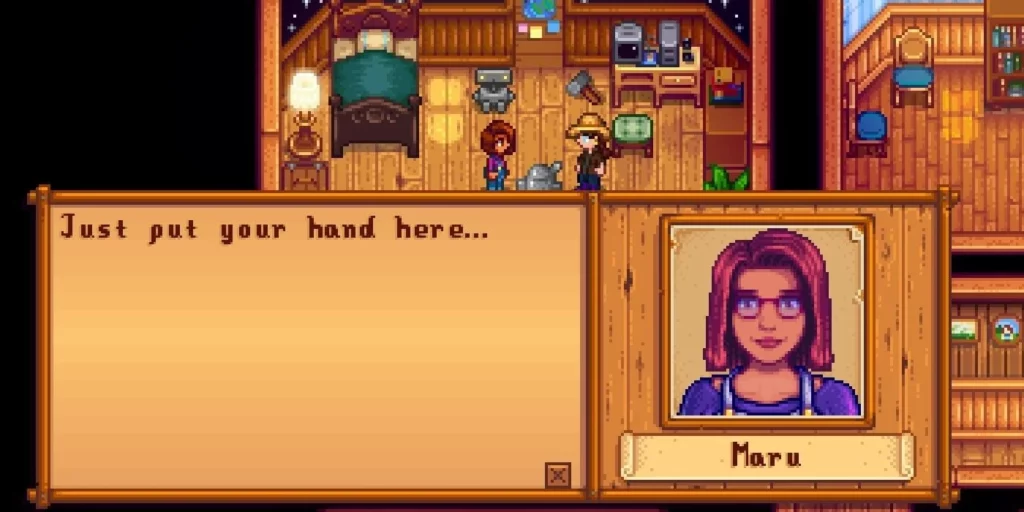 Maru likes her Diamonds, but I doubt it's for the same reason as other characters in Stardew Valley; she probably wants to conduct experiments on them. You can obtain a diamond in a few different ways.
In the Mines, they appear in Diamond Nodes from the 50th floor onward and in Gem Nodes on any floor. Red, Purple, Copper, and Iron Slimes all occasionally drop Diamonds, as well as Duggies and Wilderness Golems. You can also find them in treasure chests found while fishing and by panning.
If you have a Crystalarium, the easiest way to get Diamonds is to simply make copies of them. A Crystalarium can be crafted using 99 Stone, 5 Gold Bars, 2 Iridium Bars, and 1 Battery Pack.
Gold Bar
Gold Bars are needed to craft a good many of the mechanical items in Stardew Valley – that's probably why Maru likes them so much. After building a Furnace, the easiest way to get Gold Bars is to smelt them yourself. It requires 5 Gold Ore and 1 Coal to smelt a Gold Bar.
Iridium Bar
Iridium Bars are a little tougher to come by than Gold Bars given that it's harder to find Iridium Ore. It requires 5 Iridium Ore and 1 Coal to smelt an Iridium Bar. You can also find them randomly in treasure rooms in Skull Cavern and for sale at the Traveling Cart for between 3,000g and 5,000g.
Miner's Treat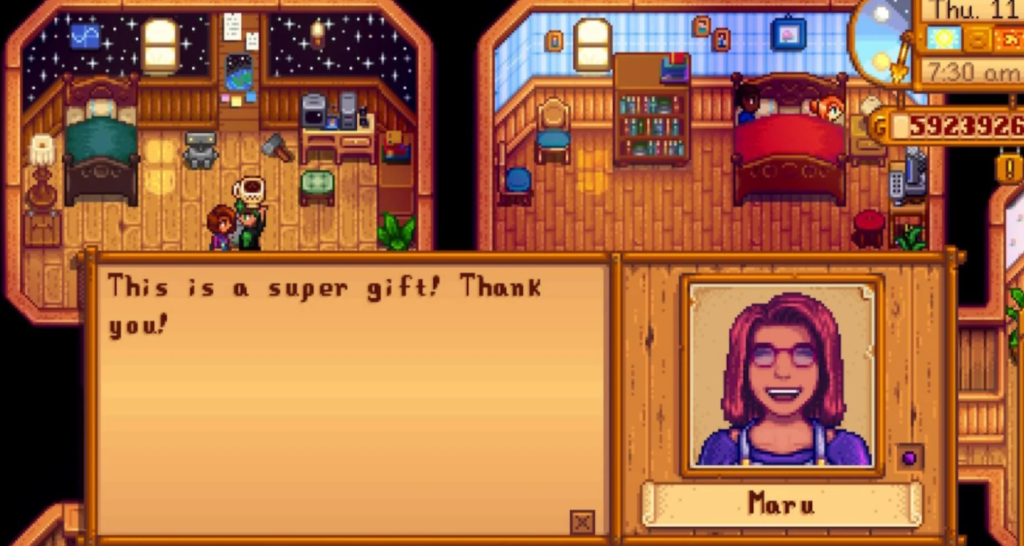 This interesting-looking lollipop meant for workers in the Mines is another of Maru's favorites. Once you reach level 3 in the Mining skill, you'll receive this recipe as a reward. Making a Miner's Treat requires a few different ingredients. You'll need 2 Cave Carrots, 1  Sugar, and 1 Milk to create this sweet, colorful treat.
Pepper Poppers
Maru can handle spicy food and she loves this dish in particular. 1 Hot Pepper and 1 Cheese are the only ingredients required. You'll receive this recipe in the mail from Shane after you reach 3 Hearts with him, which can easily be done by giving him a beer at the saloon in the evenings.
Radioactive Bar
This smelted bar glows more than its counterparts, the Gold and Iridium Bars. Despite the danger, Maru still loves them. You can find Radioactive Ore needed to smelt Radioactive Bars if you take on the Dangers in the Deep quest or if you activate the Shrine of Challenge on floor 120.
The Shrine of Challenge is unlocked after gaining access to Qi's Walnut Room and completing the aforementioned Dangers in the Deep quest. The Skull Cavern Invasion quest will also cause Radioactive Nodes to appear in the Skull Cavern. This is probably the most difficult of Maru's gifts to routinely obtain.
Rhubarb Pie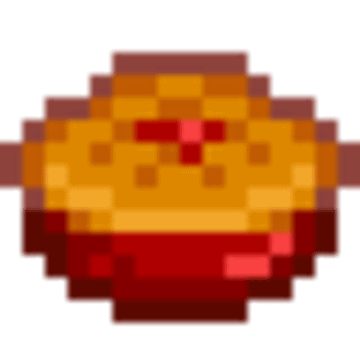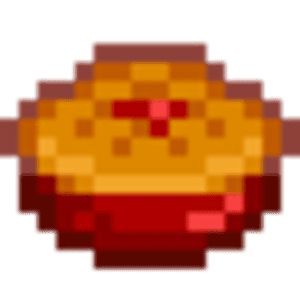 This sweet and tangy treat can be baked in your kitchen or by using a Cookout Kit. The three ingredients needed to make Rhubarb Pie are 1 Rhubarb, 1 Wheat Flour, and 1 Sugar. You'll receive this recipe from Marnie in the mail after reaching 7 Hearts in your friendship with her.
Strawberry
This fruit is a personal favorite of mine that I like to grow year-round in the Greenhouse once it's repaired. This is a Spring crop and you can purchase Strawberry Seeds from Pierre whenever Spring rolls around. After the initial growth period of 8 days, Strawberry plants will produce every 4 days, making this a gift you can give to Maru regularly to quickly raise her Heart level.
Maru's Heart Events
2 Heart Event
If you walk into Maru's house whenever she's there after reaching 2 Hearts with her, this event will trigger. You'll find her and Demetrius testing soil samples in their lab. Maru will leave, prompting Demetrius to speak to the player alone. He implies that he doesn't want you to get in the way of Maru's bright future. He's not intimidating, but his protective message is clear.
When Maru returns, she'll ask what you and Demetrius have been talking about, to which he'll reply that you've been discussing soil samples. You can raise or lower your friendship level with Demetrius depending on how you answer. Saying nothing will make him like you more while revealing your discussion will make him dislike you. This is the first sense we get of just how much Demetrius cares for his daughter and how he can be a touch overbearing in her life.
4 Heart Event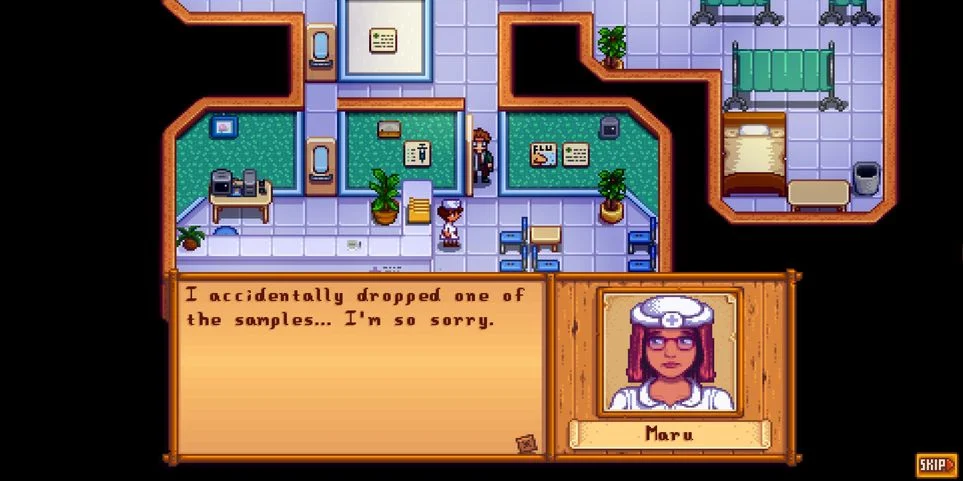 You can trigger this event by visiting the clinic while Maru is working. Your abrupt entrance startles Maru, making her drop the beaker she's holding. She'll drop it on the ground and then worry about what to tell Harvey. In this case, honesty is the best policy. Telling Maru to tell Harvey the truth – that it was an accident – will raise her friendship level with you. Any other response will lower her friendship level.
This event exhibits Maru's trustworthiness and honesty as a friend. The only way to have a positive impact on your relationship with her is to be truthful and it lays the groundwork for more wholesome Heart Events with her.
6 Heart Event
At 6 Hearts, you get to learn more about Maru and her love of stargazing. If you enter the Mountains on a sunny day between 9 PM and 11:40 PM, you'll find her using her telescope outside her home. She invites you over to have a look for yourself. After you take a peek, she'll ask you what you saw, and your response will affect your relationship with her.
The positive answer ("A beautiful planet.") will raise your Friendship with her by 30 points. The negative answer ("A cold, dark abyss.") has the opposite effect. This event and its outcomes reinforce Maru's positive outlook on life as she's more inclined to see the beauty in things rather than their flaws.
8 Heart Event
The 8 Heart Event is where we get our first hint that Maru is starting to develop feelings for the player. Entering her house while she's there, you'll go to her room where she's working on some kind of metal contraption. She'll ask you to use your hand to test it out, at which point you'll be shocked.
Maru, immediately regretting her little demonstration, will ask if you're alright and will apply ointment to your injury. Again, a positive or negative response will affect your relationship with her. At the end of the scene, she'll mention that the moment was ruined.
10 Heart Event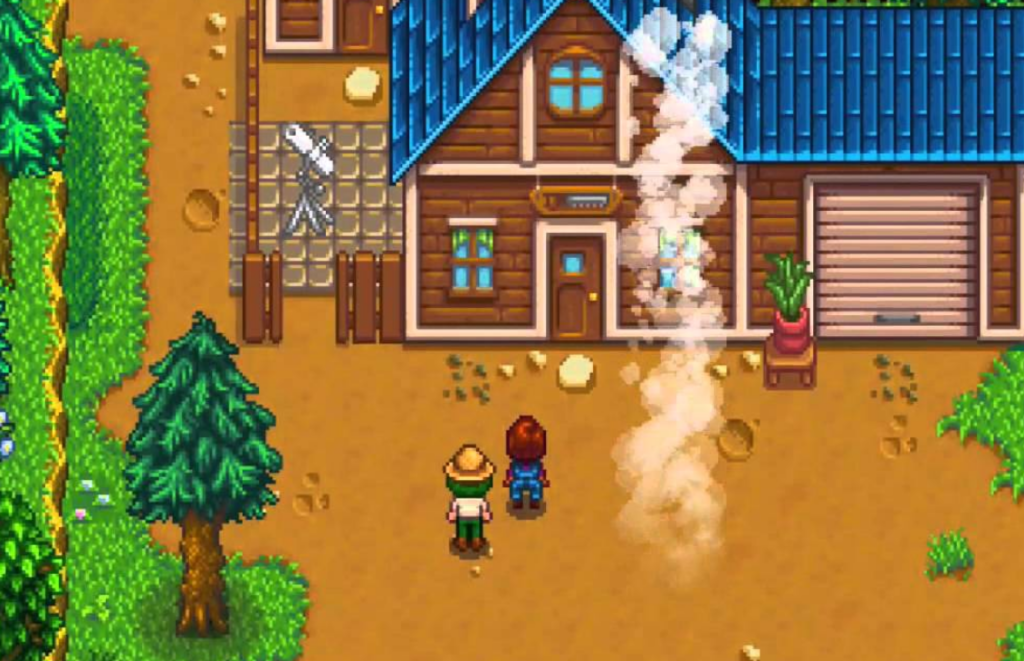 The final pre-marriage Heart Event for Maru is a great one that shows not only Maru's genius but also her compassion. If you enter her home between 9 AM and 4 PM when she's there, Maru will lead you to a room under her own. You'll find that she has completed the robot she was building in the previous Heart Event. Demetrius will enter this secret room after she activates the robot, at which point he'll admit that he thought that she and the player were just fooling around in her room for the past few months.
Maru explains that she was building the robot, which she calls MarILDA, to help out Demetrius and Robin after she leaves. MarILDA speaks up at this notion, saying that she doesn't want to be a servant and wants her freedom. Maru is hesitant, but Demetrius, now realizing the error of his ways, says it's okay to let MarILDA go and apologizes to the player for not trusting them with Maru.
Later on outside the house, MarILDA blasts off in the space, leaving Maru and the player alone. Maru will ask you what you think of what just happened. You can say that her inventions impress you, which will increase her Friendship with you, or you can say that she should have kept MarILDA. Saying that Maru should have kept MarILDA will result in another dialogue tree with two positive responses ("MarILDA's just a piece of machinery designed to act human." and "I was just kidding. MarILDA deserves her freedom.") and a negative response.
14 Heart Event
This event takes place after the player is married to Maru and consists of two parts. To trigger the first part, enter your house during the day (6:10 AM – 5 PM), but not during Winter or on a Sunday. Maru will tell you that she'll be going up to the Mountains tomorrow night to view a rare astronomical event.
The second part of the event takes place the following night. Going to the Mountains between 10 PM and 1 AM will start the event. You'll see a short cutscene showing a comet flying across the sky through a telescope lens. In a touching moment, Maru remarks that watching the loneliness a comet finds on its journey across space makes her happy to be living with the player. Afterward, she'll ask the player to make a wish. None of the options have any effect on your relationship with Maru.
Best Merch Items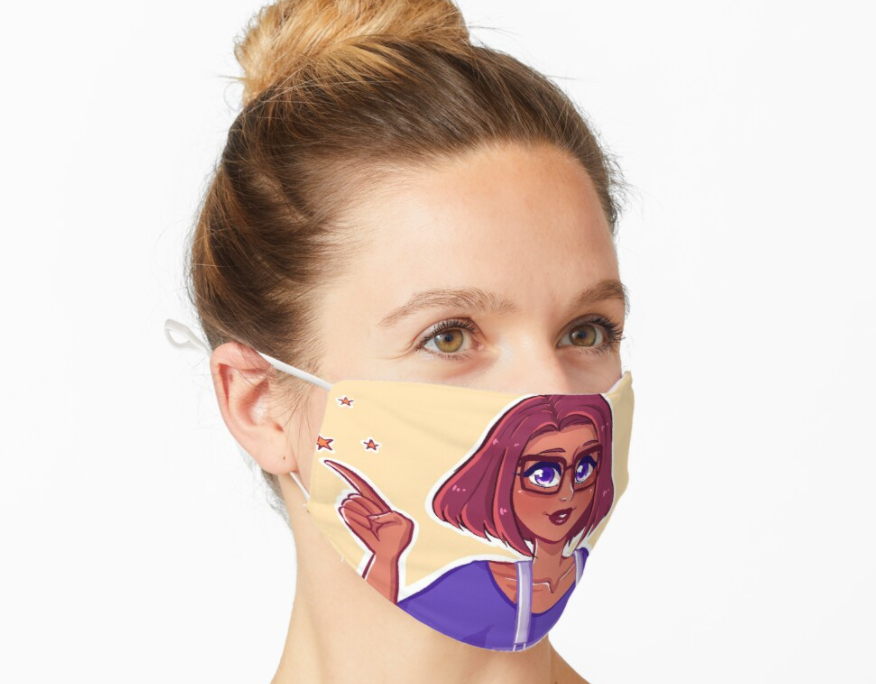 Merchandise featuring Maru is easy to find since she's both one of the 12 marriage candidates and a popular character. If you want to show off your Maru fandom, I've listed a few of my favorite items that I came across:
FAQs
Question: Where does Maru live in Stardew Valley?
Answer: Maru lives in the Mountains area of Stardew Valley. She lives in a house with her father Demetrius, her mother Robin, and her half-brother Sebastian.
Question: Who are the most popular bachelorettes in Stardew Valley?
Answer: This is a subjective question and one with no right answer. It ultimately comes down to personality preference. On my first play-through, I enjoyed Maru's Heart Events from the start, so I pursued her. Other players prefer Shane's heartstring-tugging story or Elliot's dashing good looks. There's even a group of Stardew Valley players that think Krobus is the best partner. It's fun to read through random posts to see who players like.
Question: Does Maru help you on your farm after you marry her?
Answer: Maru keeps her part-time job at the clinic after marriage, so she doesn't do a whole lot around the farm. She will work on her gadgets when she has free time. She occasionally will offer you a gift she made when tinkering. Maru has also been known to prepare dessert for the player on rainy nights.
Question: What is the best gift to give Maru?
Answer: Maru has a lot of gifts that she loves, but I think that giving her Strawberries is the easiest and quickest way to bump up her Friendship score. Once planted and grown, Strawberry plants will produce fruit every 4 days. Planting a few in your greenhouse will ensure a steady supply of presents when you start crushing on Maru.
Maru Stardew Valley Guide: Conclusion

Maru is a wonderful, charming character that is worth the time to pursue as a marriage option. Her Heart Events are some of the most wholesome in the game and the love she shows for her family and friends makes it easy to relate to her. If you caught the Maru bug like I did my first time playing Stardew Valley, following this guide should help you to easily build a relationship with her.