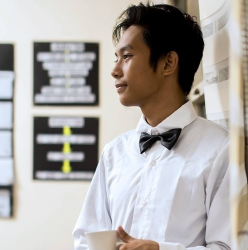 Latest posts by Arthur Monteclar
(see all)
Want to gamify your ideal farm life fantasy? Stardew Valley is one of the best games to let you live out such dreams! What I love about the game is having the chance to build relationships and meet the partner of your dreams. 
You can befriend and eventually marry 12 different characters in the game. Among the marriage candidates is Haley! She is one of the most popular choices, especially if you want a good challenge. She isn't the easiest to romance, as her favorite gifts and likes can be difficult to find early game. 
Are you planning to make her your Stardew Valley life partner? Well, you need to impress Haley and understand her personality. She comes off-putting and quite snobbish. However, building a relationship with her is definitely well worth the effort. When Haley warms up to you, she'll be the kindest and most caring person.
Together let's explore all the exciting details about Haley, including her schedule, heart events, backstory—and of course, her likes and dislikes. 
Bottom Line Up Front
Haley is one of the single villagers you can marry in the town. She seems like a trope character from a Hallmark movie—conceited, overconfident, and sassy. At a glance, you'd think Haley is shallow and materialistic. I love her for having a creative eye for taking photos. 
Haley's essentials:
Haley loves getting gifts, especially on her birthday. She will give extra points by giving the "best" gifts on her special day. Like many NPCs, she has a yearly visit to the clinic and Night Market.
Birthday: Spring 14

Home Location: 2 Willow Lane, Pelican Town

Family: Emily(Sister)

Friends: Alex 

Clinic Visit: Winter 9

Night Market Visit: Winter 16th

Occupation: N/A

Marriage: Yes
Haley: Appearance, Personality, and Hobbies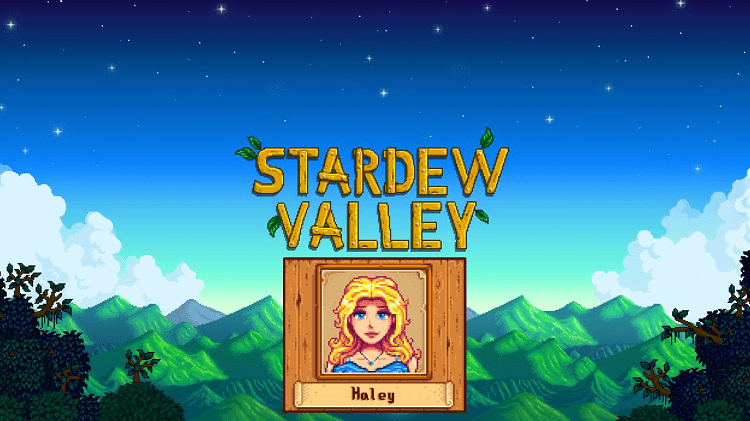 Appearance 
Haley is a goddess; I couldn't describe her beauty any better! She's extremely attractive, and her smile is captivating. Her beauty can light up any room; I consider her Pelican Town's head turner. 
Her blue spaghetti-strap tube top complements her bright blue eyes. You can easily notice her facial features—chic and dainty, adding a unique appeal to her look. What I love most about her appearance is her hair. She has golden Rapunzel-like locks that frame her face. 
Interestingly, Haley's character design changed quite a lot even before Concerned Ape launched the game. It's definitely for the best. The first version of Haley looks nothing like today; she wears a light blue off-the-shoulder top, and her hair isn't as wavy or perm as it is.
Personality
I hated Haley's personality. She's an arrogant know-it-all. Her good looks and wealth made her extremely popular throughout high school. Growing up in an affluent household, Haley is wasteful, rude, and vain. What's weird is her sister, Emily, doesn't act as she does. In fact, Emily treats everyone with kindness and respect. Haley is the exact opposite, who quickly judges people for superficial reasons. 
However, she'll slowly warm up to you. As you get to know her, you'll realize that she's more than just a pretty face. She's open-minded and sensitive to others' needs, which shows in her heart events. 
Haley's definitely up your alley if you want a challenge and have the patience for some backhanded remarks. 
Hobbies 
Straight out of high school, Haley has no day job or "real" work. She spends most of her time jazzing up her growing fashion closet.
She's a die-hard shopaholic who loves buying clothes in boutiques or online. Aside from shopping, she's also keen on keeping her wardrobe clean and organized. In one of her dialogues, she mentioned she's decluttering her cabinets to make room for trendier clothing pieces.
However, fashion and clothes aren't the only things Haley is passionate about. She loves taking pictures and immortalizing memories through her photography. 
Relationships
Growing up in a nice household, Haley has got everything she needs. However, Haley's childhood isn't all perfect. While the game didn't explore his family life, it shows that she might have "absent parents." Her parents have been traveling the world for the past two years.
They might fulfill her financial needs, but nothing else. This brings out the drastic difference between Emily and Haley's dynamic relationship. 
She isn't the friendliest character in Stardew Valley. She only has one friend, which is Alex, another marriage candidate. They're pretty close and spend most of their free time together. Interestingly, if you choose not to marry Haley, her supposed partner is Alex. That explains why they usually spend time together. 
It's very hard to tell how Haley's rude, blunt personality affects her friendship with the town locals. But one thing is for sure, Haley likes being around people who understand her expensive taste. 
Best Gifts for Haley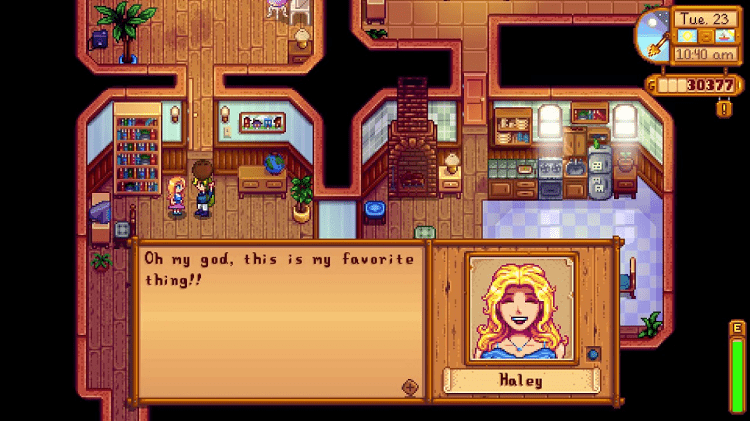 Giving gifts to Haley isn't the easiest thing to do. She's extremely picky, and her expensive taste gets in the way of giving just any gift. This can be frustrating since most items cost too much for a cash-strapped farmer or are just unavailable to purchase early in the game.
It's particularly important to know which are her favorites because you might lose friendship points for giving an item she hates. If you want to max out your friendship level with Haley, you must try giving her gifts every day. 
Don't forget to surprise her with an awesome present on her birthday, Winter 19. When Haley receives her love gifts, she usually says, "You remembered my birthday? I'm impressed. Thanks."
Love 
Coconut 
It's surprising how Haley loves coconuts. I'm actually quite curious why she loves it, but I'm not complaining since it's one of the easiest gifts on the list. You can easily forage coconuts once you've unlocked the Calico Desert. Aside from that, you can just shake palm trees at Ginger Island. 
If you're loaded with cash, you can buy them at the Oasis on Mondays for 400g. They may also randomly appear on the Traveling Cart for 300g. Unlike most fruits, you can't immediately eat the coconuts. You need to put them in a Preserves Jar to make Coconut Jelly or use them as ingredients for the dishes.  
Coconuts are among the most versatile items in the game; perhaps that's why Haley wants them as gifts. 
Fruit Salad 
It's weird how Haley hates healthy food, yet she loves receiving Fruit Salad as a gift. If you have a knack for cooking, you can easily prepare and make your own Fruit Salad using three ingredients: blueberry (x1), melon (x1), and apricot (x1).
Like any other dish, you can make it either in the kitchen of an upgraded farmhouse or by using a cookout kit. To prepare this dish, you need to obtain the recipe from watching The Queen of Sauce in Year 2, Fall 7.
Pink Cake
Want to satisfy Haley's food cravings? This Pink Cake is truly every sweet tooth's delight! You can get the dish recipe by watching The Queen of Sauce in Year 2, Summer 21. The dish requires four ingredients: melon (x1), wheat flour (x1), sugar (x1), and egg (x1). You can use a cookout kit or prep it inside your kitchen. 
If you're pressed for time and hate cooking, you can also purchase this in the Stardrop Saloon's rotating stock or Krobus' shop on Saturdays. 
Sunflower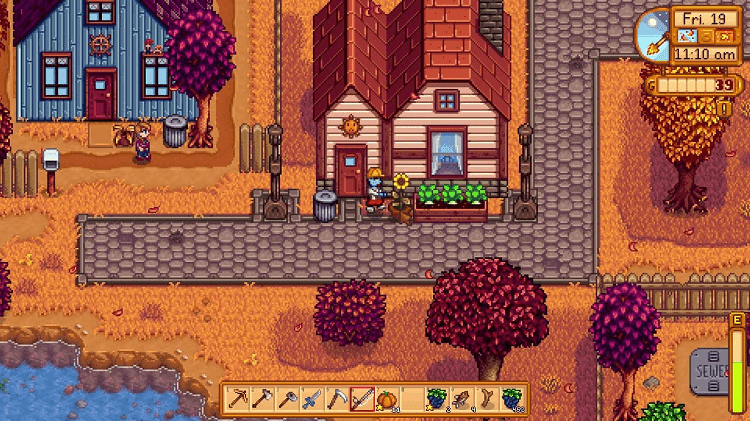 Are you into giving flowers? You should remember that Haley loves Sunflowers. She'll gush and be delighted when you give her this item. Unfortunately, sunflowers can't forage; you must grow this flower crop from sunflower seeds. They will blossom after eight days of being planted. 
Like 
Daffodil 
Daffodils are Pelican Town's most common flowers next to poppies. You can easily forage this flower around town. You can also plant one using spring seeds.
It's always a pleasant surprise whenever you're planting spring seeds. They tend to yield four different harvests: daffodils, leeks, dandelions, and wild horseradish. 
I suggest you forage and stock up on daffodils during Spring to have a year-round gift for Haley. 
Haley's Most Hated Gifts
While Haley has got expensive taste, she only hates three items. I find this quite riveting because I've always expected she is grossed out by cheap stuff, yet she only hates the following: 
Clay

Wild Horseradish

Prismatic Shard 
You still have to be careful, though, since she dislikes most foraged items: 
Chanterelle

Common Mushroom

Dandelion

Ginger

Hazelnut

Holly

Leek

Magma-Cap

Purple Mushroom

Quartz

Snow Yam

Winter Root
Schedule
Understanding Haley's likes and dislikes are essential, yet knowing her schedule also matters. She's usually chilling near her house or the town hall with Alex.
Unlike other characters, she's not difficult to find. Timing is everything when you want to trigger her heart events, so finding her on the exact day and location increases your chance of building a relationship with her. 
Here's her schedule: 
When it's raining, she wakes up at 10:30 am and stays inside her bedroom till noon. She'll go to the kitchen and eat her lunch at noon. At around 7:00 pm, she lounges around her room and goes to bed at 10:00 pm. 
Spring and Fall
In the Springtime, she visits the river south of Marnie's Ranch in the afternoon. She is most active during this season, taking pictures of the scenery and lounging by the fountain.
While her schedule differs throughout the week, she goes home at exactly 8:20 pm and heads to bed at 10:30 pm. Haley's routine during Fall is similar to her Springtime schedule.
Summer
Haley loves the Summer season and spends most of her time on the beach, just like other townsfolk. It's refreshing to see her relax and enjoy the summer heat—being carefree and dainty wearing her summer clothes.
At around 1:30 pm, she visits Alex's ice cream stand. Her sleeping schedule hasn't changed, and she goes to bed at 10:30 pm.
Winter
Haley isn't a huge fan of snowy, cold weather. She stays indoors during the winter season and spends most of her time tucked in comfy winter clothes inside her bedroom. If you want to see her, you can just visit her house. She's usually in her living room at 8 in the evening. 
Heart Events
Two Hearts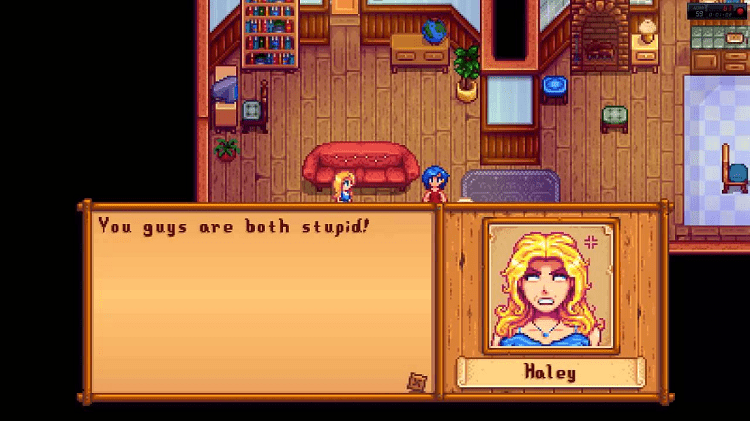 You need to enter 2 Willow Lane when Emily and Haley are both in the house. You'd find yourself listening to the sisters bickering over house chores, specifically cleaning under the couch cushions. 
Emily feels dejected and upset because Haley refuses to help her. Haley presses that she cleaned the cushion last week, while Emily thinks Haley is being lazy and childish. 
Emily politely asks your thoughts to resolve their conflict. You can pick between three choices: 
"Stop whining and just clean it!"
These words are discouraging and insensitive. Both of the girls feel disappointed; Haley walks out of the scene while Emily is left to clean the cushions. Choosing this option will result in -50 friendship points. 
"Haley, why not have this be your one weekly job?"

 
Among the three choices, this actually elicits a positive response. You get an additional 30 friendship points, and both girls agree with your suggestion. However, Haley doesn't feel too excited about doing chores. 
"Emily, take the high road and do it this time.
Emily is typically kind and understanding, but this option isn't the best if you want to earn Haley's friendship points. Choosing this upsets Haley since she believes you thought of her as childish. You'll get a demerit of 30 friendship points from her.
Four Hearts
To trigger this heart event, you need to enter Haley's home. You'll find her struggling to open a jar. She then asks you if you're strong enough to open it for her. You can say: 
Whenever you say this, Haley will be impressed and hands you the jar with a happy smile. You'll also earn 30 friendship points.  
This isn't an answer Haley expects. Because of responding "no," you lose 30 friendship points. Despite saying no, she still asks you to try and open it for her. 
I love this four hearts event. It's sweet and endearing since you can witness Haley's vulnerability. It's rare to see her ask for help, but she'll say backhanded remarks after opening the jar for her. 
Six Hearts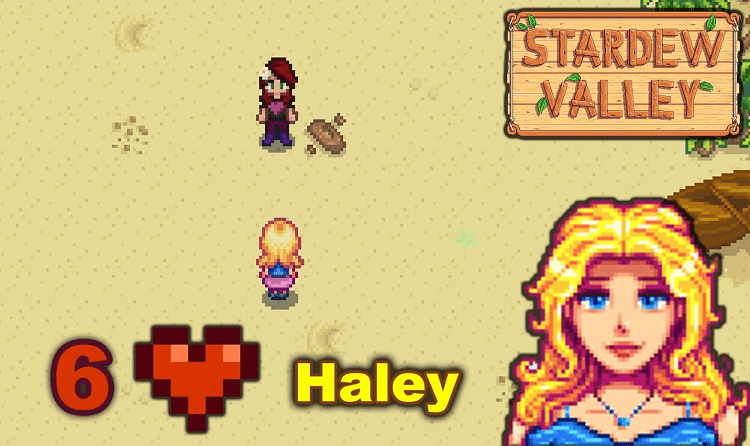 Haley loves the beach and has a penchant for the sea breeze. For her six hearts event, you need to be at the beach around 10 am and 4 pm during any season besides Winter. The scene cuts to Haley crying over her lost bracelet. You can respond with the following: 
"Relax, I'll just buy you a new one!"
Haley isn't pleased to hear this, resulting in -30 friendship points. She claims that nothing can replace the bracelet since it was an heirloom passed down by her great-grandmother. 
Haley deeply appreciated your empathy. She sighs and tries to think positively that the bracelet will eventually wash up on another shore. You get to earn 50 friendship points. 
Surprisingly, you'll find the bracelet just right of Elliot's cabin. Haley tightly hugs you and says she'll remember what you've done for her. 
Eight Hearts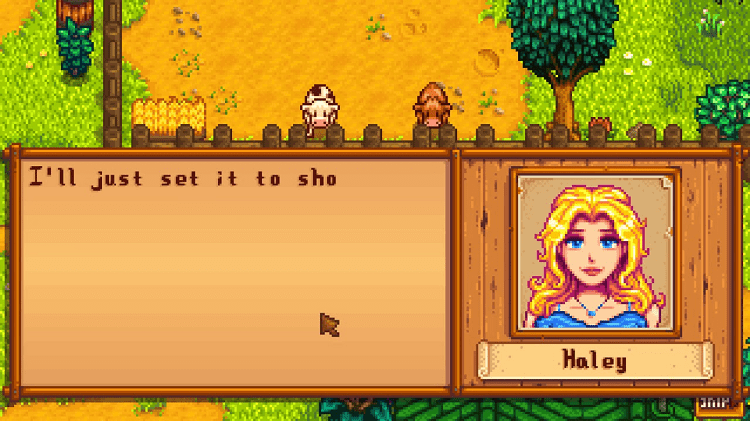 The Eight Hearts Event only happens on a sunny day in any season except Winter. You can trigger the event if you visit the Cindersnap Forest between 10 am and 4 pm. You'll see Haley on Marnie's Ranch. She is taking photos of the scenery and the farm life. 
Haley gleefully asks you to take some photos with her. She seems to be having fun, even asking you to teach her to ride a cow. She climbs in one but falls off and gets covered in mud. I was surprised to see how she handled the situation; she didn't get mad and instead giggled. 
She's completely changed; the rude, sassy Haley turns into an open-minded carefree young woman. After spending a day on the Ranch with you, you will receive a heartfelt letter from Haley. 
Ten Hearts
For Haley's Ten Hearts Event, you need to visit her house and enter her dark room. She is developing some pictures and asks what you think about them. You can pick between these three statements: 
This choice will give you an additional ten friendship points.
Saying this will not affect your friendship with Haley; you'll not earn or get demerits.
Unfortunately, you'll lose 50 points for being insensitive and tactless to Haley's hobby. After the conversation, she asks you what you want to do. All the choices don't affect your friendship with her. You can: 
Offer to help decorate the dark room
 Haley is obviously disappointed to hear you say this, and the scene abruptly ends. 
Make an excuse and leave. 
The cutscene ends without any dialogue. 
If you really want to marry Haley, choosing this sets the tone for your relationship. As you lean closer to her, she tells you that she waited so long for you to kiss her. The cutscene continues; she flips the switch, and the room turns pitch black. 
Group Ten-Heart Event
This event is the final Heart Event, where you haven't married Haley. It can only trigger when you're in her house. There are also certain conditions to trigger the event, such as: 
Gave bouquets to all bachelorettes,

Raised friendship with each bachelorette to ten hearts, and;

Saw each bachelorette's 10-heart event. 
The Group Ten-Heart Event can also be different depending if you have Rabbit's Foot in your inventory. 
If you have Rabbit's Foot, the cutscene involves a gossip session about Mayor Lewis and Marnie's relationship. 
If you don't have any, all the bachelorettes will be angry at you for dating them all at the same time. All your dialogue options won't matter, and they'll give you the cold shoulder for a week. They truly hate you and will go as far as refusing their favorite gifts. After a week, the bachelorettes will forgive you. 
You can avoid this from happening if you are married or have given a wilted bouquet or mermaid's pendant to any of the 12 marriage candidates. 
Fourteen Hearts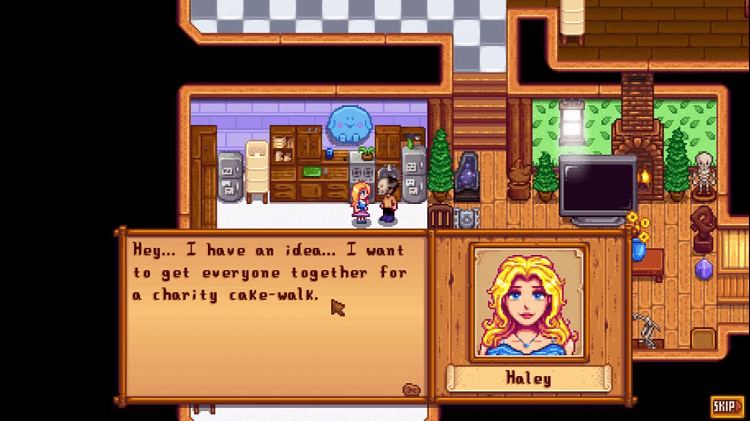 This is Haley's final Heart Event. It is a three-part event. You can trigger the first part by entering the town anytime between 8 am to 3 pm—make sure it isn't raining. 
Part 1: A cutscene ensues where Haley overhears a conversation between Penny, Jas, and Vincent. Jas makes a fuss about her math booking falling off. Penny quickly notices that all her books are somewhat destroyed. However, she emphasizes that books are quite expensive. That's why they need to bear with the old books. 
Haley tells you she's been thinking about the cake after Part 1 of the Fourteen Hearts Event is triggered. 
Part 2: To trigger part 2 of the event, you must enter the Farm House a day later than Haley's previous cutscene. You must also do this between 6:20 am to 5 pm. 
Haley suggests holding a charity "cake walk" in town on the next sunny day. She asks you to bring a Chocolate Cake to the event. A dialogue ensues, but whatever your choice, a quest called "Haley's Cake-Walk is added to the Journal.
Part 3: The event ends when you enter Pelican Town with a chocolate cake in your inventory anytime around 6 am to 3 pm on a sunny day. 
Most villagers gathered in the town square for the "cake walk." Haley gives out the prizes and reveals that she did the event for Penny. It's heartwarming to see Haley's character development; I wouldn't have thought that she'd do such a kind act for others. 
Married Life 
Haley will move into the farmhouse once you're married. It's refreshing to be around her during this stage! Like other marriage candidates, she'll renovate the house and add her own room next to your bedroom.
Hobbies are still at the top of her priorities as she adds a small garden behind the farmhouse to take scenic nature photos. 
You'll love waking up to Haley's cooking. She may offer you something sweet for breakfast on rainy mornings. When she stays inside the farmhouse all day, she'll cook Fried Egg, Omelet, Hashbrowns, or Bread. She's really thoughtful and will prepare something hot and delicious for supper, like Chowder, Bean Hotpot, or Parsnip Soup.
FAQs
Question: Is Haley a good wife in Stardew Valley?
Answer: While Haley acts rude and dismissive, she slowly warms up to you and becomes one of the kindest women in the game. She's definitely an awesome wife because of her caring and endearing nature. I love her character since she shows more growth than any other character. When it comes to marriage gifts, you'll get some of the finest items and great dishes like maple bars, eggplant parmesan, pancakes, etc. 
Question: Why does Haley ignore you early in the game?
Answer: Haley is a snob because she doesn't know you yet. Since you're new in town, you're practically a stranger to her. That's why you need to get to know her and build a friendship with her. Once you earn the friendship points and hearts, Haley will become a sweet amiable character. 
Question: Does Haley have a crush on Alex?
Answer: Haley's only friend is Alex. Their closeness might lead you to believe that "something" more than friendship is going on. However, it's definitely just that. Every marriage candidate actually has a supposed partner—Haley and Alex, Penny and Sam, Emily and Clint, etc. 
Haley Stardew Valley: Bottom line 
Being friends with Haley isn't easy; marrying her is another story. You have to endure a couple of rude remarks and backhanded comments. However, Haley's growth is truly something you want to see. It's one of the best character arcs in the game. Seeing her change into a beautiful and affectionate person is refreshing and fulfilling.
I hope this guide has helped you understand Haley, especially if you want to make her your Stardew Valley life partner.