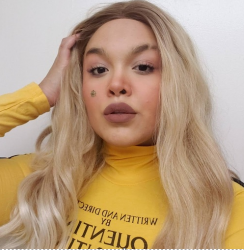 Latest posts by Lillie Forteau
(see all)
Stardew Valley's art is extremely refined and took years and years to perfect; no one can deny that it's beautiful, unique, and atmospheric.
Today, I want to go over portrait mods, which can change character portraits—and sometimes the sprites that go along with them. While we all love the original art in Stardew Valley, showcasing other people's hard work on the game is just as amazing.
They often take a long time and exhibit a ton of detail in their character portraits. I also want to showcase some of my favorite portrait mods. It might be hard to choose a particular portrait mod—that's why I like to switch them out often.
Bottom Line Up Front: What is a Portrait Mod?
Portrait mods are mods that change the pictures that come up when you speak to a character in Stardew Valley! Using portrait mods generally doesn't change the sprites (people that walk around when you don't talk to them).
Portrait mods can add characters, completely change characters, or enhance the look of characters without changing much else about them.  The idea behind portrait mods is to improve on the existing portraits when you talk to people in-game! I like to change up my mods frequently, but my favorite portrait mods are the Diverse Stardew mods.
Mod tip: Portrait mods tend to interact oddly with other mods you may choose to install in order to improve your gameplay, so I suggest adding your portrait mod first, running the game to make sure it works and repeating the test with any other mod you're adding. This will make sure they all work together without crashing or having other mods not show up properly.
Why Mod Portraits?
Portrait mods are mods that are impactful to playing Stardew Valley in a very visible way.  They're probably the least "invasive" mod you can install. They won't change anything to the base game, as they just change the art of character portraits.
Portrait mods are more about looks than anything that could physically affect gameplay. Sometimes the mods add new characters or dialogue, but it's generally minimal. Portrait mods are for you if you want more minor game changes that make a huge splash.
Don't feel like you need to install a particular mod that changes every character's look when you would only like to change the look of one character (for instance, Sam)—there's a single character portrait mod for that!.
You should pick your portrait mod based on how exactly you want your game to look, as with any other aesthetic mod.
The Art in Portrait Mods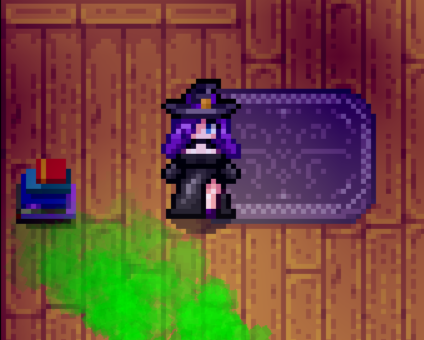 Installing portrait mods also supports artists and showcases their art in a unique and fun way through characters we know and love (or dislike). You might find a mod with an art style you love and install other mods by that artist. Or, you might adore chibi-type art and want all your portraits to be in that style! With portrait mods, it's all about the art.
What Are Some Reasons for Modding Portraits?
There are a plethora of reasons you'd want to switch up your characters' looks, and all of them are valid and lovely. These could include:
You could want a portrait mod to change the gender of all Romanceable characters. This is great for if you like someone but are not attracted to that gender

You want more diversity in the game

You want to use different types of colors to differentiate certain things if you're colorblind 

You love a particular art style or look and want that in your game
Where to Source Mods
My go-to mod site is Nexus, which is a safe, mostly ad-free site. But you can find Stardew mods on most modding sites. In my list below, most of my favorites are from Nexus, but I also included a mod straight from the Stardew forums.
How Do You Mod a Stardew Valley Portrait?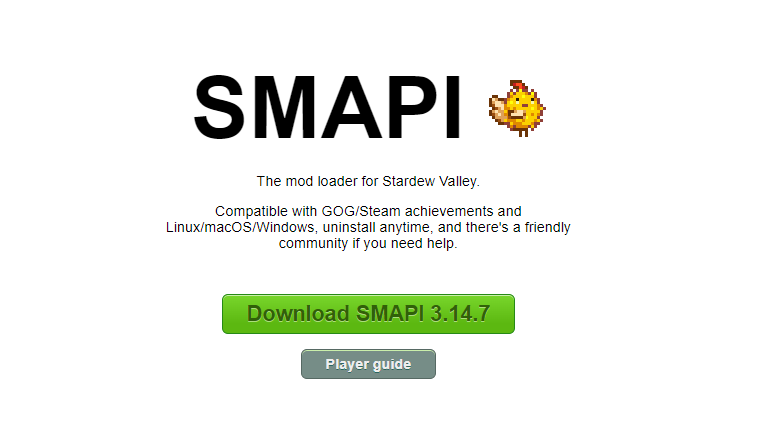 Like any other mod! Get SMAPI and any other prerequisite to a portrait mod (that can be found in the description of the portrait mod), download, add that file to your mod folder (MacOS for mac), unzip, and if you have it set up in your Steam already, you're good to go! If not, just go into the settings for Stardew and check the little box at the bottom that allows SMAPI to run.
Now that you know all about portrait mods and are eager to change your game let's get onto the list of my favorites!
There is a never-ending list of available portrait mods, and there are even more reasons to mod from modders themselves! For almost every single mod here (all 12!), the modder explains why they wanted to make it. Those creative reasons are fascinating, and I suggest you look at them all! It might help you choose one mod over another.
Selection Criteria
My criteria for best Stardew Valley Portrait Mods are the following: 
All PG portrait mods (there are many not-so-SFW portrait mods)

Unique mods that add something utterly different to the game

Mods that add something unique and new to the portraits themselves

Nothing too low res or blurry
 Note: I didn't include any portrait mods that need 4+ other mods to work, as it's a hassle, and while it may be worth it, I want to keep this list as easy to install as possible
Best of the Best Portrait Mods
Emily and Haley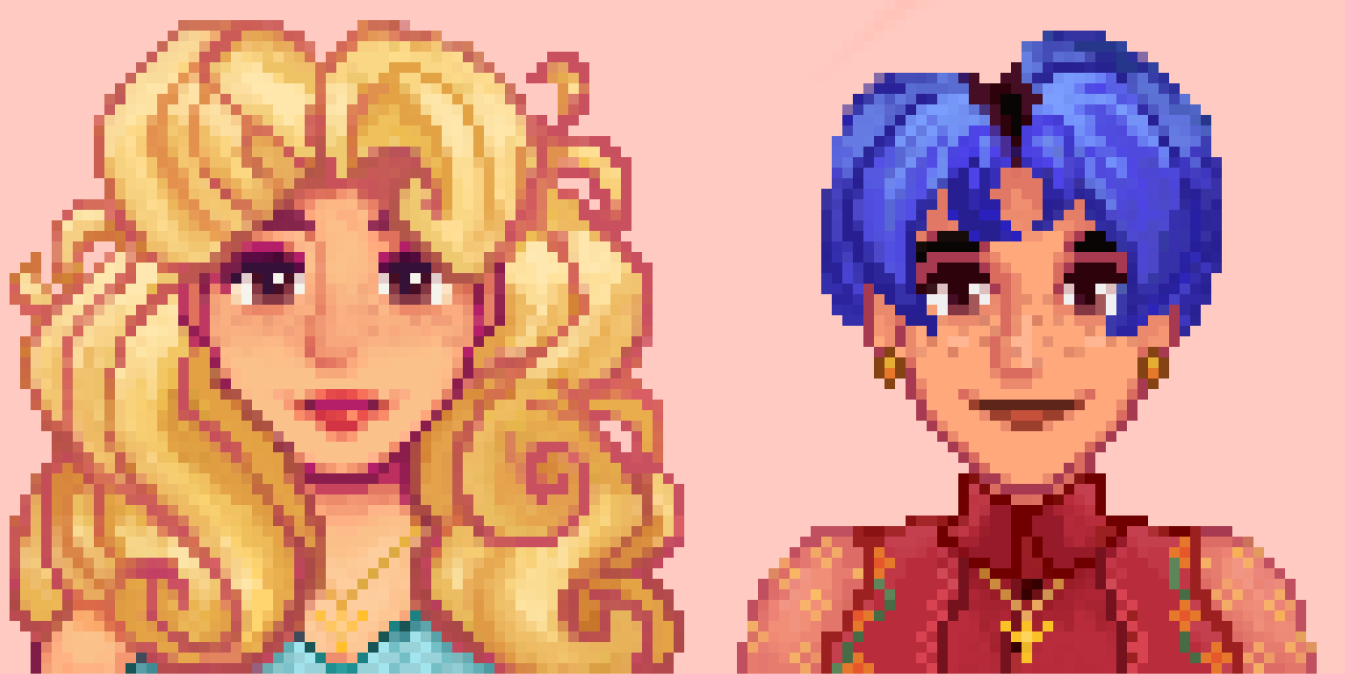 These are cute redesigned portraits for our favorite siblings, Hayley and Emily! I haven't seen any portraits showcasing styles like this!
The uniqueness of this mod is what drew me to add it to my favorite portrait mods list. They're fun and whimsical and add even more character to some already personality-filled characters. Their hair is probably my favorite part, as it's so well-drawn.
Seasonal Anime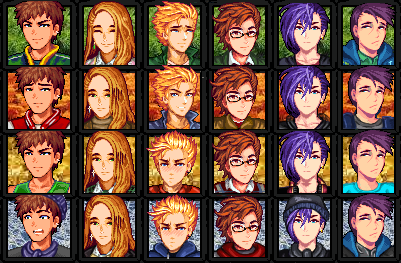 Anime-style portraits, but better! These portraits change with the seasons, so they don't wear the same or similar clothes all year round. If a simple seasons mod isn't enough for you, this is what you need. It features cute designs with fashionable clothing to match. These portraits would go exceptionally well with an anime/kawaii-themed farm.
Gotama's Portraits Mod 2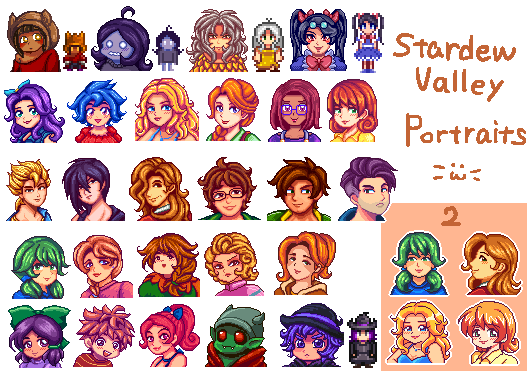 This portrait mod marries a chibi-type look with a cute aesthetic and sassy look. The variations and poses have a vast range of emotions. Even more, this mod gives a lot of unexpected yet very awesome design changes, like Morris as a girl, Krobus as a human, and our dwarf friend as a kid.
Sam and the Great Haircut (Portrait and Character Mod)
If you're like me, you don't like Sam's hair…at all. It's kept me from doing a romance route with him constantly. However, this portrait mod keeps certain aspects from his original look but changes his hair to be more realistic…and, dare I say, great? Not only is it trendy, but it fits his character.
Female Wizard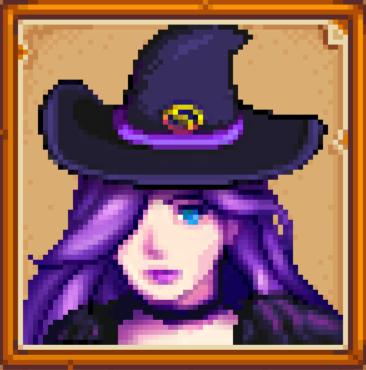 This portrait mod comes with an updated sprite as well! The wizard, now a witch, has an updated look that is both charming and simple. This mod was made because the modder didn't love the wizard's portrait. This is a nice fix and adds some diversity to the storyline with Caroline.
Better Beach Outfits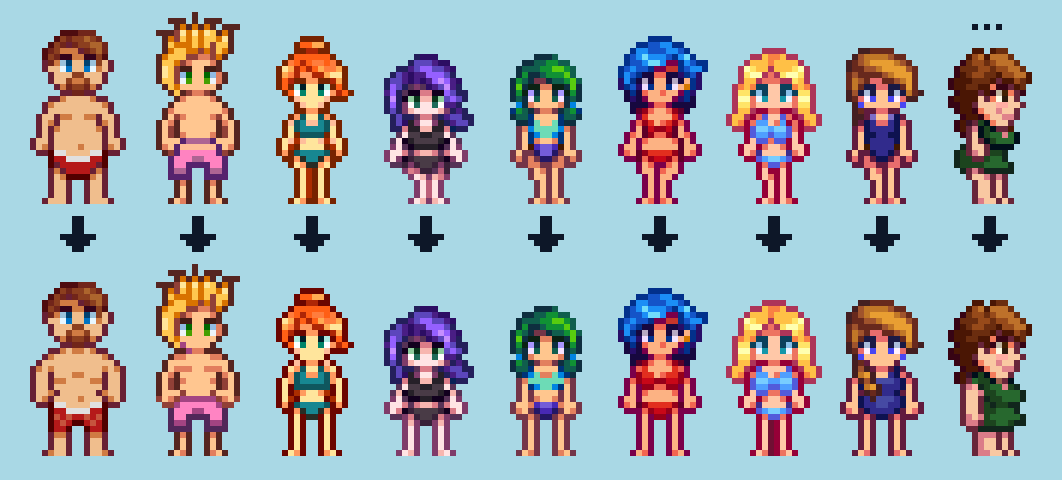 This beachy portrait mod also adds sprites! This mod has some minor fixes and some bigger ones to the game. To put it simply, all beachwear and portraits are fixed to create a better, more realistic beach look. It fixes everything about a character's look, from broad shoulders to lack of hair on bodies.
Ghostiel portraits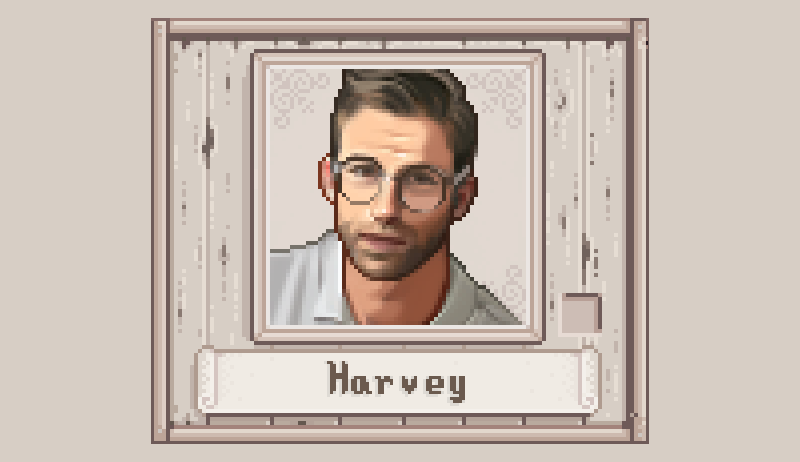 Ghostiel is my personal favorite of the realistic portrait mods. It gives a very gothic, Resident Evil vibe that makes the whole game feel quite different. They're extremely beautiful and a tad haunting. The work put into every single portrait is very noticeable and very clear for a pixelated art style.
Orangepie's DCBurger Style Mandalorian and Baby Yoda Portraits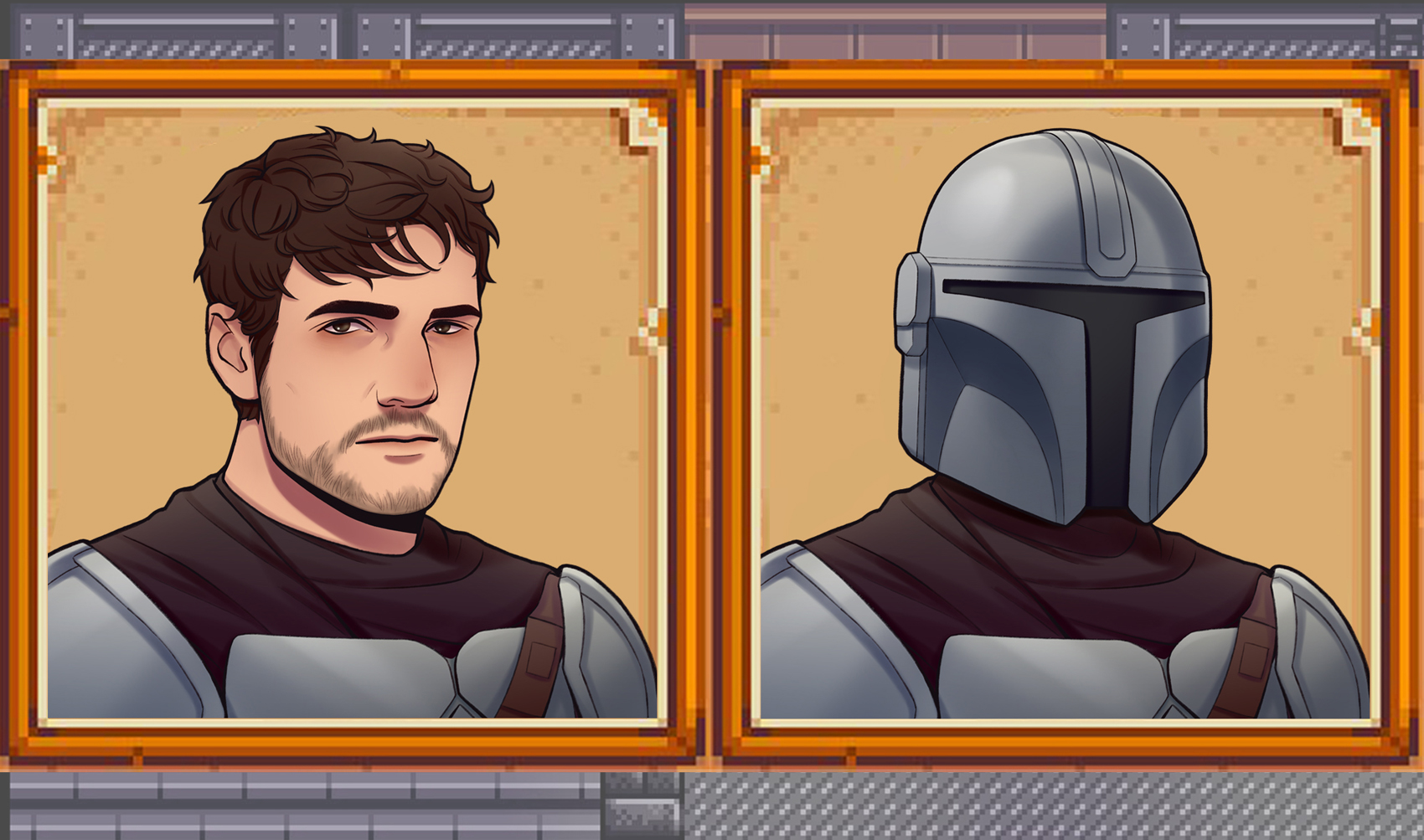 If you love the Mandalorian, this is for you. This mod adds the Mandalorian into the game as a whole new character, with beautifully done art, dialogue, and new, unique content that revolves around Mando…and that adorable baby.
This art style was made to fit the extremely popular portrait mod, DCBs high res portraits.
Younger Pam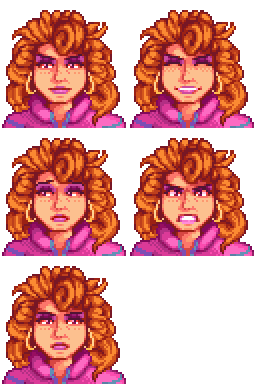 This is a one-person portrait mod, which I usually wouldn't add because of the limited scope, but it is fantastic. This particular Pam looks younger and straight from the 80s. She would fit in perfectly as a Stranger Things mom!
There's an unexpected amount of detail in Younger Pam's portrait, and the art style fits in very well with her standard portrait art style. This feature makes her blend in seamlessly with a vanilla version of the Stardew portraits.
Vlad's revamped portraits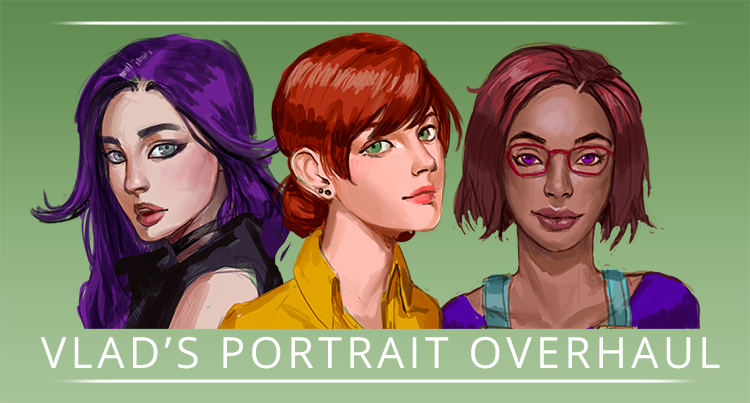 This is one of the most popular realistic portrait mods, one that is wildly detailed and gorgeous. Unlike many other realistic portrait mods, this is still slightly pixelated, keeping a similar feel to the originals.
It also makes changes to people's appearances and poses, i.e., Sam's hair is a classic style instead of anime-like; Harvey has a full beard, and his eye color is easier to see.
Emyn's Diverse Ginger Island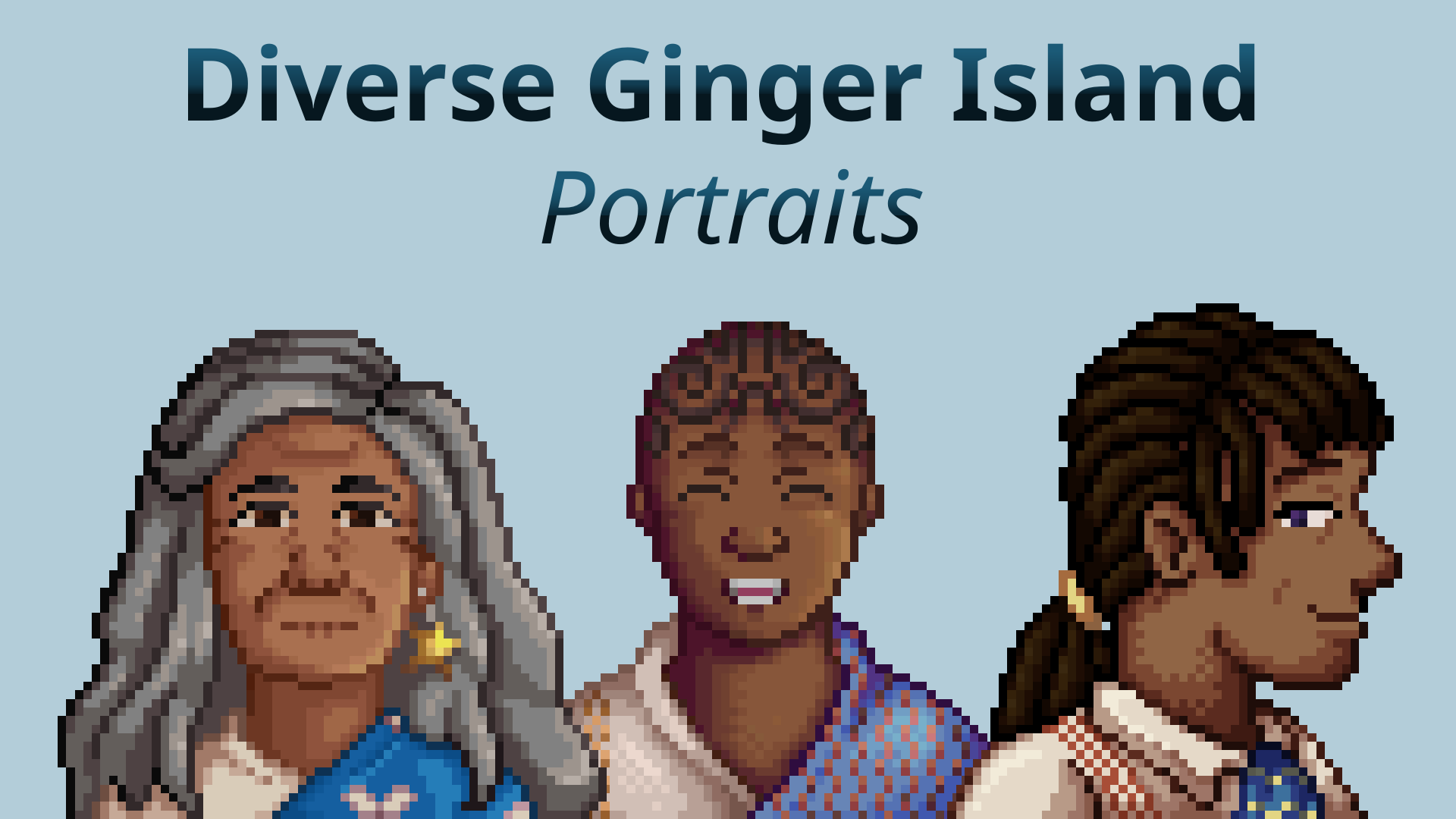 A small diversity mod, but for Ginger Island! These designs are beautiful and detailed. It might be a more minor touch to the game with portrait mods for only three characters, but they have a huge impact.
My Very Favorite Portrait Mod
Diverse Stardew

This is the only mod not from nexus, but it's essential. Each character can be downloaded individually. It's simpler than nexus because you can just download it, with no pop-ups, etc. If you were disappointed by the very few POC in Stardew Valley, and/or you feel more comfortable with more diversity, this mod is perfect.
This modder put so much work into creating a unique and interesting set of portraits, and it shows. They have taken a break, so not every character has been updated, but the portraits they have are phenomenal and show more diversity than any other game.
As a black woman myself, seeing natural hair in a game is a life-changer. Also, there are Native, trans, Asian, and more diverse character redesigns!
Stardew Valley Portrait Mods: Final Thoughts
I hope this list inspires you to download one (or many) of these fantastic portrait mods. As always, especially with mods like this, I encourage you to check if the modders and artists have a place to donate to, as they often put in hours and hours of valuable time to make top-tier content for free.
FAQs
Question: Is Stardew Valley modding safe?
Answer: Yes! With SMAPI (the Stardew Valley mod loader), Stardew is completely modding-safe and much easier and safer than most other modded games. There's a minimal risk of anything bad happening to your game file; with a few clicks, it's in your game!
Question: How do you reset Stardew Valley portraits?
Answer: Delete the changed portraits in the Stardew Valley folder. In Steam, choose to "Verify the Cache," which should fix the missing portraits. Otherwise, if you want them gone completely, uninstall them and reload the game.
Question: Can you combine portrait mods?
Answer: No, unless they're individual characters, like Emily and Haley, younger Pam, Sam's hair, and female wizard. But for everything else, if each character cannot be downloaded by themselves. They act as a pack and won't work with anything else. That means you can't install a mod with an updated portrait of Sam with an installed mod that already has a new Sam.