Latest posts by Emily Parker
(see all)
So you're looking to get virtually lit, eh? Or perhaps Pam is breathing down your neck for a bottle? Either way, brewing and selling pale ales can earn anywhere from 300g to 840g when aged in a cask. This guide will give you a rundown on how to start brewing, selling, drinking, and gifting this tasty beverage.
Bottom Line Upfront: Let's Get Tipsy
You're in a hurry, but did you know that drinking a pale ale will decrease your speed by 1? For those of us fueled by coffee, here's how to get brewing:
Visit Pierre's General Store or JojaMart (hiss) to purchase Hops Starter seeds. The seeds cost 60g when purchased locally from Pierre's store or 75g from JojaMart.
Plant (and water!) the starter seeds and wait for 11 days to harvest the hops.
During those 11 days, you can get to work building a keg with the following materials:
30 wood
1 copper bar
1 iron bar
1 oak resin
After the keg is complete and hops are harvested, place the hops in the keg and wait 1-2 more days for it to brew.
Once the brewing process is complete, you'll be able to harvest your pale ale. What you do with it from there is your own journey (drink it, drink it!). Keep reading below to see how to age your brew using a cask and earn more gold.
Getting Started with Hops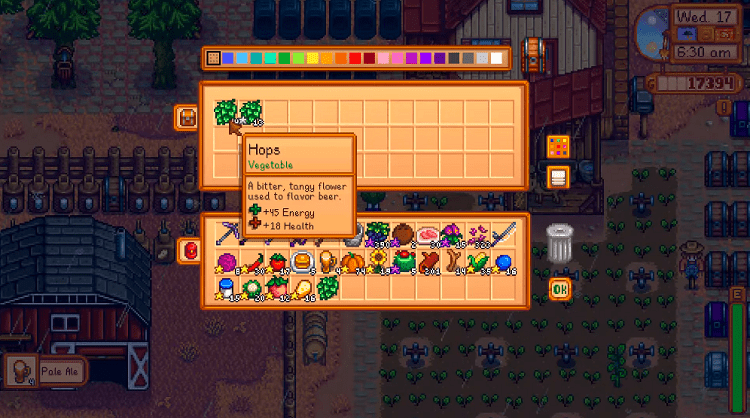 To embark on your new homebrew mission, you'll need to procure Hops Starter seeds. These seeds are sold in the summer season at Pierre's General Store for 60g.
You can also find them for sale at JojaMart for 75g and periodically at the traveling cart for an insane markup ranging from 100g-1,000g. Pierre's is always your best bet, just remember that the store is closed each Wednesday.
Sow these seeds in an area you will not want to walk through because, similar to grapes, hops grow on a trellis which does not allow for foot traffic. Consider how you will harvest the final product when you sow this crop and ensure you can access each plant from the surrounding area.
After 1 day, you will notice the hops begin to grow. This process takes a total of 11 days before you can harvest. You will know the hops are full-grown once bright green buds appear. After harvesting, the plant will keep darker green leaves until another 11-day cycle is complete.
The Next Step: Build a Keg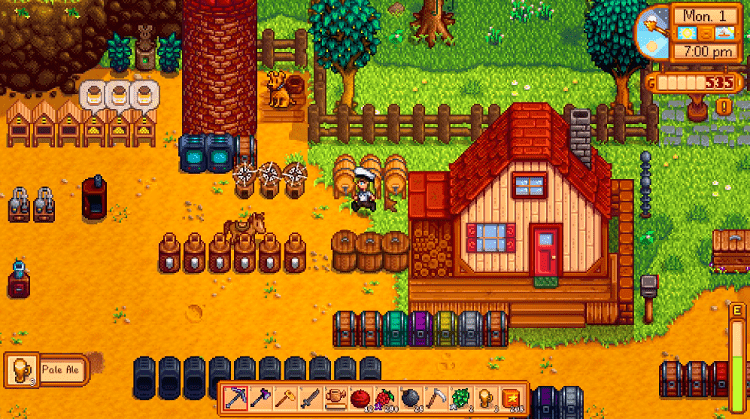 Since you're on standby for 11 days while your hops starter seeds mature, you can make use of that time by gathering the necessary supplies needed to craft a keg.
I recommend making at least three because you can obviously increase your brewing capabilities, but other than that, summer fruits like melon and even hot peppers can be placed in the keg to create wine.
To craft a keg, you will need the following ingredients:
30 Wood
1 Copper Bar
1 Iron Bar
1 Oak Resin
Wood is procured by chopping trees with your axe. You can also purchase it from Robin, but…why? Copper and irons bars are created in a furnace fueled by coal. To create a copper bar, you will need 5 copper ore and 1 coal. Similarly, to create an iron bar, use 5 iron ore and 1 coal.
If you do not yet have a furnace, you'll have to wait until Clint gifts you the blueprints. To initiate this cutscene, mine at least 1 copper ore nugget from the mines. Go to sleep, and when you step outside the next morning, he will be there with the blueprint.
Subsequently, you'll need 25 stones and 20 copper ore to craft the furnace, so I recommend making the most of your time in the mines and collecting as much as you can find before triggering the cutscene.
Oak resin is collected using a tapper. Tappers can be placed on oak, maple, pine, or mahogany trees to produce various outcomes. You will need to reach Foraging Level 3 before receiving the recipe for a tapper.
You also need 40 wood and 2 copper bars to craft the item. For oak resin, place the tapper on an oak tree and wait 7-8 days. This is an excellent task to get ahead of while waiting for your hops plant to grow.
Artisans Only: Barrel Age Your Brew
If you're serious about brewing top-of-the-line pale ales for the fine folks of Pelican Town, age your pale ale in a cask. This will increase the value of the beer to a silver or gold star product.
You may even be rewarded with an iridium-level pale ale, which can sell for 600g to 840g, depending on your chosen skill (rancher vs. tiller). After your final farmhouse upgrade, you'll be able to craft a cask using 20 wood and 1 hardwood.
Why Make Pale Ale?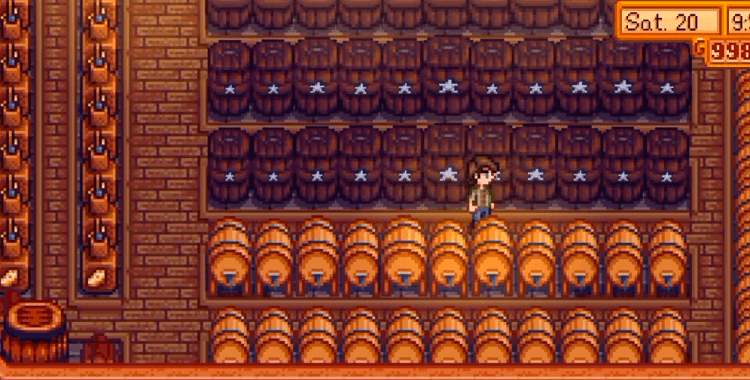 If you're not sure why you'd need to focus on this endeavor, here are a few simple reasons:
Pale ale is required for the "Brewer's Bundle" in the Community Center's pantry.
"Pam is Thirsty" is a quest that will begin on the 14th day of Summer. Supply Pam with her beverage of choice, and she'll grant you 350g, and you'll gain a friendship heart from the coolest bus driver in town.
It only requires 1 hop per beer and processes within 1-2 days.
Pale ale has the second-highest profit of any items produced in the keg behind Starfruit wine.
Use a pale ale on the sewing machine to create a black leather jacket fit for a Master Brewer.
All villagers "like" being gifted a pale ale. Pam "loves" this gift, but remember that Jas, Leo, Penny, Sebastian, and Vincent "hate" the boozy gift.
Now you're ready to head to the Stardrop Saloon with your pockets full of your own brew. Don't forget to try aging it and rake in the gold by turning your cellar into your full-time beer operation.
How to Make Pale Ale in Stardew Valley: FAQs
Question: Where Can You Get Pale Ale in Stardew Valley?
Answer: Craft pale ale using a keg and hops. Acquire Hops Starter seeds from Pierre's General Store and plant. Wait 11 days for them to grow. During those 11 days, craft a keg using 30 wood, 1 copper bar, 1 iron bar, and 1 oak resin. Place the hops in the keg and wait 1-2 days.
Question: How Do You Get a Pale Ale for Pam?
Answer: On the 14th day of Summer, Pam will ask you for a pale ale. You can make pale ale by placing hops in a keg. You will need hops, starter seeds, and the necessary materials for a keg. This process can take up to 11 days if you do not already have hops plants.
Question: How Long Does it Take for Stardew to Age Pale Ale?
Answer: You can age a pale ale by placing it in a cask. Once you begin the aging process, producing an Iridium star beer will take 34 days. It takes 12 to 13 days to produce a Gold star beer.