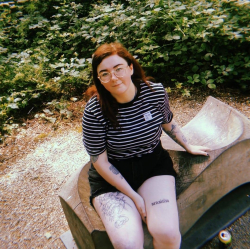 Latest posts by Ella Walsh
(see all)
Tuna is one of the many Fish you can find in Stardew Valley, and if, like me, you can get easily overwhelmed with all the different requirements you need to catch it, don't worry; we have all the information you need! Or it could be that you find yourself with an abundance of Tuna, well you can relax too, as there are many things you can do with it!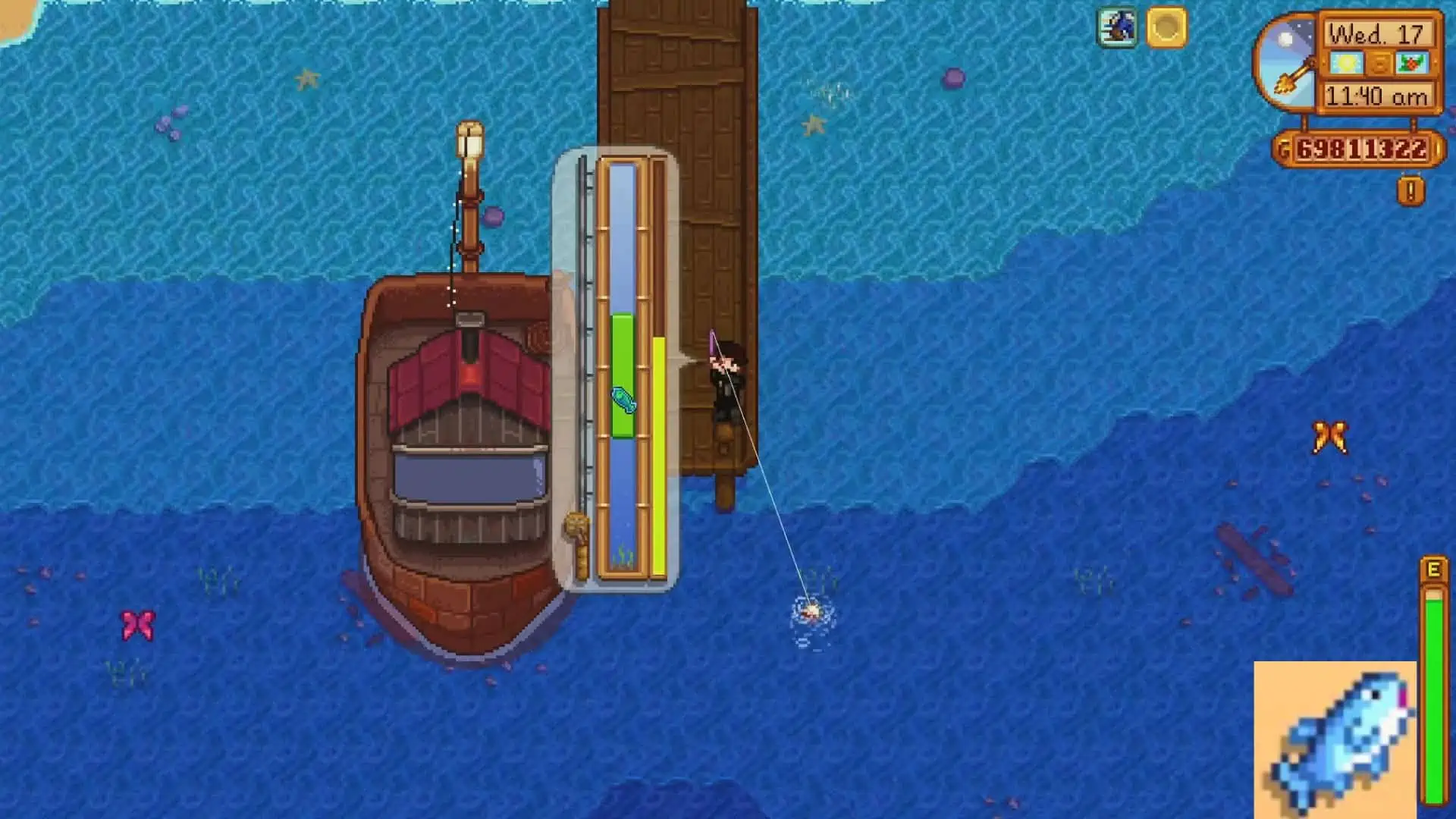 Bottom Line Upfront
Tuna is an ocean fish found between 6 am and 7 pm in Summer and winter. It can create dishes like Sashimi, Maki Rolls, and Fish Tacos.
It can also be donated to the Ocean Fish bundle to remove the glittering boulder. Although some are neutral, it is not a good gift as no resident likes or loves it. You can purchase Tuna, but you should expect to pay up to 1000g for one in the Travelling Cart.
How to Get Tuna in Stardew Valley
Catching Tuna
With regular bait and equipment, Tuna can only be found in Summer and Winter, so be sure to think ahead if you need it with any sense of urgency! Or if you are not prepared to wait, you can make yourself some Magic Bait, which will allow you to find it regardless of the season.
To get Magic Bait, visit QI's Walnut Room, where you can buy it individually for five gems, or much more economical; you can buy the recipe for 20 gems and make your own each time you need it! You will need 1x Radioactive Ore and 3x Bug Meat to make one Magic Bait.
Tuna is an Ocean Fish that can only be caught on the Beach, so don't waste resources and time trying to fish for it elsewhere! Of course, if you chose a Beach Farm when setting up your game, you can find it there, and it can also be found on Ginger Island.
Tuna can only be caught between 6 am and 7 pm but can be found in any weather. Tuna can be difficult to catch, with a difficulty rating of 70. Tuna does, however, have a Smooth moving pattern, making it somewhat easier to catch.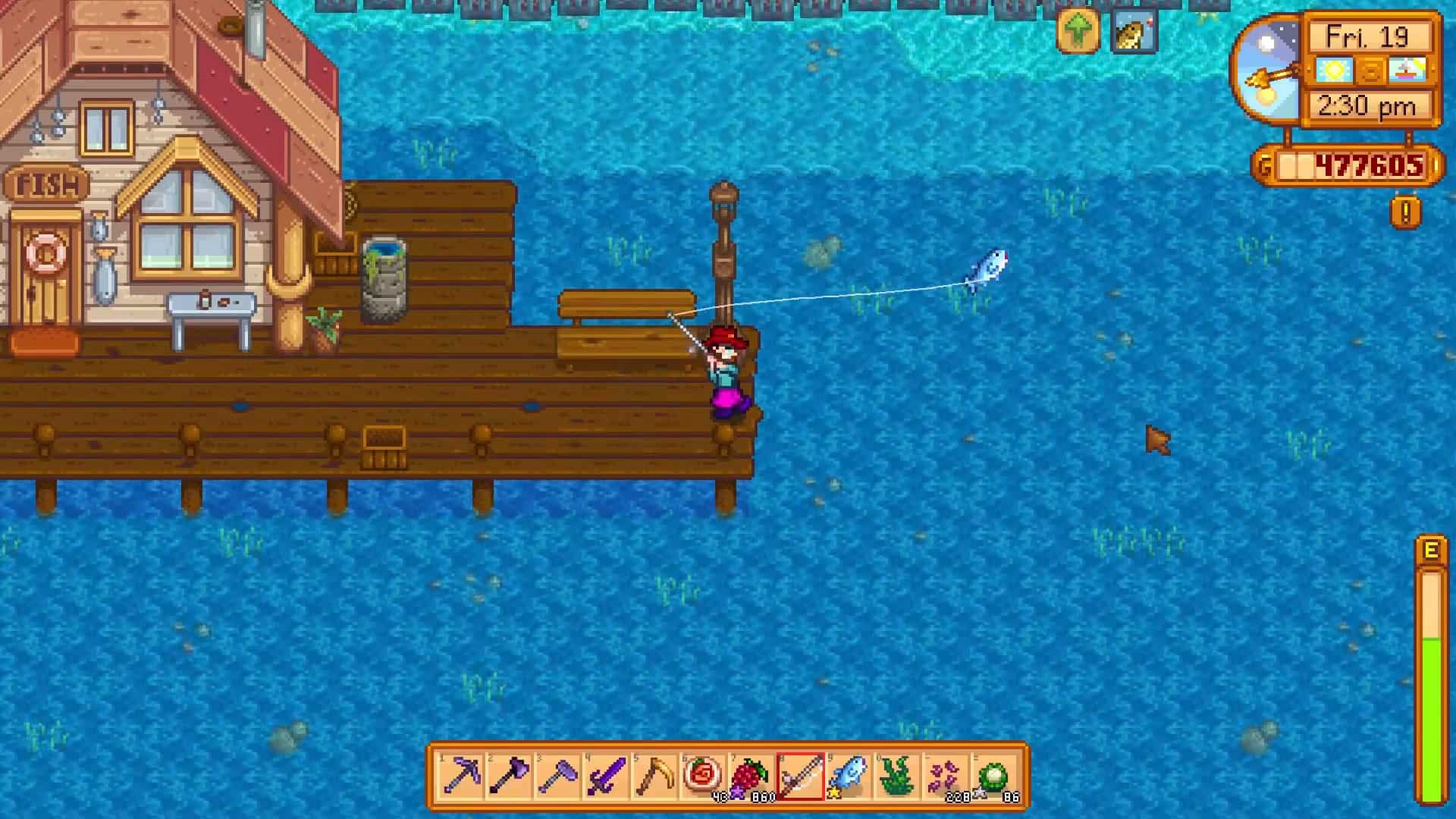 Purchasing Tuna
Tuna is not easy to find in shops, so I recommend trying to catch it first. If you are patient and willing to spend a large amount of money, you may one day find it in the Travelling Cart, but there, you can expect to pay up to 1000g.
Uses for Tuna in Stardew Valley
Friendship
Tuna does not make a great gift. No one in the game will overly appreciate receiving a raw slimy fish; however, Demetrius, Elliot, Leo, Linus, Willy, and Sebastian are open to it. Everyone else dislikes it, particularly Evelyn, Haley, and Pierre hate it.

Community Centre
If taking down the evil giant that is the dreaded Joja Mart is your main goal, you will want to save your first Tuna by donating to a Community Centre Bundle! Fans of the Community Centre will know that the Tuna can be donated to the Fish Tank Room inside the Ocean Fish Bundle.
To complete this bundle, in addition to Tuna, you will need the following;
1x Sardine
1x Red Snapper
1x Tilapia
Once you find this slippery beast, you will be rewarded for completing the Ocean Fish bundle with 5 Warp Totems; if you do not have a horse and are also super impatient like me, Warp Totems are invaluable to you as they will allow you to quickly snap between locations without walking at an infuriatingly slow pace.
Of course, if you want to complete the entire Fish Tank, you will also need to complete them;
River Fish bundle
Lake Fish bundle
Night Fishing bundle
Crab Pot bundle
Speciality Fish Bundle
Of course, this is well worth the time you invest, as once you complete this immense task, the Glittering Boulder will be removed from the wall to the left of the Mines. This means you will be able to pan in the water to find valuable ore, especially for this (like me) who could be better at keeping cool in the Mines!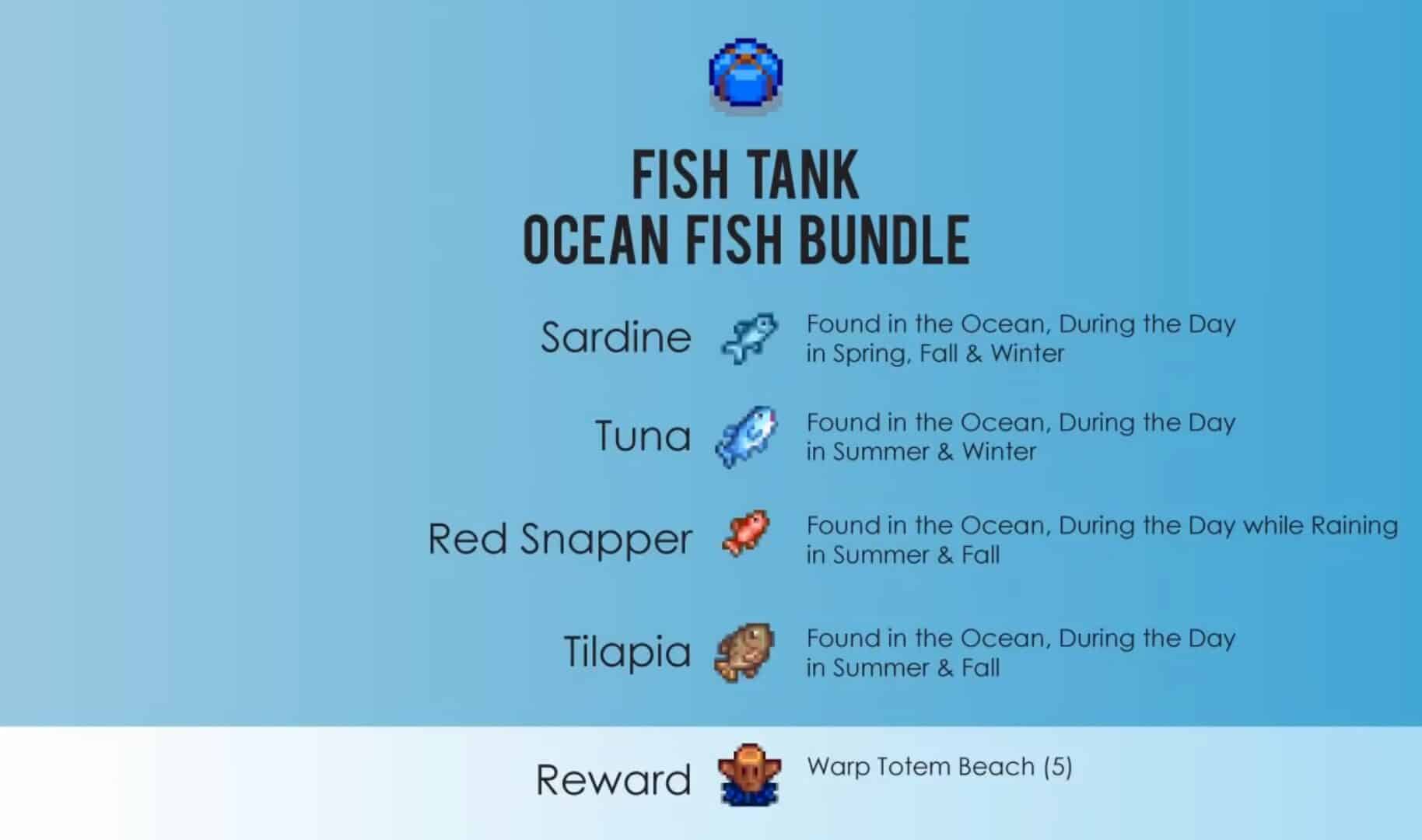 Selling
If, for any reason, you want to sell your Tuna, you can expect to earn 100g for a basic, 125g for a silver, 150g for gold, and 200g for the highest quality.
Recipes
If you fancy yourself somewhat of a Chef, you might be fishing to make some exciting food to gift to others or to enjoy for yourself! Well, if that is true, you are in luck, as there are three different dishes you can make if you have some spare Tuna;
Maki Roll; This looks just like Sushi and is essentially Sushi. To make this, you need 1x Fish (this can be any kind, including Tuna), 1x Seaweed, and 1x Rice. Consuming the Maki Roll will provide 100 Energy points and 45 Health points, making it a good candidate for your trips to the Mines. Of course, you also need the recipe, which you can buy from the general store for 300g, or if you are patient, you can watch the cooking channel on the 21st of Summer in your first year. You can, of course, choose to sell the Maki Roll for 220g.
Sashimi; is just a fancy name for raw Fish; you can make this with just one Tuna. Consuming Sashimi provides 75 Energy points and 33 Health points. To get the recipe for this, you need to have good taste in friends; that is to say, you need to be friends with Linus to at least three heart levels. You can also choose to sell the Sashimi, but you will only get 75g.
Fish Taco; This is a more complex dish requiring 1x Mayo, 1x Red Cabbage, 1x Tortilla, and of course, 1x Tuna. It does provide a whopping 165 Energy points and 74 Health points when consumed, not to mention a fishing buffer for 7 minutes. Again it pays to be friends with Linus, but to get this particular recipe; you need to have friendship level 7 and above. Selling this is lucrative for 500g.

Fish Farming
If Fish Farming is your thing, although admittedly it is not mine, you can use your Tuna to create even more Tuna! Tuna placed in a Fish Pond will recreate every three days meaning you can make a consistent supply of tasty dishes along with some Roe too!
The initial limit on your pond is three fish, but this can be increased by completing quests;
1x Frozen Geode,3x Driftwood, and 1-2 Seaweed will increase capacity to 5 fish
2x Clams OR 2x Coral will increase capacity to 7 fish
2x Sea Urchins OR 2x Aquamarine and 1x Mussel will increase capacity to 10 fish
Quests
A request can be made on the Special Orders board outside the Mayors house, from Demetrius, requesting 10 Tuna. This hefty task is very rewarding as you receive the value of the fish in coins as well as the recipe for the Farm Computer which I have always thought is one of the most exciting items in the game.
FAQs
Question: What are the conditions for catching Tuna?
Answer: Without magic bait, Tuna can be caught only between 6 am and 7 pm in Summer and Winter at the Beach on your farm.
Question: What can I make with Tuna?
Answer: You can make Sashimi, Fish Tacos, and Maki Rolls with Tuna!
Question: Do I need Tuna for the Community Centre?
Answer: You will need Tuna to complete the Ocean Fish bundle in the Fish Tank in the Community Centre.
Tuna Stardew Valley: Summary
Although it can be annoying to catch, Tuna has many functional uses that may make you consider keeping rather than selling it, particularly in cooking, as you can stock up on some tasty treats for days full of activity; that is where the true value lies!
For more fish related articles, check out these:
• Catfish Stardew Valley Guide
• Eel Stardew Valley Guide: Fishing Fun
• Sandfish Stardew Valley Guide: Intro to Stardew Valley Fishing
• Pufferfish Stardew Valley Guide